Look, I'm a simple lady: I love comic books. I love classic pinups. I love hilariously perfect reimaginings.
So you can imagine how freakin' pumped I was when I recently stumbled across the incredible work of artist David Talaski and found that all three of those interests converged in his men-of-comics pinup series.
"My husband and I are big comic book/movie fans, and I really love midcentury illustration," David told BuzzFeed. "Especially pinup pieces from artists like Gil Elvgren and Alberto Vargas."
"I always felt like — when I attended conventions — there wasn't much sexy art of dudes, at least in proportion to all the scantily clad art of women you'll find," David said. "Vintage pinup felt like a good way to go because it's a balance between sexy and silly. It'll make you blush, but you can still hang it in your bathroom and have Mom over. Maybe even gift one to her — which has happened!"
He continued, "At the end of the day, I just wanted to make something lighthearted and cheeky for all the nerds who appreciate the sexy men of comics."
So without further ado...AVENGERS ASSEMBLE:
Steve Rogers, aka Captain America:
T'Challa, aka Black Panther:
Tony Stark, aka Iron Man:
Peter Quill, aka Star-Lord:
Stephen Strange, aka Doctor Strange:
Bucky Barnes, aka the Winter Soldier:
But it's not JUST the men of Marvel — David's also ~dabbled~ in DC, including the Guy Gardner* version of Green Lantern: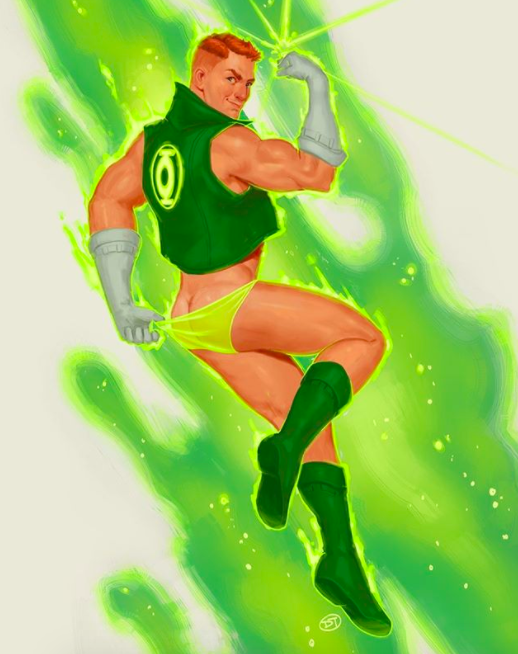 And Arthur Curry, aka Aquaman: