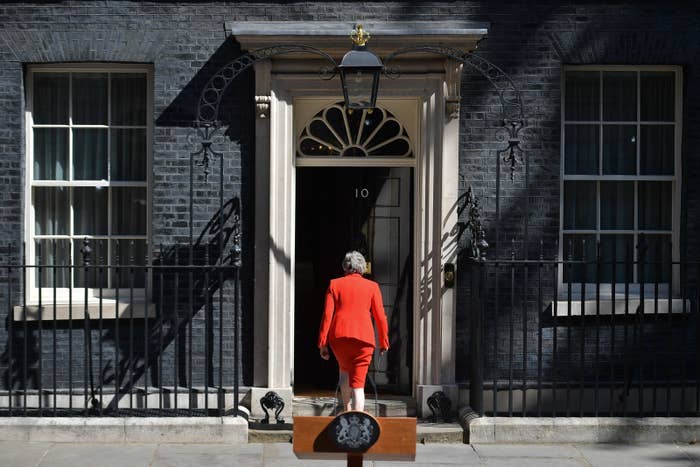 Standing off-camera as their tearful boss told the nation she was finally giving up the job she loved, Theresa May's three right-hand men reflected on the end of their own turbulent time in Downing Street.
Positioning himself a foot in front of the other two, May's chief of staff Gavin Barwell — her most senior aide and the bête noire of Conservative Brexiteers — looked on with folded arms.
To his right was the lifelong Eurosceptic Number 10 director of communications Robbie Gibb, notepad in one hand, iPhone in the other to snap a few photos of what was a highly personal moment.
To their left, and standing slightly behind the others, was Philip May, the prime minister's closest adviser, appearing unmoved by his wife's emotional departure speech.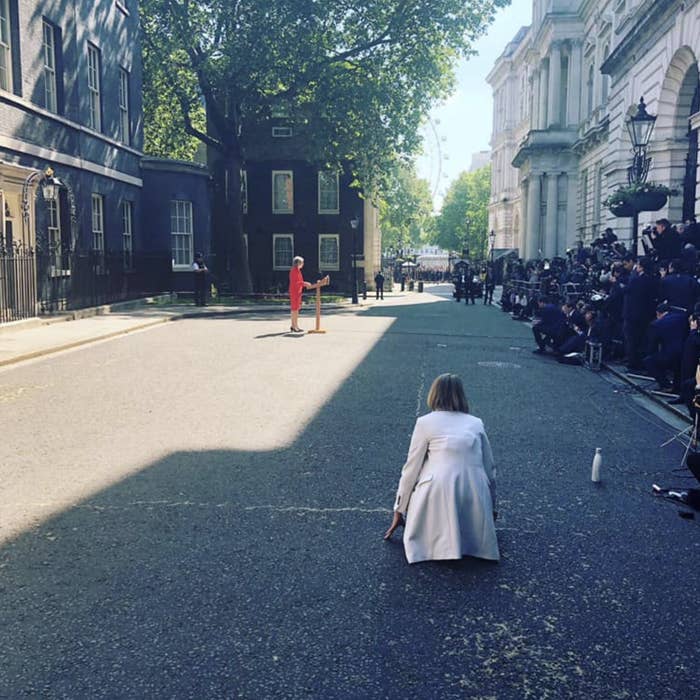 While they put on a unified front for the media scrum, in truth the relationships between May and her aides had been tested to the extreme over the last two years.
For months tensions had flared over the direction of the government's faltering Brexit strategy, with sources repeatedly briefing that Barwell had discussed the merits of a second referendum or a softer exit deal remaining inside a customs union with the EU.
Barwell had publicly denied he was "planning a second referendum with political opponents", before May last week offered Parliament the chance to decide on having another public vote — a decision that accelerated the end of her tenure in Number 10.
Other senior May allies including the Brexit-backing Gibb were horrified by the prospect of a second referendum and privately railed against letting "the Remainers" overturn the result of the first vote. Gibb had also vowed to friends that the UK would not stay in a customs union.
The opposition to May's Brexit deal on the Conservative benches and among the Tory-supporting media had fostered a 'bunker' mentality in Downing Street, encapsulated by a paranoia about potential enemies, a total and unswerving belief that Number 10's plan was the only one that would work, and the steady ebbing away of her senior aides' authority.
Those who worked with the PM's top team throughout their time in office say it was this siege mentality that ultimately caused her downfall.
The days preceding May's resignation had been filled with the chaotic scenes that summed up a premiership characterised by distrust, miscommunication, and an insular PM whose mind even her highest-ranking aides never fully knew.
On Wednesday night, after seeing Andrea Leadsom's resignation letter drop into their Twitter feeds, May's closest advisers in Downing Street could not believe the Commons leader had failed to give them notice of her decision to quit the cabinet.

The most senior Number 10 aides reacted with initial outrage at what they considered a deeply bad faith move by Leadsom to resign without giving them the courtesy of a private warning first.
But Leadsom had warned one member of the Downing Street team.
Half an hour before tweeting her letter, she had personally telephoned the prime minister to explain her reasons for leaving the government.
The PM just hadn't thought to relay the information to her top advisers.
Earlier that day it had already become clear to Barwell that the game was up. During meetings at Number 10 between May's closest confidants, various departure options were presented to the PM ranging from an immediate resignation to a longer handover of power.
With Jeremy Hunt and Sajid Javid urging her to pull her revised Withdrawal Agreement Bill, other senior ministers including Liz Truss indicating they would resign rather than vote for it, and Tory grandees signalling they were ready to change party rules to oust her if necessary, the PM had finally run out of road.
That same day Barwell told a cabinet minister and another Conservative MP that her team knew she had no option but to quit.
The struggles of her top aides to get through to her were evident at Tuesday's cabinet meeting, at which May presented ministers will the new and ill-fated version of her Brexit bill.
Those sitting around the cabinet table knew her proposals to pave the way for a customs union with the EU and a vote in Parliament on a second referendum were doomed to failure.
Throughout the meeting, May's long-suffering chief whip Julian Smith repeatedly tried to interject to offer his views on the bill's non-existent chances of securing a majority.
But May ignored Smith's attempted interventions and ploughed ahead with her proposal. According to a cabinet minister present, as ministers trudged out of the room with the PM determined to put the bill to a vote, an exasperated Smith commented under his breath: "Well, you're going to lose."
It took another day for the penny to drop.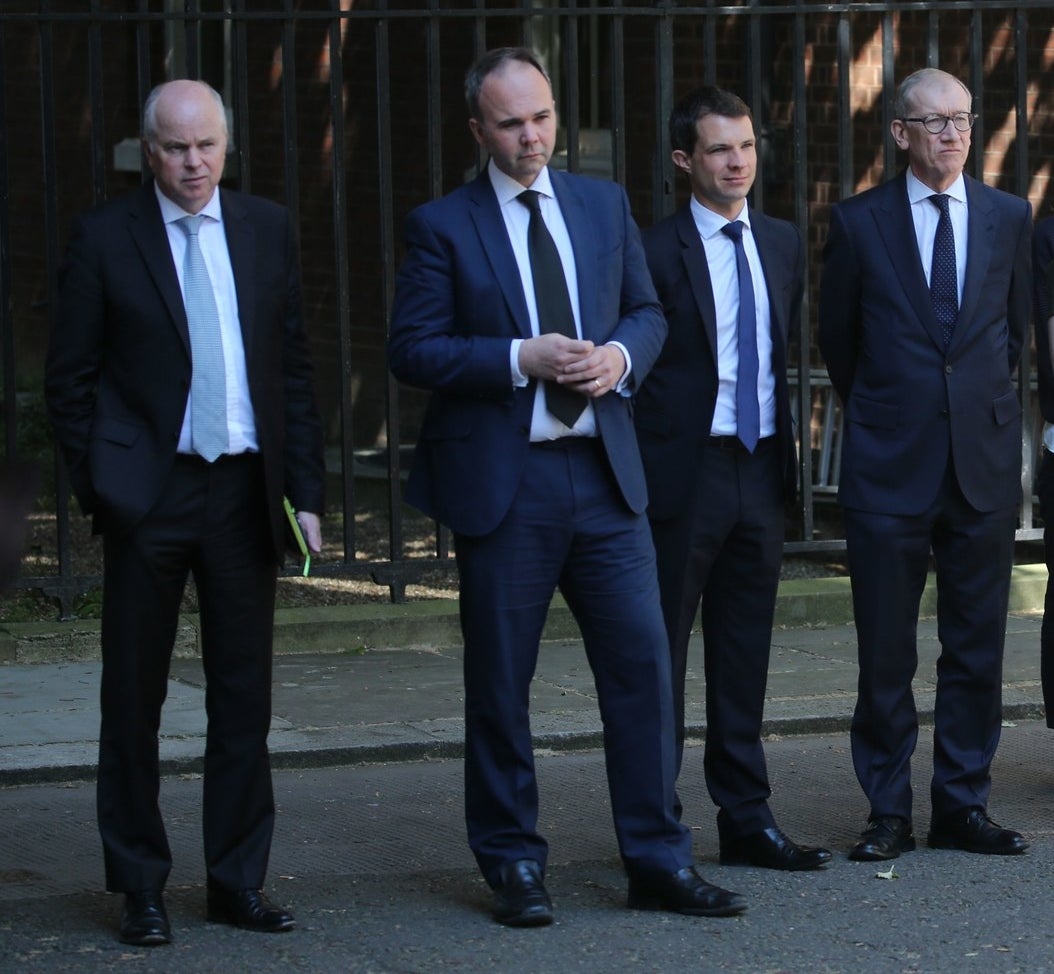 If the lack of dialogue between May's supposed allies was bad enough, relations were immeasurably worse between Downing Street and the Tory Brexiteers whose votes she desperately needed to pass a deal that could keep her party together.

To fully understand how the irrevocable breakdown in trust between the PM, her aides and prominent Leave supporters you have to go back to December 2017, when the government signed up to the fatal 'backstop' arrangement with the EU in order to guarantee no hard border in Ireland if the two sides couldn't agree a future trade deal.
In multiple meetings with cabinet ministers and MPs at the time, May, Barwell, and Gibb promised Brexiteers that the backstop was not something to worry about.

On December 8, cabinet ministers came out of a conversation with the PM privately declaring the backstop "fine".
May had assured them that the UK would not be trapped in an arrangement that forced the UK to align with the EU on goods regulations and killed the possibility of free trade deals with non-EU countries.
The buoyant Brexiteers were convinced by the PM that their dream of 'regulatory divergence' outside of the EU was alive and kicking.
Cabinet ministers left conversations with Gibb believing the backstop was essentially "meaningless" and merely "a necessary form of words to get this over the line".
Gibb insisted to other Leavers that the government was pursuing a "clean Brexit" closer to a Canada-style free trade deal than remaining closely aligned to the EU in a type of customs union.
But seven months later cabinet Brexiteers were faced with a very different reality.
In July 2018, Boris Johnson and David Davis resigned from the government in protest at May's proposed 'Chequers' plan, which would have seen the UK have a much closer future relationship with Brussels than they had expected.
Gibb privately raged to friends that Brexiteers opposing Chequers were "idiots" and "thickos" who cared only about their own leadership ambitions.
He criticised other Leavers for having a "fetish for divergence", arguing that it was in the UK's interests to remain aligned with the EU, and he warned others thinking of coming out against the government's plan that they would be "helping the Remainers win".
On July 12, a small number of influential journalists from Leave-leaning news organisations were invited to Downing Street for a private, off-the-record briefing by Barwell about their plan.
Journalists from the Spectator, Telegraph, BrexitCentral, LBC and others sat as Barwell — a Remain voter who tweeted the day after the referendum that the Leave result was a victory for "the politics of hate and division" — explained that they could not have the type of Brexit they wanted.
To the disdain of many present, Barwell made clear that Downing Street would prefer a close relationship with the EU to a looser Canada-style deal even if the Irish border was not an issue. It was also apparent that any attempted divergence by a future UK government from EU goods regulations would effectively be impossible.
At times the meeting became heated, with the pundits accusing Barwell of capitulating to the EU without a fight and not seeking a "proper" Brexit.
Afterwards Gibb asked his guests what they thought. He was told no one had changed their mind.
There was scorn for political reporters too.
One Number 10 insider told BuzzFeed News that advisers were regularly required to "join in a two minutes' hate against the Lobby" — the collective name for Westminster political journalists — when the government received unfavourable newspaper coverage, agreeing that the front pages were wrong rather than asking what they could do to improve Downing Street's media messaging.
Another government aide said of their Number 10 superiors: "They became quite fundamentalist, almost religious in their belief that there was no Brexit but theirs, and that Brexiteers opposing them were apostates deserving of nothing but contempt."
As cabinet discipline and collective responsibility disintegrated, senior aides resorted to increasing pettiness against those they perceived to have wronged them.
When one cabinet minister was suspected of leaking against the government, their special adviser experienced the full extent of Barwell's wrath.
At a meet-and-greet between advisers and May in Downing Street — usually a happy occasion for ministerial aides to get to know the PM — Barwell singled out the suspected leaker and denied him entry. "The real punishment was reserved for those of us who had to go in and see her," a colleague said.
The final all-SpAd meeting with Downing Street aides last week to strategise how to keep May's Brexit deal alive was unprecedented in its sparse attendance.
So disappointed was Barwell with the lack of respect from his junior staff that he made a point of phoning up the absent SpAds in front of everyone else to read them the riot act and demand they make their way over.
But by that point it had long been clear that the PM was on her way out, her Brexit deal dead and her chief aides devoid of authority. As one adviser present said of the meeting, and as had been the case now for some time: "What was the point?" ●