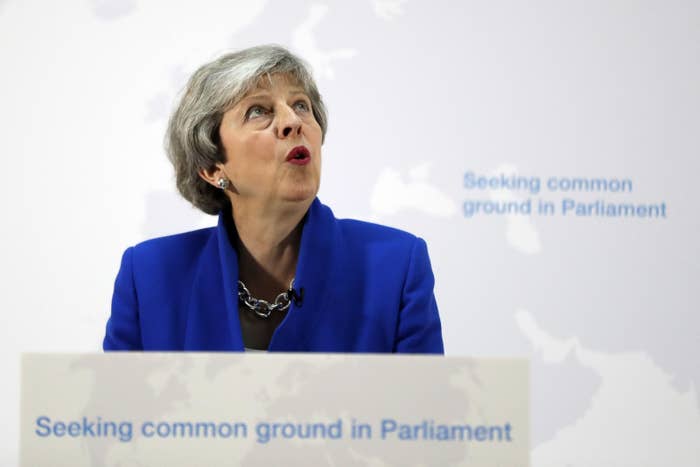 Theresa May has offered MPs a vote on whether to hold a second Brexit referendum as she unveiled a desperate last-ditch package aimed at saving her ailing premiership.

Ahead of a planned vote on the Withdrawal Agreement Bill in the first week of June, May said she would allow the House of Commons to decide if it wanted to have a new public vote on the deal.
In a speech near Charing Cross that sought to persuade Labour MPs and Remain supporters to vote for her withdrawal agreement — but immediately enraged Conservative Brexiteers — May also said Parliament would be allowed to decide a "customs compromise" likely to involve a temporary customs union with the EU.
Leave-backing Tory MPs who voted for the deal last time round responded to May's speech by signalling that they would now vote against it in June.
Simon Clarke, a close ally of Boris Johnson, tweeted:
David Davis, Dominic Raab and Jacob Rees-Mogg also indicated they were likely to vote against the withdrawal agreement bill, as did Iain Duncan Smith, Anne Marie-Trevelyan and Charlie Elphicke.
Jeremy Corbyn signalled the Labour Party would vote against the deal again. "We will of course look seriously at the details of the Withdrawal Agreement Bill when it is published. But we won't back a repackaged version of the same old deal - and it's clear that this weak and disintegrating government is unable deliver on its own commitments," he said.

Some Labour MPs also rejected May's proposals. Ben Bradshaw said: "This is a step in the right direction finally from Mrs May, but without a public vote being on the face of the bill with government backing, I can't see Labour MPs backing it". Another agreed that Labour remainers were unlikely to back it, telling BuzzFeed News that "it seems like it from initial reactions."
The Democratic Unionist Party said the "fatal flaws" of the deal remain.

In her pitch to MPs, May offered a new Workers' Rights Bill to guarantee that the UK follows Brussels rules on workers' rights at a minimum.

She also said the UK would match EU regulations on environmental protections — another demand of Labour MPs.
But the prospects of the deal passing look slim with the number of rebels rising rather than falling.
In what could be her last major speech on Brexit as prime minister, May told employees at PriceWaterhouse Coopers: "This is a great time to be alive. A great future awaits the United Kingdom."