Lindsay Lohan's Furious EU Referendum Tweets Are Highly Unexpected
No one saw this intervention coming.
Here is Lindsay Lohan. You may know her from such films as Mean Girls, Freaky Friday, and Herbie: Fully Loaded.
But not, however, for her views on Brexit. Well, that's about to change.
Here she is, for example, expressing her displeasure that the pound has dropped in value after Leave recorded an impressive result in Sunderland.
It has rapidly become clear from her social media accounts that Lohan is keeping a keen eye on the referendum.
And what's more, judging from her hashtags, she really wants us to stop making Leave happen.

She appears to be quite concerned with the geographical location of the places where results are being announced.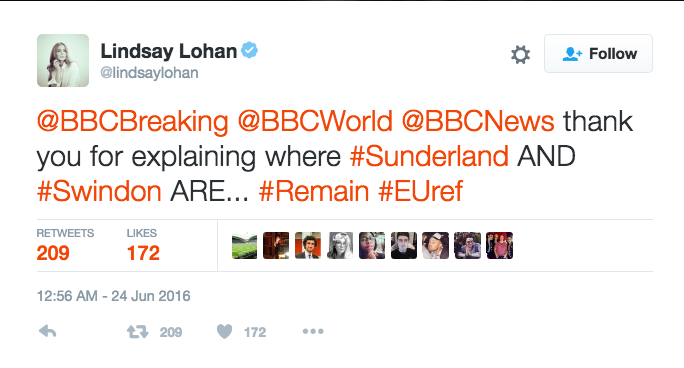 She was concerned about the plummeting value of our currency.
In case you were wondering if she's been hacked, her account says not. Although she is still confused as to the location of Sunderland.
Anyway, that's Lindsay Lohan: model, actress, singer, and, it appears, passionate Remain supporter.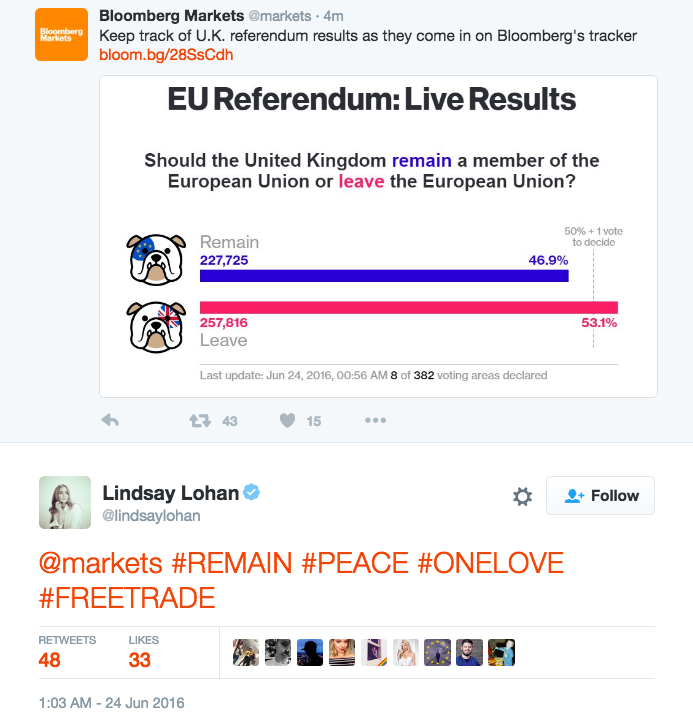 That's: REMAIN.
Grool.
BuzzFeed News has contacted Lohan for further comment.