So in case you've never really understood what Renegade was or just never heard of it at all, this is it:
Yeah, yeah, it seems like just another TikTok dance but the thing is that it is THE TikTok dance and considered by many to be one of the hardest ones to learn:
The dance is set to the song, "Lottery" by K Camp which was produced by Reazy Renegade and the youths on TikTok are OBSESSED with it.
Renegade has gotten so popular that even celebs have done it like Lizzo...
However, the actual creator of the dance is 14-year-old Jalaiah Harmon! Here's the original (and much harder!) version of Renegade Jalaiah first uploaded to Instagram on Sept. 2019 which received roughly 13,000 views.
Then on Oct. 5, TikToker @global.jones posted a TikTok of themself doing Renegade with some alternate moves.
This soon led to Charli D'Amelio and other TikTok influencers posting videos of themselves doing Renegade that received millions of views, though they never tagged or credited Jalaiah Harmon.
In a recent New York Times article, Jalaiah stated that she doesn't have any hard feelings towards Charli for not crediting her and that, "I was happy when I saw my dance all over, but I wanted credit for it."
Jalaiah even posted a TikTok at the end of January where she Googled "Who created the Renegade dance?" to try and get her proper recognition.
Jalaiah lives in the suburbs of Atlanta and is a dancer who takes classes in hip-hop, ballet, lyrical, jazz, tumbling and tap.
She regularly uploads choreography videos on Fuminate, Instagram, Dubsmash, and TikTok and her moves are quite impressive!
Since the New York Times article dropped, a lot of great things have been happening for Jalaiah. When she uploaded the original version of Renegade in Sept. 2019, she had over 20,000 followers on Instagram but now she's verified with 281K followers and GROWING!!!

She's now also verified on TikTok and has gained close to 1 MILLION followers on it!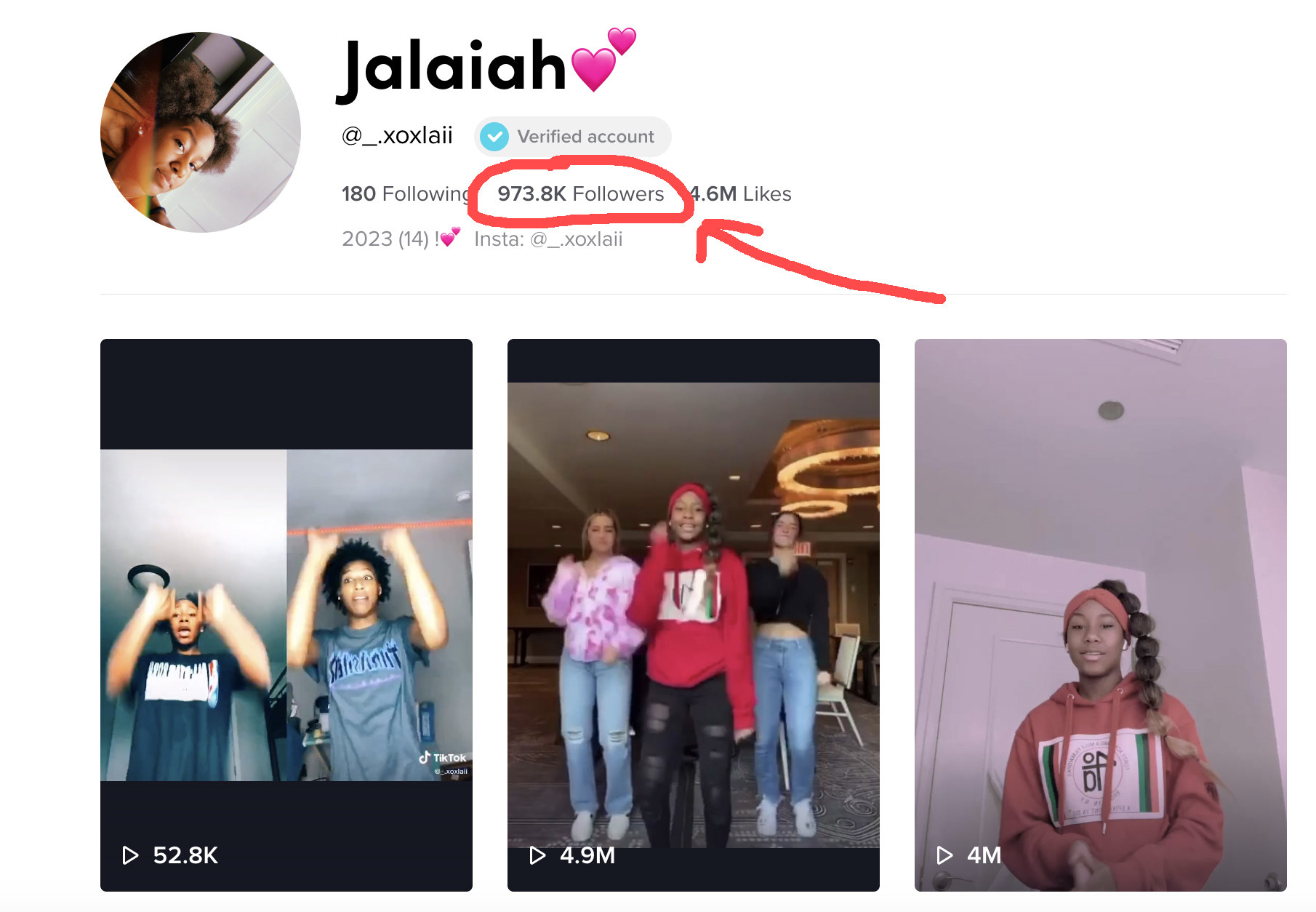 K Camp even recently met her and thanked her for making his song so popular.
And during this past Sunday in Chicago Jalaiah ~flawlessly~ performed Renegade at the NBA All Star Game.
But wait, there's more! This weekend Jalaiah met Charli D'Amelio and Addison Rae, another popular TikToker, and taught them the original Renegade choreo.
So finally Jalaiah Harmon is receiving proper credit and attention for her impact and we absolutely love👏 to 👏see👏 it👏!!!
And I hope Jalaiah's career continues to pop off after this because she's extremely talented and truly deserves it!
BuzzFeed has reached out to Harmon for comment.