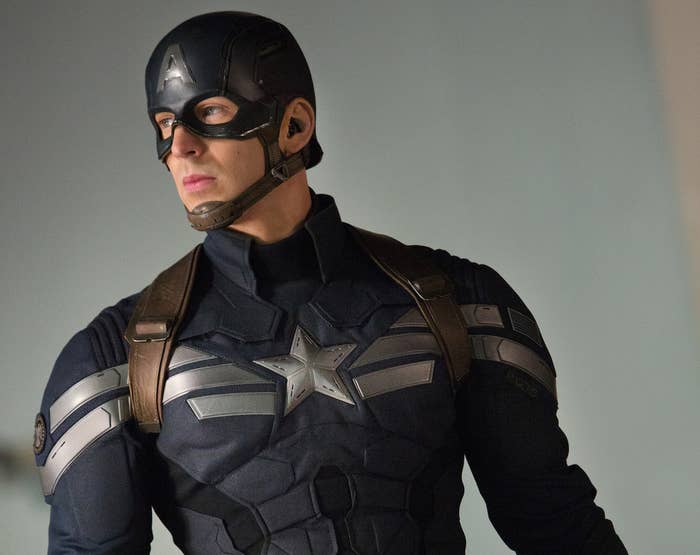 Captain America: The Winter Soldier opened this weekend with an estimated $96.2 million, making the Marvel Studios film the biggest debut in April ever, surpassing 2011's Fast Five.
For more than a decade, the notion of a "summer movie season" has been stretching all the way back to the beginning of March and, as a result, box office records have been breaking left and right. But when considering superhero franchises specifically, Captain America: The Winter Soldier's debut reveals just how successful the Marvel Studios model has been in modern Hollywood.
Since Iron Man first opened in 2008, Marvel's box office trajectory has only gone up.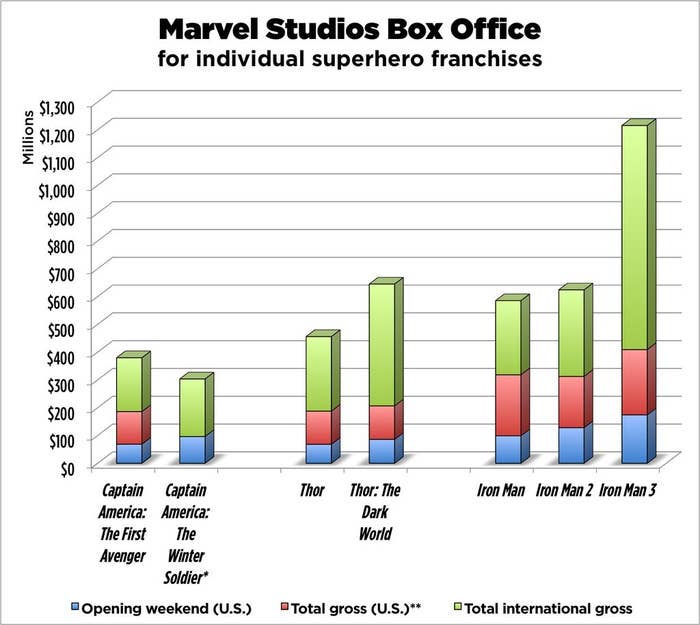 Each of the individual Marvel Studios character franchises — Iron Man, Thor, and Captain America — has improved at the box office with each successive film within each respective franchise, in domestic opening weekend gross, in total domestic gross, and especially in total international gross. No other superhero franchise matches that record: not Batman (both the Tim Burton–Joel Schumacher films and the Christopher Nolan films), not Spider-Man, not the X-Men, and not Superman.
Despite concerns that the glut of superhero films had oversaturated the market, and that Marvel's strategy of creatively threading each of these franchises together into the mega-franchise movie The Avengers might foster audience exhaustion, the opposite appears to be true, especially overseas. Consider Captain America: The Winter Soldier, which opened in most international markets on March 26, and has already made more overseas in its first week in theaters ($207.1 million) than Captain America: The First Avenger made in its entire theatrical run ($193.9 million).
It has not been a smooth ascent for Marvel Studios, to be sure. The Incredible Hulk failed to reboot the giant green rage monster as a solo superhero, and Marvel Studios chief Kevin Feige has been cagy at best about whether Hulk will ever receive his own film again. Last fall's dramatically turgid Thor: The Dark World is a glaring exception to the larger consensus that Marvel Studios' films have increased in quality along with box office receipts. And Marvel's first attempt at expanding its creative universe into television with Marvel's Agents of S.H.I.E.L.D. has been less than successful on all fronts, seemingly in part because its storyline was deeply entwined in the larger Marvel Cinematic Universe by necessity. Tellingly, Marvel has turned to Netflix for its next expansion into television, with four seemingly downscaled series with less of an obvious creative connection to the Marvel Studios movies.
Still, what Marvel has pulled off is nothing short of astonishing, grossing nearly $6 billion with nine films over just six years. That monumental financial achievement is already changing the way other Hollywood studios do business: Sony recently announced that its rebooted Spider-Man franchise would expand with films focusing on the hero's rogues gallery; Warner Bros. is bringing Batman and Wonder Woman into its next Superman movie, indicating the beginnings of a Justice League of America movie; and beyond the immense multi-film cast needed for the time-hopping X-Men: Days of Future Past, there have been whispers that Fox is considering bringing the X-Men together with its in-the-works reboot of the Fantastic Four.
If imitation is the sincerest form of flattery, then Marvel is the most popular kid in Hollywood.
Here are the estimated top 10 box office figures for Friday to Sunday, courtesy of Box Office Mojo:
1. Captain America: The Winter Soldier* — $96.2 million
2. Noah — $17 million
3. Divergent — $13 million
4. God's Not Dead — $7.7 million
5. The Grand Budapest Hotel — $6.3 million
6. Muppets Most Wanted — $6.29 million
7. Mr. Peabody & Sherman — $5.3 million
8. Sabotage — $1.9 million
9. Need for Speed — $1.84 million
10. Non-Stop — $1.83 million
*Opening weekend