Why Isn't Anyone Going To Comedies?
The Croods and Olympus Has Fallen are box office winners, while Admission joins the growing pile of 2013 comedy flops.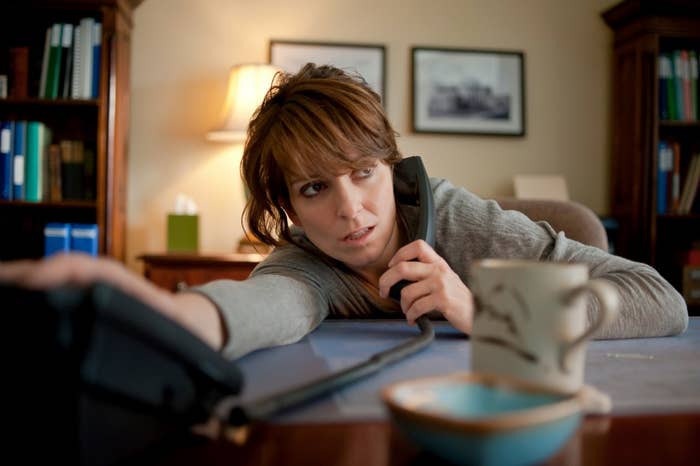 Of all the movies to open at No.1 in the U.S. so far this year, only one was engineered specifically to make people laugh: Identity Thief. The rest have been horror flicks, action thrillers, and fantasy adventures, ranging from genuine blockbusters (Oz the Great and Powerful) to solid earners (Mama and Warm Bodies) to embarrassing flops (Jack the Giant Slayer).
No matter where these movies ultimately land in the Hollywood firmament, however, they have all at least performed better than every single other comedy released to date in 2013.
The movie-star cattle call anthology comedy Movie 43 brought in a humiliating $8.8 million total. The Hangover junior wannabe 21 and Over has only been able to imbibe $23.5 million total. In two weeks, the Steve Carell–Jim Carrey magician comedy The Incredible Burt Wonderstone has barely been able to conjure $17.4 million.
And this past weekend, the Tina Fey–Paul Rudd romantic comedy Admission opened in the No. 5 spot with an estimated $6.4 million. Compare that with the animated fantasy adventure The Croods, which debuted with $44.7 million, and the action thriller Olympus Has Fallen, which bowed with $30.5 million — two of the best opening-weekend numbers so far this year.
So what gives here? Do audiences just not want to laugh if Melissa McCarthy isn't involved?
It certainly isn't about these movies' perceived quality. Admission and The Incredible Burt Wonderstone both had better Metacritic scores (49 and 44, respectively) than the terribly reviewed Identity Thief (which earned a 35) — and it's not like Olympus Has Fallen (43) and The Croods (56) scored much better.
It isn't about star power. Steve Carell and Tina Fey's Date Night opened in 2010 at three times the amount of Admission; ditto Carrell and Paul Rudd's Dinner for Schmucks. Even Fey's first film as a star, 2008's Baby Mama, did better — and her performance cohosting the Golden Globes two months ago certainly seemed to solidify her reputation as a bona fide funny person.
So I suppose we're left with subject matter. A movie about an Ivy League–college admissions officer doesn't exactly speak to a wide audience, nor does a movie poking fun at Vegas and stunt magicians — a topic that feels so 2005. The ads for Movie 43 made the film look crass and cheap, but not particularly comical. And a film called 21 and Over is defining the age limit for it audience right there in the title.
The comedies that have become unqualified hits over the last few years — Ted, 21 Jump Street, The Hangover Part II, Bridesmaids, Horrible Bosses — have eschewed high concepts and/or nuance in favor of bodily fluids and bad behavior, especially in their marketing campaigns. (Yes, Bridesmaids turned out to be a moving exploration of the nature of female friendships, but it also had Maya Rudolph shitting in a wedding dress in the street.)
The next major comedies coming down the pike — The Hangover Part III, The Internship, The Heat — all fall into the broad category of Hollywood comedy, so it's far too soon to declare 2013 the year that laughter died. What this means for the film career of a subtle performer like Tina Fey is another matter entirely.
Here are the estimated top 10 box office figures for Friday to Sunday, courtesy of Box Office Mojo.
1. The Croods* — $44.7 million
2. Olympus Has Fallen* — $30.5 million
3. Oz the Great and Powerful — $22 million
4. The Call — $8.7 million
5. Admission* — $6.4 million
6. Spring Breakers — $5 million
7. The Incredible Burt Wonderstone — $4.3 million
8. Jack the Giant Slayer — $3 million
9. Identity Thief — $2.5 million
10. Snitch — $1.9 million
*Opening weekend
An UPDATE to clear something up: Olympus Has Fallen looked bad, and critics said so; Jack the Giant Slayer looked bad, and critics said so; Hansel and Gretel: Witch Hunters looked bad, and critics said so. And yet many more people went to see these movies on opening weekend than 2013's crop of comedies so far — save Identity Thief, which, let's be honest here, was not exactly a good movie either. Unfortunately, "because they were bad movies" is not a reliable barometer of ultimate box office success. Otherwise, Michael Bay would not be making a fourth Transformers film.