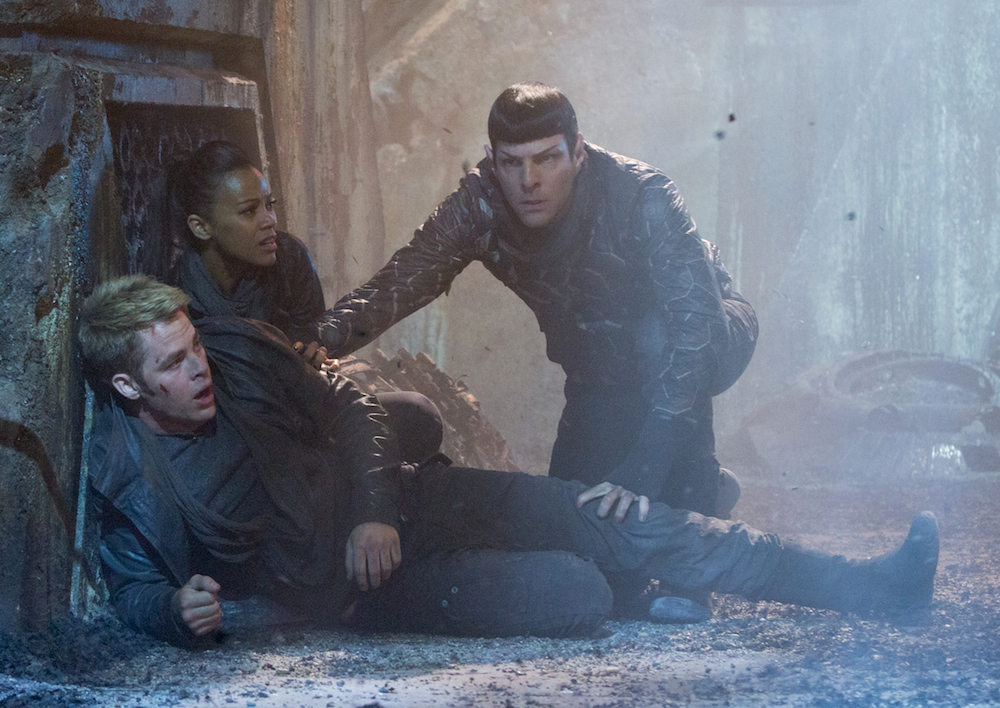 Only in Hollywood would $84.1 million be considered a disappointment.
Before Star Trek Into Darkness opened on Thursday — after a sneak-peek engagement in 3-D IMAX theaters on Wednesday night — box office prognosticators were suggesting that J.J. Abrams' second Trek film had the potential to bring in upwards of $100 million over its four-and-a-half day run. Instead, it "just" brought in an estimated $84.1 million. Clearly, everyone involved should be ashamed of themselves.
I kid, of course. Star Trek Into Darkness is a bona fide hit, bringing in another $80 million overseas for a terrific $165 million global total. Plus, the movie won an "A" rating from the audience polling firm CinemaScore, suggesting that word-of-mouth will keep grosses buoyant for the weeks ahead.
Tucked inside those numbers, however, is the curious fact that Into Darkness's estimated Friday-to-Sunday gross of $70.6 million is a wee bit under Star Trek's $75.2 million three-day debut in 2009. It is impossible to know if Into Darkness would have squeezed its four-and-a-half-day's worth of box office receipts into a three-day weekend had Paramount decided to open the film on Friday as the studio had originally planned. But it is also worth noting that when you include Star Trek's grosses on its first Monday, the film's first four-and-a-half days in theaters brought in $86.7 million — again, just ahead of what Into Darkness made in its first four-and-a-half days.
It is not the normal trajectory for a sequel to a successful film to come in just about even with its predecessor, but that is apparently what has happened here. One could blame the gloomy title, or the hide-and-seek marketing of Benedict Cumberbatch's character, or the fact that maybe Trek just has a ceiling on its popularity no matter how many lens flares J.J. Abrams crams into it.
But allow me to proffer one other possible culprit. In 2009, Star Trek opened the weekend after the debut of X-Men Origins: Wolverine, a movie that so powerfully disappointed audiences that its second weekend plunged 69% against Star Trek's opening gross. What's more, Star Trek had no other real competition — Ghosts of Girlfriends Past and Obsessed were both non-presences at the box office that weekend. Kirk, Spock, and Co. had the multiplex pretty much to themselves.
Into Darkness, by contrast, has had to compete with the quite popular Iron Man 3 and The Great Gatsby still chugging along in theaters — they respectively grossed $35.2 million and $23.4 million this weekend. In the face of genuine competition, it is only logical to be impressed that the Enterprise could still hold its own.
Here are the estimated top 10 box office figures for Friday to Sunday, courtesy of Box Office Mojo:
1. Star Trek Into Darkness* — $70.6 million
2. Iron Man 3 — $35.2 million
3. The Great Gatsby — $23.4 million
4. Pain and Gain — $3.1 million
5. The Croods — $2.8 million
6. 42 — $2.7 million
7. Oblivion — $2.2 million
8. Mud — $2.16 million
9. Tyler Perry Presents Peeples — $2.15 million
10. The Big Wedding — $1.1 million
*Opening weekend