The release of the first deleted scene on Monday, meanwhile, followed what has become a standard playbook for working fans into a lather.
Step one: Get everyone marking their calendars.
Step two: Activate the internet nerds.
Step three: Start trending.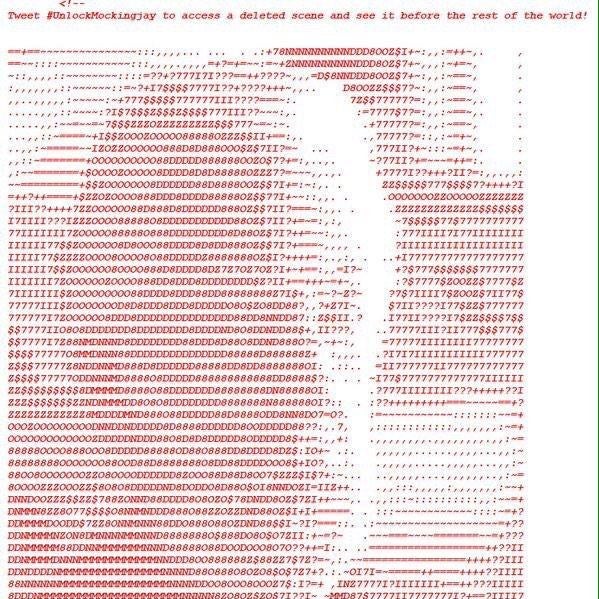 The binary code led fans to a series of websites, where a message to tweet the hashtag #UnlockMockingjay was hidden inside the respective sites' HTML code.
This was involved.
Almost immediately, the hashtag indeed started trending.
And although some were skeptical…
…others were committed to making this exercise in fan engagement work.
Eventually fatigue set in.
Step four: Tantalize fans with evidence of excruciatingly slow progress to a seemingly attainable goal.
Roughly two hours after the promotion first started, fans grew impatient.
Whether this was a covert step five — whet fans' appetite with a low-res "leaked" version — or an actual breakdown of the system remains unclear.
But either way, even though the scene seemed to include a knowing jibe at some of The Hunger Games' "rabid fans"…
…those fans commenced flailing anyway.
And that is how you drive Hunger Games fans insane.
The Hunger Games: Mockingjay – Part 1 is available for digital download on Feb. 17.