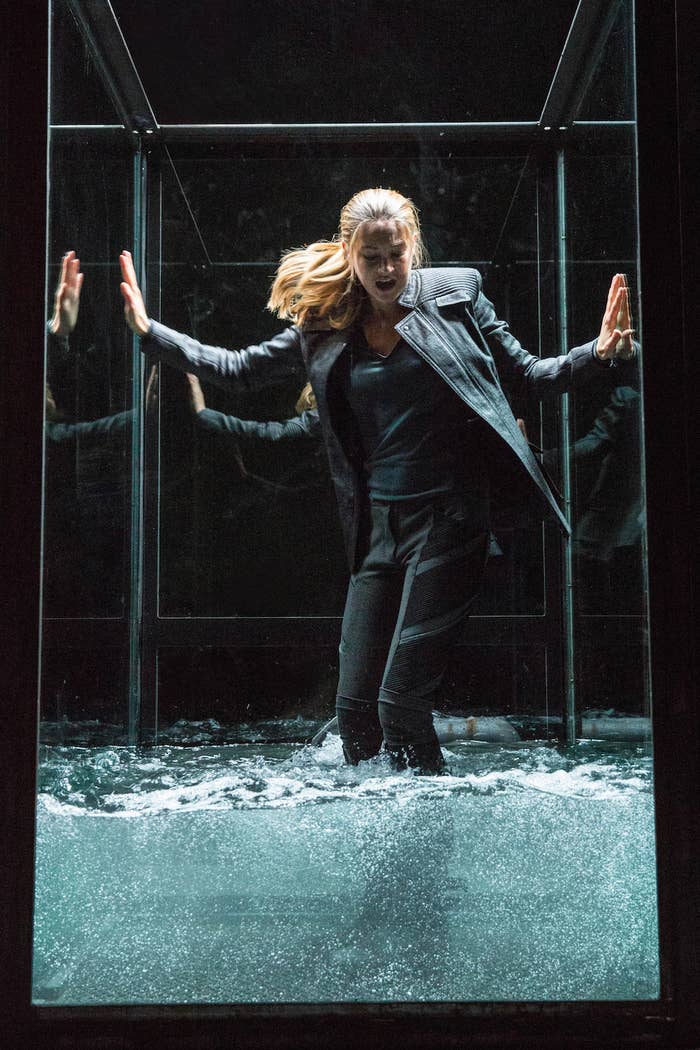 While it did not approach the box office heights of fellow female-driven best-seller adaptations Twilight or The Hunger Games, Divergent is a clear, if modest, success. The adaptation of Veronica Roth's best-selling novel opened with an estimated $56 million this weekend — including Thursday evening screenings — which places the film neither strapped to a rocket to instant mega-blockbuster ubiquity nor tied to an anchor heading toward instant pop-culture oblivion.
Though there is always a lot riding on the launch of a franchise, Divergent's debut had particularly high stakes: Months before the film's release, Summit Entertainment had already announced release dates for adaptations of Roth's subsequent two books in the series. Insurgent will go into production in May, and will open in North America on March 20, 2015; and the final, controversial installment Allegiant is scheduled to be released on March 18, 2016. With Divergent's solid debut, that risk appears to have paid off for Summit.
The series' overarching story, which tracks young heroine Tris (Shailene Woodley) as she struggles to survive in the unyielding class structure of her dystopian society, has been liberally compared to The Hunger Games series. But Roth's psychologically driven narrative lends itself to far less epically scaled, CG-laden action sequences than The Hunger Games did, which is reflected in the film's marketing — and, it appears, in its box office returns. (The Hunger Games opened to $152.5 million, almost three times Divergent's debut.)
Still, moviegoers were definitely satisfied; it received an "A" grade from the audience polling firm CinemaScore (and an "A+" from those under 18). That audience was roughly 59% female, and 41% male — a decently balanced gender split considering how female-skewed Twilight, Summit's last major franchise, was.
But the most telling detail from CinemaScore was in how many ticket buyers had read Roth's novel: just 50%, in comparison to 76% of the audience for The Hunger Games's opening weekend, and 74% for Twilight. The draw for Divergent, it seems, was as much Woodley, co-star Theo James, and the central conceit of the story itself.
It's a promising development for the movie franchise, and an eyebrow-raising one for Hollywood's continued pursuit of YA-driven novels as a reliable source for blockbuster franchises. For every sensation like The Hunger Games — or moderate hit like Divergent — there are far more adaptations of YA best-sellers that barely made any blip at all. (R.I.P. Vampire Academy, Ender's Game, The Mortal Instruments: City of Bones, The Host, Beautiful Creatures, I Am Number Four, Cirque du Freak: The Vampire's Assistant, Inkheart, The Spiderwick Chronicles, The Seeker: The Dark is Rising, and Eragon.) With that dismal success rate, and with Roth's readership only accounting for roughly half of Divergent's audience, perhaps Hollywood should spend less time analyzing the best-seller list, and more time analyzing whether the books on those lists are suited for the movies in the first place.
Here are the estimated top 10 box office figures for Friday to Sunday, courtesy of Box Office Mojo:
1. Divergent* — $56 million
2. Muppets Most Wanted* — $16.5 million
3. Mr. Peabody & Sherman — $11.7 million
4. 300: Rise of an Empire — $8.7 million
5. God's Not Dead* — $8.6 million
6. Need for Speed — $7.8 million
7. The Grand Budapest Hotel — $6.8 million
8. Non-Stop — $6.3 million
9. The LEGO Movie — $4.1 million
10. Tyler Perry's The Single Moms Club — $3.1 million
*Opening weekend