1.
Essence's Lash Princess mascara to take your lashes to new ~heights~ and make people think you're wearing falsies, when in fact, all you did was swipe on some mascara.

BuzzFeed Shopping Editor Emma Lord says: "Hello, that is my face above, because I bought into the hype of over 150,000 5-star reviews, and now I will never look back!! Putting it on is like giving my eyelashes butterfly wings. It doesn't get clumpy, it stays put ALL the live long day (I spent all of last year's ridiculously hot pandemic summer wearing it, so I can speak to that), and you can apply it on very lightly if you don't want it to look so dramatic, or continue applying for longer lashes each time."
Get it from Amazon for $2.49.
2.
A luggage-mounted cup caddy so you have a place to hold your coffee (and water or snacks!) while you make your way through the never-ending terminal to find your gate. You'll never spill your coffee while trying to answer a text again!
Promising review: "This cup holder is perfect! It helps me a lot! Last time I took a plane with a suitcase and a cup of coffee, I dropped and spilled my drink everywhere when it was my turn to check my passport and ticket. It was a nightmare! This time, I bought this cup holder to do me a favor! I don't have to worry about where my cup and phone are! I can free my hands to do other things. I love it so much! Hope you love it too." —Philip
Get it from Amazon for $15.99 (available in nine colors and patterns). 
3.
A pair of AirPod ear hooks to give you some extra security when you wear your AirPods out in public or to work out. The look slides right on to the end and stays comfortable on your ears because AirPods are only so amazing if you don't lose them.
Promising review: "These saved my AirPod Pro purchase! They are a must-have. The AirPods Pros always slipped out of my ears (the older versions don't fall out only the Pros). I tried 'memory foam' ear pads, but those didn't work. But these hooks work!!!!! The pros are short so the bottom of the hooks fit barely!!! But I can't wear my Pros without them! I'm very thankful for these because I spent too much damn money on those pros for them to not fit in my ears 😂" — Angela Tait

Get a pair from Amazon for $10.49.
4.
A carpet cleaning solution capable of transforming the carpet you just assumed was brown when you moved in but is actually a nice light beige color instead. 😳
Promising review: "I'm very impressed! I purchased this based on all the reviews, and it did not disappoint. Our carpet was filthy. Between three kids, the dog, wear and tear...it was time for a cleaning. I have a Bissell cleaner and decided to put it use with this cleaner. It worked great! My carpet looks just as good as it does when it is professionally cleaned. I used 6 ounce of cleaner to a gallon of hot water to clean (as per directions on bottle). It took 18 ounce of cleaner total to do my entire living room. Once it was clean, I went over the space with a hot water rinse. It pulled up 90% of the stains in the carpet. Which for carpet that is seriously used...I think is pretty impressive. I did pre treat all the stains with my go-to carpet spot treatment Folex before starting. The scent is pleasant, but a bit overpowering. I don't mind it, but it does last a while. Overall, I am very happy with this product and will use it to next time I need to clean my carpets. It's worth the money!" —jkblcpad
Get it from Amazon for $19.97.
5.
A Revlon One-Stop Hair Dryer & Volumizer going viral on TikTok for a reason — it cuts drying time in half *and* helps you easily create a salon-worthy blowout at home. You'll be ~blown~ away by the results. 
This brush has hype with more than 213,000 5-star reviews, and it really does live up to it. The oval brush design smooths the hair and the round edges create volume — leaving you with a salon-worthy blowout at home. It also has two heat and speed settings and a cool option.
Promising review: "This thing is definitely the best purchase I have ever made. My hair-drying time went from three hours down to about 30 minutes, it dries so well, especially if you pair it with the blow-drying cream or spray. On top of blow dry my hair, the ceramic gets so hot that my hair is straightened in the process. So it brushes, dries, and straightens. This thing has literally changed my life and saved me hours of time. I cannot say enough good things, seriously I could go on and on." —Summer Fayard
Get it from Amazon for $34.88+ (available in three colors).
6.
A portable paw cleaner you most definitely need if your pup seems to go out of their way to find mud when you're out on a walk and then won't sit still while you try to towel them off. Just fill this cleaner with water, dunk their paw in, and the silicone bristles will do all the hard work for you and get the mud off.
No more muddy pawprints showing up all over your home!

Promising review: "I have four dogs in NYC. I have to wash their feet after every walk because the streets are so filthy. It would take me about 10 to 15 minutes to clean their paws with a spray bottle and towel. Now, it takes about five minutes. And the towel doesn't end up filthy. The dirt gets caught in the cup. Plus the dogs seem to like it. The silicone bristles must feel good. A huge thumbs-up!" –Sandra
Get it from Amazon for $12.75+ (available in three sizes and six colors).
7.
A bacon sponge for green solution to getting rid of excess grease from foods like bacon. It is made with organic cotton "unpaper" towel, absorbs 20 times faster than other materials, and is reusable and compostable. Sunday brunch will never be the same.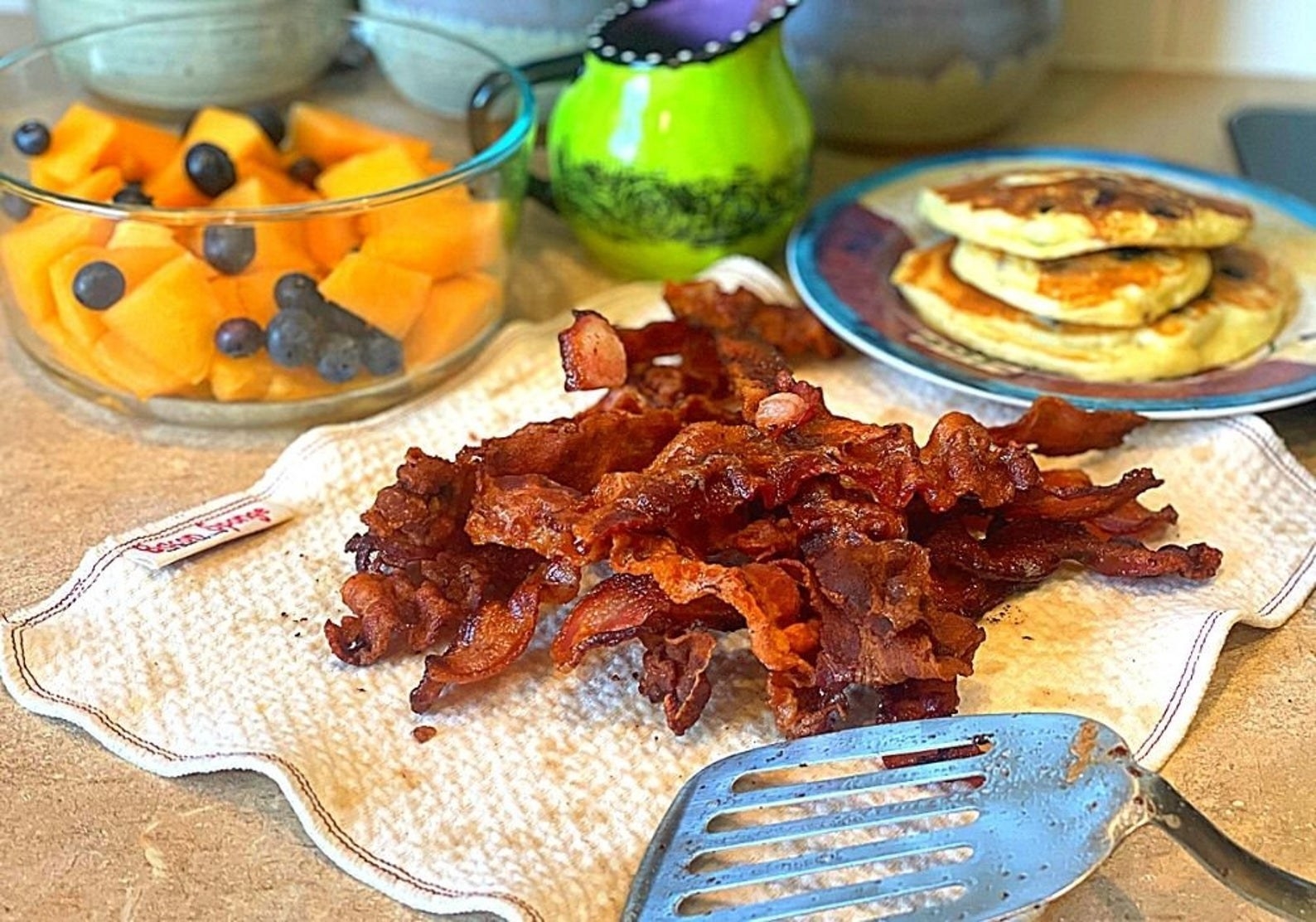 Green City Living / Amazon Handmade
Green City Living is a woman-owned small biz is based in Denver, Colorado!
Promising review: "This is great. I don't like using loads of paper towels in draining meat, but I didn't know what else to use. The bacon sponge is absorbent and easy to clean. It performs as advertised and makes me feel better about eliminating another source of waste." —PamelaRenee
Get it from Green City Living on Amazon Handmade for $13.50.
8.
A moisture meter designed to tell you exactly how much (or how little) water your plant is getting. If you've been struggling as a plant parent and can never figure out if you're watering your plants too much or too little, this gadget will make your life so much easier!
Promising review: "If you're new to the world of indoor plants, this is a must have! So simple and helpful in figuring out when to water your plants. Has saved me from killing or overwatering many plant babies!" —Samantha Zellner

Get it from Amazon for $10.97 (available in two colors).
9.
A wood polish and conditioner that'll work like magic to return any wood to its original state and keep it from fading.

It enhances the natural color of the wood and polishes it — plus adds a protective coating of carnauba wax and beeswax to prevent it from fading in the future.
Promising review: "This stuff is absolutely AMAZING. My wife and I were getting tired of looking at our worn out cabinets and wood paneling and were very close to paying a professional thousands of dollars to refinish it all, but then we came across this product. Our paneling and cabinets were looking rough. We have two dogs that jumped up and scratched places, we also had an area that was damaged by water spots where our dog bowls were, and several other areas that were just worn from heavy traffic. This stuff was like a magic eraser for water spots, scratches, scuffs, and any other blemish. We simply wiped the product on with a paper towel and let is sit for 20 minutes before wiping it off with a clean towel. Everything looks brand new. I'm buying a couple more so we can finish our cabinets and wood paneling. We're so glad we found this product." —Kris
Get it from Amazon for $8.98.
10.
A Takeya cold brew maker so you can make your favorite beverage at home, keep it in your fridge and pour yourself a glass when that 3 p.m. slump hits, and you need to make it through the rest of the afternoon.
Plus, it's so easy to make! Just add six tablespoons of your favorite coffee in the filter, fill it with water, and let it sit in your fridge for 24 hours. Then just take the filter out of the pitcher and enjoy your coffee!
Promising review: "Umm, this has changed my life. I love cold brew so much but was sick of spending so much at cafes or going to Target every week to pick up Chameleon cold brew concentrate (which is my favorite store bought brand). I bought this and have been brewing Stone Street course ground cold brew blend per the instructions. It is perfect! Tastes just like the ones I buy for 5+ dollars elsewhere, and I get the added benefit of full customization in terms of strength/how concentrated. The jug is easy to clean, easy to use, and shatter-proof. I would recommend it. :)" —KC
Get it from Amazon for $24.99+ (available in two sizes and three colors).
And to learn more, read the full review of the Takeya cold brew coffee maker here.
11.
Some light switch extenders designed with a moon-shaped handle so your kids can turn the lights on and off all by themselves. Sometimes the littlest things make the biggest difference.
You can install these in minutes to standard light switches. Plus, they glow in the dark! 

Promising review: "Must-have for toddlers! Perfect solution! As my toddler's independence soars, so do frustrations. This light switch extender pack was a great buy. He can now turn on the lights in his room and bathroom. Installation was easy and works as expected." —AW
Get a pack of two from Amazon for $18.99.
12.
A Squatty Potty specifically designed to adjust your position so you can go number two easier and live a life without bloating or constipation backing you up.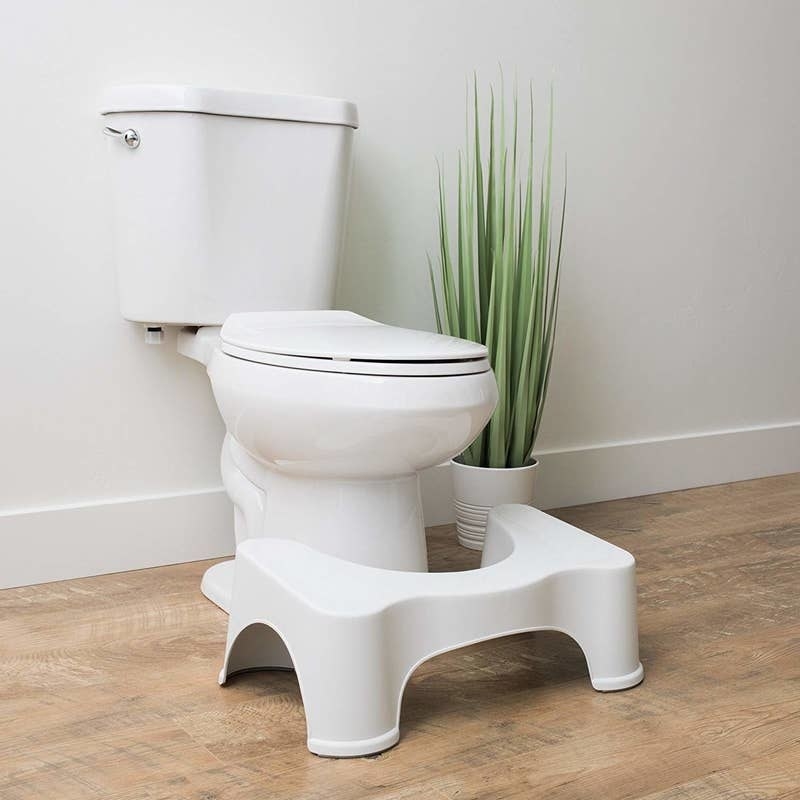 The 9,000 five-star reviews don't lie — this thing WORKS and works well.
Promising review: "I was skeptical when I first heard about the Squatty Potty. After all, I have been pooping just fine for decades. But when a co-worker gave a glowing review of them, I decided to try one. From the first moment that I sat down, I knew it was going to be a good experience. It's just a more natural way to poop. Not only did my business take about half the time to complete, it was a more thorough job. I recommend this product 100%." —LL
Get it from Amazon for $24.99.
13.
A 100% natural oven cleaning kit complete with everything you need to fight through the tough grease in your oven without you having to put too much of your own elbow grease into it. Simply apply the all-purpose cleaner, scrub, and use the metallic sponge to blast away the grease. It's (almost) as easy as the pie you made in said oven. 
Everneat is a small business based in Fairfield, Connecticut-based specializing in natural cleaning products and tools. The kit includes a jar of oven scrub, an all-purpose cleaner, and a metallic sponge that should be used in conjunction to get the best results. 
Promising review: "I'm blown away with how clean this got my oven! My husband and I bought our home four years ago, and the oven is probably 20 years old and has been a nightmare as far as cleaning goes. I've tried several different products and nothing has worked as good as this. My 6-year-old was even pumped about how clean the oven is. I am excited to try the all-purpose cleaner, and I plan to try the wood cleaner too!" —Jessica Attaway
Get it from Everneat on Etsy for $27.99+ (available in two jar types).
14.
A soundproofing strip to help block out all the surrounding noise so you don't have to hear the music that your upstairs neighbor decides to put on at 2 a.m. Some of us like to sleep!!!
PLUS: This also makes sure that your air-conditioning and heat doesn't escape under your doors, thus saving you energy and money!
Promising review: "This product works really well! I needed a quick fix to my home office situation. I live in an apartment in Manhattan and never noticed how much sound comes in and out until I had to be on conference calls working from home! This little tape made a big difference, took me a couple of minutes to install." —Sandra Revueltas
Get it from Amazon for $7.97+ (available in four colors).
15.
A washing machine tablets because yes, the machine that you use to get you clothes clean also needs to be cleaned itself. This tablet will dissolve during the cycle and work to break up and remove odor-causing residue that may be the reason your favorite hoodie isn't smelling as good as it used to.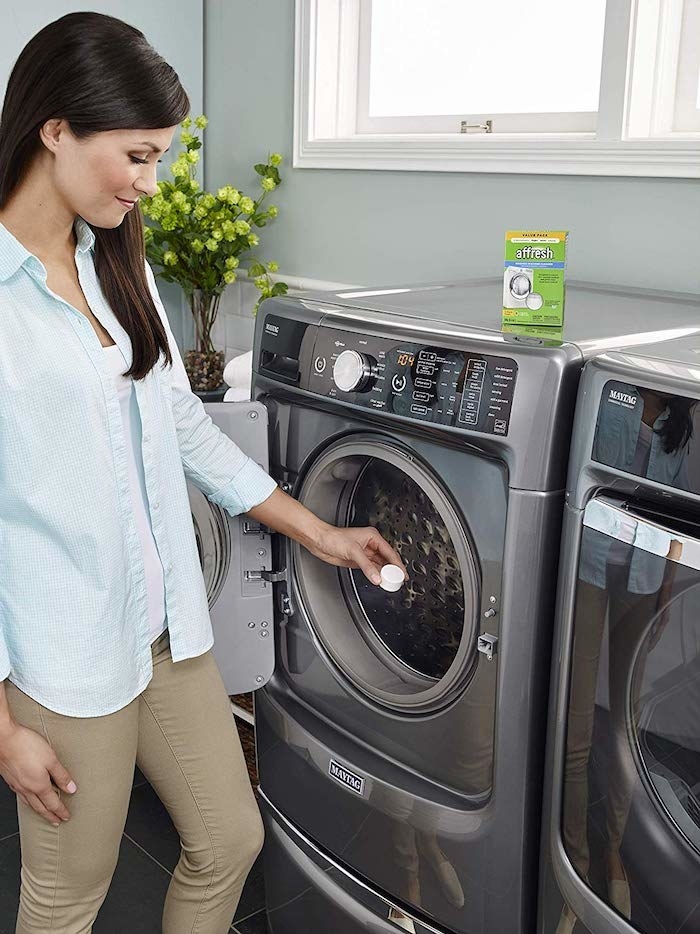 Promising review: "I have been using bleach to clean my machine for some time, but decided to give this a try a few months ago. My very first clean with Affresh tablets left me surprised and delighted for not only did it clean my machine, but it also eliminated the nasty smell that always transferred to my clothes thanks to a buildup of mold I didn't even know about. Every month now, I toss a tablet into the drum and let it work its magic. Now my machine is cleaner than ever, and my clothes always smell wonderfully fresh." —Kelli Crawford
Get a six-pack from Amazon for $11.99.