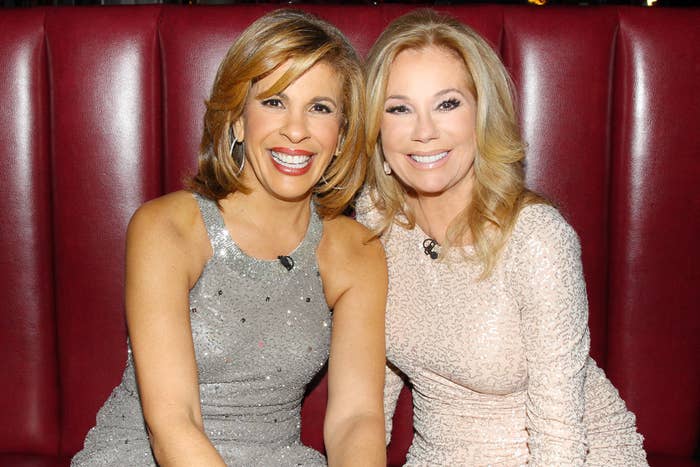 2014 is quickly coming to an end. Who better to discuss the year with than two women whose day job is to talk about current events over wine every morning? We grilled Kathie Lee Gifford and Hoda Kotb with questions in honor of their upcoming special A Toast To 2014. See their very candid answers below.
Of all the important butts of 2014, which booty is your personal favorite?
Hoda Kotb: J.Lo! What'd you put?
Kathie Lee Gifford: I put "mine."
HK: OK, why yours? Her anaconda don't want none unless you've got buns, hun.
KLG: Because it doesn't get any attention at all and I like it that way.
HK: J.Lo. You know why I like hers? Because it's 40 years old.
KLG: Forty-three.
HK: Forty-plus. She's got a 40-plus-year-old ass.
KLG: Mine's 61, that's why nobody wants to see it.
Would you rather be seen in public wearing Pharrell's giant hat or Matthew McConaughey's fanny pack?
HK: Definitely the hat.
KLG: I own about 10 fanny packs!
HK: Yes, she does.
KLG: I was wearing them in the 1920s, and I'm not giving up my fanny pack for anything! She only likes Pharrell's hat because it's the only hat in the world that would fit her head.
HK: OK, now. Let me correct everything that she just said. First of all, she has worn a fanny pack since she was a teenager and she sported a Gucci fanny pack forever until she lost it.
KLG: Someone stole it, I think! Everybody wanted my fanny pack.
HK: Pharrell's hat I don't like because it's big, but I do have a bulbous head and I know it. And I'm not ashamed of it. I just like that he's unique, OK?
KLG: So is my fanny pack.
Which word that rose to popularity in 2014 are you more likely to use in everyday conversation: "amazeballs" or "adorbs"?
HK: I would have to go with adorbs, and I would only say it in jest because it looks ridiculous when a 50-year-old woman says amazeballs.
KLG: I said "adore balls," cause I do. Who doesn't adore a good ball?
In your opinion, what should have been the word of the year?
HK: OK, I know.
KLG: When Hoda and I are sick and tired of waiting around —
HK: — instead of dropping the F-bomb we go like this: "LA!"
KLG: That's a good one. It's not exactly a word, though.
HK: We do it every time.
KLG: I was thinking of just "enough."
HK: LA!
HK: I do a big YAYYYY!
KLG: And I think they should be called self-absorbies. See, one of us thinks things through.
HK: You know what the best part about a selfie is? You don't have to bother anyone to take your picture.
KLG: Except when people come to us and say, "Can we do a selfie?!" That bothers me.
Selfie sticks: yay or nay?
KLG: Selfie what?
HK: Sticks. Remember when Matt [Lauer] took a picture with the thing out?
KLG: Oh.
HK: Mine is still a YAYYY. Oh no, watch out for hers —
KLG: Stick this.
Which consciously uncoupled celebrity couple do you wish would reunite?
HK: NA: Not appropriate.
KLG: You know, I'm godmother to the two younger Jenner girls and I don't like to see families break up.
Which viral video had you crying with laughter the most this year?
KLG: Apparently Kid.
HK: I like the kid whose mom said that she was pregnant and he's like, "Why'd you go and do that? What were you thinking?"
KLG: That's a good one, but I gotta give it to Apparently Kid, though.
HK: What do you call that kid?
KLG: Uh, obnoxious.
Which "most intriguing person of the year" would you want to have dinner with?
HK: Amal [Almuddin].
KLG: We just want to see what she's wearing.
HK: And if she eats anything.
KLG: And Hoda wants to know how George is in bed!
KLG: What's the Nae Nae?
HK: I'm gonna say Nae Nae — and if I were to do it, it'd be a big nay.
KLG: [The Hokey Pokey] never gets old. EVER.
Furkenstocks or wedge sneakers?
HK: I do wedge anything. Anything with a wedge, I like.
KLG: Neither, they both suck.
HK: Oh! "Anaconda"!
KLG: You sing that song all the time.
HK: ♫ Oh my god, look at her butt... ♫
KLG: Do I really have to make a choice between an ass and a penis? Really? I'm gonna go with the penis every time.
HK: ♫ My anaconda don't want none unless you got buns, hun... ♫
KLG: Calling it an "anaconda" is disrespectful. To penises. It's disrespectful.
What was your favorite celebrity Ice Bucket Challenge?
KLG: Let's end this the way we started: mine. I got to do mine in my bathtub.
HK: She did. I liked Jimmy Fallon, with the whole group.
KLG: It was a distant second to mine.
HK: She was naked in the tub.
A Toast to 2014!, a two-hour primetime special, airs Wednesday, Dec. 31, at 8 p.m. ET/7 p.m. CT on NBC, hosted by Kathie Lee Gifford and Hoda Kotb.