1.
Alright, Toy Story (1995) is the first feature film that Pixar released, so there weren't many other movies to include Easter eggs from. But that didn't stop the PCU (Pixar Cinematic Universe)! The books on the shelf behind Woody are all titled after Pixar shorts: Knick Knack (1989), Tin Toy (1988), Red's Dream (1987), and The Adventures of André & Wally B. (1984).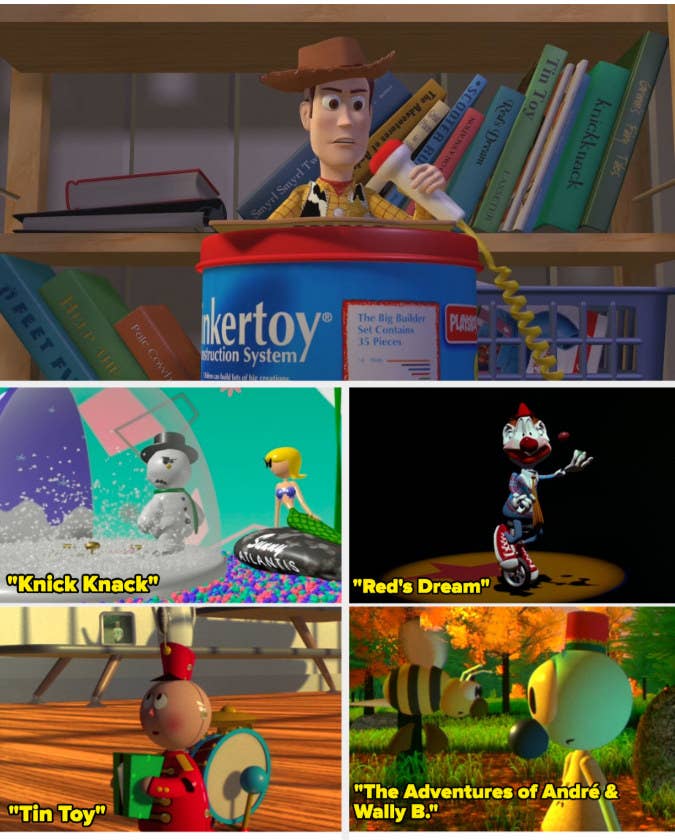 2.
But by Toy Story 3, the PCU is pretty established! The batteries in Buzz Lightyear are made by Buy N Large, the mega-corporation in WALL-E, which was also owned the raceway in Cars 3.
3.
There must also be a very successful Chinese takeout manufacturer in the PCU, because this takeout box is seen first in A Bug's Life, then behind Hamm in the Planet Pizza truck in Toy Story 2. Linguini also has some in his fridge in Ratatouille, and Riley's family orders multiple containers in Inside Out. The Parr family also grabs some takeout, so the containers make another appearance in The Incredibles 2. In Toy Story 4, Margaret has a container in her fridge in. And most recently, a man in Soul has one on his office desk.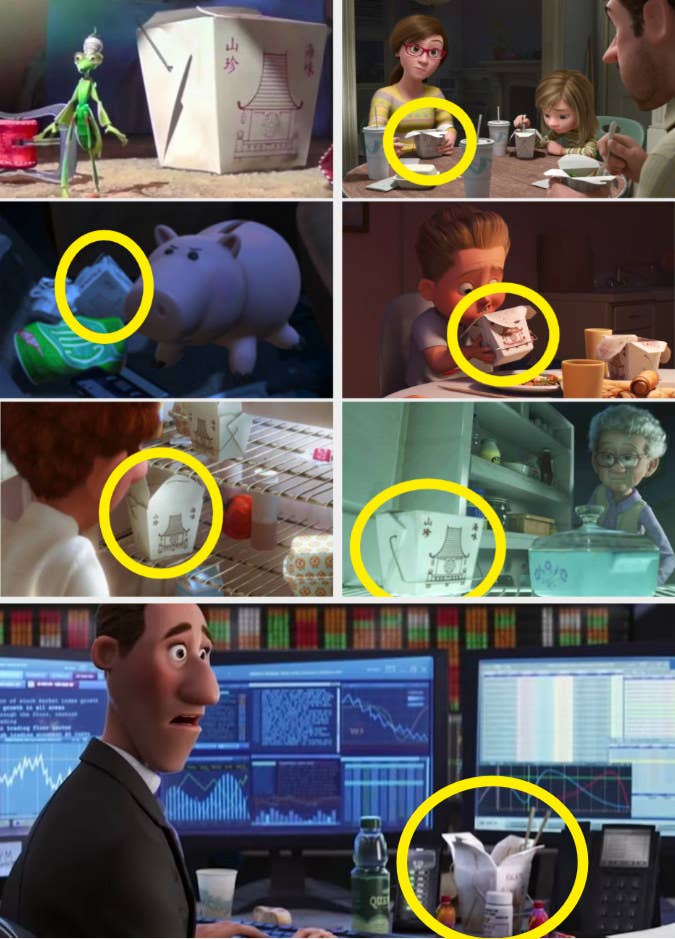 4.
Another big company? Insuricare. In Cars 2, the car life insurance is offered by Insuricare, the same company Bob Parr works for (before he puts his boss in a full-body cast) in The Incredibles.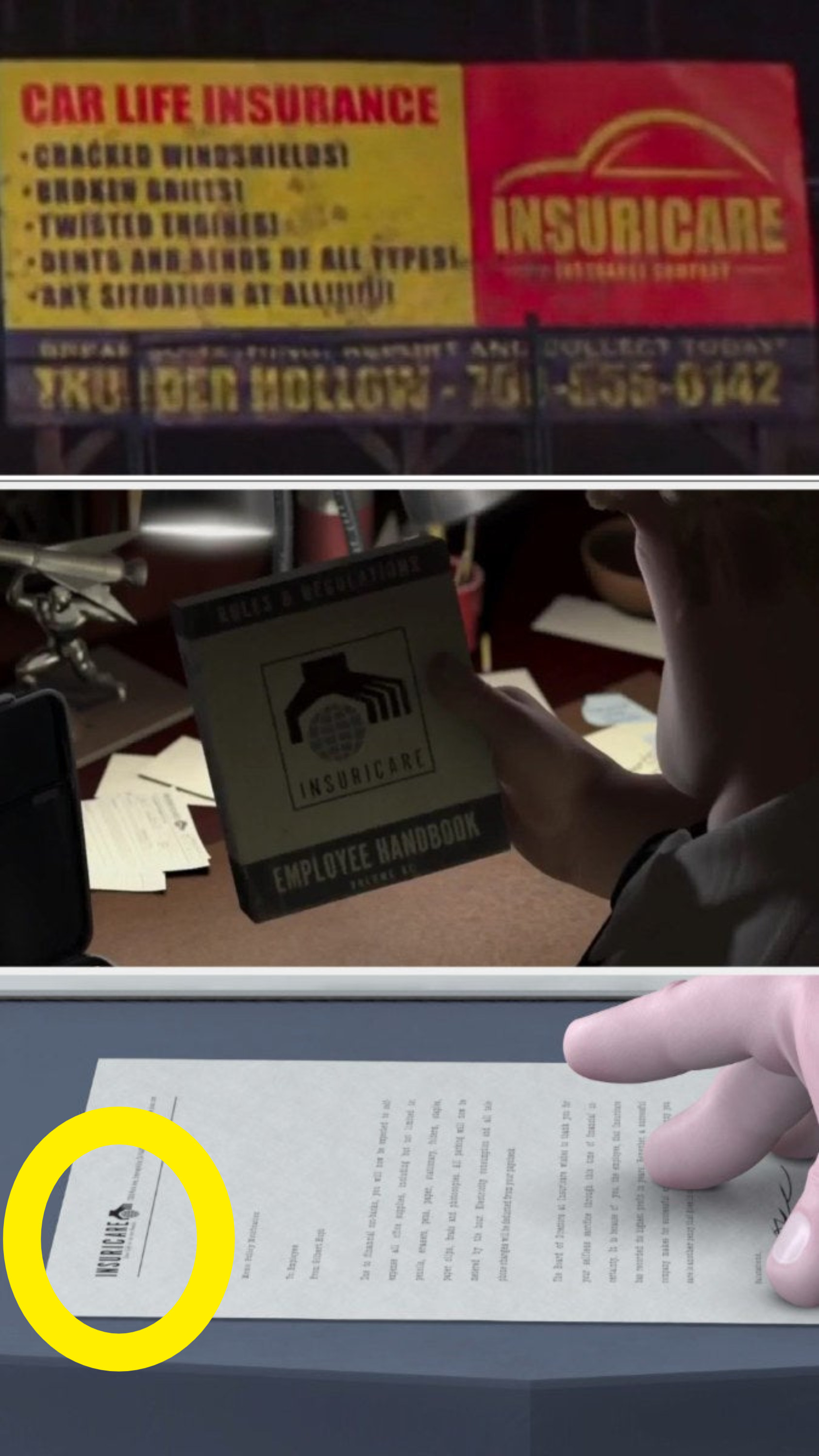 5.
When Joe's riding the train in Soul, there's an ad in the cart for Brang, the company where Riley's dad worked in Inside Out. It must be a cool enough flex to work there because her dad wears a Brang t-shirt throughout the movie. (Although they did just move to San Francisco for his job, so I'm not saying it has to be a startup but... take it for what you will.)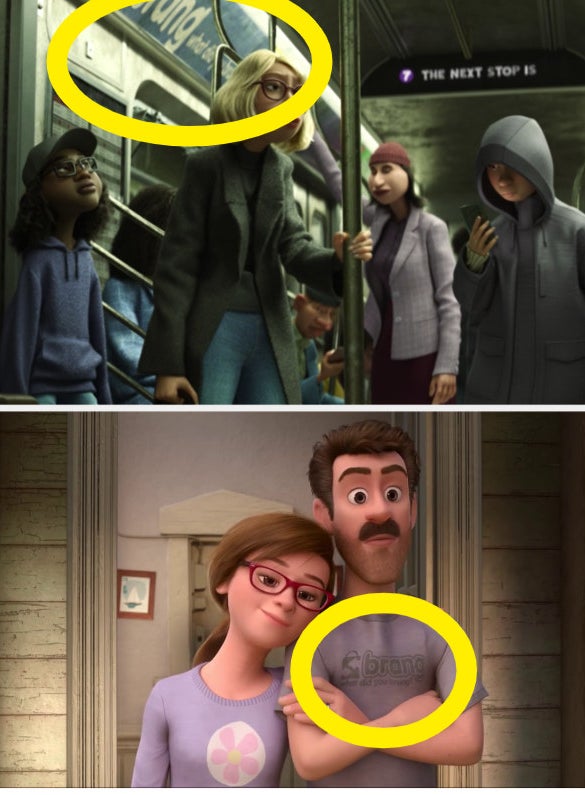 6.
The Dinoco gas station, which first appeared as a small gas station in Toy Story, is actually a big oil company in the PCU. In Cars, Dinoco is known as the most lucrative sponsor in the Piston Cup, and there's an old Dinoco lighter shown in WALL-E.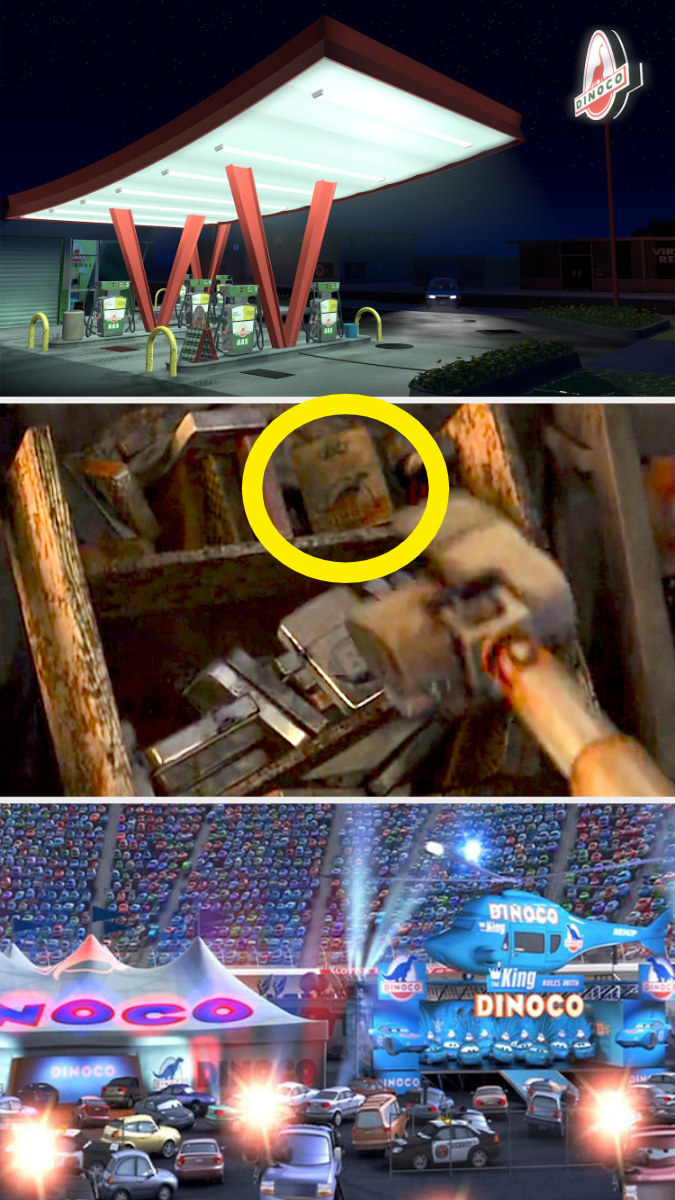 7.
TripleDent Gum is another popular brand in the PCU. We're first introduced to the gum in Inside Out in a memory (though it's a running gag throughout the movie). Then, in Cars 3, TripleDent Gum sponsors Cam Spinner and Terry Kargas in the Piston Cup. And in Onward, there's a pack of TripleDent Gum in Ian's room and being sold at a gas station.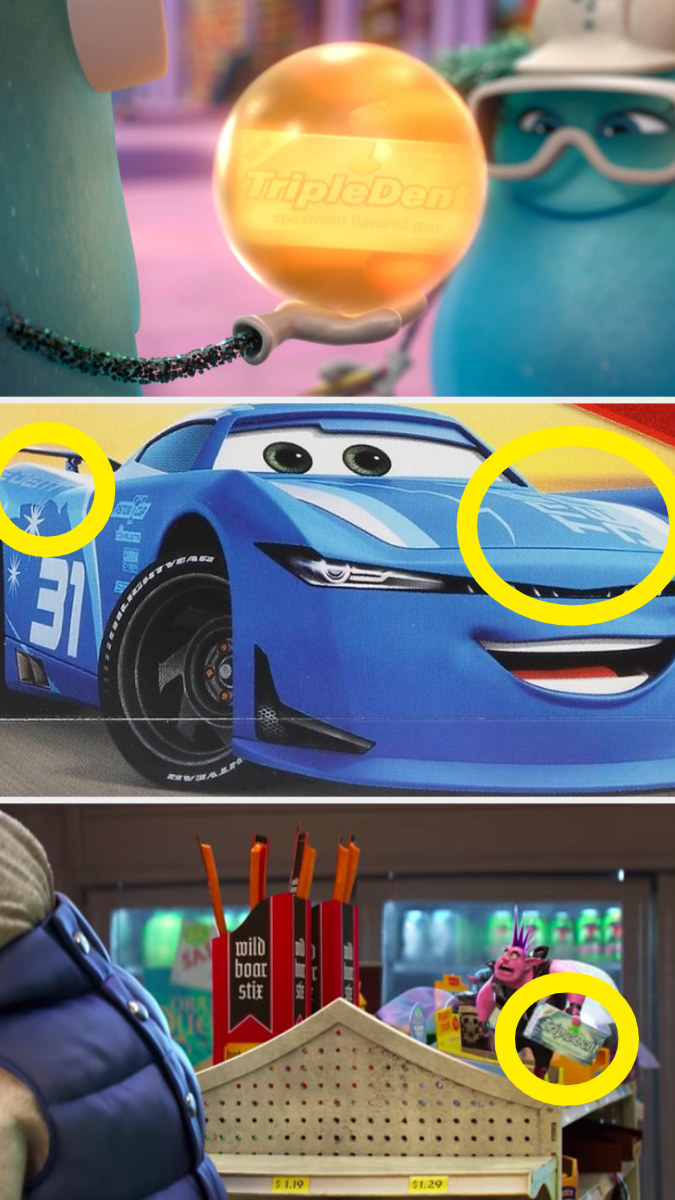 8.
In the Toy Story films, Eggman Movers is a moving company. And they must have been successful enough in the PCU because they could afford a billboard in the midst of BNL ads in WALL-E. (Or it's a last-ditch use of their marketing budget...)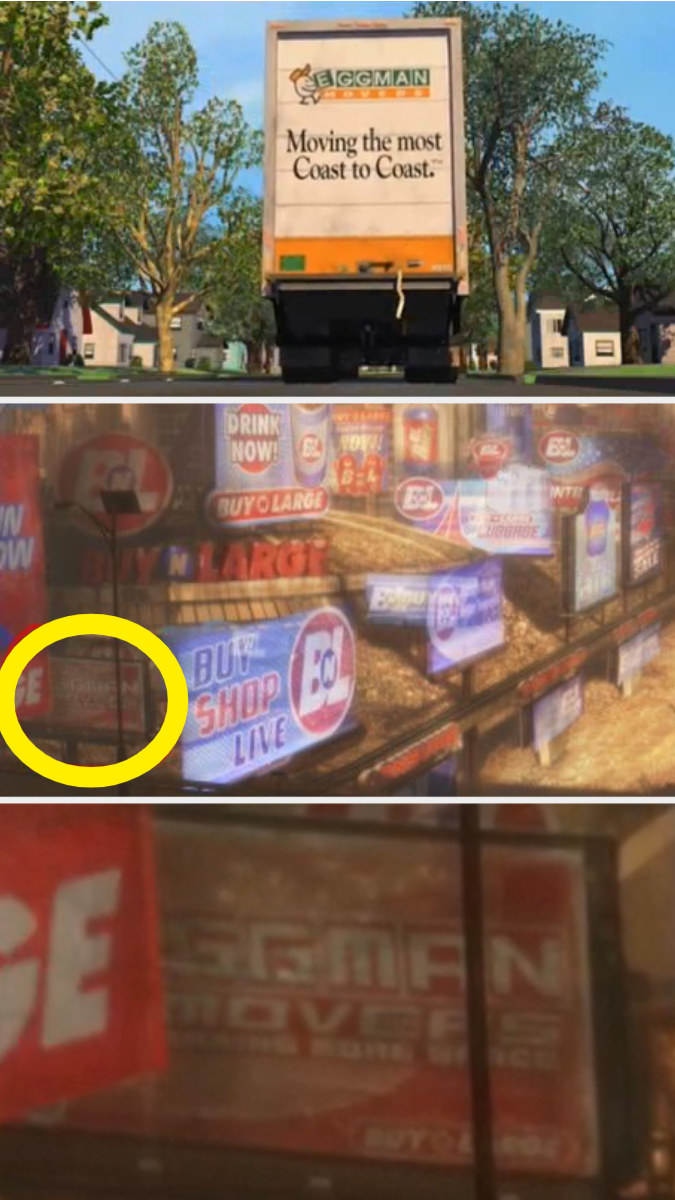 9.
Remy (from Ratatouille) may be expanding his business ventures because he's spotted as the chef at Manticore's Tavern in Onward. (Or maybe he's taught other rats how to cook.)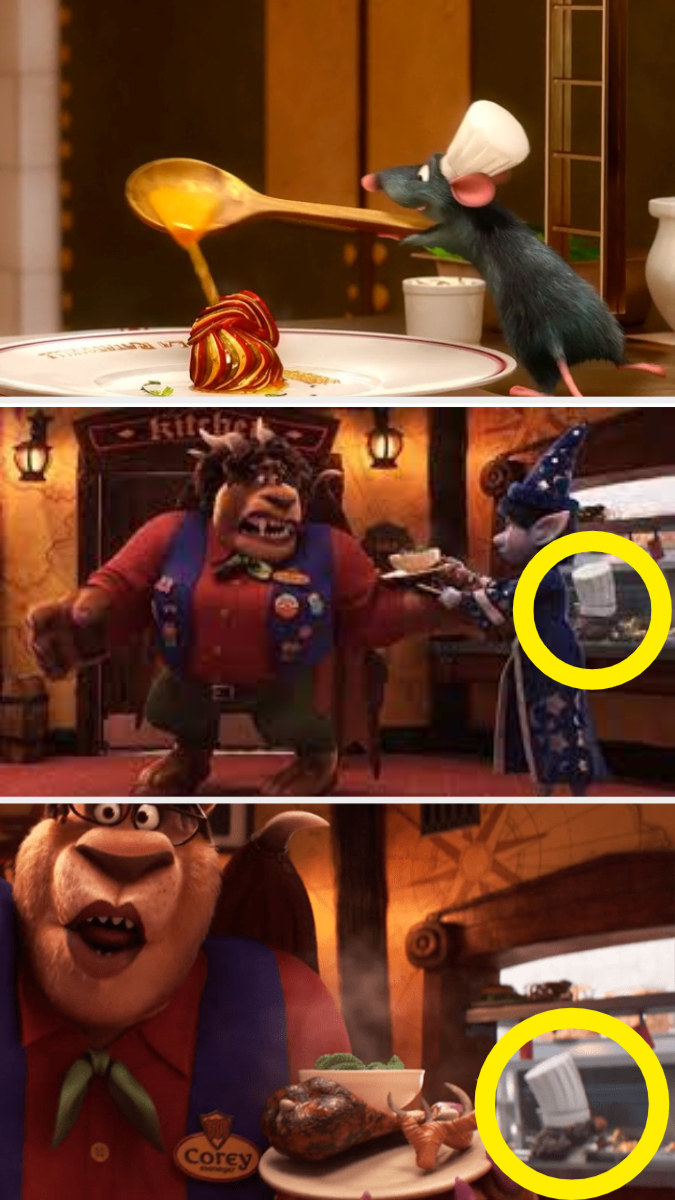 10.
On Andy's dresser in Toy Story, he has a postcard from Carl and Ellie of Up!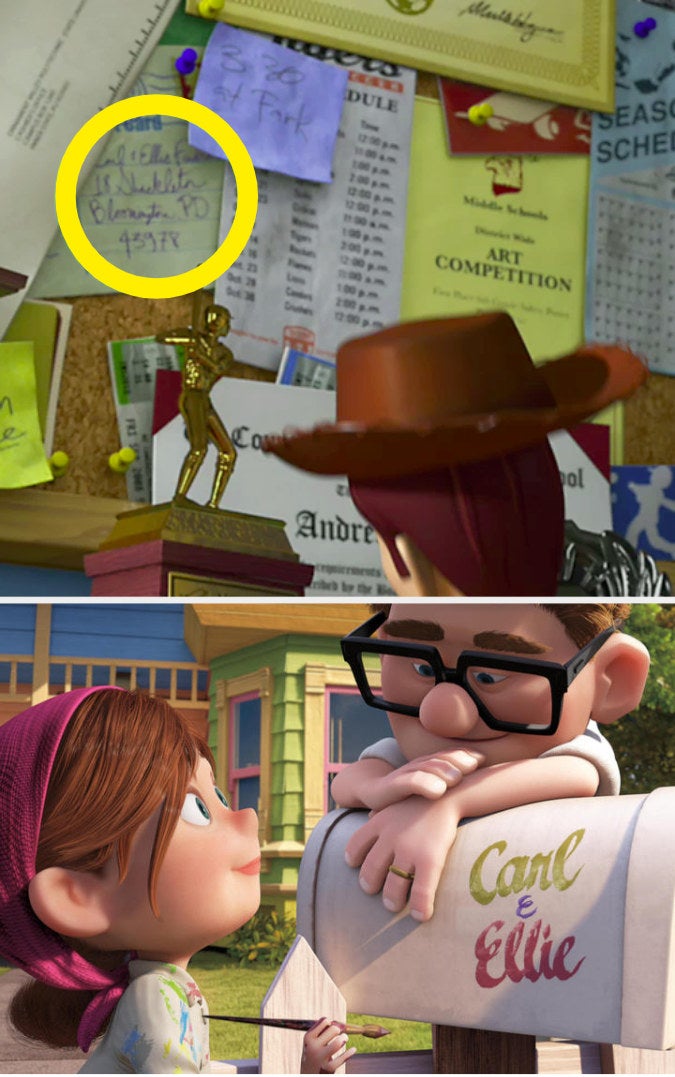 11.
In Cars 2, there's a tapestry of the car-versions of Merida's family hanging in a bar in London. When Brave was released, the exact same family tapestry hung in Castle DunBroch.
12.
On the shelf behind Barley in Onward, there's a Dorothea Williams record. When Soul was released, the famous jazz musician that Joe wants to play with is Dorothea Williams herself!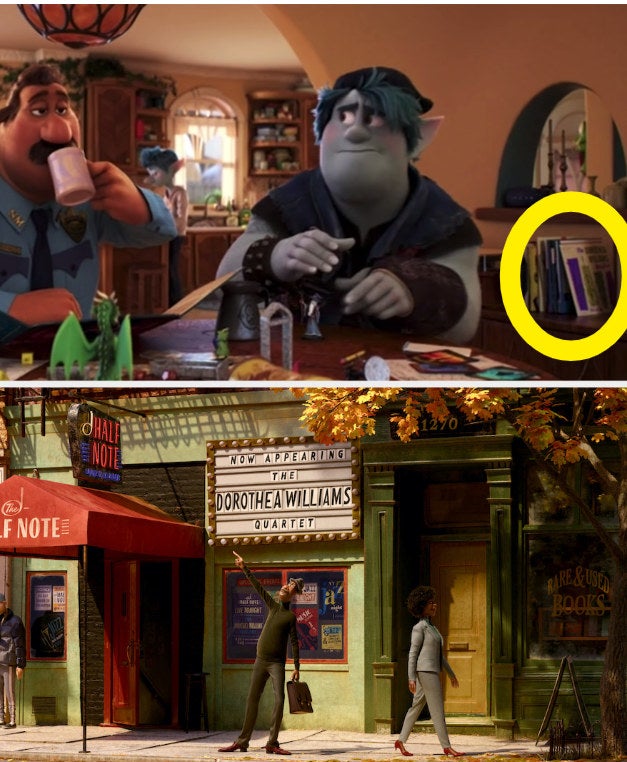 13.
In Toy Story 2, before Buzz Lightyear pushes past him, you can see Heimlich, the caterpillar from A Bug's Life, crawling on the branch! And I know, you're thinking, "Really? A caterpillar? That's not specific." But, the blooper reel during the credits confirms that it is, indeed, Heimlich. There.
14.
Mrs. Potato Head is reading a book about A Bug's Life in Toy Story 2, complete with a picture of Flik and Dot in it. On that page, it can be read, "Dot was getting really angry..." (Between this and the Heimlich cameo, it's clear the Toy Story and A Bug's Life "casts" exist in the same universe, so...product placement, anyone?)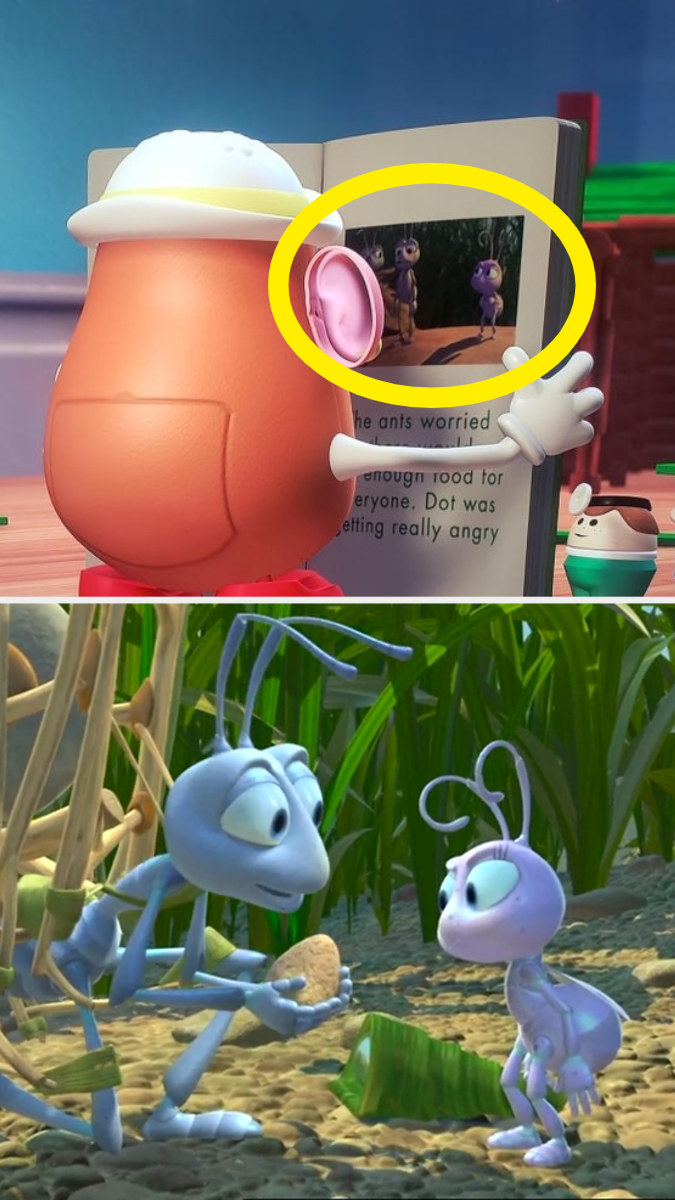 15.
In the Cars films, the drive-in theater in Radiator Springs shows the car-version of other Pixar films, like "The Incredimobiles," "Toy Car Story," and "Monster Trucks, Inc."
16.
The toys from the Toy Story films also seem to be popular throughout the PCU. In the waiting room of the dentist's office in Finding Nemo, there's a Buzz Lightyear toy in the corner.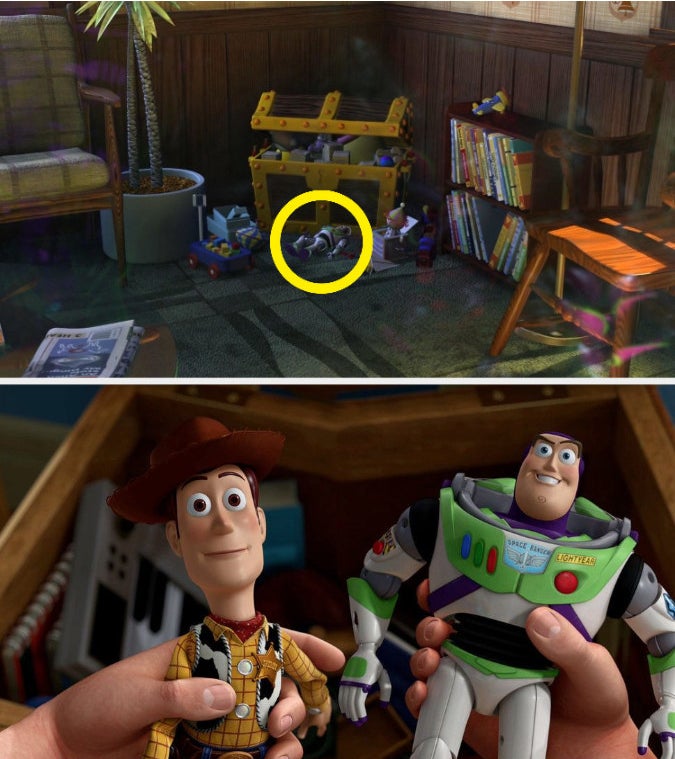 17.
There's also a Rex toy on one of WALL-E's shelves in his truck in WALL-E. Then, in Soul, a Rex toy falls out of the boxes that Paul knocks over on the sidewalk.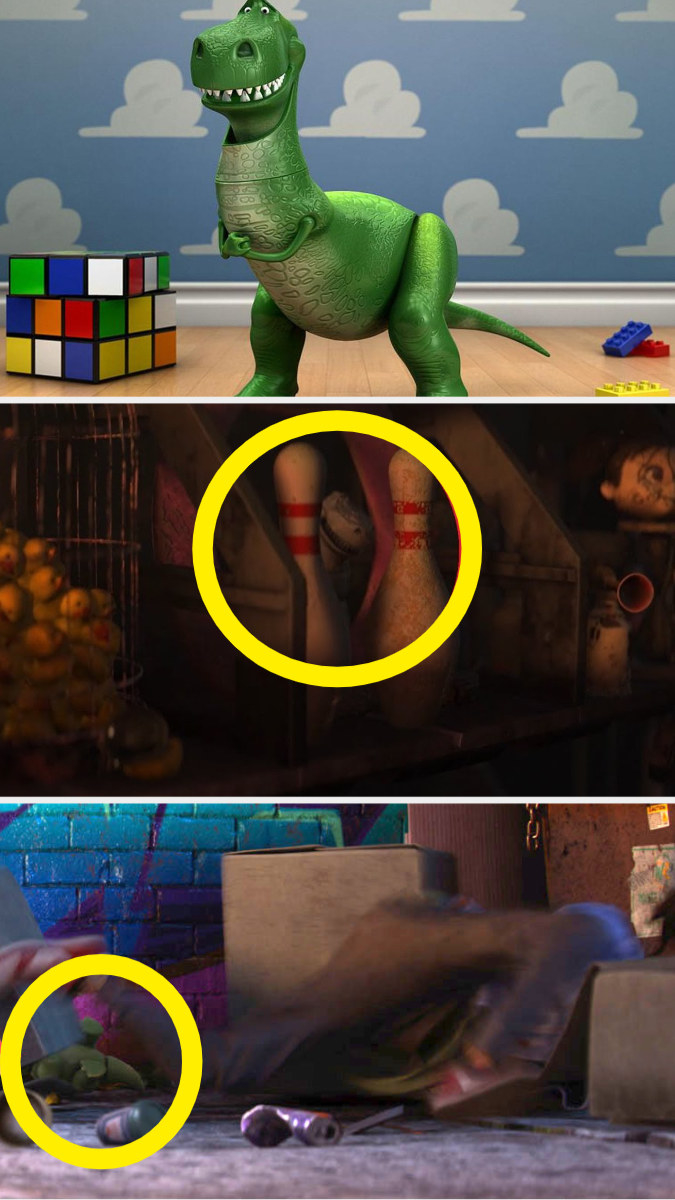 18.
Even in Up, as Carl's house begins to take flight, you can see a Lots-o'-Huggin' Bear, the villain in Toy Story 3, in this little girl's bedroom.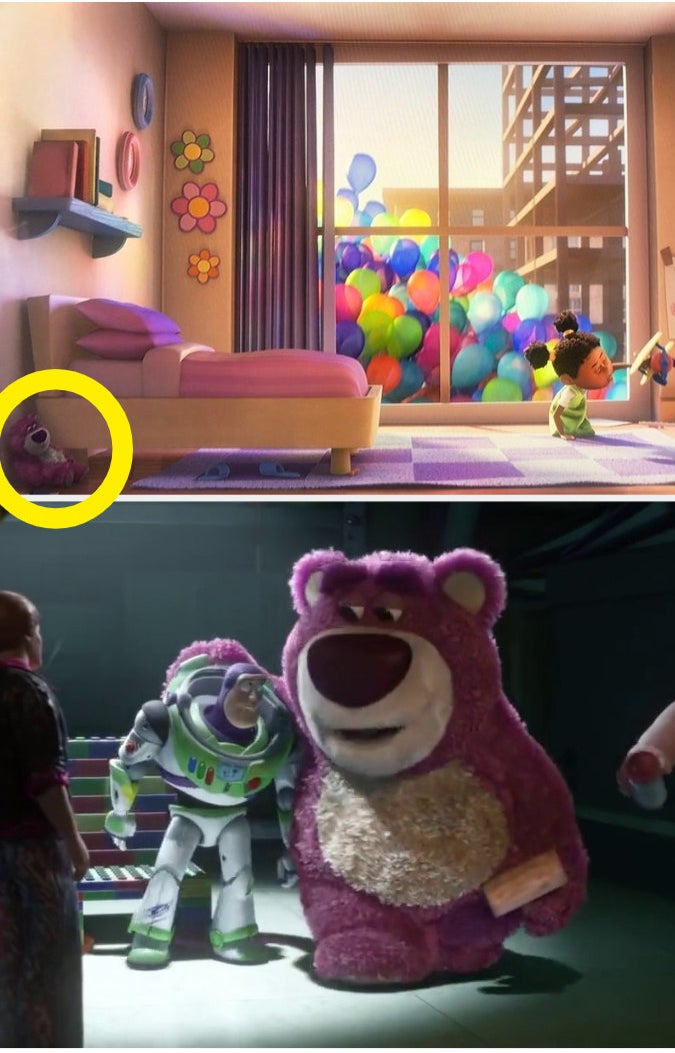 19.
In Coco, there are even piñatas shaped like Woody, Buzz Lightyear, and Mike Wazowski on the streets of the town.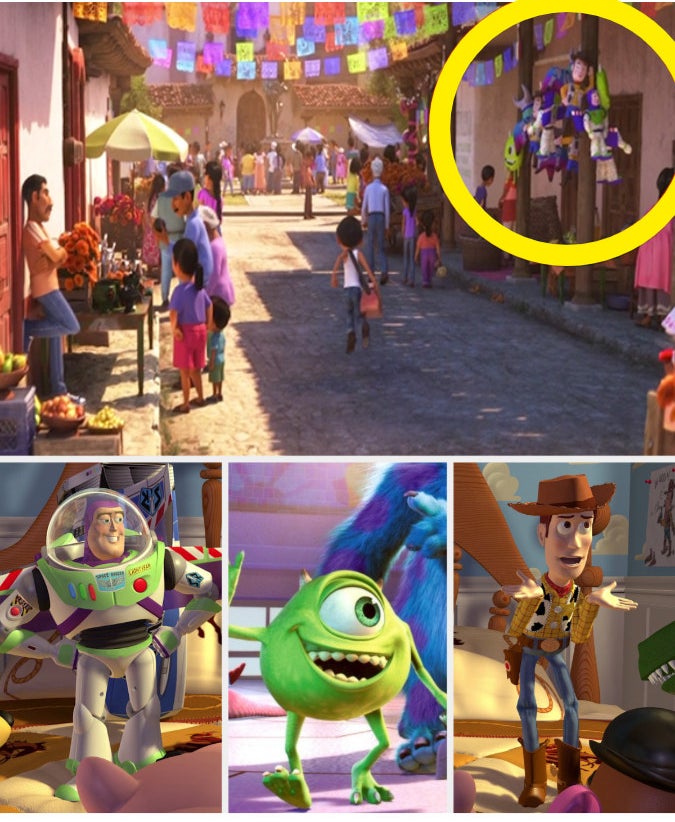 20.
There's also the actual Disney-Pixar The Incredibles poster — albeit a Día de los Muertos version — in the Land of the Dead in Coco.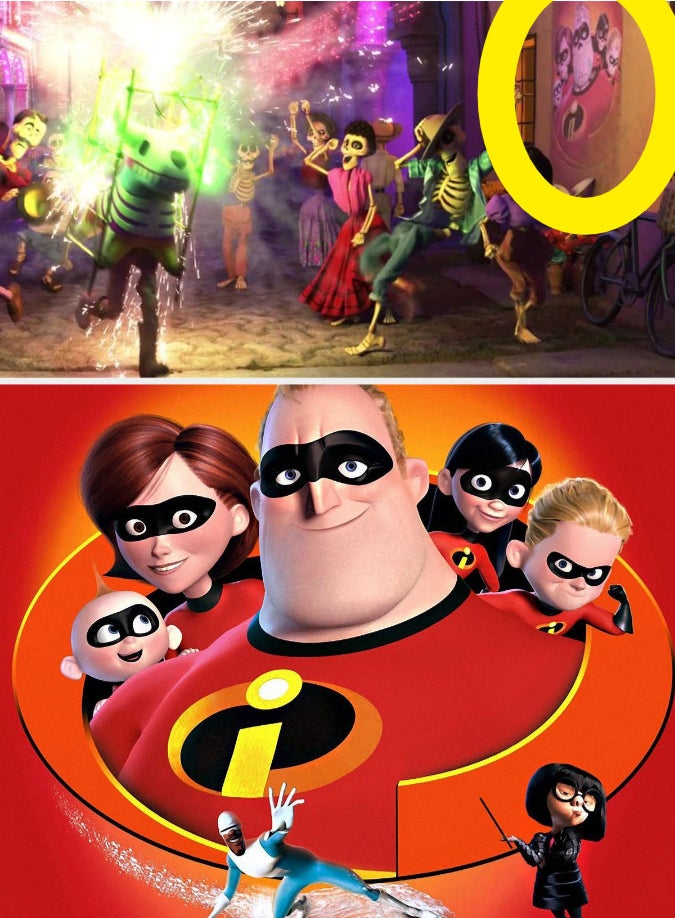 21.
In Boo's room in Monsters, Inc., she has a Jessie doll.
22.
Boo also offers Sulley her Nemo toy (from Finding Nemo, ofc, which was released two years after Monsters, Inc.).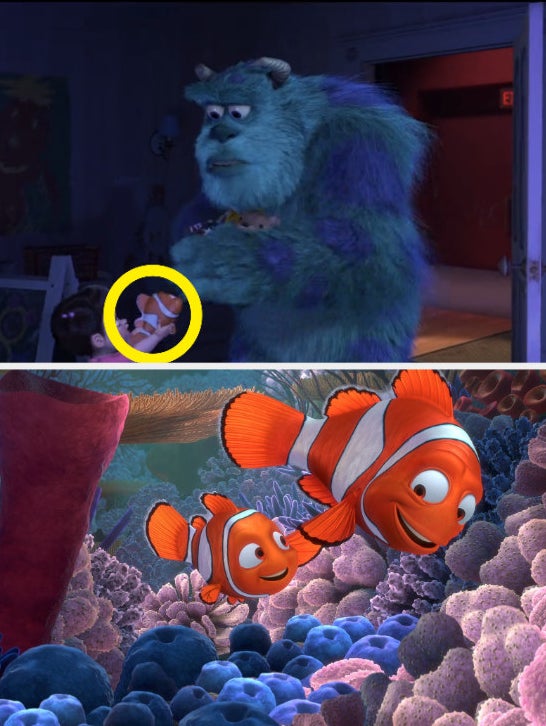 23.
Speaking of Finding Nemo, the kid waiting in the dentist's office is reading a Mr. Incredible comic, as in Mr. Incredible, AKA Bob Parr of The Incredibles.
24.
Since Mr. Incredible had to release Bomb Voyage to save Buddy in The Incredibles, the French-speaking villain is spotted miming in Paris in Ratatouille and is even mentioned by name in the newspaper Colette reads.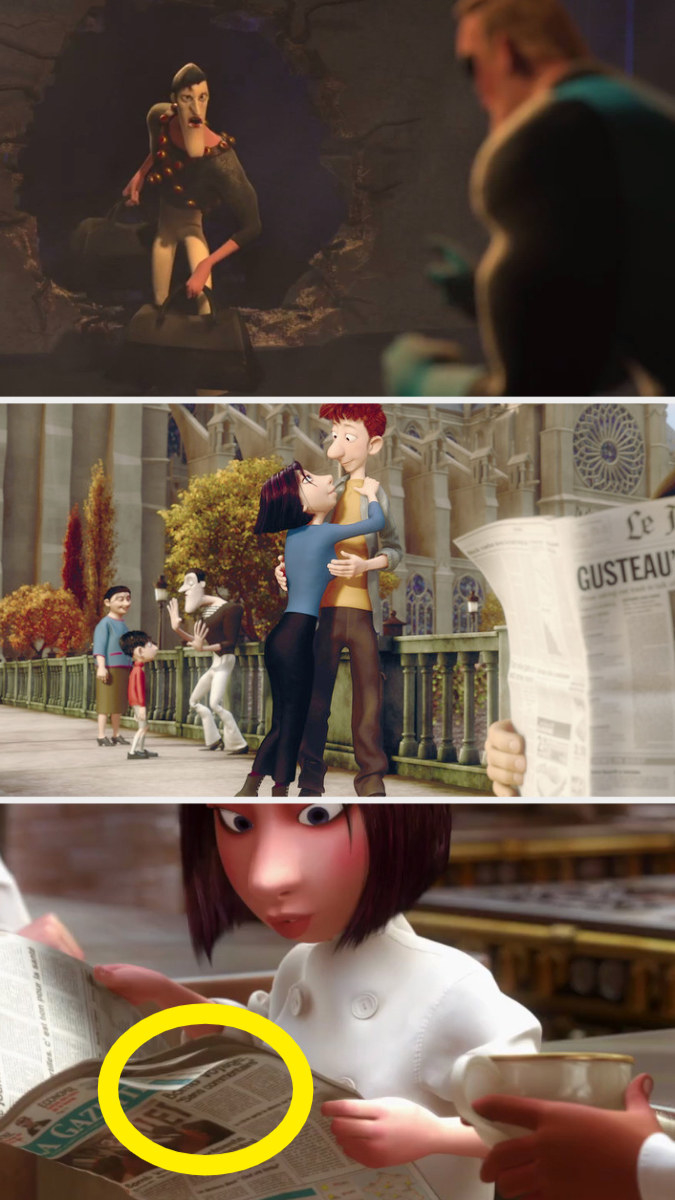 25.
Though health inspectors shut down Gusteau's in Ratatouille, they have seemed to reopen in Cars 2 as Gastow's, as seen when Finn and the others go to Paris.
26.
Remember that dog pack and their villainous master Charles F. Muntz in Up? Well, there's a portrait of Dug playing cards with them (à la Cassius Coolidge's Dogs Playing Poker) in Toy Story 4.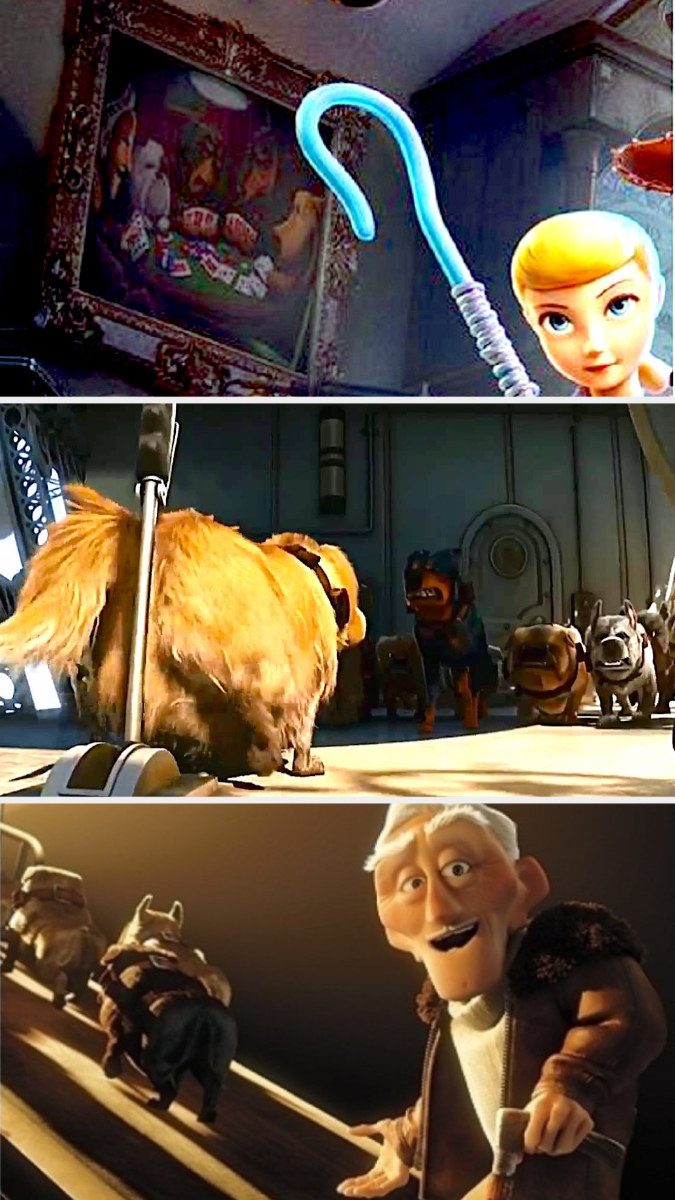 27.
When Randall is practicing his scares in Monsters, Inc., his assistant, Fungus, changes the backgrounds for him to camouflage against. One background is the exact cloud wallpaper Andy had in his room in Toy Story. Must be a popular children's wallpaper in the PCU.
28.
So, in A Bug's Life, P.T. Flea runs a circus out of a Casey Jr. Cookies box. In Toy Story 4, you can pick up a box of Casey Jr. Cookies at...the antique shop. Next to them, you'll find the goggles worn by the scuba diver in Finding Nemo.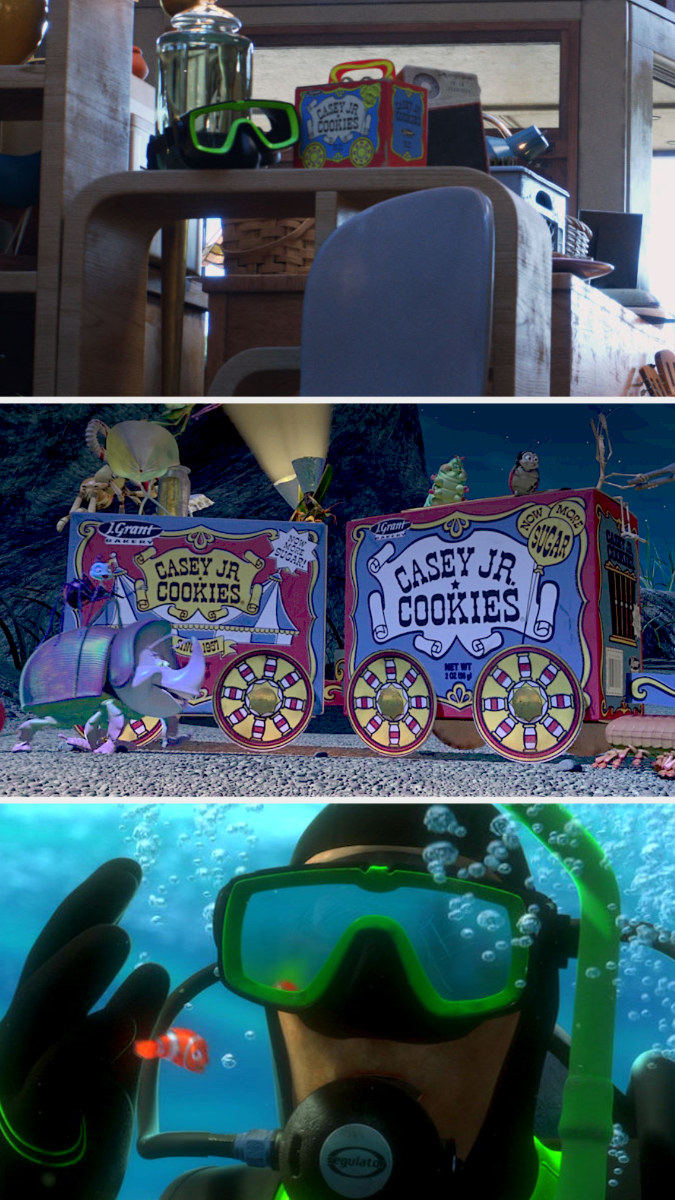 29.
Another strange antique shop find in Toy Story 4 — though I'll admit that this one is a stretch, and I don't go antiquing — is a very familiar quad cane (yeah, @CarlFredericksen from Up) on the shelf, so...you tell me.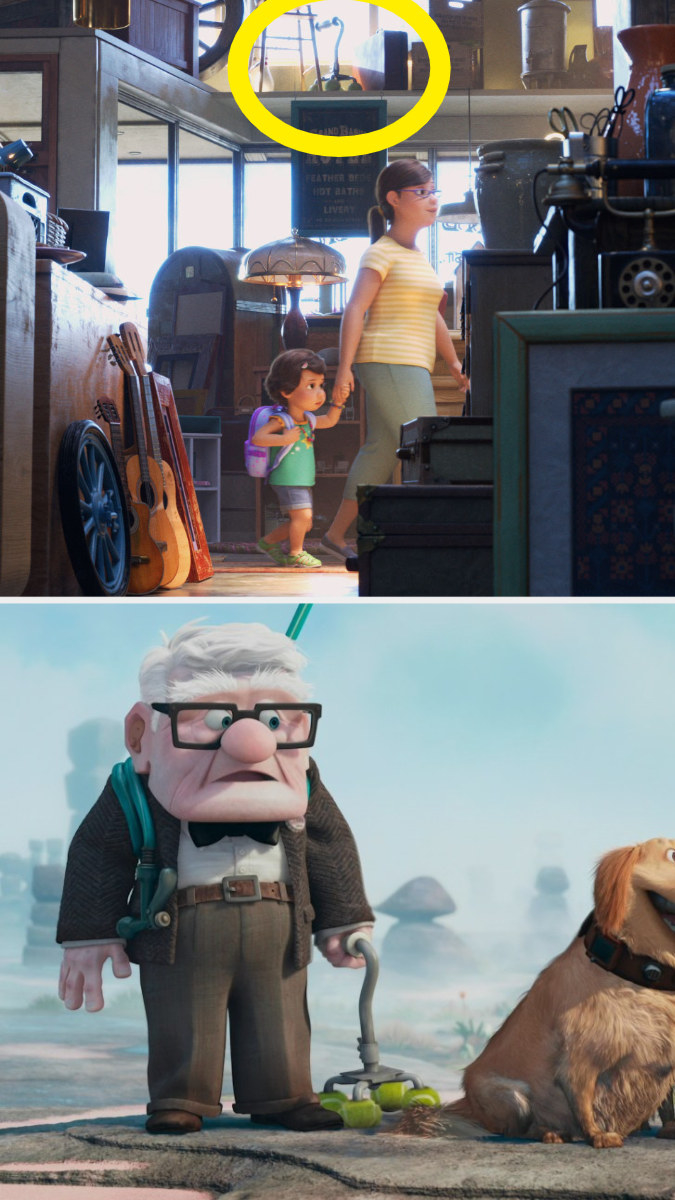 30.
Inside a cabinet in the Toy Story 4 antique shop, there are plates with the Clan DunBroch symbol. In Brave, the Kingdom of DunBroch is ruled by the DunBroch clan — better recognized as Merida's family. (And these actually make sense in an antique shop.)
31.
Alright, it should be common knowledge that Pizza Planet is an iconic chain in the PCU. (It's appeared in every Pixar film except The Incredibles.) So in Onward, we see what is either the Onward version of a Pizza Planet location, and the notorious truck at the toll booth.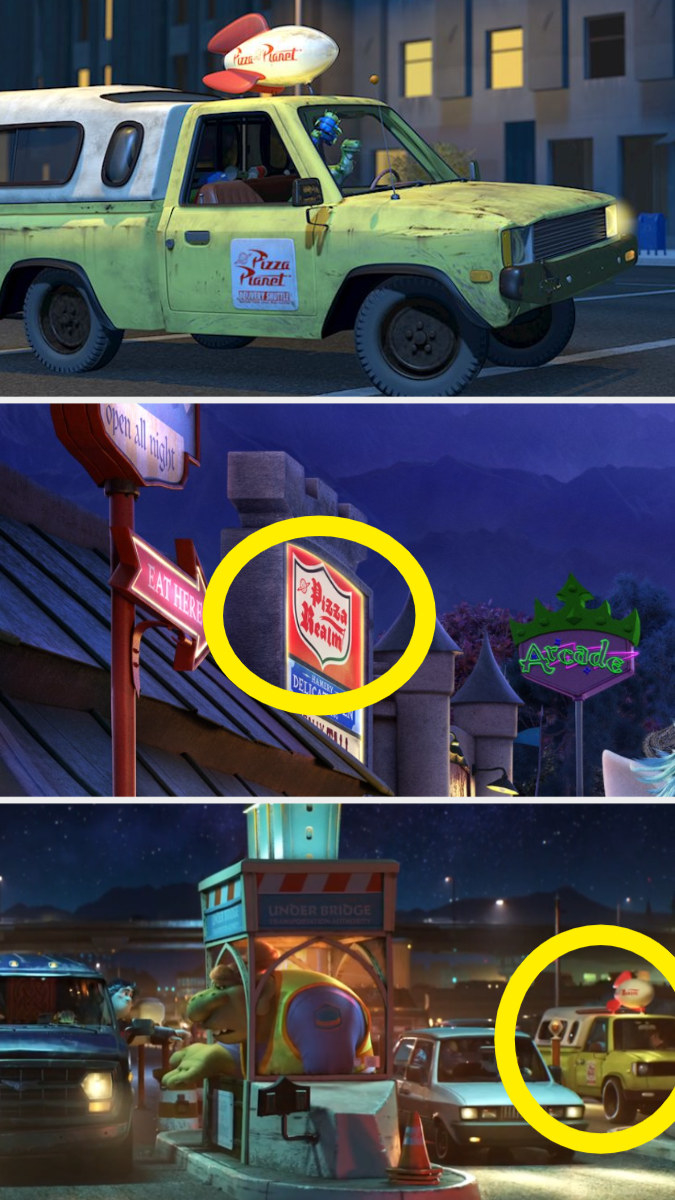 32.
If you watched Toy Story 4, you may have wondered where the damn Pizza Planet truck was. Fear not, TS4 supports the PCU theory, too: Check out the tattoo on the carnival employee's leg, right before he finds Buzz.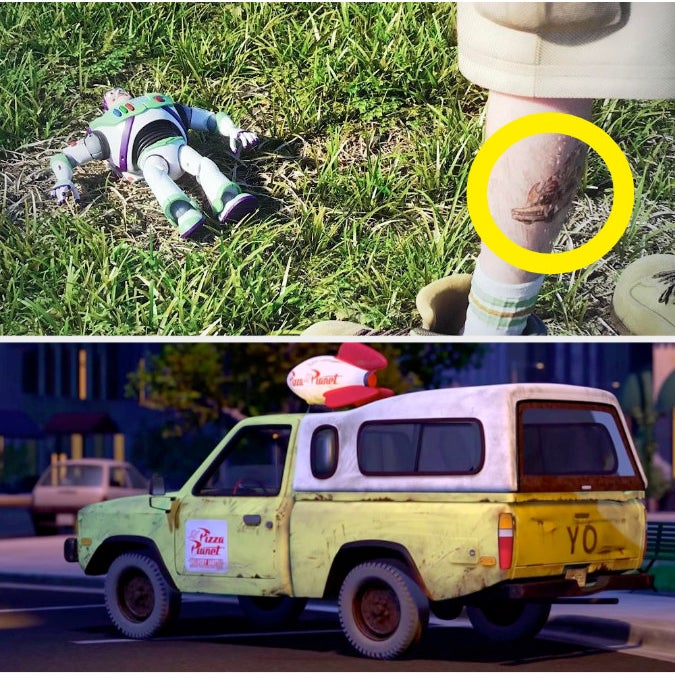 33.
After the carnival employee finds Buzz in Toy Story 4, he puts Buzz up as a carnival price — along with some guitars from Coco.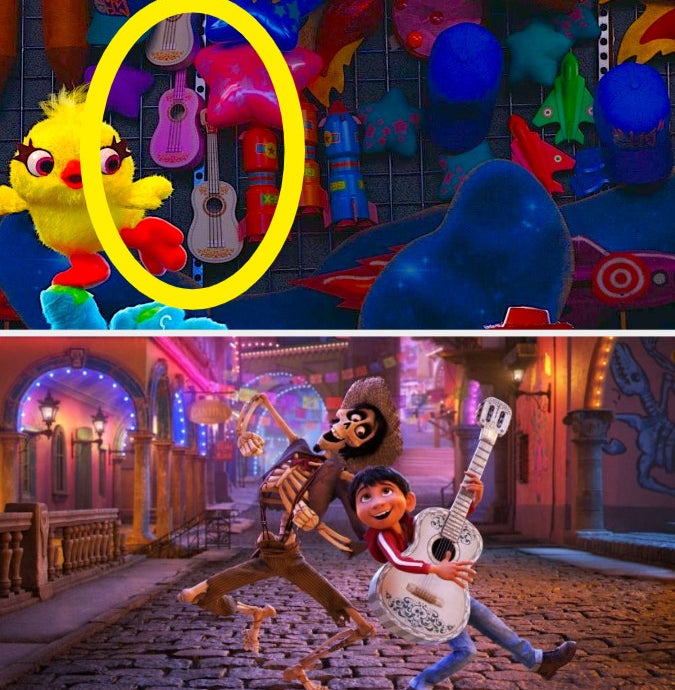 34.
Here's a good one — you know who else hits up the carnival in Toy Story 4 to win a prize? Boo from Monster's Inc. She's first seen when Bonnie goes to nursery as one of her classmates!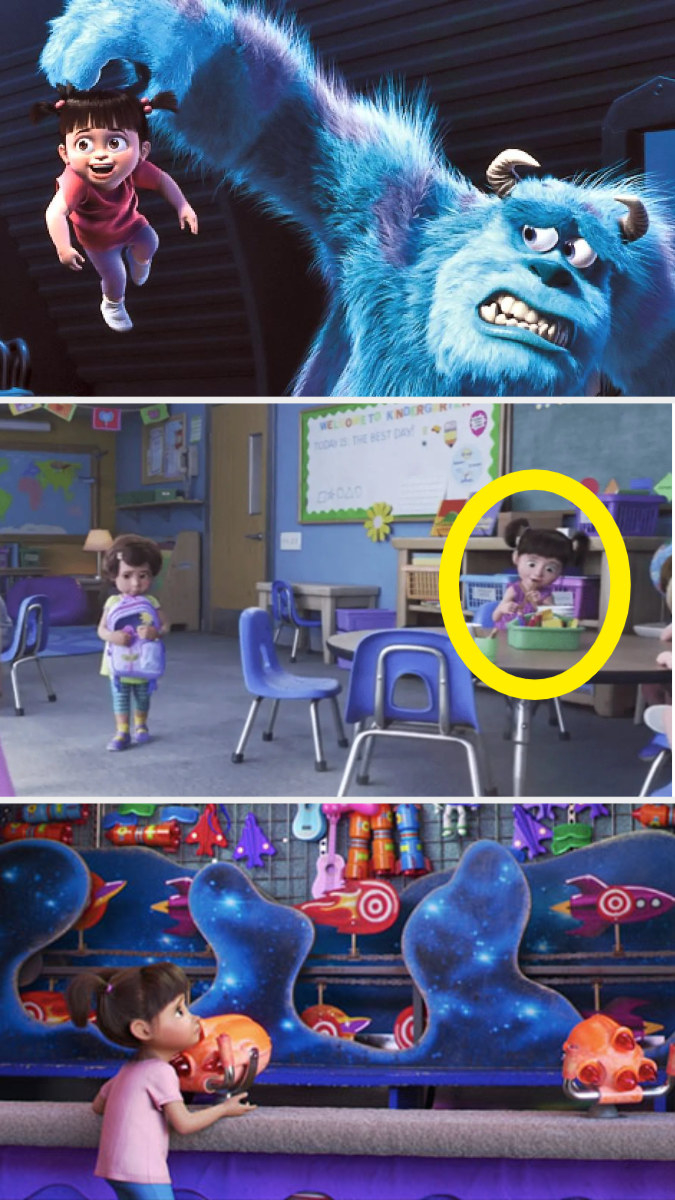 35.
When 22 tries archery in Soul in the Hall of Everything, the archery targets are the same as the ones from Brave. Sure, you could argue they're somewhat generic, but the targets in the Toy Story 4 carnival were your basic red and white ones, so you can absolutely read into this. (Just peep them in the two carnival screencaps above!)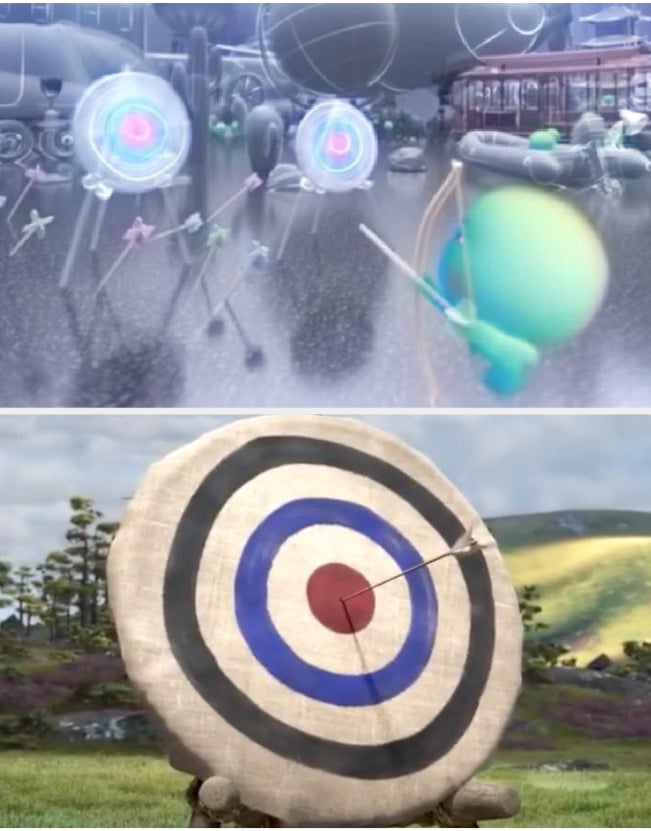 36.
The pizzeria in the Hall of Everything in Soul also has broccoli pizza — which happens to be the kind of pizza served to Riley and her mom in Inside Out, much to their (and, frankly, anyone's) chagrin.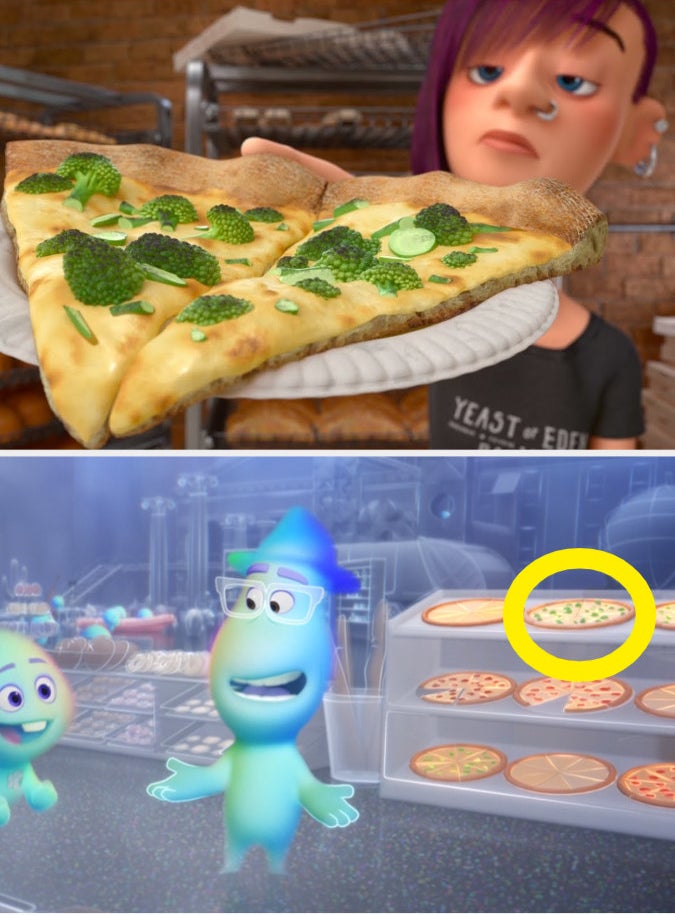 37.
TBH, the Hall of Everything has SO many Easter eggs. Here are some. Can you spot them all? (There's definitely a Pizza Planet truck and Luxo Jr. in there.)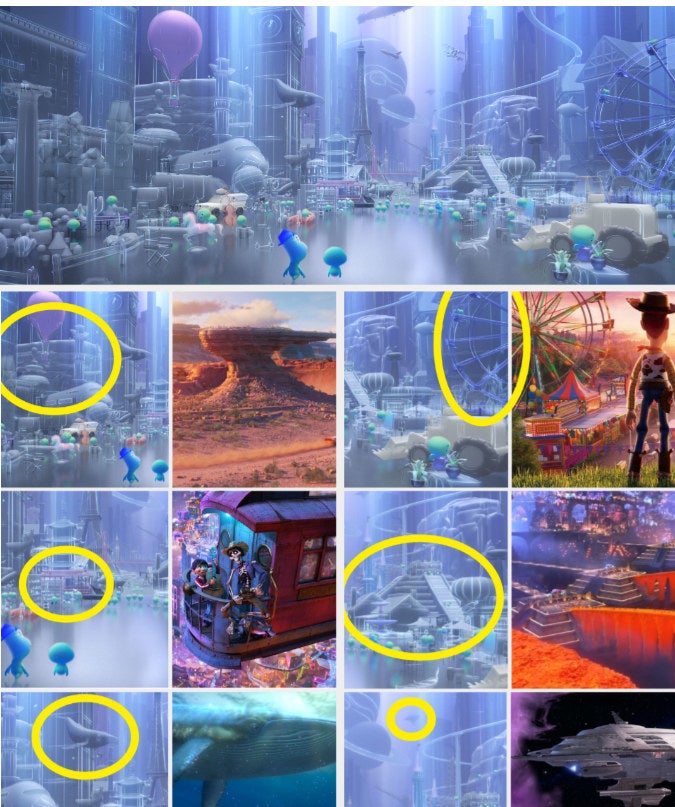 38.
In Onward, there's a calendar in Ian's room with the forest where Merida encounters the Will O' the Wisps in Brave on it. On top of that, Barley's map shows "Brave Wilderness" and "Loch Lake."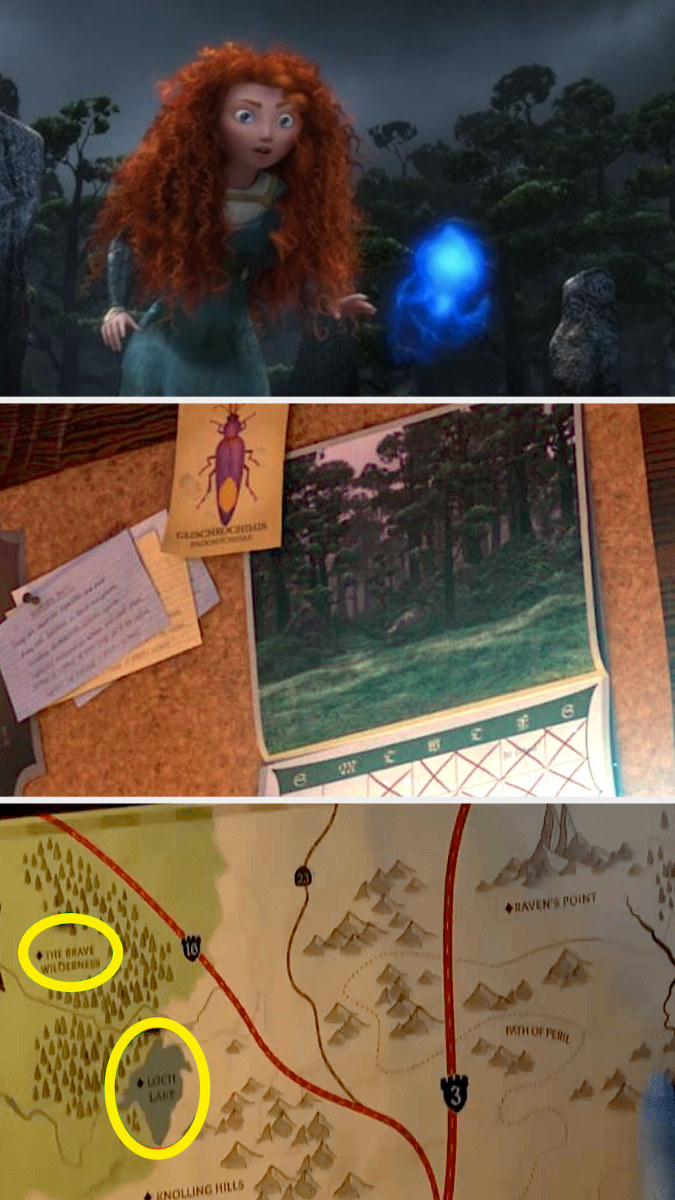 39.
Sulley may have also scared the witch in Brave when she was a child, because there's a carving of him in her shack.
40.
In Ratatouille, as Remy runs through the city, you can see a shadow of Dug from Up!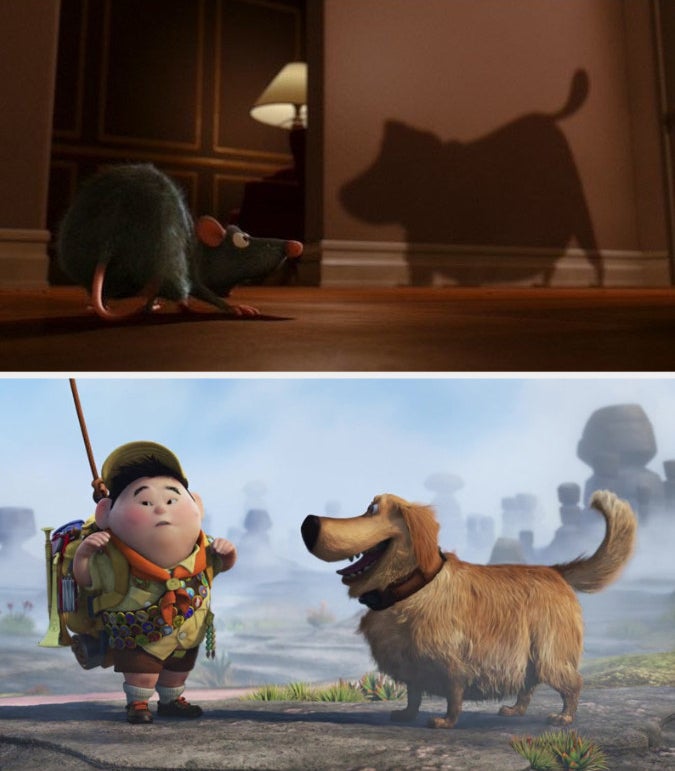 41.
When Joe is walking down the street on the phone in Soul, he passes a mailbox that has been graffitied with the name "Sid," which also happens to be the name of the bully from Toy Story.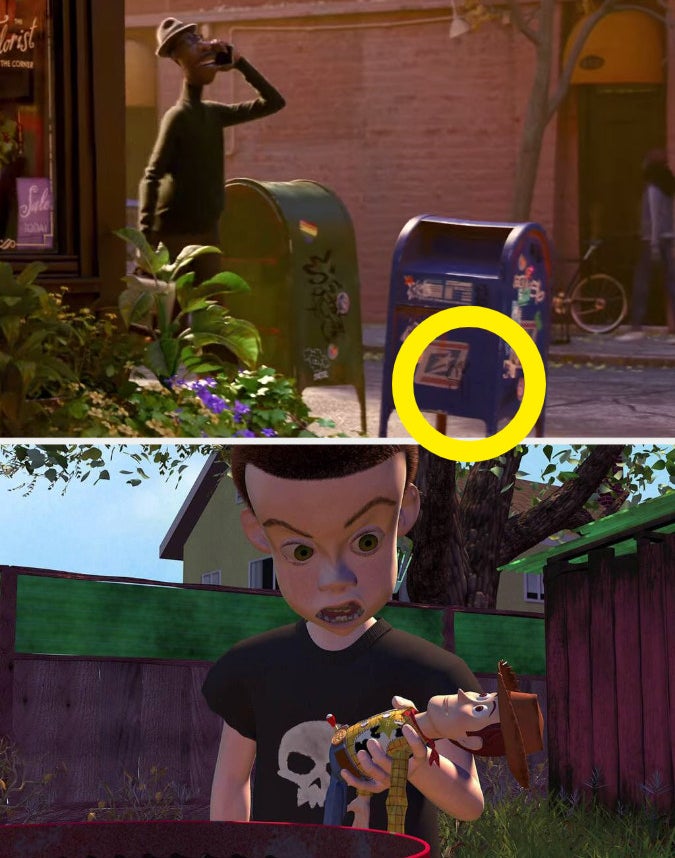 42.
In Soul, there are two familiar stickers (which you might need bionic vision to catch, tbh) on a mailbox: A BNL logo — AKA the mega-corporation, Buy N Large from Wall-E — and the face of André from the The Adventures of André & Wally B.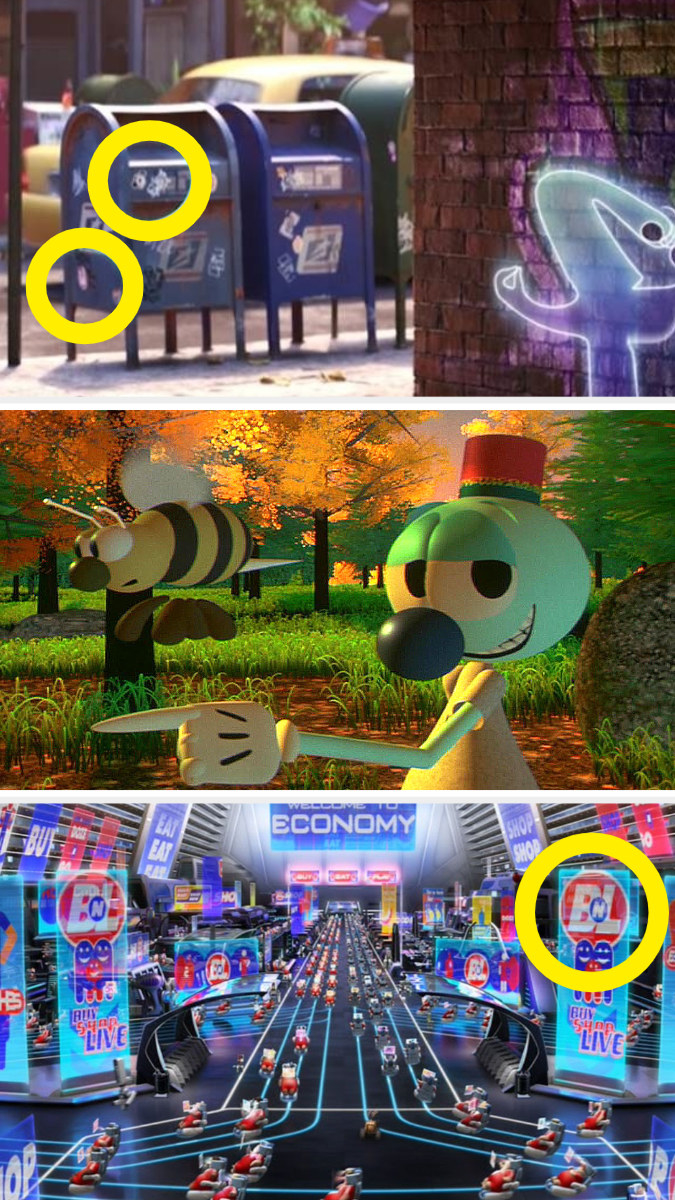 43.
In the opening shot of Toy Story 2, there's a constellation of Luxo Jr.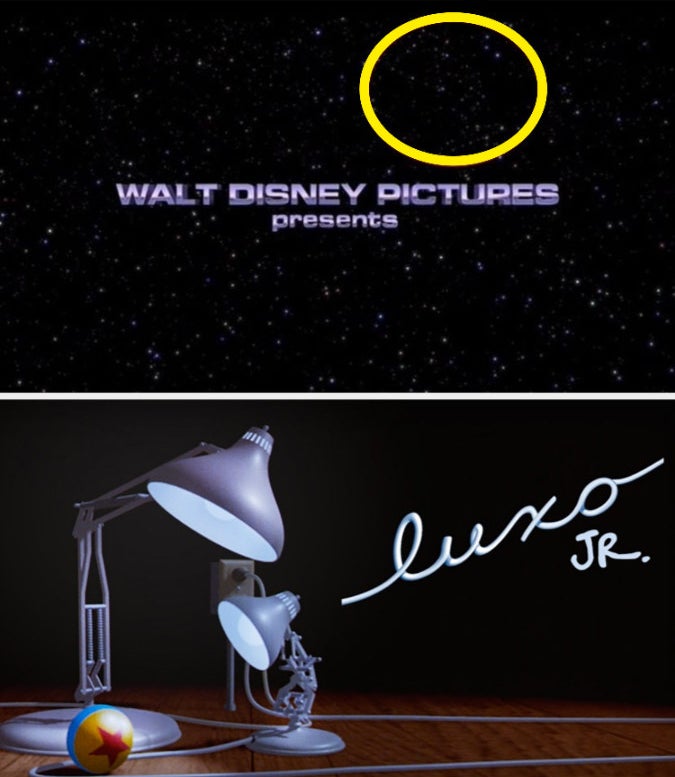 44.
And because Luxo Jr. is everywhere, when WALL-E builds a statue of EVE in WALL-E, her arm is made from a Luxo Jr. lamp!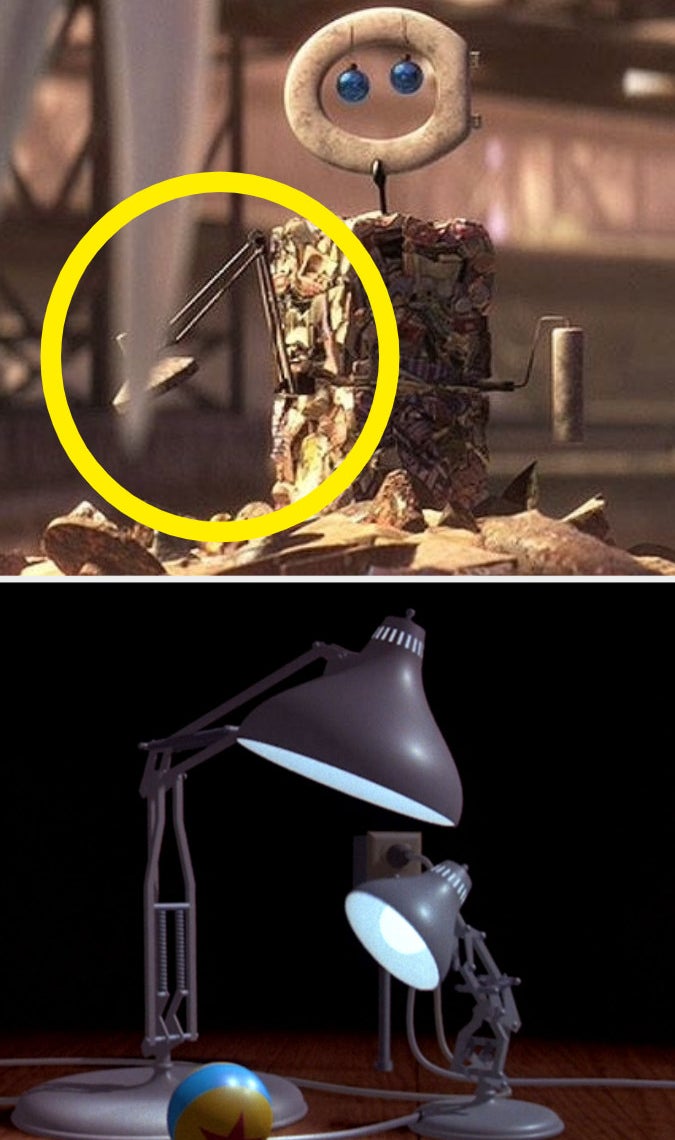 45.
In Soul, while 22 and Joe are on the subway platform, a train numbered 2319 pulls in behind them. In Monster's, Inc., 2319 is the code used to alert monsters of contamination (e.g., when the Child Detection Agency catches a sock stuck to George Anderson, who is then shaved and thrown into a decontamination shower).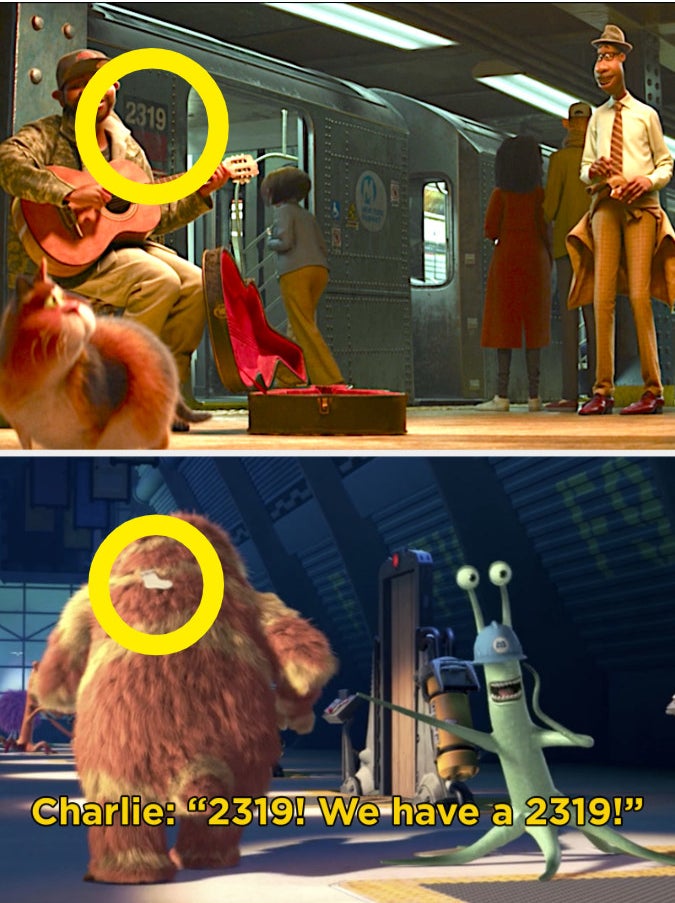 46.
Tin Toy, from (you guessed it) Tin Toy, is spotted partying with the other toys in the club at the antique shop in Toy Story 4.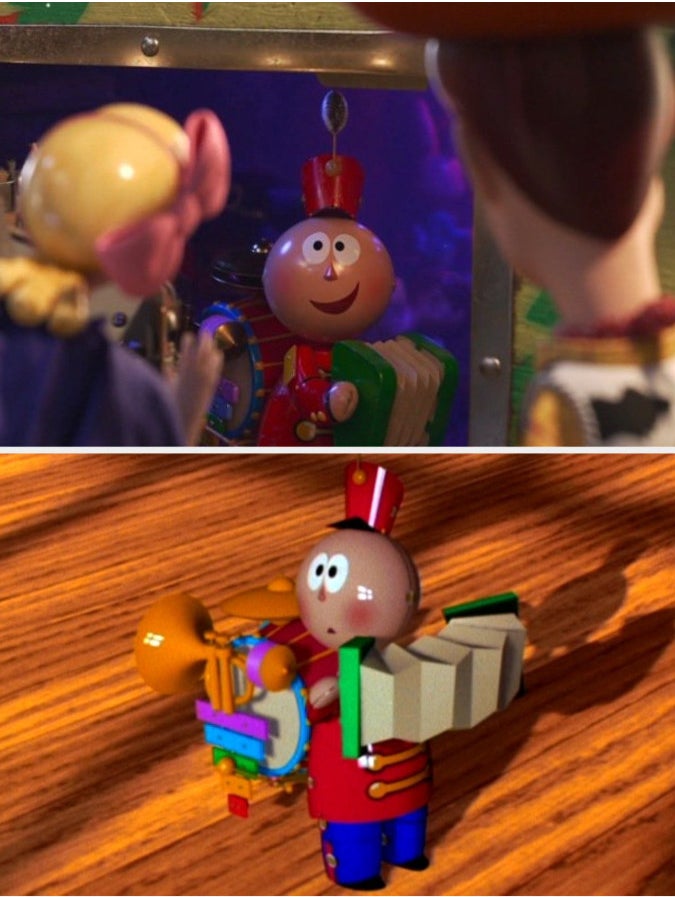 47.
As Woody escapes in Toy Story 3, he overlooks a playground with a jungle gym — a jungle gym incredibly similar to the one in Riley's memory in Inside Out. If it's not the exact jungle gym and playground, it's definitely the same jungle gym manufacturer.
48.
In Finding Nemo, as the fish escape from the dentist's office into the ocean in their water bags, you can see Cars' Luigi (who owns Luigi's Casa Della Tires) driving past through the window and by the water.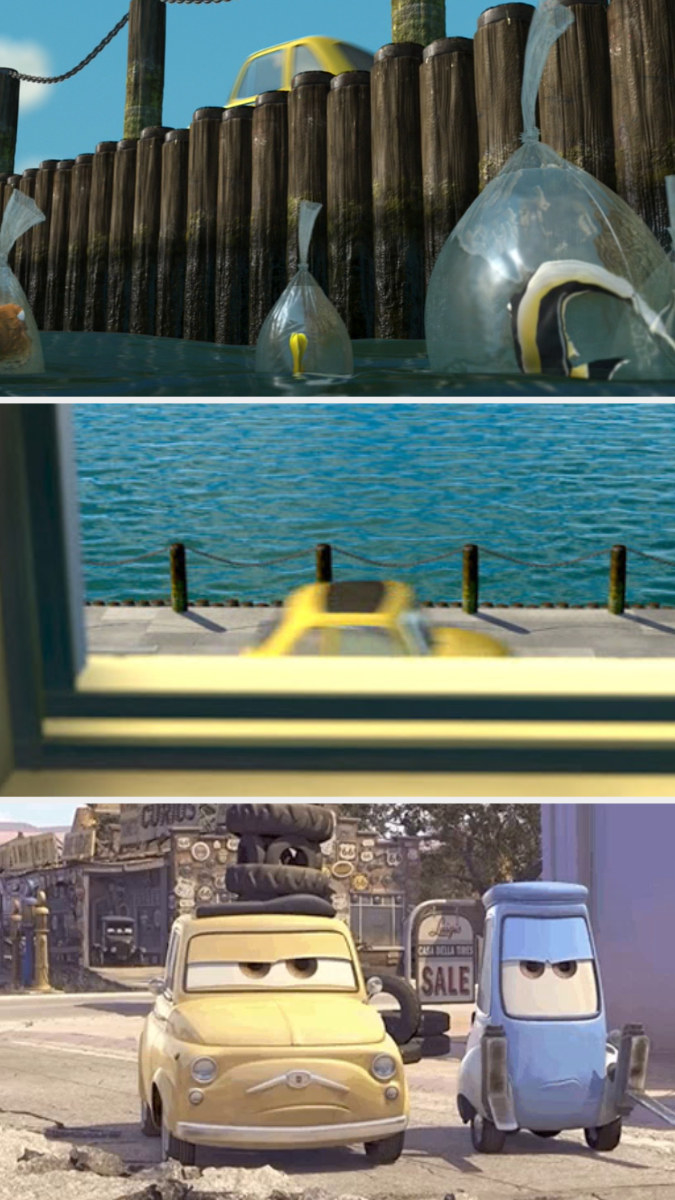 49.
In Cars 3, when Cruz Ramirez is training the other racers on treadmills, one racer requires motivation, so they put a picture of his hometown on the monitor. It's the same town that Miguel's from in Coco.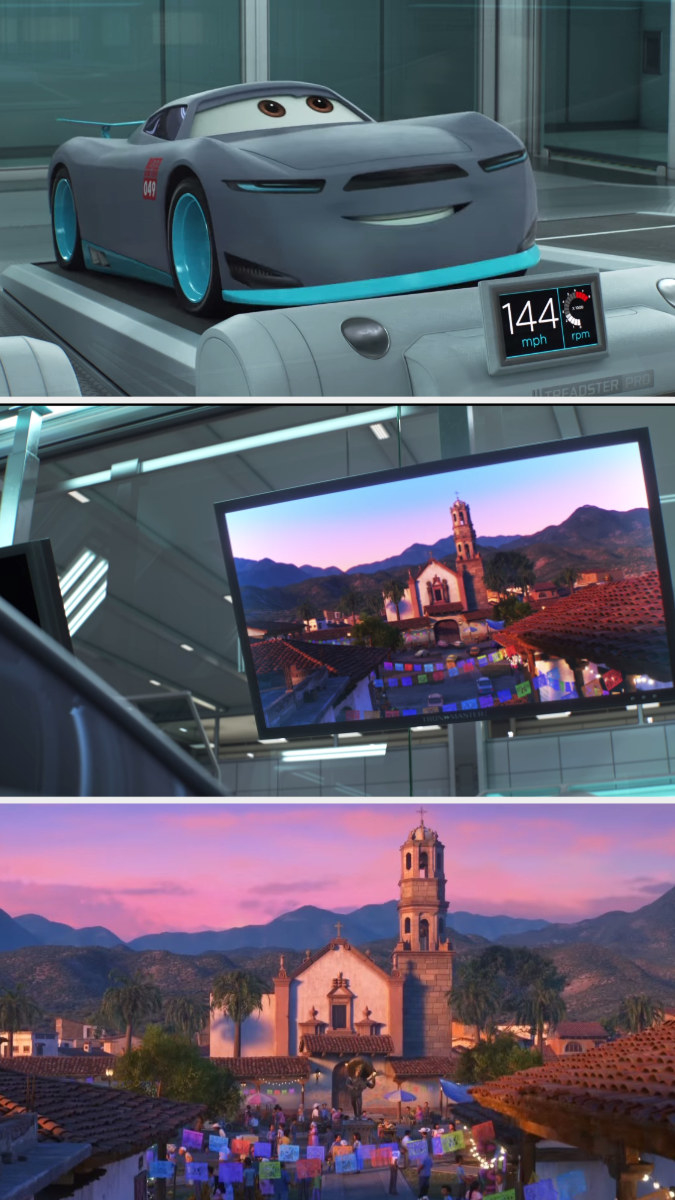 50.
One of Bob's mementos in The Incredibles is a Rock 'Em Sock 'Em Robots, who are asked if they've seen Woody by Slinky Dog in Toy Story 2.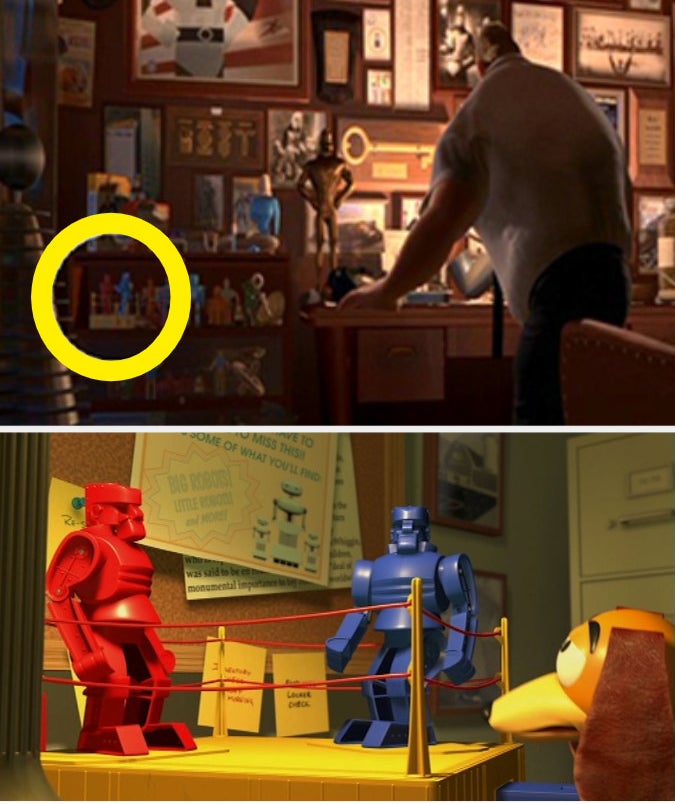 51.
And lastly — to leave with a clue pointing toward the next world that will be introduced to the PCU — as Joe walks by a travel agency in Soul, there's an ad for a seaside town that reads, "Visit Portorosso." This is an Easter egg for the upcoming Pixar movie Luca, which takes place in — do I have to say it? — Portorosso.