A fake video of a man holding up a sign saying "She's lying to you" behind Theresa May while she speaks in Harrow West has done the rounds online. The video has been retweeted thousands of times.
Here's the original video:
Except it now includes similar footage to the time earlier in the year when MEP Seb Dance held a sign that read "He's lying to you" behind Nigel Farage.
Simon, a 43-year-old freelance filmmaker from London who declined to give his last name, confirmed to BuzzFeed News that he was behind the video and that it is not real.
The Labour supporter said: "I made it [the video] to make an obvious point really. ... Theresa May was stating that she didn't feel the need to do TV debates as she was 'debating people up and down the country'."
He added: "I don't feel that's true at this point, although today she did at least take questions from some members of the public."
Some people have missed the point, however, and believe it's real. Simon said: "I think people think it's real because it looks real at first glance."

Some people were flabbergasted about how the man got in with the sign: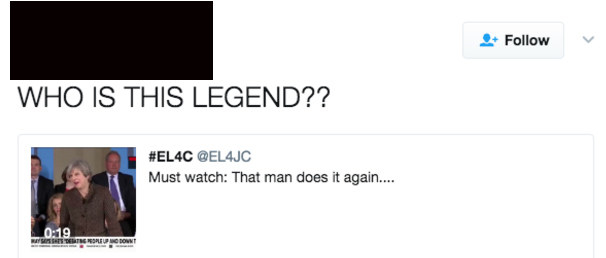 And others wish the sign was elsewhere: