1.
A cable management box that'll keep your cords safe, organized, and out of sight. No more worrying about cables overheating or your charging cords getting tangled!

Promising review: "My cables and cord situation got out of control and the sight of tangled wires and having to sort through them every other day started to wear on me. I am so glad I bought this! If you are on the fence, take this as a sign to just go for it." —missesdash
Get it from Amazon for $17.99.
2.
A pack of Affresh dishwasher cleaner tablets so you don't risk limescale and mineral buildup affecting your dishwasher's performance. Because if a dishwasher can't properly wash dishes...it's essentially just a wet cabinet.
Promising review: "I started getting white streaks all over my dishes; that never happened before. I thought it was my detergent and changed it, but no difference. Clean dishes with this weird white film on them. I'd wash them by hand, then put them back in the dishwasher, and white film again! Then I did an internet search to figure out what was going on (a dishwasher is an incredibly simple piece of machinery) and found this! Bought it. Used it. My dishes are clean again!" —Carey Holzman
Get six tablets from Amazon for $8.99.
3.
A revitalizing hair protein treatment for conditioning and repairing dry, damaged, and over-processed hair. TBH I'm already obsessed with your hair evolution!
Promising review: "My hair used to be really soft, and then I discovered hot tools and hair dye. While my hair looks good, I have really missed my hair's soft texture. This treatment works so well. There are no instructions on the box but I washed my hair with my usual shampoo, towel-dried it, worked about two quarter-sized dollops through my hair, let it sit for 20 minutes, and then rinsed out. I went to bed with wet hair, which usually results in my hair being kind of tangled and rough looking. When I woke up, my hair was as soft and silky as it was before I started coloring it. I'm totally in love with this product! I have long, fine hair, but this doesn't leave it greasy or weigh it down. I'll definitely buy again." —Ellie
Get it from Amazon for $7.62.
4.
A super cute portable blender if you have trouble fitting fruits and veggies into your daily meals. Get your breakfast smoothie ready in 30 seconds flat!

Promising reviews: "Yes, I did it. I bought the TikTok blender and don't regret it one bit. I can create any smoothie I want and even dessert shakes for the kids. So easy to use, charge and clean. It's a must buy!!!" —Debby from Warren
"I can blend my smoothies wherever I am." —Nehemie loute
Get it from Amazon for $37.98+ (available in four colors). 

5.
A nontoxic pet urine stain removing spray to help you finally and fully reclaim your home from years-old dark spots on your couch and the scent of cat pee emanating from your rug.
Rocco & Roxie is a family-run small business making everything you and your pet need to live a clean and fun life. From treats to toys, they've got what you need!

Promising review: "I don't know how I ever survived without this. There are tons of 'pet stain/odor remover' products out there, but this by far is the absolute best. I cringed paying the $20 for it when others are between $5–$10, but I have NO ISSUES paying now. I foster dogs, some puppies, some older, some not housebroken, and every room in my house is carpeted except the kitchen, which means I have lots of accidents. I spray enough to saturate if it's a lot of urine, let it soak for 10 minutes, then wipe it up with a hand towel. Then I put a larger towel on top of it if it's in a high-traffic area until it's completely dry. It's taken out every stain and, more importantly, the odor is gone! I will never stop buying this product. I recommend it to everyone who has dogs!" —Shelly
Get it from Rocco & Roxie on Amazon for $19.97.
6.
A pack of salicylic acid corn-remover pads that'll quickly and easily relieve pain and remove corns. They're even made with cushions so you feel comfortable all day long.
Promising review: "It really works. I had to use the entire box to remove this decade-old callus, but it worked (pictured above)!!! I didn't find any issue with getting it to stick to my foot, and I work 10-hour shifts on my feet. It did become a little tricky to finally remove it, as the core of it was a bit stubborn. But it accidentally got caught in the blankets so it came right off. The relief was instant. I went walking the next day, and there was absolutely so pain whatsoever." —Amazon Customer
Get a 42-pack from Amazon for $19.99 (also available in an 84-pack). 
7.
A pet hair remover so good you might not recognize your couch after just one use! And because it doesn't use disposable adhesive strips, you can use this thing over and over and over and over and...
Promising review: "HOW HAVE I LIVED WITHOUT THIS PRODUCT, OH MY GOD. I have a big Great Dane/pit bull mix with black and white fur that gets everywhere and sticks like the devil. I've tried fancy vacuums, lint rollers, that weird yellow sponge thing that's supposed to be magic, crawling on my hands and knees plucking each hair one by one, nothing works. UNTIL NOW. I cannot believe my own eyes and I can't wait to use this thing on every surface of the house and buy one for every dog owner I know. Seriously. I have a very clean home, and I can't believe how much hair I've been living with in my rugs. It's disgusting. This product is worth every dang penny." —Amazon Customer
Get it from Amazon for $26.95 (clip the $5 off coupon for this price!).
8.
A drain snake for removing the massive clogs of hair and gunk in your sinks and bathtub that not even nasty (and harmful) chemicals could burn through.
Promising review: "I'm so excited to finally have a bathroom sink that drains!! Since moving into my apartment, my bathroom sink and bathtub took forever to drain. I bought multiple de-clogging solutions but they didn't assist or help much with the problem. When my bathtub was taking over an hour to drain I decided it was time to try these out! After receiving it I went to work. Within minutes it pulled out so much hair in both drains. It's disturbing/disgusting yet weirdly satisfying because now my sinks drain!!" —DebSd
Get a four-pack from Amazon for $5+ (available in two sizes).
9.
A set of wood-repairing markers and wax sticks if that annoyingly huge scratch on your lovely coffee table is your Joker origin story. Just take one of these markers and color over any imperfections. Once it's dry, your furniture will be free of any annoying scuffs, nicks, and scrapes!
Promising review: "For $10 you can cover up so many scratches that you couldn't buy a house big enough to run out of ink. I've had this for just four hours, but I fixed a table that was scratched when I moved it, kitchen cabinets, chairs, a wine rack, and some hardwood flooring. It does a good job at covering the scratches to a point where you have to stare at a spot to notice it, but don't expect it to make your furniture to look brand new again. But for $10 you can make your furniture look reasonable! Would highly recommend to anyone who has pets who scratch the !@#$ out of their wood furniture." —Phaedrus
Get six markers, six wax sticks, and a sharpener from Amazon for $8.99.
10.
A pack of six self-adhesive cable clips to help keep your work space organized since all of your devices' charger cords are currently tangled in an impossible knot.

Promising review: "These are so cool! My husband and I both work from home and have tons of charging cords for us and our kids and they're usually just dangling around. These help us keep those organized and neat, making them not only look better but easier to find." —Milica P.

Get a pack of six from Amazon for $7.97.
11.
A small reusable ball with a sticky insert that'll keep dirt and crumbs from littering the bottom of your purse. When the ball gets too full, just remove and rinse the insert and you're good to go!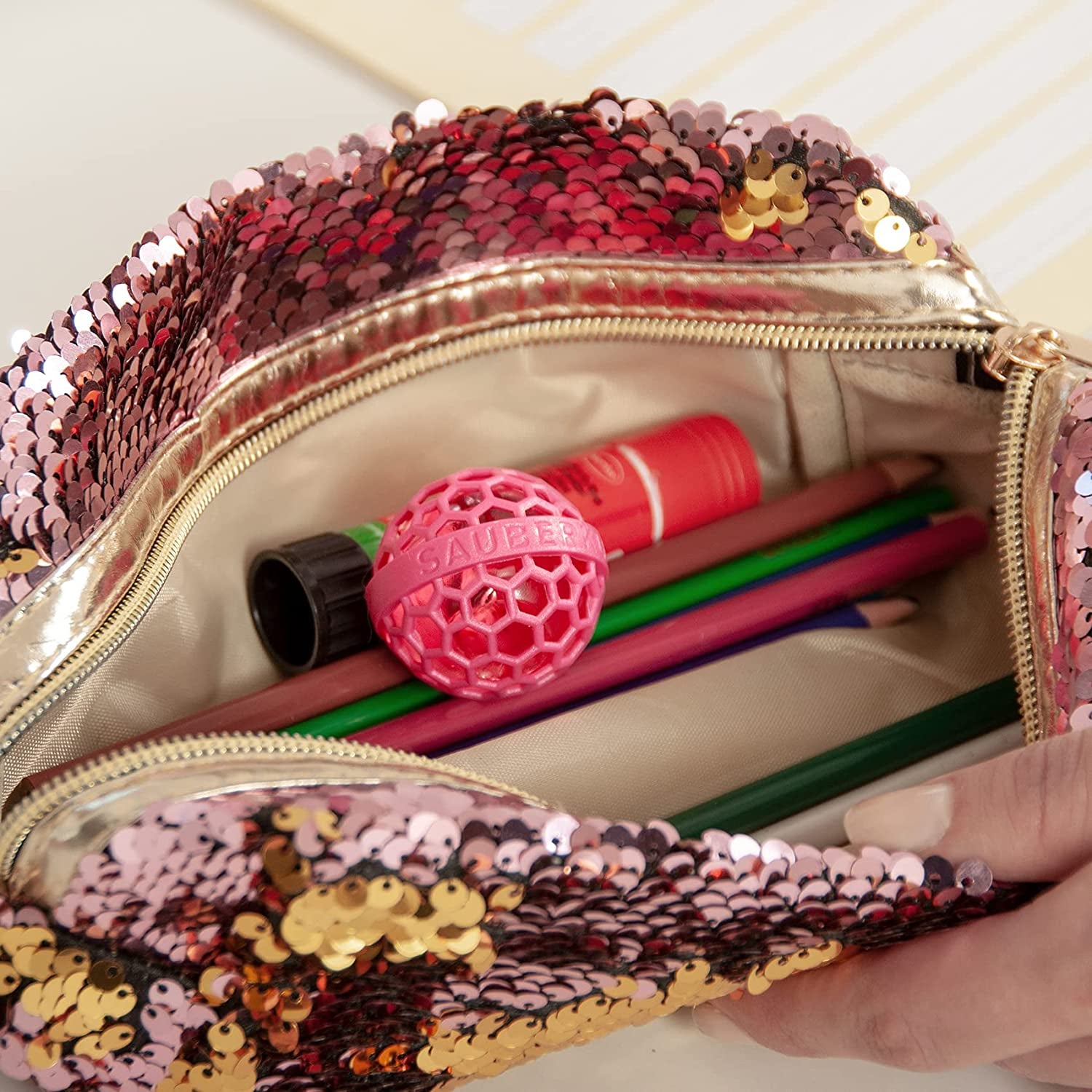 Promising review: "This has to be one of the most amazing things I've ever purchased! I can't believe how easily it grabs all the debris that finds its way to the bottom of your bag." —QueenofGnomes
Get it from Amazon for $11.99 (available in three colors).
12.
A productivity planner with monthly and weekly planning sections so you can zoom in and check in with your progress throughout the year. It also has space to track goals, take brainstorming notes, and take stock of things you're grateful for.
Promising review: "I really like the gratitude boxes for each day because it really forces me to reflect even if for just a moment. I thought I'd just end up writing something super quick and just moving on, but that isn't the case. I really think this planner is going to work. I love the goal-setting and tracking capabilities and the space for thoughts at the bottom. I definitely recommend this planner to really everyone. It's perfect for keeping you focused on what matters most." —Sally
Get it from Amazon for $16.99+ (available in three sizes and 10 colors).
13.
A hair finishing stick if you need some help slicking down flyaways for a flawless finish. And you'll be moisturizing your hair too because it's made with natural ingredients!
Promising review: "I can't believe this actually works. I've always had baby hairs, and they are so annoying to work with. I've tried hairspray, gel, etc. But nothing has worked as great as this finishing cream." —Christina C Guardado
Get it from Amazon for $6.99.