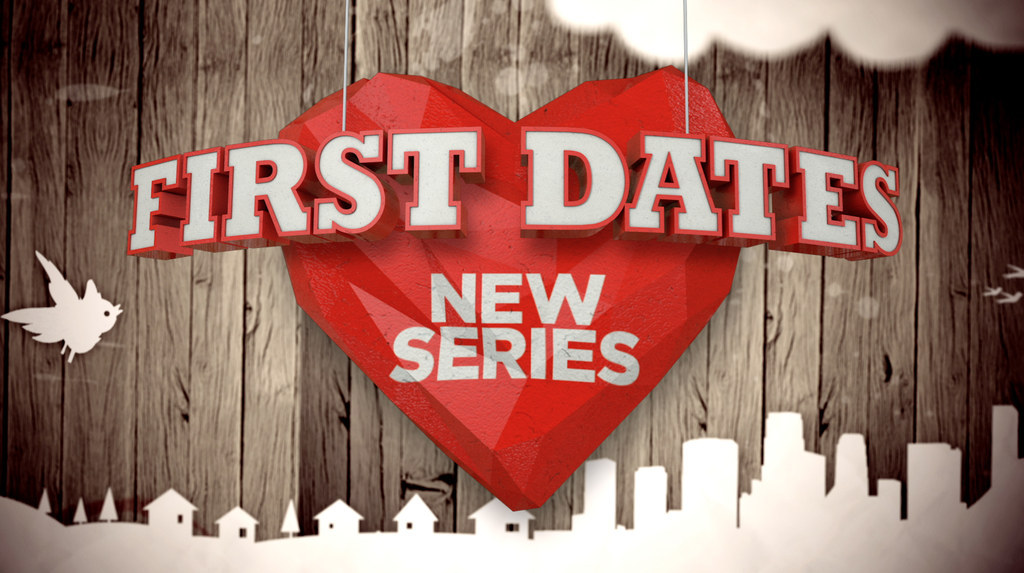 1. OK I have really low hopes for this show to be perfectly honest.
2. I also can't think of anything worse than being FILMED on a first date.
3. I hope that there are other people in the fake restaurant, otherwise it will be even worse.
4. Aiden is so awkward. "If you want me you have to poach me." Is he an egg?
5. Let's be real, poached eggs suck.
6. His date, Emily, is gorgeous though. She looks a LOT younger than him??
7. Being from Brisbane is not super exotic but these folks are acting like they just found out they're blood relatives.
8. Maybe they are.
9. Aiden keeps catching sight of himself in the camera and getting distracted.
10. OMG THE NEXT DUDE'S NAME IS NICHOLAS NICHOLAS!
11. Were his parents mad at him?
12. Or drunk?
13. Nicholas Nicholas just ordered a tequila shot. THAT'S the way to start a date. Stinking of tequila.
14. Wait, that's how you END a date.
15. One time on a date, I did like eight shots of Fireball and then the guy left to go to a house party without me.
16. So far this show has just made me want to have cocktails. Alone.
17. I can't believe he's going to do that shot with a STRAW.
18. Oh no wait, he's not. He can't do it.
19. This is honestly the strangest thing I have ever watched.
20. Nicholas Nicholas is so adorably lame but I 100% love him for that.
21. Do you think Nicholas Nicholas calls his nuts his "Nick Nacks"?
22. Dannii is all about the tradies. Little does she know she's about to meet a guy pep-talking himself and drinking tequila through a straw.
23. I can't even watch, this is so painful.
24. DON'T ADMIT THAT YOU DIDN'T BUY THE SHOT FOR HER. Why would you do that??
25. First impressions are very important which is why it's always good to smell like tequila when you meet someone.
26. Dannii is amazing. She has a very good sense of humour so I think she can cope with a man wearing a very colourful floral shirt.
27. OMG this older Sicilian lady is nuts, I can't wait.
28. Also she looks weirdly like Rachel Dolezal?
29. Did Caterina say love is like the rumba or zumba? Either way I agree it's the dance of seduction.
30. "I love my gay friends but we're not getting married." Neither are your gay friends mate.
31. OMG look at this guy in the suit.
32."I believe I have arrived!"
33. I believe I was just a little sick in my mouth.
34. Chris is about as greasy as his hair.
35. I cant wait to watch Chris and Caterina's date.
36. Oh my god Nicholas Nicholas has forgotten Dannii's name.
37. Dannii is a champion and I love her.
38. 100% want to be mates with her.
39. I feel very, very awkward watching Aiden and Emily.
40. God I hate this date.
41. Watching paint dry would be probably 1000 times more interesting.
42. She is 21 tho, literally what is she doing.
43. That eye contact between Chris and Caterina is INTENSE.
44. Holy shit did he just say lubricate?
45. I don't know what's happening.
46. And why is he sitting SO CLOSE to her?
47. "I love that vibration" - Chris says he's talking about house music but we all know he's not.
48. OK here's Lauren. She's intense.
49. Corbin is hot though.
50. "I may be living with 10 cats and no one will know that I've died" - Lauren literally just described my whole life.
51. "I'm not crazy. I'm the complete opposite of crazy." Soz Lauren that's exactly something a crazy person would say.
52. More Nicholas Nicholas please.
53. Nicholas Nicholas and Dannii are my favourite couple ever.
54. No please don't use a pick-up line.
55. This is going to be so awkward.
56. He's so sweaty.
57. OH MY GOD IT WAS FAR WORSE THAN I IMAGINED.
58. "Mate, what are you doing?" literally same.
59. Please let him take that waiter's arrival as an intervention to never use that line again.
60. Emily admits she's never been in a relationship.
61. Aiden seems shocked.
62. SHE'S 21 DUDE, IT'S PERFECTLY NORMAL.
63. I only had a relationship with a bottle of Passion Pop when I was 21.
64. It was pretty committed actually.
65. But it's definitely over now.
66. Emily and Aiden are just not working out.
67. She's so lovely and he's so… in love with himself?
68. Bond Villain Chris will literally not answer a direct question.
69. "Tell me about your family?"
70. "Ahh family, family…"
71. What.
72. "How would your friends describe you?" "They'd all describe me differently."
73. CATCH HIM OUT CATERINA, DO IT.
74. Oh god Lauren is ordering for Corbin, he looks so confused.
75. Literally in any date situation, never order for another person.
76. Just get the fucking butter. Let your date get butter.
77. "HE'LL take the calories," I'm dying.
78. SHE DIDN'T GET CHIPS? Date over.
79. If my date wouldn't let me get chips I'd just fake diarrhoea and go straight to Macca's.
80. Watching people you don't know chew earnestly is so fucking weird.
81. OK the next two people are from the country. Gotta match those country people up.
82. Vanessa's 19 and going on a blind date?!!? I'm almost 30 and I barely leave my house.
83. Oh she's so cute.
84. OH, HE'S SO SWEET.
85. I want to be a flower girl at the wedding.
86. "I've been to a couple of restaurants but none like this!" she said, in the restaurant full of cameras and extras.
87. Well, she's probably right?
88. Watching Aiden and Emily is like being asleep with my eyes open.
89. OMG they have to answer if they'd go on a second date while next to each other.
90. She's going to rip his heart out and eat it. I hope.
91. He wants a second date, she needs that "spark". It's hard to find a connection when your date can't stop nervously pushing their hair back and looking at themselves.
92. Omg I can't wait for Bond Villain and Caterina's questioning time.
93. BOND VILLAIN IS MAKING ME SO ANXIOUS.
94. Please tell me this woman doesn't want to go on a second date.
95. Oh god she does, doesn't she?!
96. OMG HE SPLIT THE BILL.
97. Why is he holding her hands and rubbing them so weirdly???
98. This is so upsetting.
99. SHE WANTS A SECOND DATE.
100. Caterina pls.
101. They're both just going home to fuck, we all know it.
102. At least Vanessa is eating chips.
103. Omg these beautiful children are going to make me believe in love again.
104. They're so sweet and young.
105. The world has not broken them.
106. Yet.
107. I think they'll both get their first kiss tonight.
108. I just want to swaddle Vanessa in a cashmere blanket so she can go on thinking that men can be chivalrous and that true love really does exist.
109. These guys better make it.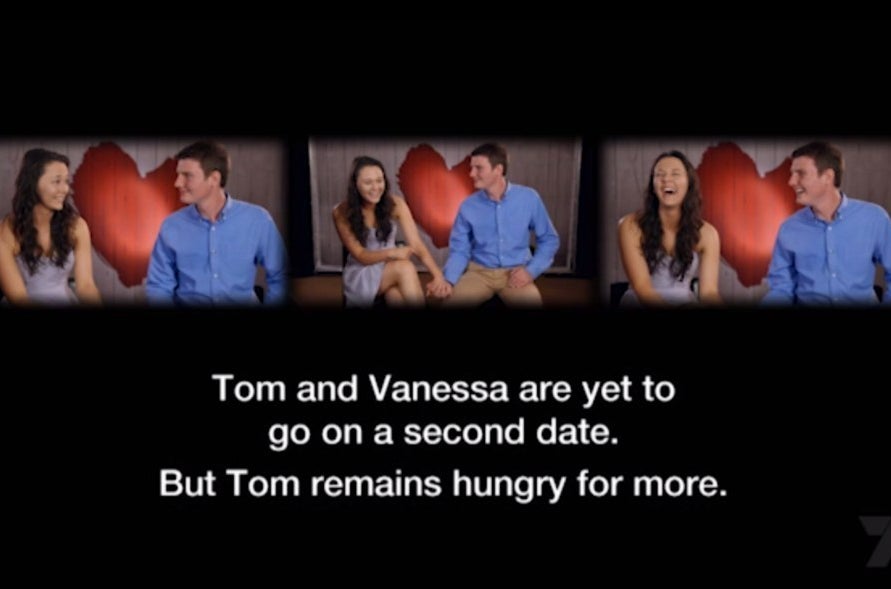 110. I really love Nicholas and Dannii.
111. It could have gone SO BADLY but good on her for laughing all his weirdness off.
112. Meanwhile Lauren's trying to reiterate she's not crazy. Again.
113. Now she's asking him questions and answering for him before he even opens his mouth.
114. Poor Corbin look so confused.
115. I hope Tom and Vanessa get to kiss before their parents pick them up later.
116. Did Nicholas just kill this date with a heart on a hessian rope?
117. Nicholas no.
118. Where the fuck do you even get that?
119. Omg she's wearing it.
120. OK I love it.
121. Lauren and Corbin's questioning time stressed me out.
122. I wonder how much wine Corbin drank to deal with this date.
123. Personally I just finished a bottle just watching it from home. By myself. Totally alone.
124. If I were on a date with Lauren and she said, "I'd like a second date", I'd probably just agree to marry her on the spot because I couldn't bring myself to say no.
125. Although Lauren looks really sad, so now I'm sad.
126. But then I remember when she ordered for him and wouldn't let him get chips and now I feel a lot better.
127. "I do really like paying the bill!" Tom, mate, I'm single.
128. Tom and Vanessa are so damn cute.
129. "You made me feel like a princess" UM HE MADE *ME* FEEL LIKE A PRINCESS AND I'M AN OLD MAN.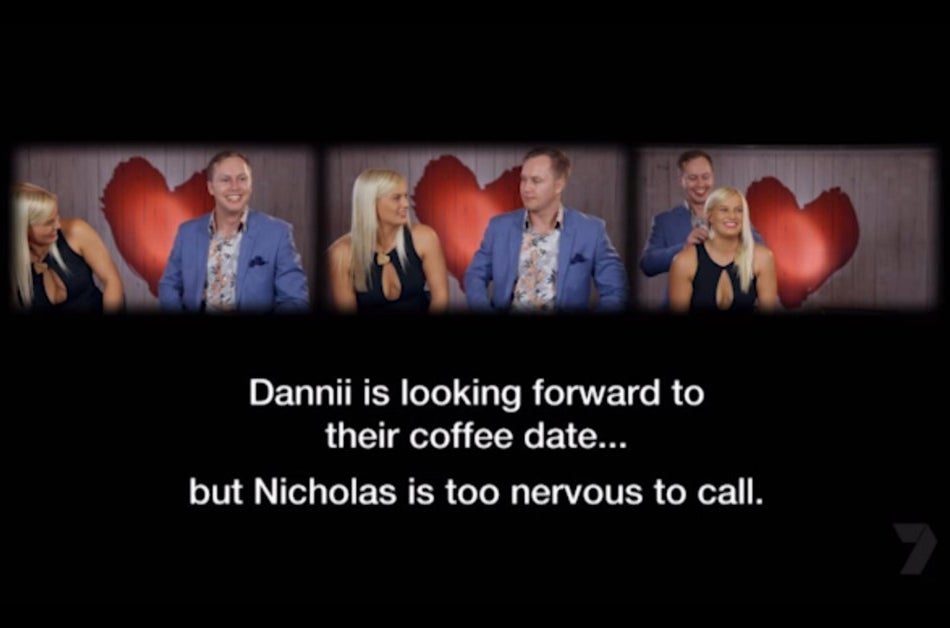 130. Well. I think I need a shower after that.
131. I never want to go on a date again.
132. But I can't wait to watch more of this shit. I might be single but at least I'm not on a date with Bond Villain Chris.