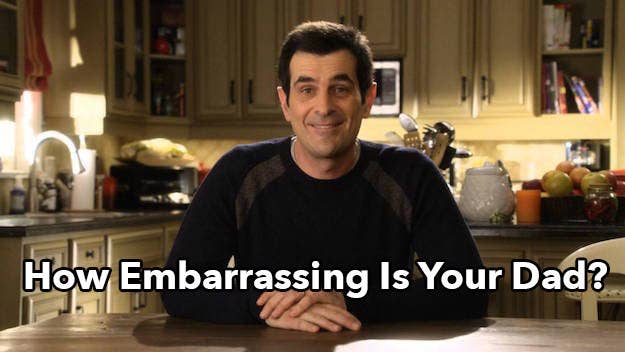 Tick off every embarrassing thing your dad has done:

Asked "what's the damage?" when presented with a restaurant bill.

Said "is it that time of year already?" when you say you're going for a shower.

Asked your vegetarian friends if they have "been cured of their affliction?"

Asked a waitress for "a verrrrry, verrrry small bill please."

Passed comment on the neighbour's cat.

Added your friends on Facebook.

Liked your friend's pictures on Facebook.

Liked random things that appear on his Facebook timeline, like the fact that one of your mates is going to a club night.

Put "Love from Dad" at the end of texts.

Given you extensive directions to a place even though you have access to Google Maps.

Printed off Google Maps even though he has sat nav.

Changed his sat nav voice to one with a sexy accent.

Insisted he knows better than the sat nav and taken you on a much longer route than you needed to take as a result.

Been incapable of booking a holiday without using a travel agent.

Quizzed your S.O. on their "intentions".

Laughed so loud at a restaurant that other families turn to look.

Signed an internet petition.

Sent you articles he read in the paper in the post.

Turned off the WiFi when he doesn't need it

Deleted texts he doesn't need.

Swapped name labels with another dad at parents' evening.

Made inappropriate comments at parents' evening.

Forgotten his glasses at a restaurant so you have to read the menu to him.

Tipped the waiter via a stealthy handshake

Said, "what a nice girl" when your waitress leaves the table.

Corrected typos in the menu to the waiter.

Called a foreign waiter "garçon".

Pretended he can't afford the bill and offered to do the washing up instead.

Got his phone light out to read the menu in a restaurant.

Said, "is that a top?" when it is clearly a dress.

Said, "did you forget to put your trousers on?" when you are clearly wearing shorts.

Asked, "if you were told to jump off a cliff, would you?"

Said, "I remember the original!" about every song on "The X Factor".

Made conversation about a squirrel on the lawn.

Supervised a house party and got way too into it.

Done all the Christmas shopping on Christmas Eve.

Bought you a Christmas present that comes in parts and wrapped up every part individually, even if one of those parts is just batteries.

Got your siblings and you Christmas presents from the 3-for-2 deal at Boot's.

Referred to periods as "women's troubles".

Bought your Mum's birthday present from the petrol station.

Talked for more than five minutes about a motorway.

Discussed the route you took to get to a destination with all the other dads when you arrive.

Insisted everyone in the car be quiet when the traffic report comes on.

Insisted everyone leave the house at 5am for a holiday so as to miss the traffic.

Spent ages deciding what to eat in a restaurant, asked to hear the specials twice, and then ordered the same thing as always.

Gone to a restaurant with a coupon and panicked about it not working.

Gone clothes shopping once a year to buy the exact same thing.

Asked, "were you born in a barn?"

Asked, "What did your last slave die of?"

Said "the final frontier" whenever someone says "space".

Fallen asleep at the cinema.

Taken a travel pillow to the cinema with the sole intention of falling asleep.

Shared memes from Facebook groups called things like "Dads with Daughters".

Worn a short-sleeved shirt.

Got to the airport four hours early.

Told your S.O., "You can call me John" even though they already called him John.

Done a really lame April Fool's prank like switching the salt and sugar.

Tried to fix a DIY problem, failed, and then got so embarrassed that the whole family had to pretend it was fixed.

Said "NEVER HEARD OF HIM/HER" about most celebrity guests on chat shows.

Fancied one specific female celebrity and mentioned said crush every time she's on TV.

Joked about putting their football team as their "religion" on the census but being too scared to actually do it.

Said "You lot never let me watch what I want on TV," and then spent all of Saturday watching the darts.

Refused to ask for directions when lost.

Fallen asleep on the sofa.

Refused to get a professional to come in and fix something he definitely can't fix.

Given comprehensive business advice to waiters and shop staff who do not run the businesses they work at.

Said "five of your English pounds please."

Hugged you so hard it actually hurt a bit.

Worn an outfit with the intention of embarrassing you.

Not let you eat in his car because of the crumbs.

Told you not to slam the car doors, especially if it's a hire car.

Sang along to a tape in the car and got the words wrong.

Recorded something, not watched it, but not let you tape over it either.

Worn an embarrassing hat.

Worn embarrassing swimwear.

Insisted on shaking your S.O.'s hand really hard.

Said, "nobody expects the Spanish Inquisition."

Shouted, "TURN THE LIGHTS OFF."

Said, "wait 'till you pay the bills."

Said "Oo err" at an innuendo, like Kenneth Williams.

Been obsessed with black ice.

Talked at length about the dishwasher and the best way to stack items inside it.