Ariana Grande Released A New Song, And People Are Seriously Divided
*sips tea and it's unsweet*
ICYMI, Ariana Grande released a new song last night called "the light is coming" featuring Nicki Minaj. It's the second single off her album, Sweetener, which is due out August 17. (Put this ish in your iCal, binch!!!)
HOWEVS, Twitter has some ~mixed feelings~ about the new track.
Some are underwhelmed by "the light is coming" and are using Wendy Williams to express their disappointment:
Some are unimpressed by all the repetition:
AND THE PEOPLE JUST WANT MORE ONIKA TANYA MARAJ!!!!!!!!
But wait, THERE'S HOPE!!! This girl has restored SOME faith by coining the term "slightly bop-able":
AAAAND others are out here like:
Some Arianators are adjusting their wigs, and, in true stan fashion, referencing Victorious:
You can OBVI form your own opinions, but I'm just sayin' I think Risa here is seriously onto something...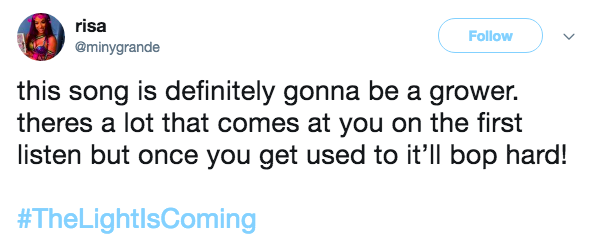 What do you think of "the light is coming"? Let us know in the comments!!!