Jennifer Aniston Revealed How She Avoids Wrinkles On Her Red Carpet Dresses And Fellow Celebs Are Impressed
"No wrinkles...harder than it looks!"
Jennifer Aniston made lots of headlines this weekend at the SAG Awards — first, for winning Outstanding Performance by a Female Actor for her role on The Morning Show, and second, for her viral reunion with her ex Brad Pitt.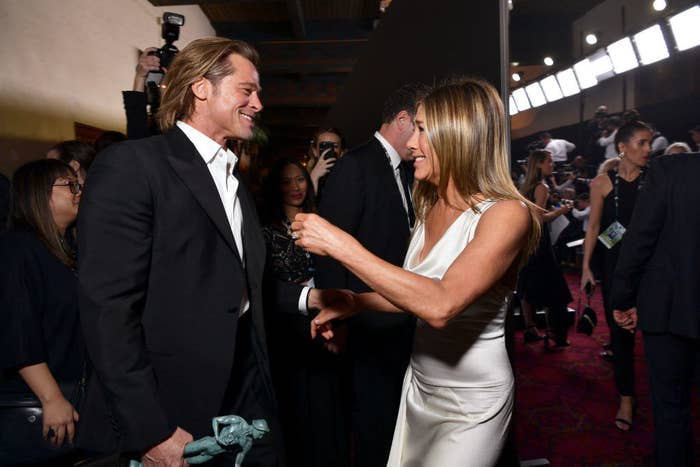 And when the night was over, Jennifer took to Instagram and revealed her secret to keeping her gown wrinkle-free on the red carpet, which blew the minds of many celebs in the comments.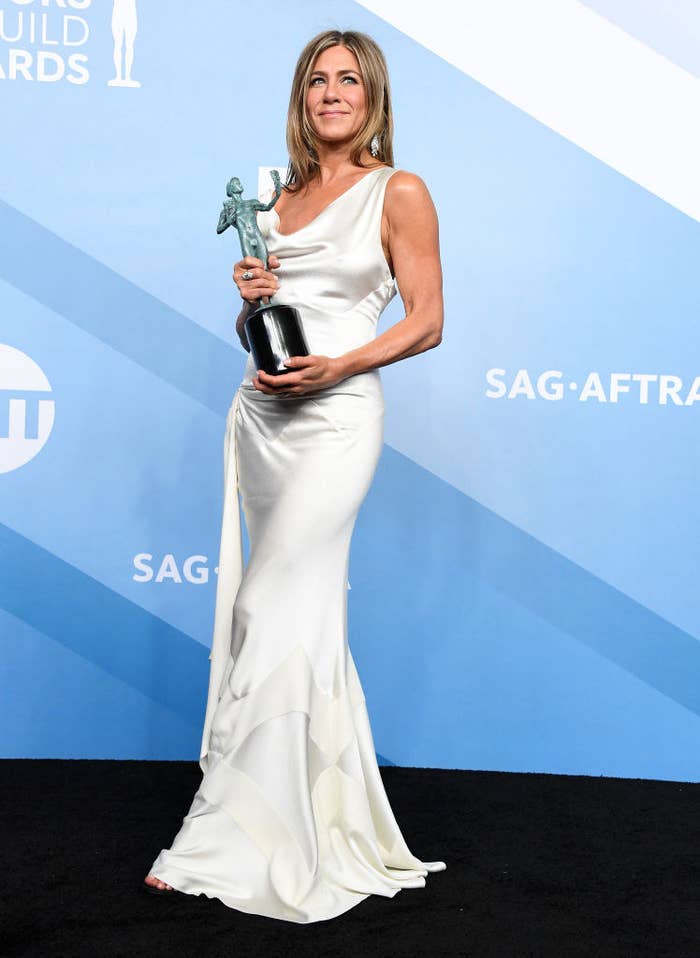 Apparently, Jennifer travels to red carpets in a lying-down position, to keep her dress nice and smooth for photos:
"No wrinkles...harder than it looks!" she wrote in the caption of her post.
Now, funnily enough, this is the very same tactic Jennifer's beauty queen character employs in the movie Dumplin', in order to keep her pageant dresses wrinkle-free.
Remember that scene where she makes her daughter and her friend help her get out of the backseat???
It's unclear if Jennifer learned this trick from her time filming the movie, or if it's something she's been doing for a while. But either way, her fellow celebrity friends are impressed with the hack.
Many, including Samantha Ronson, thought it was pretty damn clever:

Mindy Kaling was a little bit jealous:
David Spade had some advice to help her take things one step further:
Whitney Cummings thought Chevrolet should pay for the privilege of having Jennifer Aniston lie down in their backseat:
Kathy Najimy wanted to know if the backseat trick would work on her face, too:
Michelle Pfeiffer thought the whole thing was hilarious:
And Courteney Cox had some nice words of support for her ~friend~:
Jennifer also shared an "after" shot of the red carpet dress, draped on the side of her bathtub next to her shiny new SAG Award.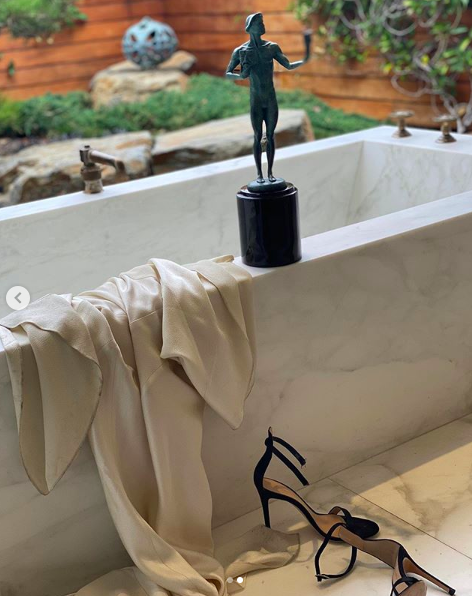 And she had many people to thank for her victory:
Somewhere between these two photos, my peers gave me a gift I will cherish and a night I will never forget. Thank you @sagawards, @themorningshow, and our incredible cast and crew. Let's get back to work!
Congrats on the award, Jen! You can check out her full post below: