A groom who said he's not one to get emotional decided to express himself in a different way in his wedding vows: an epic mash-up of love songs.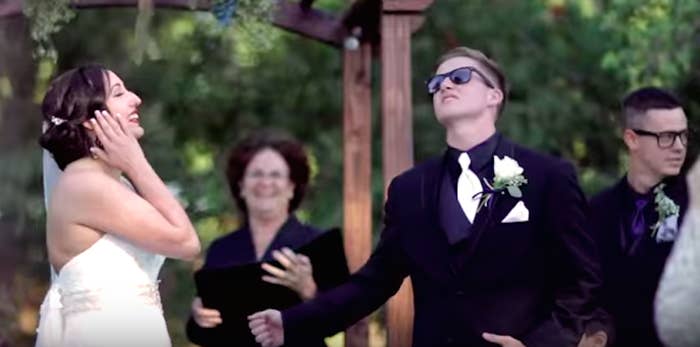 Jared Basham married his wife, Kyndra, on Saturday, and he had a surprise in store for her.
When it was time for Jared to say his vows, he started off pretty normal. He told Kyndra that he knows he isn't the most expressive guy...
He also vowed to express himself at "inopportune" times, like during his wedding vows. He then broke into his song-and-dance routine, starting with "You're the One That I Want" from Grease.
He really channels a young John Travolta here.
And then shows he def could have been in a boy band.
Even the groomsmen got to join in during his rendition of the All-4-One classic "I Swear."
But Jared's star really shone when he broke out into Whitney Houston's "I Will Always Love You."
You can feel the passion through the screen.
Safe to say, the bride got his message.
A friend of Jared's, Shea Burns, told BuzzFeed News the groom had told him about the vows and asked him to film them. Burns later uploaded the vows to YouTube.
Correction
The newlyweds told BuzzFeed News that Jared was actually singing. An earlier version of this post misstated he was lip-synching.