I think we've all seen a dish in Disney cinema and been like, "Ugh, if only I could eat that in real life."
Well, Gabrielle Williams literally makes that a reality! She's a 32-year-old baker, chef, and film student from Georgia who's gone mega-viral on TikTok for creating exact replicas of the iconic foods from our favorite Disney and Pixar movies.
Me watching all of these TikToks on a loop:
Gabrielle's TikToks have gotten millions of views, and she currently has over 1.3 million followers. She told BuzzFeed that she was inspired to create her Disney Movie Food series after rewatching a bunch of her favorite Disney films over the holidays. "I realized just how much food there was in almost EVERY film. And it just kind of clicked: 'I should make Disney movie foods come to life!'"
"I blended my two passions — Disney and food — together just for fun. I wanted to help make people smile and feel child-like again during the pandemic. I honestly had NO idea that it would blow up the way it has. It's been amazing."
Gabrielle's first-ever creation in the series was Tiana's beignets from The Princess and the Frog, shown above.
When asked about her process, Gabrielle told BuzzFeed that it only takes her one or two tries to perfect her dishes, because the process comes so naturally to her. "It almost seems like I've been planning to do this my entire life, because every dish and movie just comes to me. I'll think of a movie, rewatch the movie for inspiration, and end up knowing exactly what I want to make and how I'm going to make it."
"What I love most about cooking and baking these dishes is being able to bring the foods that I've wanted since I was a child to life. It's an incredible feeling. Disney is such a passion of mine, and it warms my heart so much every time I recreate a new dish. There's also no greater feeling than when people thank me for helping them relive their childhood, and giving them a safe place to go on the internet."
And in case you're not a Disney fan, Gabrielle also recreates foods from other films and franchises, like the perfect candy from Jimmy Neutron: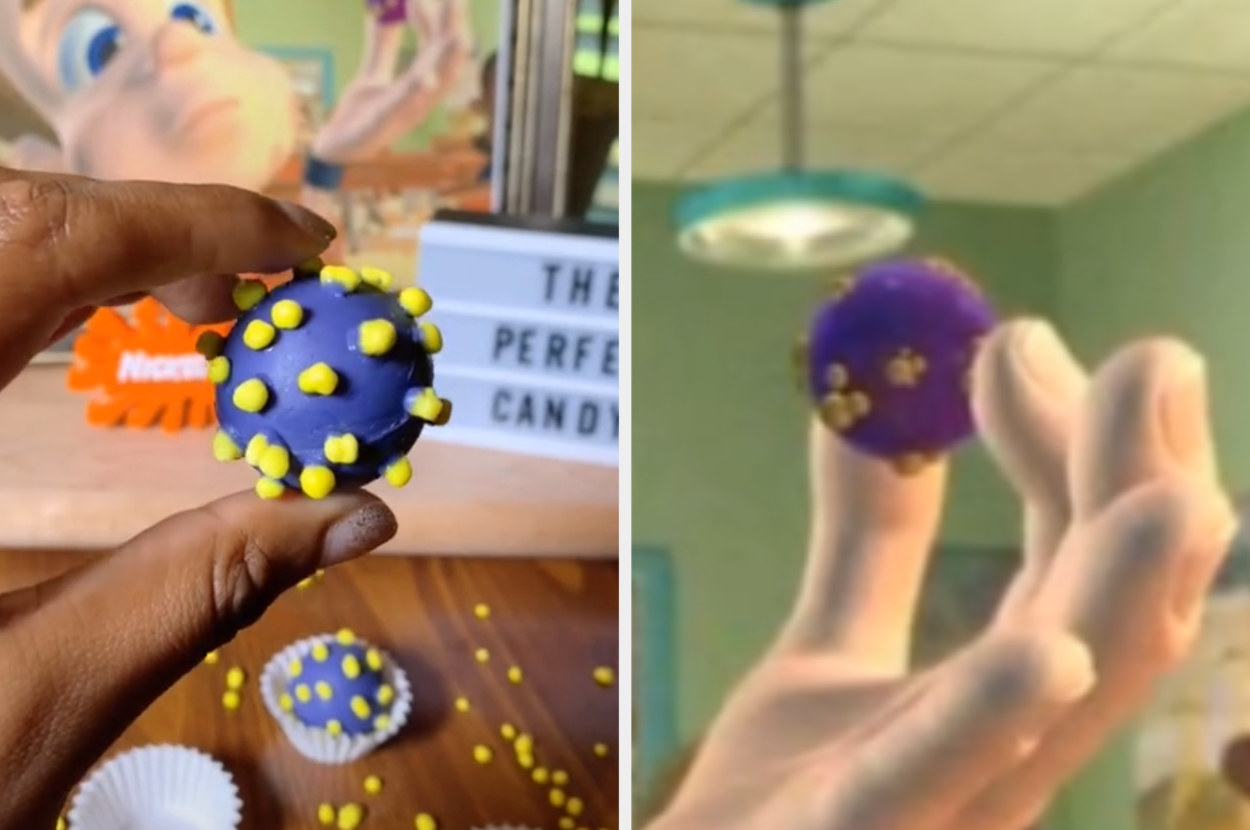 In the end, Gabrielle just hopes people understand how much she loves recreating the foods we see onscreen. "I hope they see the love, thought, effort, and passion that I put into every dish. I hope people see how far I've come in such a short amount of time, and realize that they can do it too! With just a little perseverance, passion, and determination, they can make their dreams come true."