Here's What You Need To Know About The Democratic Unionist Party
Theresa May has said she will govern with help from her party's "friends and allies" in the DUP. But Northern Ireland's largest party has a controversial record on many issues.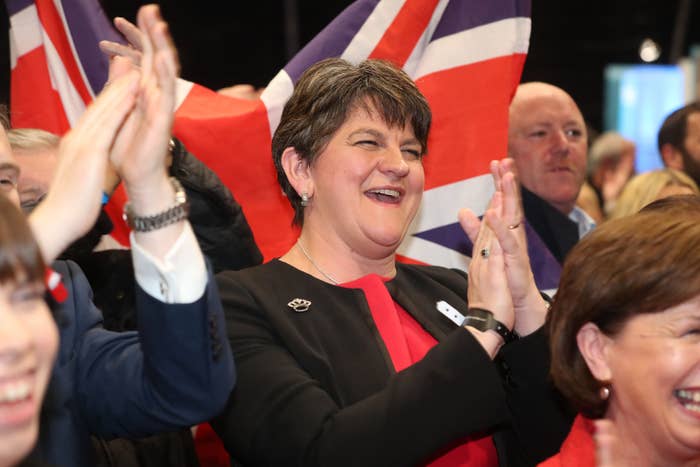 Northern Ireland's Democratic Unionist Party has just taken on a crucial and unexpected role in UK politics in a shock turn of events.

Arlene Foster, who's been party leader since 2015 and also served as first minister of Northern Ireland for a year until January, appears to have agreed to help Theresa May form a minority Conservative government.

May called a snap general election in the hopes of gaining a stronger "mandate" to carry out Brexit, but failed to hold on to a majority and lost seats as a result of an unexpected Labour resurgence.
Speaking outside 10 Downing Street after visiting the Queen at Buckingham Palace, May said she would form a government by working with "friends and allies" in the DUP, which won 10 seats in yesterday's election. Those 10 MPs, when added to the 318 seats the Tories won, would allow May to govern with a wafer-thin majority.
But where do these "friends and allies" stand on key issues, and what possible concessions will the Tories make in order to govern?

Brexit
In last year's EU referendum, 56% of voters in Northern Ireland voted for Remain, with the DUP the only major party to campaign for Leave. But it does not support a so-called "hard Brexit".
Instead, the party would push for a "soft" exit from the European Union that would take into account "our shared history and geography with the Republic of Ireland", with no hard border.

The party's chief whip, Jeffrey Donaldson, told the BBC the DUP was willing to talk with the Conservatives in the event of a hung parliament and lend his party's support to them on issues such as Brexit.
"This is perfect territory for the DUP because obviously if the Conservatives are just short of an overall majority it puts us in a very strong negotiating position. Certainly that is one we would take up with relish," he said.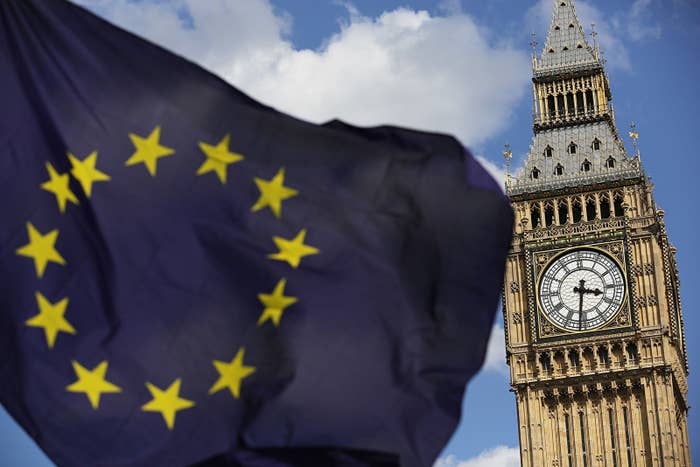 Abortion

The DUP is against abortion, with many supporters regarding it as murder.
Abortion is illegal in Northern Ireland in almost all circumstances, and the majority of women seeking a termination must travel elsewhere in the UK or abroad.


LGBT rights

The DUP has staunchly and consistently opposed equal rights for LGBT people and spoken out against homosexuality for decades.
It has five times opposed a vote that would have allowed gay people to get married, and Northern Ireland remains the only part of the UK where gay marriage is illegal.
In 2015, the DUP's then-health minister, Jim Wells, claimed: "The facts show that certainly if you bring a child up in a homosexual relationship that a child is more likely to be abused and neglected."
He also previously described gay pride as "repugnant".
The DUP's stance on LGBT rights has roots in history. In the 1970s and early 1980s the party ran a campaign called "Save Ulster from Sodomy".
Its principal aim was to block attempts to decriminalise homosexuality, after England, Wales, and Scotland revoked laws that made being gay illegal and the DUP placed adverts in newspapers asserting that following suit "can only bring God's curse down upon our people".
As a result, homosexuality remained illegal in Northern Ireland, and only became legal in 1982 following a ruling by the European Court of Human Rights.

Climate change and science
There was no mention of the environment or climate change in the party's manifesto for this election, and the party once controversially appointed a climate change sceptic as environment minister in 2009.

Some DUP politicians also reject the concept of evolution and believe in creationism, the claim that God created the world in seven days, and believe that creationism should be taught in schools.

A minister once wrote to a museum calling on it to include anti-Darwinian theories in exhibits, according to The Guardian.