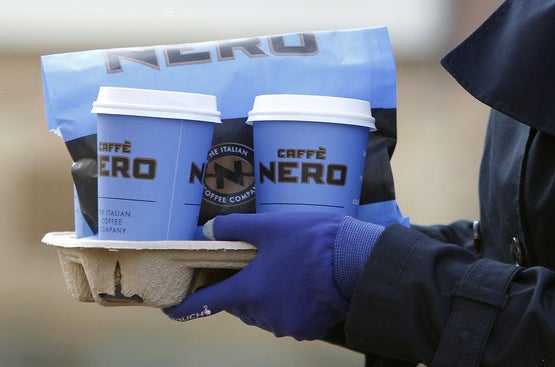 The chancellor, George Osborne, warned on Tuesday that companies should be "much more careful" about their reputation when it comes to handling the introduction of the living wage increase.
As BuzzFeed News first revealed, B&Q, Caffè Nero and Eat are among businesses that have made changes to pay structures in order to help offset the cost of wages, which rose from £6.70 an hour to £7.20 on 1 April for over-25s.
Osborne's warning follows a backbench debate on Monday, led by Labour MP Siobhain McDonagh, who called for the government to do more to ensure workers are properly benefiting from the wage increase.
Nick Boles, Conservative minister of state for skills, said MPs should alert him to "any case of a company that seems to be trying to evade the spirit of the legislation in an unreasonable way" in order to pressure companies to live up not just to their legal obligations in paying the living wage, but to "moral obligations" as well.
McDonagh told BuzzFeed News the government was not doing enough to ensure workers were protected.
The MP helped to set up a petition against B&Q with a manager of the DIY chain on Change.org, which ultimately forced the company to extend existing compensation to workers by an extra year – "a bit of a win but not a total win," she said.
The retailer announced far-reaching changes to its pay structure, including slashing time-and-a-half pay for working Sundays and removal of summer and winter bonuses.
"I was in my office and a constituent came in and said, 'I think I'm going to lose a lot of money,'" said McDonagh. "He showed a document to me [from B&Q] and when I looked through it I became aware he was going to lose about £2,000 a year.
"So I asked a question at PMQs, made a speech in the budget debate, and Anna Soubry [the minister for small business] asked to meet with me."
Together the pair then met with the CEO of B&Q and the result was a commitment to compensate workers set to miss out from the changes it was imposing, but for a period of two years only.
B&Q is not the only example, though its reputation took a hit as it found itself catapulted into the limelight with 139,000 people adding their names to the petition.
As BuzzFeed News revealed, Caffè Nero scrapped free food for staff and Eat stopped paying staff for breaks.
These are not isolated examples. Other companies, including Waitrose, Tesco, and manufacturers of popular brands including Samworth Brothers – maker of Ginsters – have also been accused of making timely pay structure changes.
While some businesses said the introduction of the living wage was a catalyst for them to review remuneration, others defended subsequent changes to pay and benefits as being unconnected to the living wage rise or having predated it.
But McDonough said: "It's a bit of a big coincidence, isn't it."
The Office for Budget Responsibility warned 60,000 jobs will be lost by 2020 as a result of the increase – but McDonagh thinks companies should be footing the bill using the 1% corporation tax cut.
"If you work 39 hours a week you should be able to pay rent," she said. "We'll continue to use every mechanism possible to give this a voice."
Speaking in the response to the debate last night, Conservative MP Nick Boles defended the introduction of the living wage as "significant" but sent a warning to businesses.
"For larger employers there is simply no excuse for trying to evade the effect of the national living wage by cutting other benefits and premiums," he said.