B&Q Staff Say They Will Be Working For Less Despite Minimum Wage Increase
A shop manager's petition accusing the firm of cutting Sunday pay and other allowances because of an increase to the national wage has attracted thousands of signatures.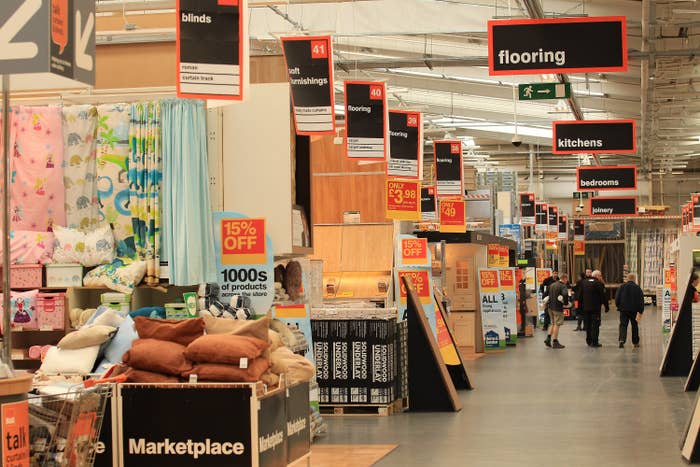 A B&Q manager has accused the DIY business of cutting pay on Sundays and bank holidays to offset the cost of the national living wage, which comes into effect next month.
In 2015, the government announced that the minimum wage would be increased from £6.70 to a national living wage (NLW) of £7.20 for over-25s from 1 April 2016.
However, a B&Q branch manager in London says his employer is using the increase as justification to deprive staff of bonuses and other employee benefits.
The new changes to pay prompted the manager to create a petition on Change.org entitled: "Don't use living wage as excuse to cut pay & benefits". It currently has over 71,000 supporters.
The petition lists a number of benefits the manager claims B&Q workers will be stripped of:
– removal of time-and-a-half pay for working Sundays
– restructuring of allowances for those working in areas of the UK with a high cost of living
– removal of double time for working bank holidays (now proposed to be time-and-a-half)
– removal of a summer and winter bonus equating to 6% of annual salary
BuzzFeed News spoke to the B&Q manager, who asked to remain anonymous as he feared speaking publicly could harm his career.
The man, who is in his thirties, said staff he manages could lose more than £2,000 per year as a result of the changes, and that he could face a higher loss of £4,000 per year.
"A lot of the staff feel disheartened, disengaged, and disappointed," he said. "It's been a difficult time for me. Everybody was impacted."
In a statement, a B&Q spokesperson told BuzzFeed News they were sorry if staff felt upset by the changes.
"Our aim is to reward all of our people fairly so that employees who are doing the same job receive the same pay," they said. "That isn't the case at the moment as some have been benefiting from allowances for a long time when others have not and that can't continue."
The spokesperson said the changes predated the government's national living wage announcement.
They added: "Over 12 months ago, long before the NLW announcement, we commenced a review of our Pay & Reward framework introduced in 2004, and these changes reflect that review."
The manager told BuzzFeed News he was required to give one-to-one consultations with his employees regarding the changes. He said it was a "difficult" process due to the "strong bond" formed with his staff members.
He said B&Q has told all employees they have to sign a contract saying they agree with the new changes or they will face redundancy. "Some of the employees have children," he said. "Most of them had to sign the ultimatum, they have no other choice. They feel anxious."
The manager said he hoped the petition will receive a political response, as well as more clarity for himself and his "unvalued" staff. He said the changes have created an air of "general unhappiness" on the shop floor.
However, a spokesperson for B&Q told BuzzFeed News the company was "committed to being a good payer" and said its overall package was "one of the best in retail", citing "benefits that include a performance bonus, market-leading pension scheme with up to 14% employer contribution, a ShareSave scheme and five weeks holiday a year".
"Overall, we will be paying more this year than we did last year," they said.
The spokesperson said B&Q's minimum rate would be £7.66 per hour, 46p more than the national living wage of £7.20 per hour. They said 90% of B&Q's staff would get an increase in basic salary on 1 April.
They said: "The majority of our employees will be unaffected or better off as a result of the changes to our Pay and Reward framework, and no one's basic pay will be reduced. Some people are on a basic rate that is higher than our new minimum – £7.66 per hour – and they will continue to be paid at that rate until our minimum rate catches up. Additionally, we are paying compensation equivalent to 12 months' worth of any reduction in overall pay.
"We want all of our people to stay with us and be part of the B&Q team and have consulted extensively, listened to the feedback, and changed some elements of our original proposal."