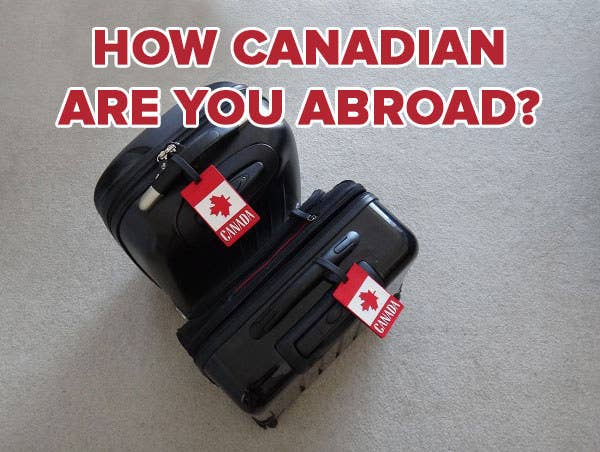 Tick off all the things you have done on while travelling abroad:

Wore Roots sweatpants on the plane.

Wore a hat with your favourite hockey or baseball team's logo.

Offered to take photos for people at tourist sites.

Ensured them that you are Canadian and won't steal their phone.

Had a Canadian flag stitched onto your bag or a Canadian flag luggage tag.

Asked someone what local bar you could go to watch the playoff game.

Packed your stuff in a Mountain Equipment Co-op bag.

Somehow found and made instant friends with other Canadians.

Asked waiters if they had ever visited Canada.

Encouraged people to come visit Canada.

Asked for maple syrup instead of table syrup.

Continued to tip 10% to 15% in places where tipping isn't a thing.

Actually asked for directions when you were lost.

Then spent time helping other tourists who were lost.

Constantly asked what the exchange rate was to Canadian dollars.

Made friends while waiting in line for something.

Asked for ketchup in addition to mayo for french fries.

Got excited when you saw a Canadian airplane on a foreign tarmac.

Posted multiple photos of the sun or beach to make your friends insanely jealous.

Thought the airplane food wasn't really that bad.

Asked for ginger ale on your flight.

Hopelessly tried to remember grade school French in francophone countries.

Packed a light jacket even though you were going to a warm destination.

Freaked out over how cheap the beer was.

Received a crazy expensive phone bill for forgetting to turn off data roaming.

Arrived 5 hours before your flight just to be on the safe side.

Constantly calculated what time it was back home.

Were overly considerate to everyone so you wouldn't tarnish Canada's good reputation.

Corrected anyone who dared to call you American.