1. Am I going to listen to Emotion again? HECK. FRICKING. YES.
2. Carly Rae is the Underrated Queen of Pop. Queen of Canada. Queen of Wholesomeness. Queen Of Not Winning Nor Even Being Nominated For A Grammy Even Though She Had The Album Of The Year.
3. Never forget how lucky we are to be alive at the same time as Living Legend Carly Slae Jepsen. Let's do this!
4. How do the horns in "Run Away With Me" slaughter me every time? I want those horns playing at my wedding, my childrens' graduations, and my funeral.
5. Honestly, I just want a boy so I can literally run away with him while this music plays in the background.
6. Also, "#RunAwayWithMeme" is the best thing to happen to the internet since email.
7. OK, so "Emotion" is like, one of the most underrated songs on this album. Actually, EVERY song on this album is underrated. Is that possible? Whatever.
9. That doesn't even make sense, but this album makes me FEEL things that make my head spin.
10. Also can we talk about how Queen Carly SLAE nabbed not only Justin Bieber but TWO-TIME ACADEMY AWARD WINNING ACTOR TOM HANKS for this music video?!?! When will your faves EVER?!
11. Slowing things down with "Gimmie Love." This is giving me '90s prom slow-dance vibes and I am here for it.
12. Oh crap, I'm singing along to the lyrics at the top of my lungs again. How does she DO this to me?! Come through, my singalong queen!
13. Another slow jam with "All That." Honestly, why are we measuring time with "B.C." and "A.D."? It should be "B.E." and "A.E." — Before Emotion and After Emotion. I need to file a petition to resolve this issue ASAP.
14. OH MY GOD "BOY PROBLEMS" IS SUCH AN ICONIC BOP. Listening to it literally makes me gayer.
15. Why am I swaying in my chair? Oh right, because I've caught a bad case of Carly Slae Jepsitis and THERE IS NO FUCKING CURE.
16. "BOY PROBLEMS WHO'S GOT 'EM? I'VE GOT THEM TOO!"
17. "BOY TROUBLE, YOU'VE GOT TROUBLE!"
18. Honestly, "Boy Problems" advance gay rights by YEARS. Queen of Being an LGBTQ Ally!
19. I literally was not capable of experiencing real emotions before listening to Emotion.
20. OMG, "Making The Most Of The Night." Honestly, bury me right now. This album slays me. I don't think I'm going to be able to make it all the way through.
21. "I KNOW YOU'VE HAD A ROUGH TIME! HERE I'VE COME TO HIJACK YOU, HIJACK YOU, I LOVE YOUUUUUUUU."
22. I think I'm annoying everyone within 100 yards of me for singing along too loud. Whatever, if I get a noise complaint I'm referring them to CRJ.
23. "Your Type." Another underrated bop. Another reminder that Carly Rae was ROBBED at the Grammys. One of the cruelest injustices of the 21st Century.
24. Honestly, Prime Minister Justin Trudeau should replace "O, Canada" with "Your Type" as the Canadian national anthem.
25. "Let's Get Lost." Honestly, cause of my death: Listening to Emotion too many times.
26. Wait, remember that scene from Mean Girls where Cady dramatically says, "The limit does not exist!" Well, that's how I feel about how many times I should listen to this iconic album.
27. "LA Hallucinations." What an anthem.
28. "BUZZFEED BUZZARDS AND TMZ CROWS, WHAT CAN YOU SAY THAT I DON'T ALREADY KNOW…"
29. I think it is IMPOSSIBLE to not sing along to this album.
30. Who can I talk to to make Emotion the Eighth Wonder Of The World?
31. OMG "Warm Blood" just wants me to wake up in the morning next to a cute boy and make out with him for hours.
32. How am I feeling all of these emotions I've never met before???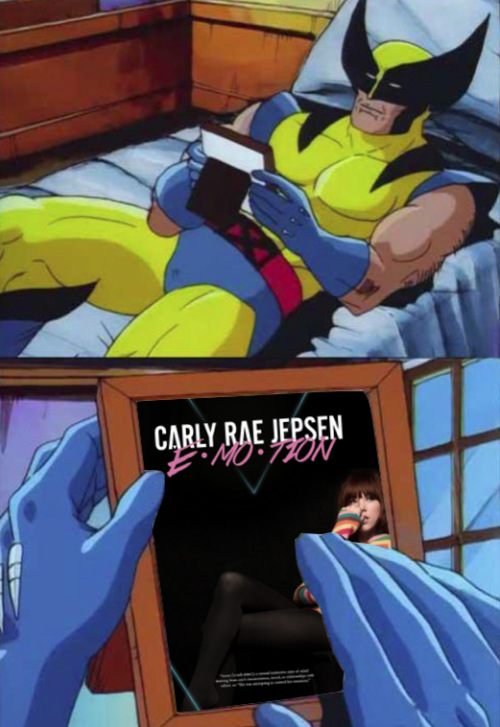 33. Forget fellow pop stars, Carly Slae belongs in the same conversation as Shakespeare, Maya Angelou, and Dickens…SHE IS A TRUE MASTER OF THE ENGLISH LANGUAGE.
34. 13 songs in, and "When I Needed You" is a reminder of how DEEP she dug on this album. Like, she just kept churning out BANGERS.
35. How dare she do this to us? My poor heart can't take it. She is literally slaying my existence with her iconic '90s synths.
36. "Black Heart." So good. I know we toss around the word "iconic" a lot but like…this album IS truly iconic to the core.
37. When Carly Slae chants, "Come a little closer, won't you come a little closer to me," my heart honestly skips SEVERAL beats.
38. OMG YAAASS "I Didn't Just Come Here To Dance," you gem of a bar anthem!!! Make way for this iconic bop!!!
39. I literally feel a VERY urgent need to dance when this song comes on.
40. "I DIDN'T JUST COME HERE TO DANCE, IF YOU KNOW WHAT I MEAN, DO YOU KNOW WHAT I MEAN?!"
41. I need to light a lighter and wave it around for "Favourite Color." What a perfect final song. My heart is so full.
42. "WHEN I'M CLOSE TO YOU, WE BLEND INTO MY FAVOURITE COLORRRRRRR…"
43. "…I'M BRIGHT BABY BLUE, FALLIN' INTO YOU, FALLING FOR EACH OTHERRRRR!"
44. I'm an emotional wreck. My body is going to need at least a week to recuperate from the emotional assault Queen Carly Slae just laid on me.
45. JK, I need to listen to Emotion again ASAP.
Music Week is a week of content that celebrates the awesome classic jams, artists, and music videos you grew up with — as well as future classics. Take a step back in time and check out more great music content here.