1.
A screaming goat book and figure that'll become your new favorite and hilarious little companion. It'll be there for you whenever you need to just let out some stressful energy.
Check out our write-up of this must-have screaming goat!
Promising review: "This little piece of screaming plastic has created an excellent outlet for resolving frustrations in our home. Every time a conflict or struggle arises we push the little goat, get a gratifying screech, chuckle and move on throughout our day. No regrets on purchasing this. When you get one, get four or five because you're going to want to share with family and friends." —Ashley
Get it from Amazon for $7.70.
2.
A mascara to give you lashes so dramatic, no one will believe you when you tell them you bought it for less than $5 on Amazon.
Number of 5-star reviews/ratings: 76.9K+
Promising review: "I got tired of breaking the bank over mascara. My sister suggested Essence Lash Princess False Lash Effect and I IMMEDIATELY fell in love. It provides dramatic length and great volume. I can honestly say I can't stop looking at my eyelashes in the mirror every single day because of how awesome they look. Also, it is very long wearing. I go from an eight-hour workday right to the gym and sweat like crazy...and this stuff doesn't budge! I love it!!" —Carrie E Miller
Get it from Amazon for $4.99.
3.
Glossier Balm Dotcom — a lip balm that'll help make your lips feel nourished and smooth. Reviewers especially love this product for the fact that it stays on for hours, even when you're eating/drinking.
This is hypoallergenic, cruelty-free, dermatologist-tested, and boasts long-lasting moisture!
Promising review: "As a professional lip balm collector, I would like to go out on a limb and say that this is probably the best balm I have used. It stays forever, doesn't wipe off with food, or drinks, or life, and is super nourishing. It's also really good value for the money and lasts forever, (mine has been with me since July 2018, and I'm writing this review in September 2019)." —Aayushi S.
Get it from Glossier for $12 (available in nine flavors).
4.
An Amazon-famous thickened-down jacket even those who hate winter with a burning passion will look forward to wearing. It features large pockets, a sherpa-lined hood, and comes in an awesome array of colors.
Be sure to check out our write-up of this reviewer-loved coat!
Promising review: "Very warm and cute. I am actually obsessed with this jacket. I stopped a woman on the street to asked her where she got hers. I immediately ordered one. I wasn't sure what size to get so I ordered the small and medium. I am smaller on the top so actually the small was better because I could open up the zippers on the side." —Susan Alexander
Get it from Amazon for $159.99+ (available in 13 colors and sizes 2XS–5XL).
5.
An inflatable tube man bound to become your new favorite co-worker and make you laugh no matter how busy your work day has been.
Promising review: "I opened the package and screamed for joy! As I placed the battery my hands were trembling with what was going to happen next! As I turned on the wacky waving inflatable tube man I knew I'd have a friend for life. Someone you can really count on cheering you up when you are feeling down. He brought me such joy I started to cry with laughter and happiness." —Robert Wurstner
Get it from Amazon for $6.79.
6.
An anti-fog spray perfect for those who are now all too familiar with the struggle of their glasses getting fogged up while wearing a mask.
Promising review: "I bought this product because wearing a face mask makes my glasses fog, even with the metal strip to form around the bridge of my nose. It works all day with only one application, unless I have been doing a lot of activity, then I might have to re-apply. Just spray it on the clean lenses of your glasses then wipe dry with a clean dry lintless cloth, as simple as that. I was so impressed that I gave my second bottle to my team members for them to use. Delivery was fast. I highly recommend this product from this company. I would not hesitate to buy this again when I need more in the future." —Tonya Crippen
Get it from Amazon for $9.55.
7.
A universal cleaning gel that'll help get rid of dust, hairs, crumbs, and more from things like technology items and your car. It's like playing with slime WHILE cleaning, so it's a win-win.
Promising review: "I purchased this product to clean those little spaces in my car filled with random crumbs from my husband and dog hair, and it works amazing. Picked up everything and didn't leave a residue. The lemon scent was faint and didn't overpower the vehicle while I was cleaning it. But this definitely got in all the little nooks and crannies." —Kimberly
Get it from Amazon for $7.99.
8.
Water bottle cleaning tablets to get your beloved drinking bottle back to the condition it was in when you first fell in love with it at the store. I, for one, don't feel like taking a brush and soap and scrubbing away, and I'm going to make a fair assumption that you don't want to either.
Tablets are biodegradable, chlorine-free, all-natural, and environmentally safe. They're individually packaged, and don't require any additional brushing or scrubbing. Good for use on stainless-steel bottles, mugs, hydration reservoirs, coolers, dishes, and hard-to-clean plastic containers and bottles.
Promising review: "I seriously can't believe how well these little tablets work. I had the most disgusting HydroFlask coffee mug — I tried everything. A bottle brush, different kinds of soap, vinegar, EVERYTHING, and there was still a seemingly impenetrable layer of black sludge inside. I let a tablet sit in each of my mugs for an hour or two, and the black sludge rinsed out COMPLETELY, without even scrubbing. They look brand-new. What a magical product. No weird smell or taste afterward, either. I liked it so much I used it on another HydroFlask I use primarily to hold my Bloody Mary mix in the fridge. I couldn't put anything else in it because it would always taste like spicy tomato juice. Bottle Bright to the rescue! No residual smell or taste anymore. AMAZING AMAZING AMAZING." —Amazon Customer
Get a pack of 12 from Amazon for $8.
9.
A high-quality Always Pan for cooking up your favorite foods and then cleaning everything up afterwards with ease.
This features a nontoxic, nonstick ceramic coating. Plus, it's dishwasher-safe!
If you were to ask me, someone who LOVES cooking, but is super messy and anxious about eating undercooked meat to the point I have ruined pans numerous times in the past if I would spend over $100 on a single piece of cookware, I wouldn't have taken you seriously. However, if you were to ask me now, a few months into being the owner of a beautiful yellow Always Pan, I'd tell you without hesitancy that I would buy this pan over and over again. 
I'm not sure what kind of magical fairy dust this pan is crafted with, but when I tell you nothing sticks to this pan I truly mean NOTHING sticks to this pan. I genuinely think that every pan that is marketed as a non-stick pan should take several notes from Our Place because THIS is how you make a non-stick pan, my friends. Overcooked chicken, melty cheese, saucy messes, and more are no match for this baby, which also means clean up is truly a breeze. A sponge, a little dish soap, and some warm water will get this pan clean in less than a minute — no soaking in the sink required. Please do yourself a favor and splurge on this one. I promise you, it is SO worth it. 
Get it from Our Place for $145 (available in six colors).

10.
A highly-rated duck dog toy your pup will love chewing/cuddling/playing with and you'll love because it's a super durable chew toy — yeah, you can thank me in a few months when it's still going strong. 

Promising review: "My pup is teething. This duck is large, affordable, and gives her something to nibble on! She LOVES him. I was shocked at the size. Usually larger toys are more expensive so this was VERY affordable!" —Taylor B.
Get it from Amazon for $4.23.
Check out our Multipet Duckworth review for more deets and some adorable photos of one BuzzFeed writer's pup playing with his duck.
11.
A jewelry cleaning pen so you don't have to spend too much time or energy on giving your beloved treasures the shine they deserve.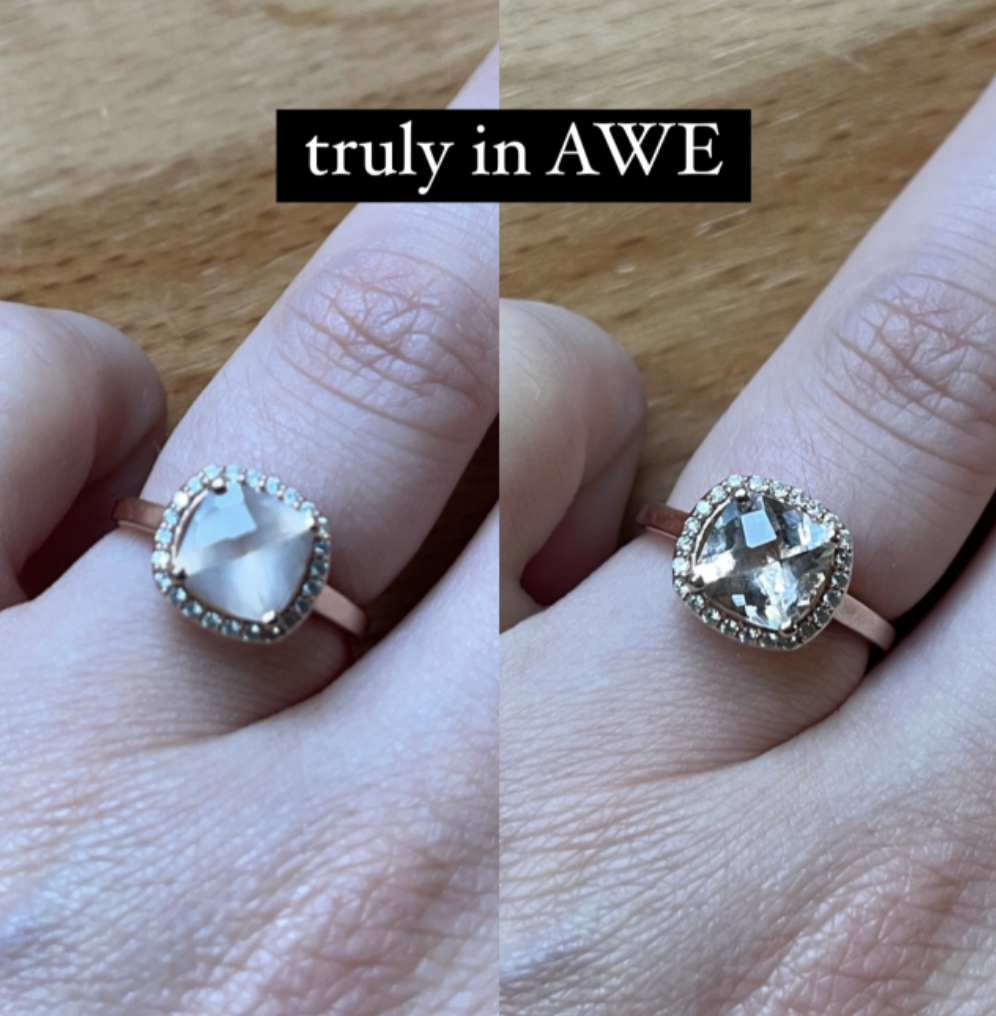 Stephanie Hope / BuzzFeed
Promising review: "Holy cow!!! This is a miracle product. If you're contemplating buying it, let me tell you right now, this is something you need in your life!! I absolutely hate how inconvenient it is to take my jewelry to get cleaned. You either have to leave it overnight or wait around for it to get cleaned. This literally took two minutes to use and I could not be happier with how incredible my rings look! Do yourself a favor and buy this product right now. You won't regret it." —Samantha J.
Get it from Amazon for $7.99.

12.
Billie, a razor subscription that sends you all you need for the best shaving experience of your life. Thanks to their blades surrounded in a layer of charcoal soap to leave your skin feeling nice and soft, shaving may become something you actually look forward to!
What you'll get: Your first box comes with a handle in a pretty color of your choice, a magic magnetic holder, and two blades. Depending on how often you shave, they'll send your four re-fill blades every month, two months, or three months. Also! Their shaving cream is not to be overlooked and can be added to your order for $8. It'll leave skin feeling extra smooth and you only need to use a nickel-sized amount! Eight BuzzFeed Shopping Editors tried out Billie and all of them LOVED it — be sure to check out our full review of the incredible Billie razor subscription!
So I gave in to see what the Billie hype was all about — as someone who was perfectly content buying a pack of multiple razors for about the same price, my expectations were't super high when it came to Billie, but I knew so many of my co-workers loved their Billie razors. Well, I am here to say, I am a Billie razor fan for life, and I will never turn back. The charcoal soap surrounding the blades really makes for the absolute smoothest shave — like it truly just glides against your skin and doesn't leave behind nicks or razor bumps. The magnetic holder and the pretty, sturdy handle all make the Billie experience even better. Trust me, it's worth all the hype and more.
Get it from Billie for $10/initial box, and $10 per each blade re-fill box.
13.
An electric candle lighter so you can ignite a flame in a way that's safer than using matches or a gas lighter. Plus, the bottom lock switch provides some extra peace of mind to those with kids, pets, or for those who plan to bring it on-the-go.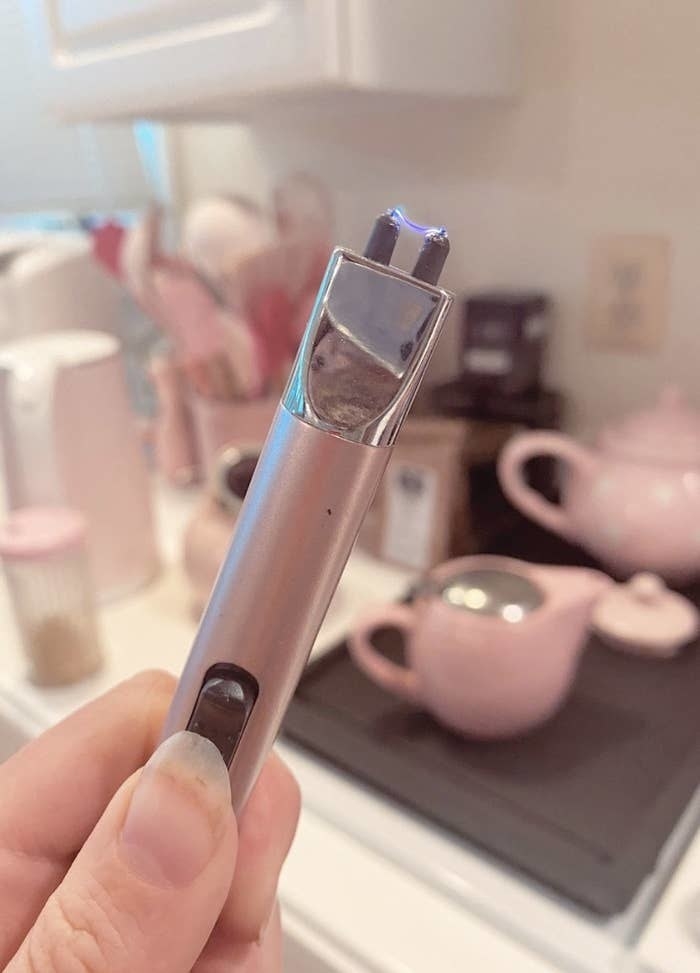 Promising review: "This also comes in other pretty colors, but I am especially partial to this one because I bought it for my parents (their kitchen is entirely pink and one of my favorite places on Earth), and this was SO EASY to use — not to mention super safe! I'm a big weenie about fire (lol, self-preservation) so I've always stuck to extended arm gas lighters, but this is much better for the environment (plus cuter), so I feel a lot better about using it." —Emma Lord, BuzzFeed Editor
Get it from Amazon for $13.99+ (available in five colors).
14.
Mike's Hot Honey, a delicious spicy/sweet condiment that'll quickly become your new favorite thing in your pantry. It's delicious on spicy foods, savory foods, sweet foods, heck, you may even be tempted to hold it over your mouth and just eat it directly from the bottle. You do you.
Check out our write-up of the delicious Mike's Hot Honey!
Promising review: "I was a skeptic, but now I AM a believer. This mixed up honey is absolutely fabulous. I ordered three bottles more after my initial order. Why? Because it is really good on everything. And I mean EVERYTHING. Soft pretzels, toast, biscuits, waffles, cereal, yogurt, ice cream, and definitely pizza. Gives everything in your kitchen a small kick of sweet heat flavor without burning your mouth. I have told many of my friends about this magical elixir and they all agree — this is the BEST specialty honey any of us have ever had. Don't hesitate to buy it. It is absolutely wonderful stuff. I most HIGHLY recommended!" —Jeff R. Clow

Get it from Amazon for $5.99.
15.
A eucalyptus and lavender shower/bath pouch to help give you a spa experience right from the comfort of home. These may also help provide some relief from colds, congestions, and stress.