This White Noise Machine Could Help You Get The Best Night's Sleep Ever
Sweet dreams are just an "add to cart" away.
We hope you love the products we recommend! All of them were independently selected by our editors. Just so you know, BuzzFeed may collect a share of sales or other compensation from the links on this page if you decide to shop from them. Oh, and FYI — prices are accurate and items in stock as of time of publication.
Have you ever tried going to sleep at night — but couldn't because your neighbors or the people you live with make too much damn noise?!
Well, my friends, have I got good news for you: This white noise machine with a cult following on Amazon is your gateway to a night filled with sweet dreams and waking up in the morning feeling refreshed and ready to tackle the day ahead.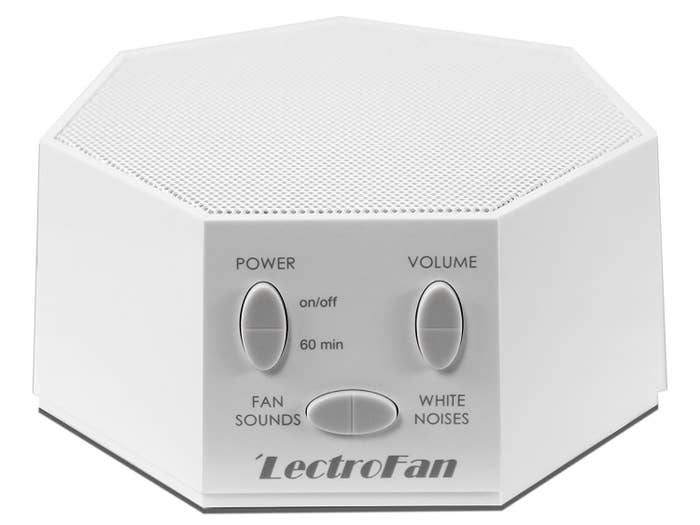 This awesome little gadget is perfect not just for help sleeping, but also for creating an environment conducive to working or studying — or just making your living space feel more cozy and relaxing!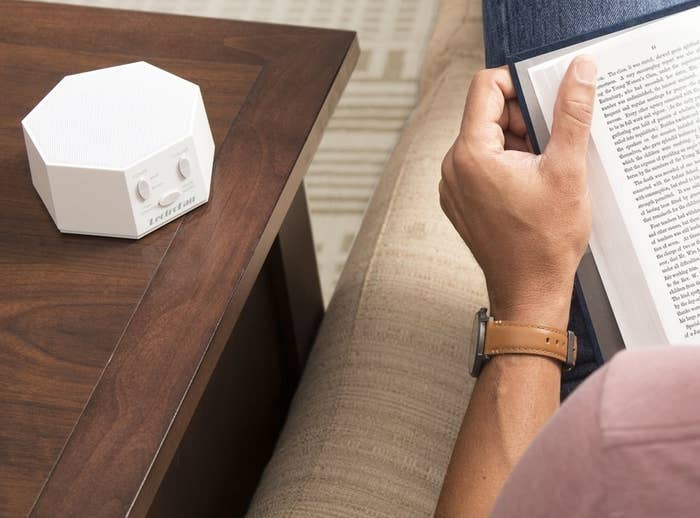 Not to mention that it has over 4,700 reviews on Amazon, a 4.5-star rating, and passes Fakespot with an A, thanks to its trusty, reliable reviews.
But don't just take my word for it — check out some of the amazing things these satisfied customers have to say:
"This sound machine has literally changed my life. The sleep with this machine is like nothing I have ever experienced. Our neighbor likes to spend his mornings shoveling gravel on a cement surface with a metal shovel about 4-5 feet from my window (like 6 a.m. early), and to be honest I was starting to have some pretty dangerous thoughts about stealing his shovel, breaking his arms, and burning his house down. One goes down some pretty dark paths when they suffer from insomnia already, and then when they finally fall asleep get woken up with a shovel scraping down a sidewalk. The machine somehow COMPLETELY covers the noise from the shovel, the toilet flushing next to my room, dogs barking, etc. It is incredible. There are a plethora of choices concerning volume and intensity of sound. Highly recommend." —MorAvFire
"I LOVE my new sleep sound machine! I have to be one of the world's lightest sleepers, with just the faintest fan ticking, door opening, snoring from hubby waking me up constantly! Add in that we have a skylight directly over our bed, AND have one dog who is disturbed by just the sound of rain, and I'm constantly waking up from my slumbers! My doc suggested a sound machine with pink or brown noise — I chose this one. We've recently had several nights of rain, which would normally have our terrier scratching at the bed and crying, which leads to a light yap to get my attention, then onto a full-blown bark, yet, NOTHING from her cute lips during ANY of the storms! It truly feels like a miracle has occurred in our home, as both I and my stormaphobe pup have been sleeping through the night! I'm in love with this small, magnificent invention!" —Mel
"Selected this machine due to the variety of noises available. It generates several varieties of simple white noise, and several types of fan noise — plenty of options for your preference. Machine has a setting to run for a time (adjustable in one-hour increments, minimum one hour, no apparent maximum), before shutting off, or you can simply let it run indefinitely until you power it off. I usually let it run the entire time I am sleeping as I work nights. That is why I bought it in the first place, as something to generate noise that would not disturb my rest, but would mask other potentially disturbing noises. As I usually prefer a fan but like to vary it, and also occasionally like plain white noise, this machine seemed the best option within my price range. Have been using it for about a month, I am very happy, and have been sleeping far better than I have before. I even use it during the times when I am up, so that I am not disturbing my roommate when I watch TV or play games at night. Properly positioned, it works very well to screen out such noises from others without overriding what I need to hear. Highly recommend this product!" —Josh Norris
So if you're ready to create the most relaxing, sleep-conducive environment ever, get the LectroFan white noise machine from Amazon for $49.95 (available in two colors).
Looking for more products that'll help you sleep better at night? Check out these links: