Everyone, it's time to visit the sunny seaside town of Sanditon once again! The period drama returns to ITV tonight for a second season, which already aired in the US and on BritBox over here.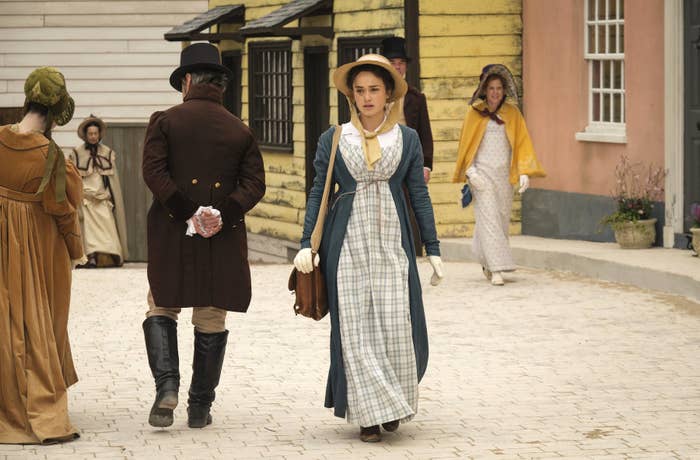 So, to celebrate, we had fans of the series send in their burning questions, and had some of the cast* as well as lead writer and executive producer, Justin Young, answer them.
Where does your inspiration come from for new characters? — submitted by @EmilyAsper

Justin Young: That's a great question! The short answer is from Jane Austen. We went back to all of her novels and looked at the archetypes and we built them from there. Actually, the idea for the army showing up in season two came from our production designer Grant Montgomery! He said, "wouldn't it be wonderful to have the army on the beach in their redcoats and on their horses?"
That concept was in existence way before we got green-lit for season two, and once you have the army in a Jane Austen setting, you know what's coming next – some will be honourable and some will be less honourable. So it was a mixture of that and looking at the period; Charles Lockhart, for instance, came out of the fact that this is the time of the romantics. We also paid homage to a few other classic films and novels, many have already worked out what they are. We are absolutely shameless plunderers!

Did you expect "Heybourne" to be so instantly beloved? —@RebeccaDugger1
JY: We were really nervous actually! So much of the incredible fan response to season one – including the petition – was because people wanted a happy ending for Sidney and Charlotte. We had a very big challenge to try and create a new love story that didn't feel like we were replacing anything; we wanted it to be organic and to follow Charlotte's journey of getting over Sidney.
So no, we didn't take anything for granted, we just tried to craft it carefully and pace it right. In the rushes, we got to see Ben and Rose in the same frame and I remember thinking "I love this, I'm rooting for these two". So far people have been shipping them pretty hard, which I'm very pleased about.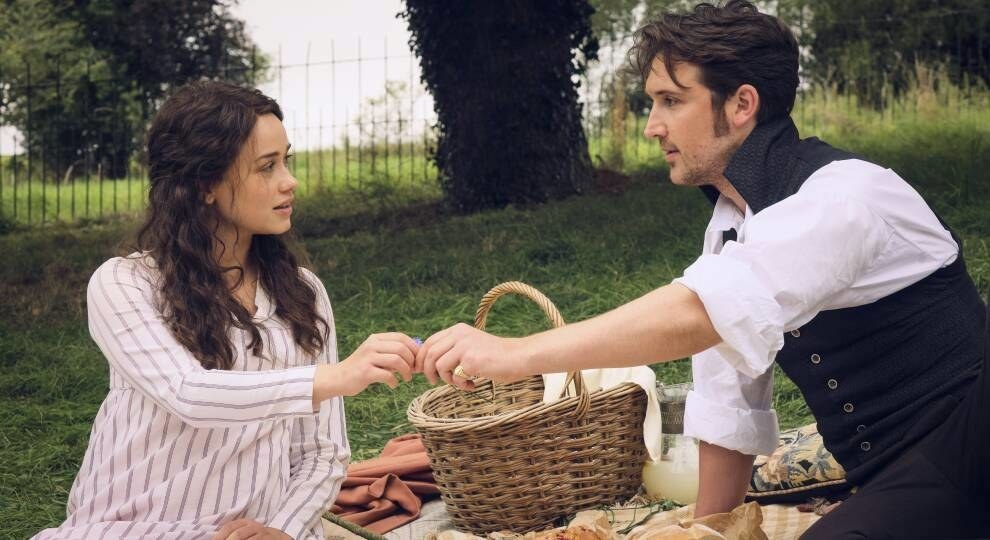 Ben and Rose, how did you manage to achieve such amazing chemistry? –@BlueTxBlue
Rose Williams: (Laughs) What a question! Ben made me feel very comfortable. He has a great sense of humour, and when I was stressed, he brought a level of calm that really helped me. He was also very easy to talk to about our scenes. There's a different kind of romance with Charlotte and Colbourne, it's not that adrenaline-fuelled love young. This was something more mature, which I really appreciated.
Ben Lloyd-Hughes: I agree, and thank you, Rose! Chemistry is kind of like charisma, you either have it or you don't, and it's not necessarily something you can stumble upon. What I love about Rose is how hardworking she is and how seriously she took this role. She wanted every scene to be the best it could possibly be, and therefore the chemistry came out of how diligent she was behind the scenes, which meant that on set we could just relax and lean into it.
Ben, at what point do you think Colbourne developed feelings for Charlotte? –@ickyelatin
BLH: That's a very good question. I think it's too simplistic to pinpoint just one moment – their storyline and romance are quite different from what has come before. In their first interaction, there's something there, but Colbourne is so inarticulate emotionally, that he can't even understand what's going on.
There are several later moments when he's perhaps starting to see her in a different light — moments around the house with the girls, the snails, and the horse. Anything with animals is a surefire way to get Colbourne to pay attention — if you spot an animal, that's normally a sign that Colbourne's having some feelings!
I think the amazing thing about Charlotte's character is that she's able to bring out the best in everyone else. However, like Colbourne, she's been broken by grief, the difference being that Charlotte is able to bounce back from it and take on life with an invigorated energy, which I think he finds inspiring.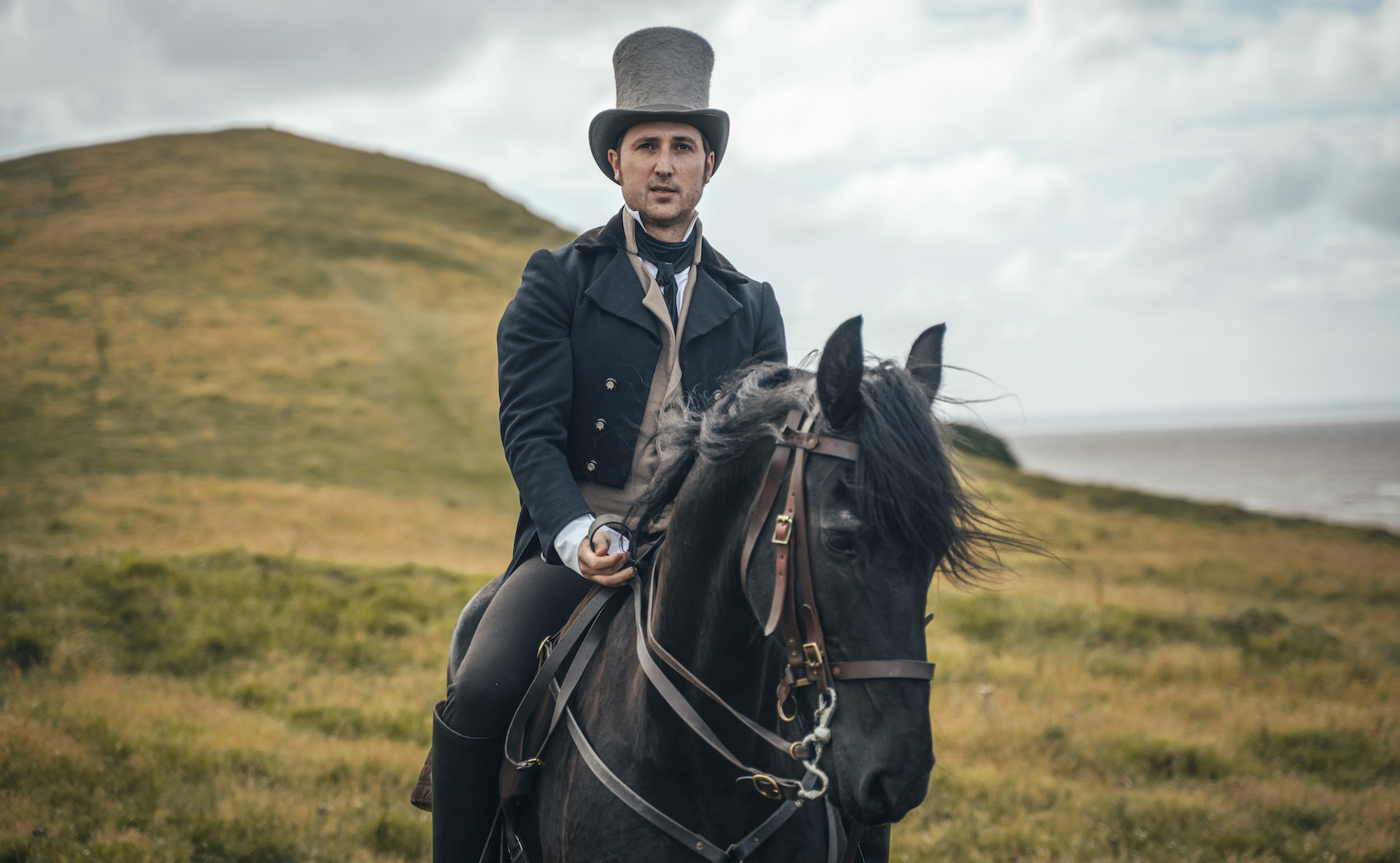 Eloise, fans loved watching Augusta starting to bloom as a character and seeing her relationship with Leo. What similarities and/or differences do you feel there are between you and Flora and your characters? —@AlwaysOptimist7
Eloise Webb: Me and Flora are like sisters, I don't even know how to explain the connection that we have. It got to the point where we'd been in a scene and we'd say things like "maybe let's do this because they would do that". It wasn't even Leo and Augusta, it was Eloise and Flora for a lot of those scenes.
Another character fans love is yours, Turlough. Does Arthur's story and his preferences get fleshed out at all in season three? What about his relationship with Georgiana, does that grow stronger as well? —@LeetteRuthieEW
Turlough Convery: There is growth. He keeps finding himself in every single way — whether that be with Georgiana, his family, and every other person who comes into the world. I like to think he begins to recognise himself and understand who he is in a really beautiful way.
It's a very important story to tell because people like Arthur did exist in this time period in the best way they could. I do wholeheartedly believe Jane Austen wrote this character with somebody in mind – one of her friends or family maybe – and I think she knew what she was writing. Many people from that same society would've known too, which is very beautiful.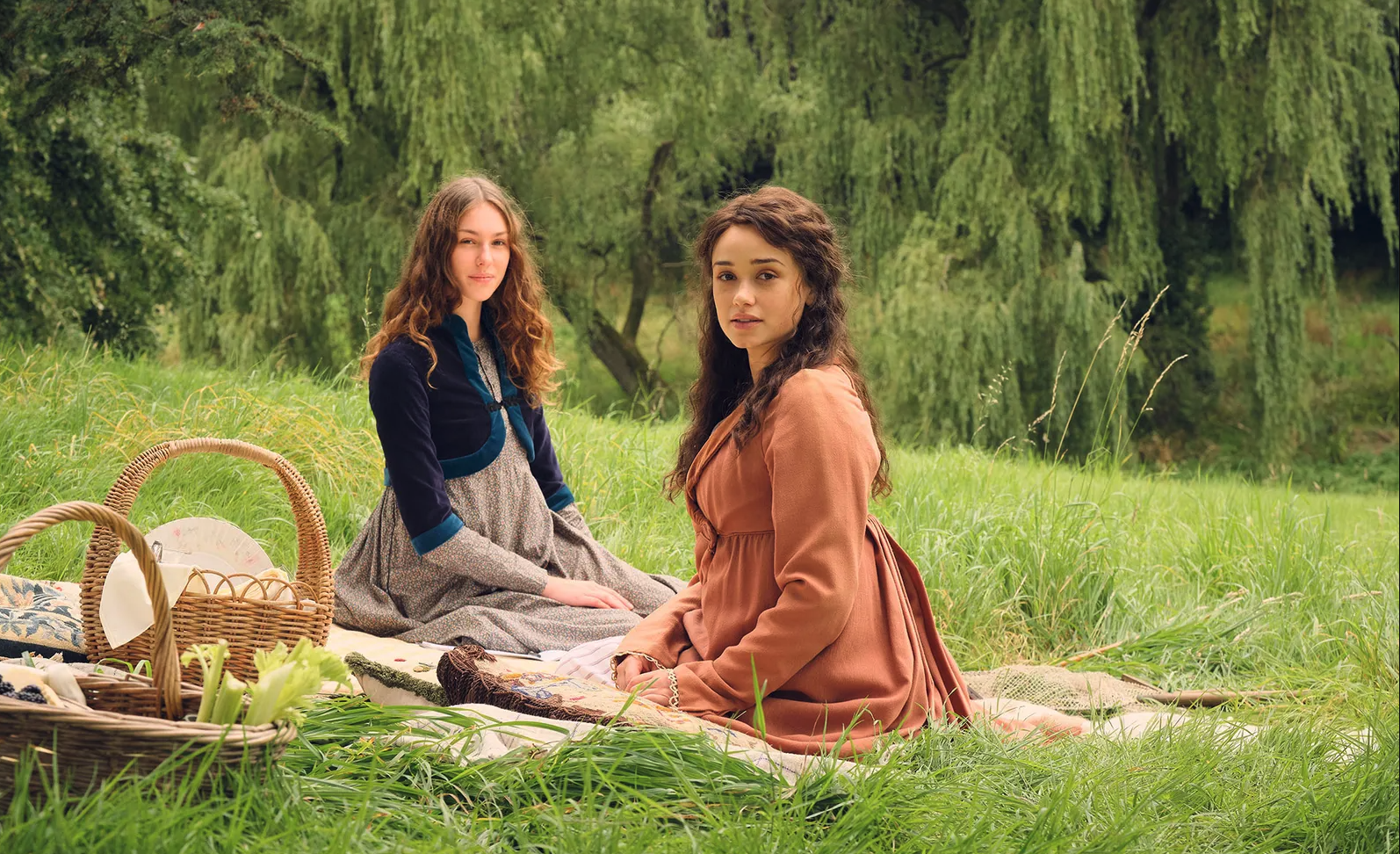 A question to everyone would be, besides your own, who is your favourite character? —@socorros1765

TC: I'm gonna have to say Frank's character, Captain Fraser. He's hilarious and there are some beautiful little moments in his performance.
EW: I'm gonna say Lockhart, he's horrific, but I think he's very entertaining.
BLH: I love Mrs. Wheatley.

EW: Oh, that is the right answer!
BLH: There's a whole undiscovered world that maybe we find out more about in the future, but that's certainly a character full of potential, and so wonderfully played by Flo.
Rosie Graham, Alexander Vlahos, Frank Blake, Maxim Ays: Arthur.
AV: Turlough is a genius separately to Arthur, but he plays him with such complicated dexterity and nuance, and in season two Arthur's journey is amazing. It just helps out that Turlough is so wonderful!
RG: I also like Mary Parker – she's the backbone of Sanditon!
Kris Marshall: I'd have to say Lady Denham — she's so caustic and doesn't care at all about other people's opinions. I just love the way Anne plays her, it's so freeing to play that kind of person as an actor.
JY: Actually, Anne was so amazing at protecting that character! Whenever I would make her too nice, she would email me saying this is far too nice for Lady Denham. The ruder and less sympathetic she was, the happier Anne was to play her!
Was filming as fun as it looked? —@sararipple
BLH: What if we said no!
AV: No. Kidding, we had fun, didn't we?

TC: It was amazing! I think we as a cast had an absolute riot, and because all of the fans had banded together to get us back on air, the feeling of going back into Season two and three was grand.
KM: Yeah, having that stamped authority from the fans was really heartening and validating. It was an honour to be able to go back and revisit these characters.
BLH: I actually can't believe it was a year ago, so much has changed in our lives, but if you gave me the opportunity to start this job again, I certainly would because it was so exciting.
What was your favourite part of season two? —@TweetKP2011
MA: The boat scene was a lot of fun at the start. I was in the middle of the lake having a great time, and then eight hours later, I hadn't been allowed to leave the boat and I was getting a bit cabin fever-y. To be fair, I didn't have the toughest part in that scene.
RG: Yeah, you just had to sit in a boat, I was in a dirty pond! That was good fun, but intense. It might look like there were only two or three people in the scene, but there were so many people out of frame — people in safety boats, men in wetsuits with big flippers on standby, there was a whole water team. It made me feel like an FBI agent or something!
AV: I had a lovely scene with Arthur on the beach where I'm drawing him. That sounds weird, but it was actually hilarious. That scene took forever to film because Turlough would do these mannerisms that kept making me laugh.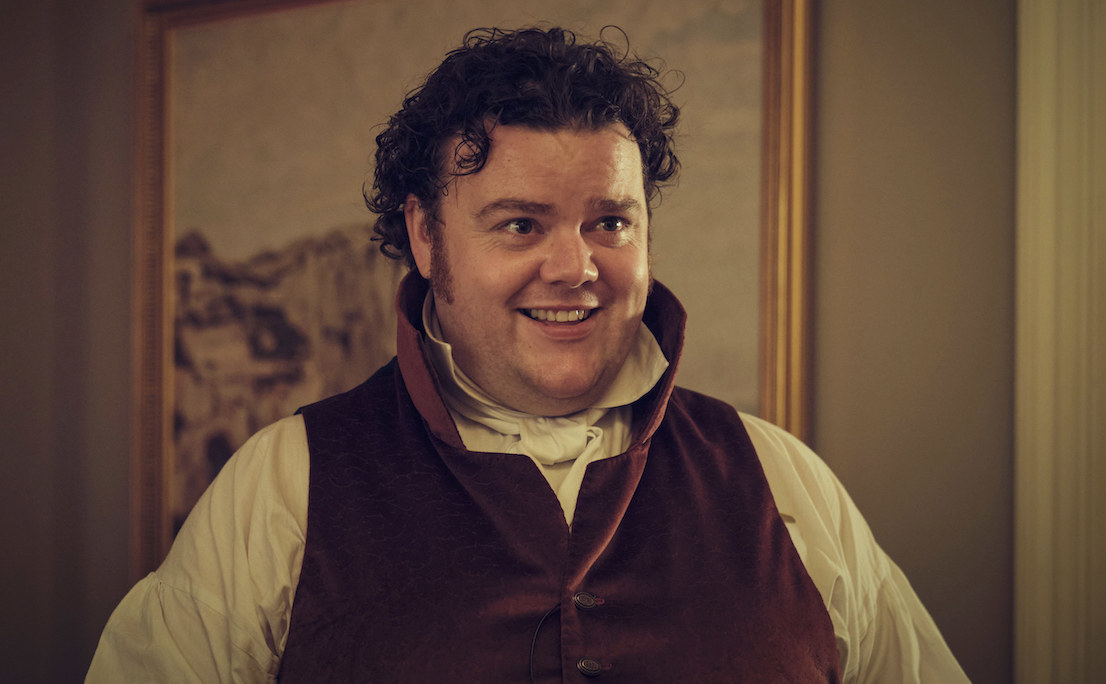 To kick it back to Justin, how difficult was it to rework what you had originally intended? Did you borrow anything from your OG plans? —@mari_mari_mf

JY: We only had a very rough idea when we finished season one of where to go with everything, so during the summer when we were trying to negotiate with Masterpiece on whether it was going to come back, we got as far as a 10-page pitch for what the Sidney version of the story could be. When Theo decided that he was going to move on to other things it was challenge, but it was exciting at the same time. In some ways that made it easier because it meant we could start a new story in season two instead of having to tie up the loose ends from season one.
There were certain elements that we kept from the original pitch – there was a version of Colonel Lennox and Charles Lockhart in it, for instance. The most difficult thing was the speed at which we had to work; we knew that come what may we were going to start filming in June, so there was a lot of pressure to be ready for that, but I genuinely believe that what we ended up with is better.
Fans are also dying to know more about the marriage of Colbourne and Lucy. Is there anything you can tell us? —@AlwaysOptimist7
JY: Of course, I think they fell prey to society and the age they lived in. It was a marriage that happened very young, and Colbourne felt he was pushed into it, basically. He's quite cerebral and generally happier in the countryside and she was more of a London socialite – they were unsuited to each other. Colbourne was also young and immature, so he was probably inattentive and that's where everything went wrong.
When we meet him in season two, he's still dealing with the consequences of that many years later. We actually sent Ben an entire biography of Colbourne — myself and Charles Sturridge — but we didn't want to be to heavy-handed with the exposition, we wanted viewers to work things out for themselves.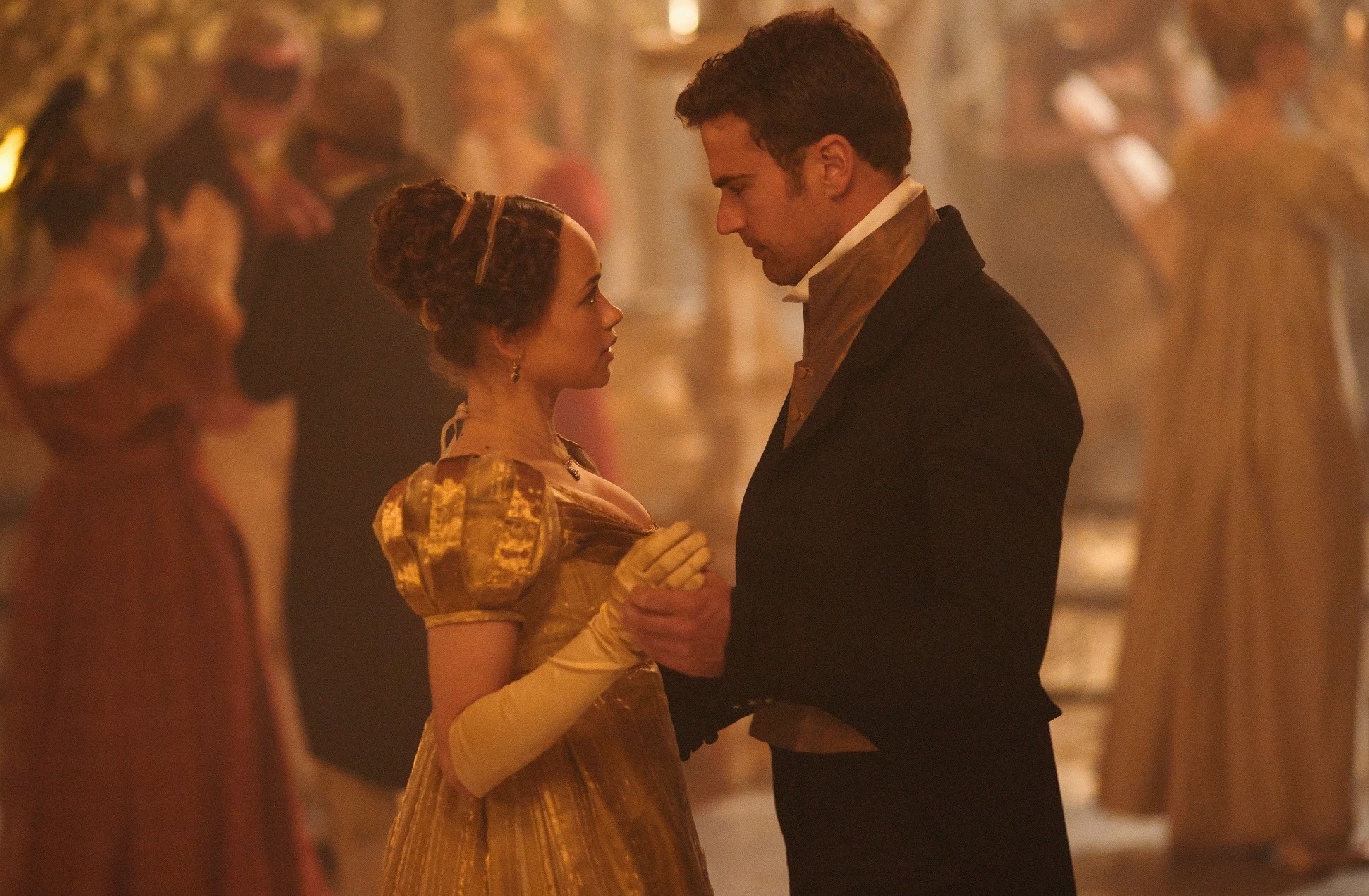 Ben and Rose, do you have a favourite #Heybourne moment? —@EmilyAsper
RW: My favourite Heybourne moment is the picnic in episode three with the handing over of the cornflower. Fun fact, it wasn't always a cornflower, the flower kept changing. We had to shoot the end of that episode where I'm twiddling the flowers in my hand first, and so it changed, but I think it was quite a sweet change.
BLH: My favourite Heybourne moment is probably the dance. I think it was really well choreographed by Sammy, our choreographer. Rose was so on point with very little rehearsal, and the director did an amazing job too. I felt watching it back that it really paid off and it's a really powerful, overwhelming moment. It was an amazing day of filming too!
The costumes are so gorgeous, was there any piece of costume that anyone liked and wanted to keep wearing in real life? —@AlwaysOptimist7
TC: There's a purple jacket that I wore in season one that was very specific to Arthur and was made-to-measure. That felt beautiful on – I felt like a pretty princess walking around in my purple jacket, it was great.
FB: The boots were quite something. You almost had to get lowered into them every day and then three people had to extract you out of them; there was a lot swimming around in there by the time the evening came around.
RG: I would like to keep the hairstyle I was wearing! My hair and makeup artist was amazing. She did some great looks on the old locks that were so fun and made me feel so glamorous! I'd leave the corsets though. I may have also accidentally taken a duplicate pair of earrings home — they wanted me to!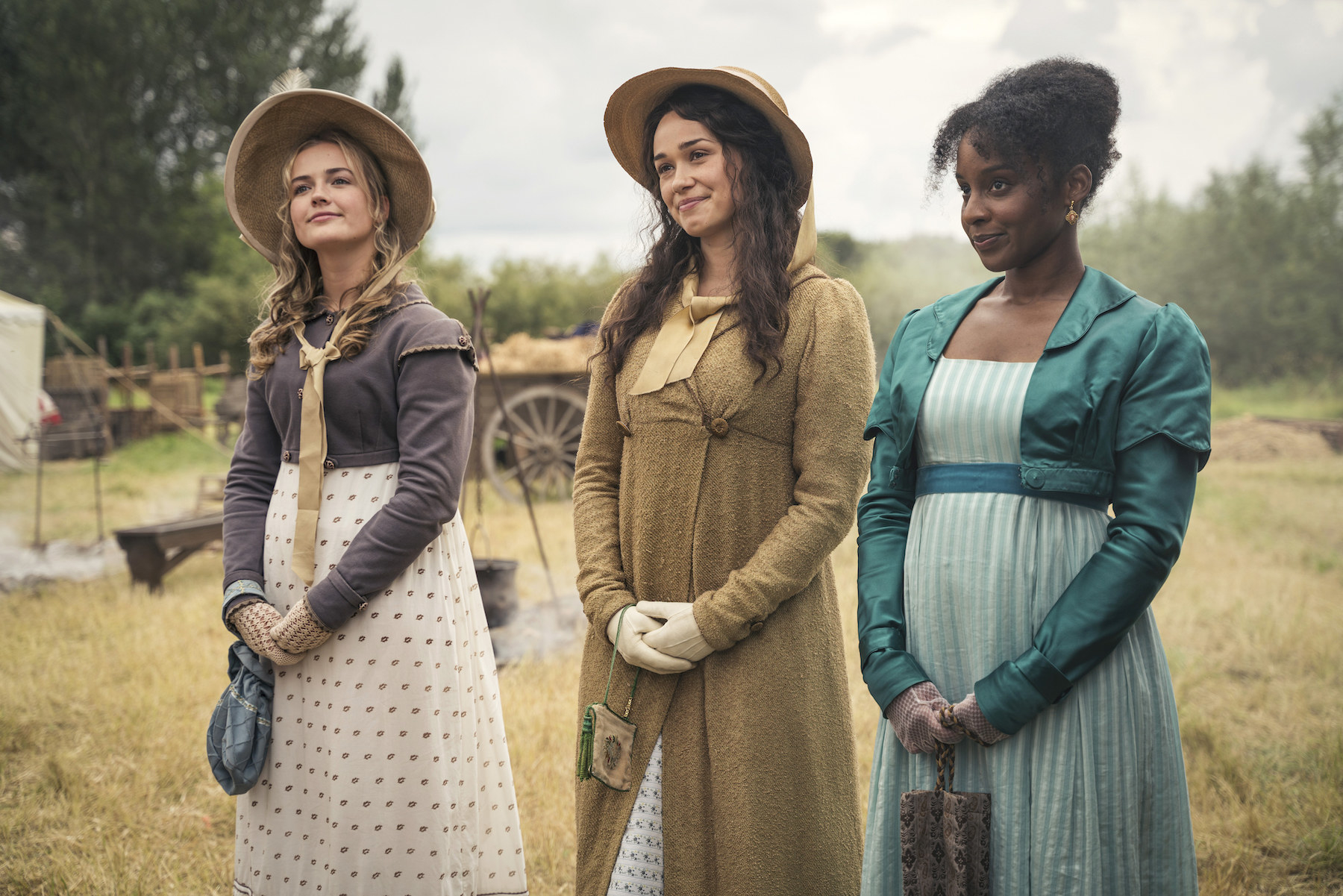 Alexander, a lot of fans fell in love with Charles and were hurt when he turned out to be a traitor to Georgiana. How did you feel playing a villain like that? — @JenRob_Aus
AV: Wow! Well, I remember when my agent phoned me to say I'd been offered Charles, I started reading the character breakdown again and thought it was a really beautiful description. He's a famous portrait artist and he's coming to Sanditon, he has a love interest with Georgiana, and I thought, 'finally, I get to play Mr. Darcy! Finally, I get to play the good guy!' Then he turned out to be the villain of the piece, which broke my heart. I love playing Charles, I enjoyed every aspect of it! He was described to me once as a sort of David Bowie of Weston-super-Mare; I had too much fun really!
Will he be reformed or wicked in season three? —@TahiraOsman4
AV: Season three is as good as season two, if not better.
Okay, how about Fraser and Alison, will they be back for season three and if so, what can we look forward to? —@Gina__Christine
RG: Season three is as good as season two, if not better. That's the line and we're sticking to it!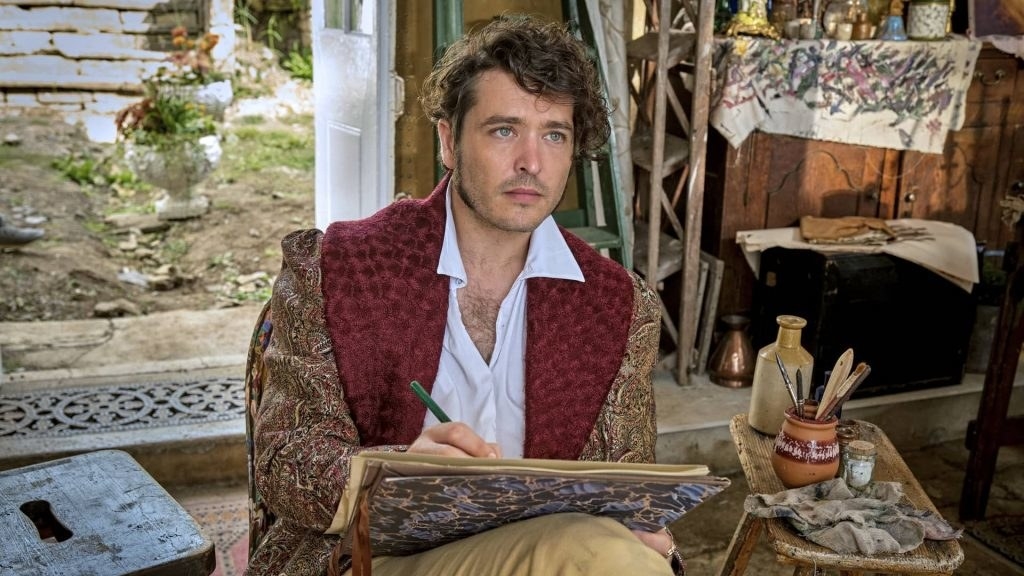 Did you guys learn any fun stunts or skills for season two? —@Sanditon_Fan
MA: Boxing! I was given a good half an hour to learn the Queensberry rules of boxing, and then put in the ring against a mini Arnold Schwarzenegger. I was hoping they were gonna hire a shorter, more round guy for me to fight, but when I saw him he had like a sixteen-pack. I thought that was very unfair!
AV: I wish they'd taught me how to paint. They hired a guy who would wear a sleeve that matched my shirt, and he'd come underneath and paint or draw while I would look on.
FB: No way!
AV: Yeah! It wasn't me painting any of those pictures.
RG: I knew that but I didn't know you had a fake hand!
AV: Yeah, it was this weird hand in a sleeve that would come through, and I would stand beside it, and on camera it would look like my hand was drawing whilst looking at Crystal.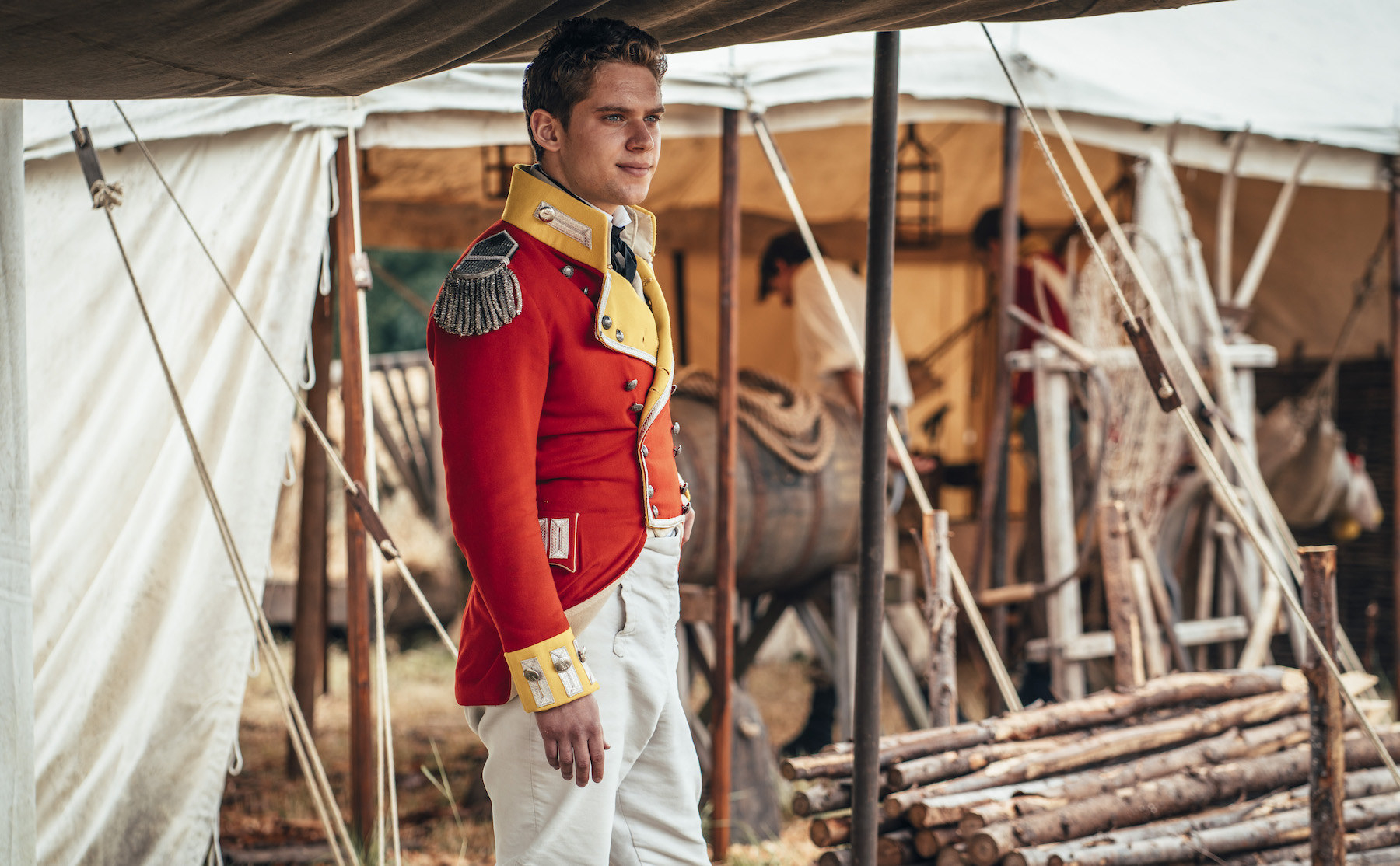 Do you ever check Twitter to see fan tweets? —@BrightstarsLg

RG: Yes, I see quite a lot of them, they're wild.
AV: All the time, yeah, I can't stop.
RG: They're all very lovely people, like if it's your birthday, they're more affectionate than my own mother is! I was stopped in the street the other day too, which was super strange but nice.
FB: I'm not on Twitter, but I'd like to take this opportunity to say, thank you, you're all brilliant, and you're all absolutely right.
RW: I'm on Twitter more right now because I'm watching Love Island.
EW: Same!
RW: I'll tell you what I find really moving is the organised days to appreciate different characters. So when I do dip in, it's very meaningful and sweet.
Ben, are you aware of the various hashtags fans are using to marvel over you on Twitter? —@hungryPJmonster
EW: One of which I think my own mother started!
BLH: What was that?
EW: Something about sleeves.
Have you heard about #BurningLavaHot and #HughesDayTuesday? – @RebeccaDugger1
RW: #HughesDayTuesday, that's amazing!
BLH: That is amazing, I didn't know about that. My family members have sent me a couple of things, which I've enjoyed. To be in anything that anyone sees or cares about is unbelievable because sometimes you do work that feel like no one sees and appreciates. Rose, didn't you send round a photo of Colbourne at the Met Gala?
RW: I love that, that's phone background worthy.
BLH: The creativity and the detail is pretty astonishing. The Sanditon Sisterhood could solve many of the world's problems – they could crack the Middle Eastern crisis, I reckon. Obviously, I want them to focus on the important stuff though like #HughesDayTuesday and #BurningLavaHot. Let's get our priorities, right!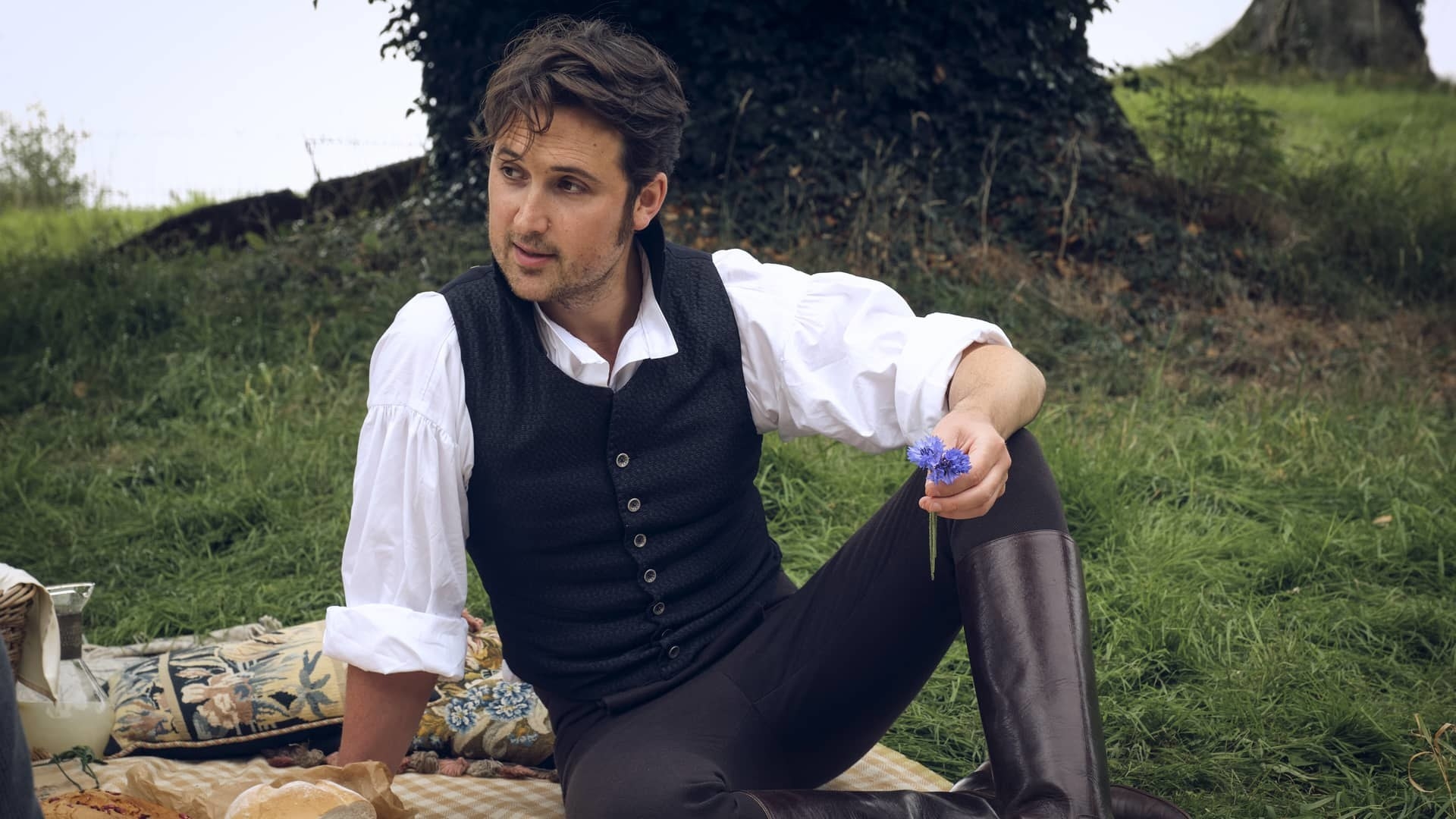 Okay, let's end by looking forward — who should return for Sanditon season four? —@SanditonSister2

MA: I don't think my character – he probably dies in India of gastroenteritis, so he's not coming back... Kidding, I have no idea!
RG: I always thought that Arthur should build his theatre, and Alison would be in with the Sanditon players!
And when will season three be out? How many episodes will there be? Is there anything you can tell us about the new cast members or the like? — @BereftUntil2023
JY: Season three will be out next year, but that's all I can tell you right now. I'm loath to say too much about it because our fans are so incredibly clever that with the slightest clue, they can extrapolate entire plots, so I have to be somewhat guarded about what we say ahead of time!
All I will say is, season three will obviously follow on from two, but it has its own distinct flavour and tone — I think it's slightly more autumnal and Persuasion-esque. There's also a new family in season three who cause ripples, and there are some returning faces, as well.
Note: Some answers have been edited for length and/or clarity. Photo credits: James Pardon/Joss Barratt/Red Planet Pictures via ITV.
Sanditon Season Two airs tonight at 9pm on ITV. All episodes will be available to watch on ITV Hub!