In case you haven't been online in the last couple of hours, Piers Morgan kinda broke the Indian internet by trolling the entire country about our Olympic medals tally, and getting trolled back in return.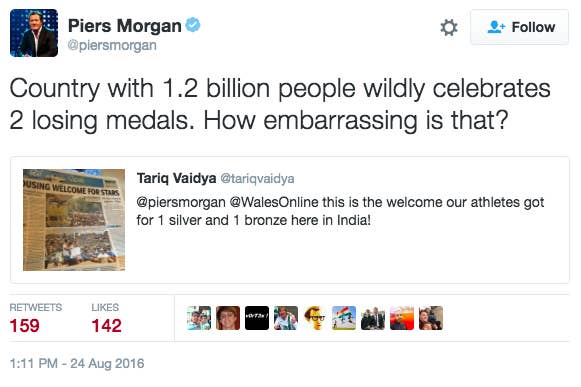 Perhaps feeling insecure about someone else hogging the troll limelight, India's favourite punching bag Chetan Bhagat decided he'd get in on the action...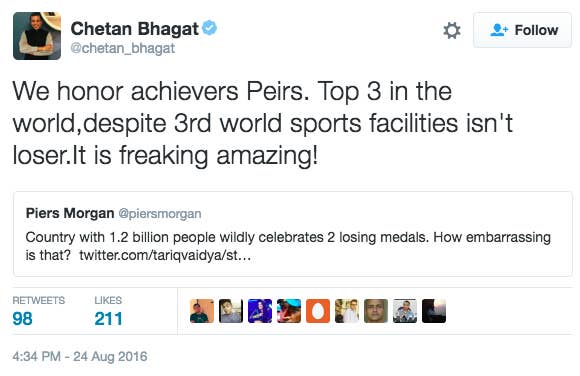 But not before making an unfortunate typo in his tweet.
Morgan, staying true to his smug self, decided to respond with a deliberate typo of his own.

"Chatan", unfortunately, did not seem to get Piers' joke and kept the conversation going.

It was at this point that Twitter realised that these were two grown-ass adult men, and that there was no point taking either of them seriously.
And, thus, the collective focus of the Indian internet shifted to shipping a most amazing relationship between two fictional characters known only as "Peirs and Chatan".
Jokes were cracked, photoshops were made, and a new meme was born.
Chatan and Peirs are a legit movement now.
Meanwhile, Piers and Chetan seemed to have resolved their little beef amongst themselves...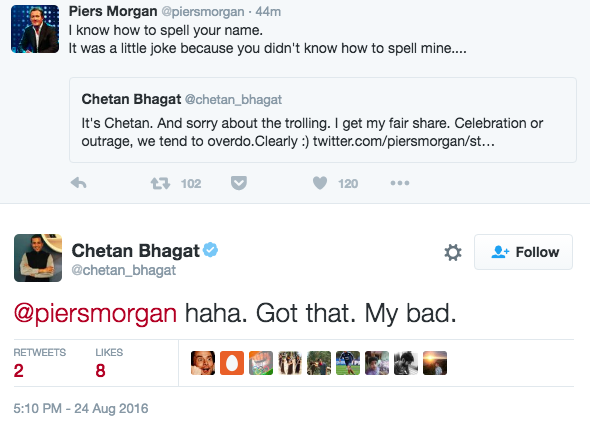 But not before giving the internet the wonderful gift that is Peirs and Chatan. <3
Meet our new favourite couple, ladies and gents.