We hope you love the products we recommend! All of them were independently selected by our editors. Some may have been sent as samples, but all opinions and reviews are our own. Just so you know, BuzzFeed may collect a share of sales or other compensation from the links on this page if you decide to shop from them. Oh, and FYI — prices are accurate and items in stock as of time of publication.
1.
A set of three remote-controlled flameless candles you can turn off/on or set a timer with the touch of a button — so you can keep them on all night and avoid blindly making your way back to your bed in the pitch black, then tripping over that pile of laundry you've been meaning to put away...
Check out this TikTok of the flameless candles in action. Each candle requires three AA batteries, which are not included. The remote also allows you to control the dimness of the candles and set a timer for two, four, six, or eight hours a day.
Promising review: "These candles are amazing! I can't get over how real they look, and I love the fact that these are real glass. I got the gray ones, and the flame looks so real it's blowing my mind. I love candles but have cats, and these are the perfect solution. LOVE them and plan on getting more!" —shauna
Get them from Amazon for $23.99+ (available in four styles).
Looking for more cozy vibes? Check out our favorite wood wick candles for some ~crackling~ fun.
2.
A Vincent van Gogh-inspired flameless candle any art appreciator will enjoy for its mesmerizing display of this famous painting you'll find yourself staring at for hours. And did we mention it also has a soft vanilla scent???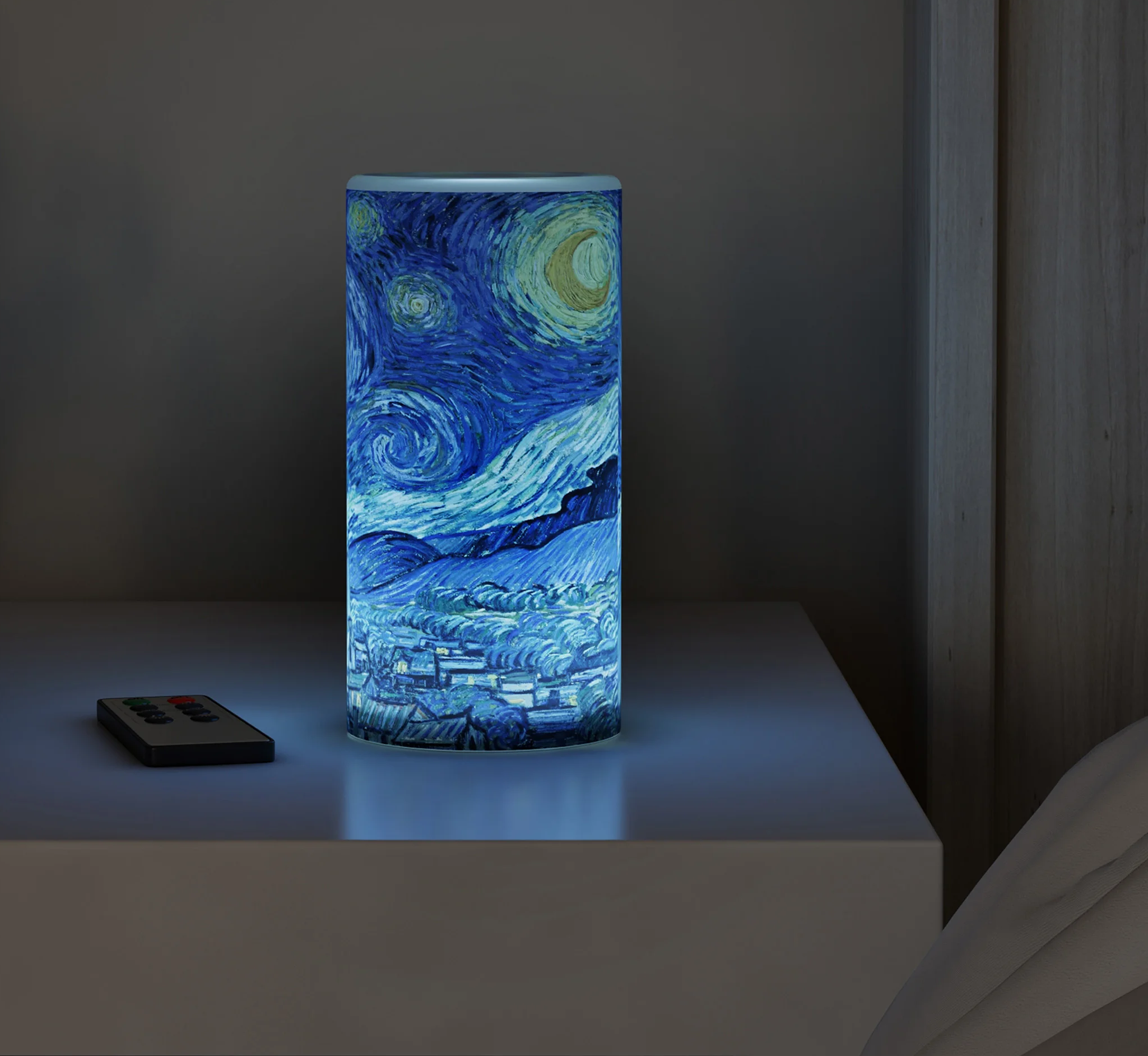 This candle requires three AAA batteries, which are not included. It also comes with a remote that allows you to power it on, set a timer, adjust the brightness, and have it flicker or remain a steady flame.

Promising review: "It's a beautiful addition to my home. I love the different lighting options and the timer that makes it turn on and off each day." —Laura
Get it from Wayfair for $17.39 (originally $49.99).
BTW, here are some of the best places to buy scented candles your nose won't be able to resist.

3.
A 12-pack of flameless tea light candles more than 39,000 reviewers gave 5-star ratings, with many raving about how real they look and the extremely long battery life — like, so long that you will probably question if magic is real. 

Batteries are included with this set.

Promising review: "I bought a dozen of these candles in October 2016 — it is now October 2022, and most of them still work (and I've never replaced the batteries). They are certainly dimmer, but they STILL FREAKING WORK. We have them on for over 100 hours every October, and for a few more hours throughout the year. For those of you not keeping count, that's over 700 hours!!! How is this even possible?? On top of that, they look very realistic when placed INTO something. My husband and I are beside ourselves, and can't figure out what kind of demonic black magic is keeping these running for so long. Demon or not, we WILL be repurchasing these when our current ones finally give out!" —kik
Get a pack of 12 from Amazon for $9.99+ (available in five colors and also in packs of 24 or 72).
4.
A 3-pack of flameless candles wrapped in twinkle lights if you're like me and are too scared to strike a match or use a lighter. These will provide a fairylike ambiance for you to wind down after a long Monday — no matchbook required.

Each candle needs two AA batteries, which are not included.

Promising review: "I cannot tolerate scented candles anymore, but love a lit candle. These waxed candles are so beautiful with just the right amount of twinkle — and the flame actually moves, so it looks like a real candle — so cool! I look forward to each evening so I can turn these on and give my home a serene, calm atmosphere. One of my new favorite things — so glad I ordered these, worth every penny." —Angela A.
Get them from Amazon for $19.99+ (available in two colors and two pack sizes).
5.
A black wick flameless candle to further give the illusion that they're real, but without the fire hazard part. Plus, you can stick them on that empty accent cabinet to give it a total ~glow-up~.

Four AA batteries are required, but are not included.

Promising review: "Love these candles' soft, life-like glow. I have mine on day and night, and only need to replace the batteries maybe once every two months. I love the size — they fit perfectly in so many different candle holders, and the remote is a big plus, too." —McGarr
Get it from Target for $16.
6.
An outdoor and indoor flameless candle for year-round use, so you can enjoy a serene cozy glow that won't get ~burnt out~ from a little rain or wind.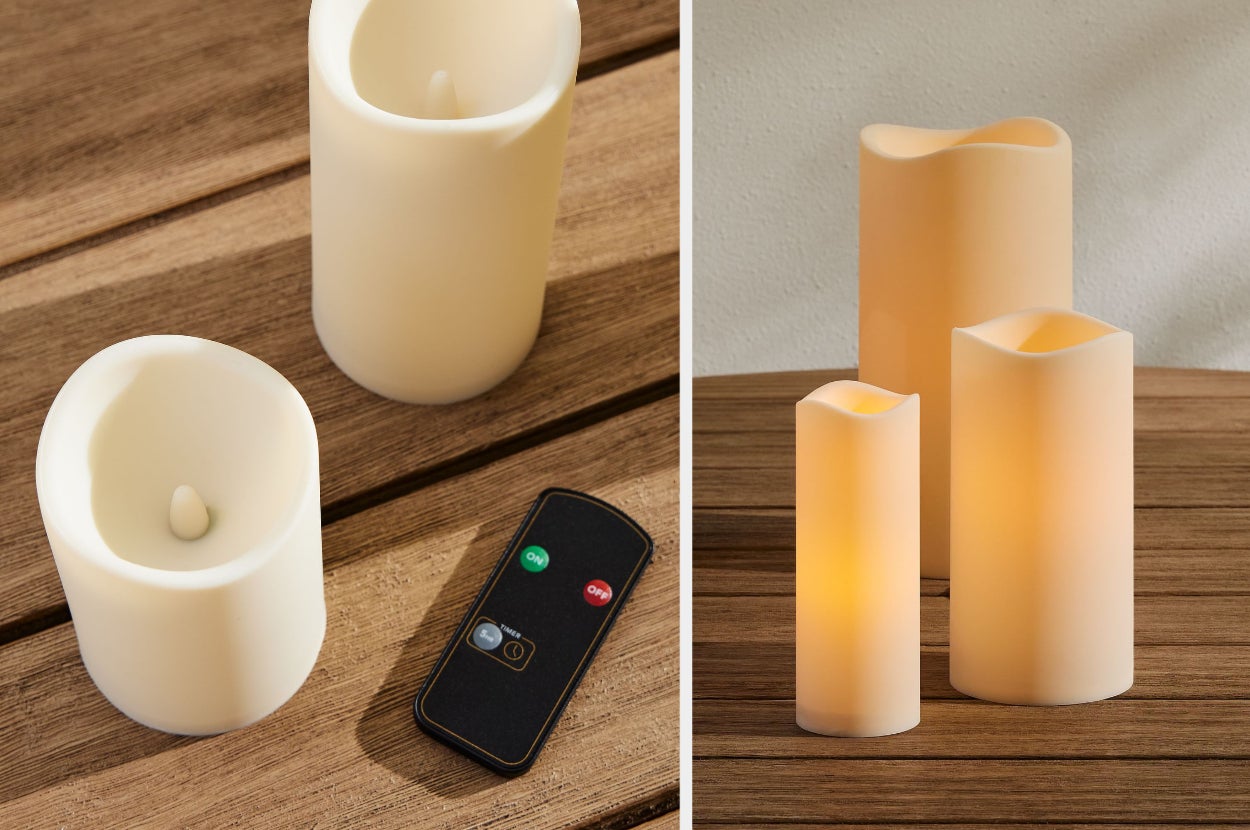 The remote control is sold separately, and the candles come with batteries. 
Get it from West Elm for $18+ (available in three sizes).

7.
A set of three vanilla scented flameless candles, which includes a remote to change the color and set a timer for them to shut off — that way, you can go out for drinks with friends in peace without suddenly asking yourself, "Wait, did I blow out the candle???"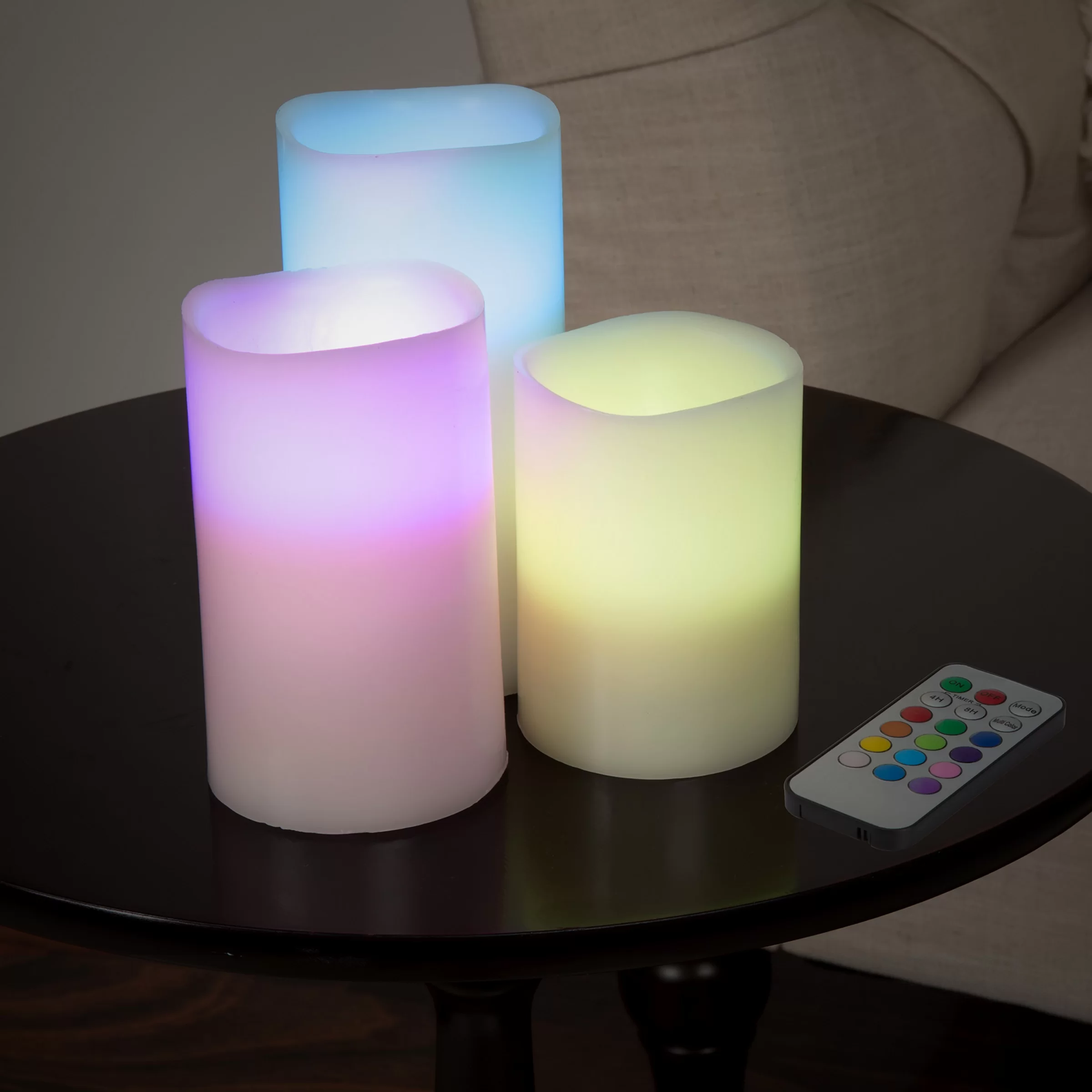 Each candle is made from real wax, and batteries for the candles are not included.

Promising review: "I love these candles! The pic shows pastel colors, but the range goes into lovely jewel tones. With the remote, the color control is easy. I bought three sets: kept one and gifted another. Now, to decide if I should keep the other set, too. :)" —Julie
Get them from Wayfair for $21.43 (originally $29.99).
8.
A set of nine flameless LED candles you can sprinkle throughout your home to transport it back to the Victorian era when just a flickering flame would help guide you to the bathroom at night — minus any ghostly sightings, though.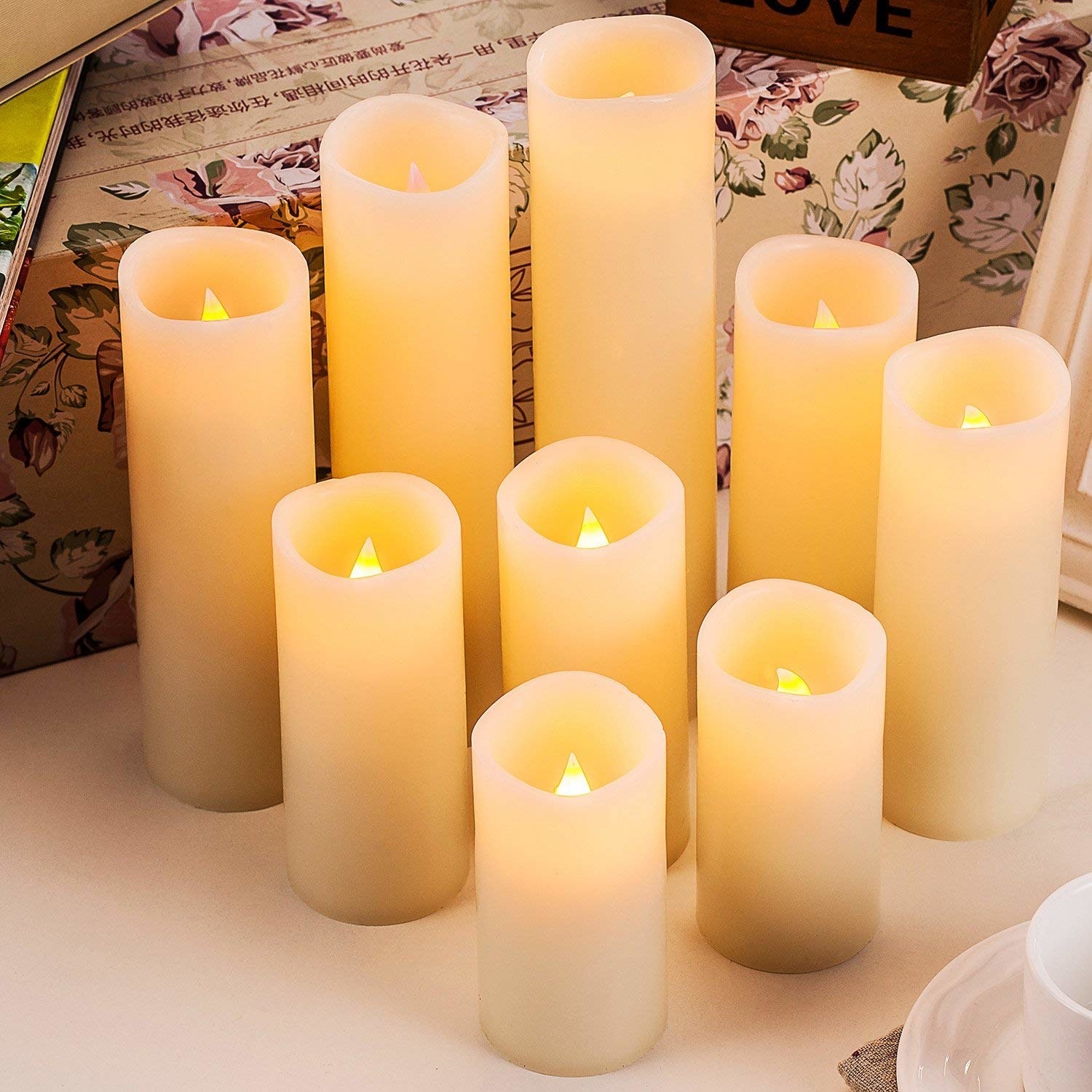 These nine candles are different sizes, made of real wax, and are remote-controlled. They have four timers and brightness levels to choose from — including a flickering option! Each candle needs two AA batteries.
Promising review: "I really like this set! They have a real candle wax feel. I wouldn't recommend keeping these outdoors as the heat will likely damage them over time. They each require two AA batteries. I bought these because they will come in handy during hurricane season — just in case. They are remote controlled, which is also very convenient. I will be ordering another set. I definitely recommend these!" —Renee k.
Get the set of nine from Amazon for $23.99+ (available in two styles and in a set of 12).
9.
A 2-pack of flameless taper candles exuding total elegance with their long slender build that'll convince you to throw a grand dinner party just for a chance to show off how 🔥 (or more like fire-less) your decor game is.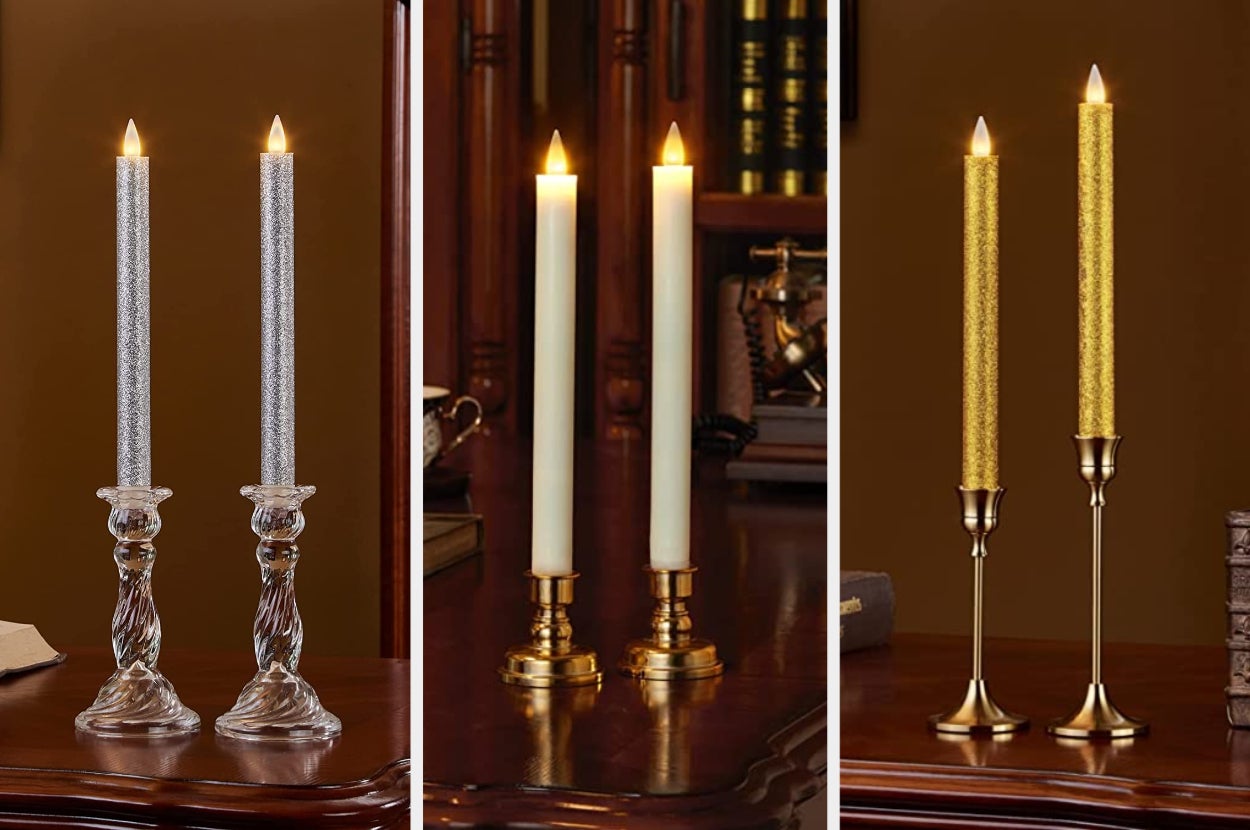 Each candle requires two AA batteries and can last up to 400 hours.

Promising review: "I love the look of taper candles, but in a household with a child, dogs, etc., I am wary about safety. I thought I would give these a try and was skeptical about how fake and kitschy they would look. Fortunately, I was wrong — they are beautiful! The 'flame' not only flickers, but the wick wobbles around to create more authenticity. They are so cool! I love the ease of the remote and that they are actually wax. They include different gauge bottoms to best fit your candle holders, too. 👍🏻" —Sarah N
Get it from Amazon for $28.28+ (available in five colors).
10.
A 3-pack of glittery flameless candles reviewers are *lit-erally* comparing to a snow globe with how hypnotic they are to look at. Plus, you won't have to worry about the fake flickering flame causing your holiday wreath to go up in flames.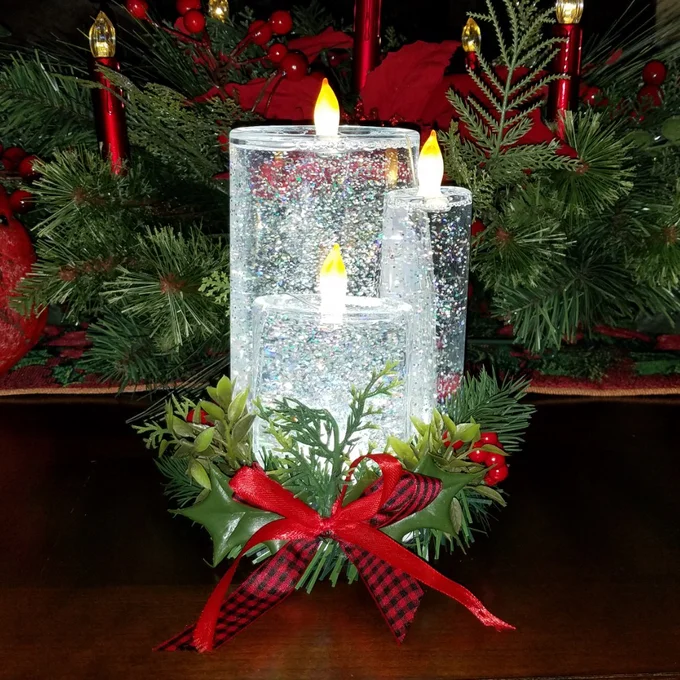 Make sure to snag three AA batteries since they're not included.

Promising review: "This is beautiful — similar to a snow globe as each candle is filled with liquid and glitter. When it is the turned on, the liquid and glitter move around. The light inside the candles is a clear light (on the cool side), which surprisingly emits a lot of light. The little flames on top of the candles are also a warm white that flicker." —Rebecca
Get it from Wayfair for $37.79 (originally $63).
11.
A set of two crystal beaded flameless candles that'll look like royalty no matter where you display them. No, literally — they're part of a "Princess Crystal" collection! These come with a scannable QR code that'll bring you to a playlist filled with Walt Disney songs, aka a fairytale in candle form.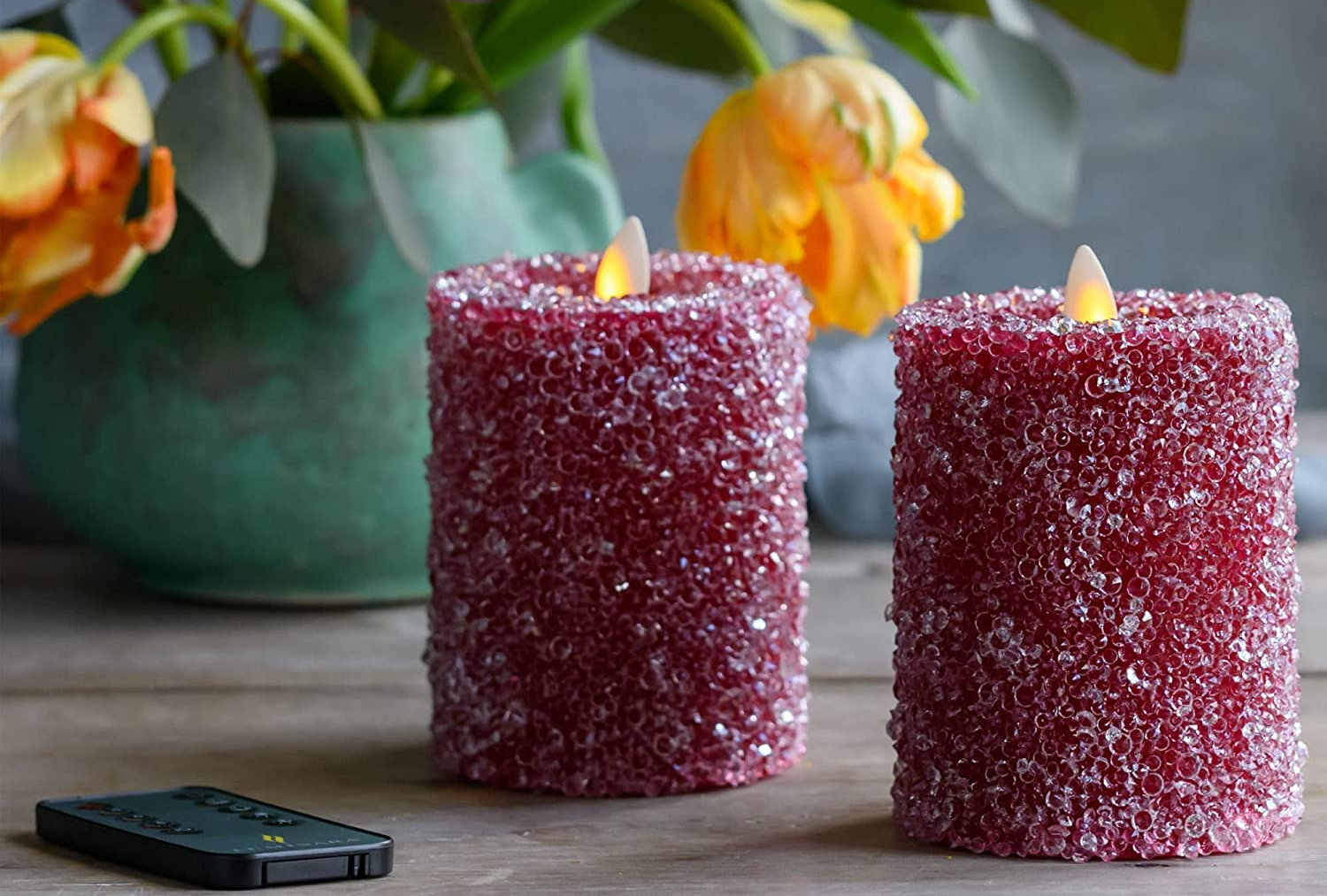 These candles each require two C batteries that run up to 400 hours.

Promising review: "I love the added texture of the crystals all over the flameless candles. The flame is my favorite as it moves back and forth, and it reflects the movement on the ceiling and walls. I've ordered two sets of these, and one is for a friend. She will love them!" —Connie W.
Get a set of two from Amazon for $69.99 (available in four colors).
12.
A set of 24 color-changing flameless tea lights you can place inside decorative lanterns to bring a nice pop of color to your home. And the best part?? You can change the colors to suit your mood.

The batteries are included and can last up to 150 hours.

Promising review: "These are even better in person, and completely transformed a wall hanging I have. Even if you don't turn them on, they're so much better than a wax tealight gathering dust! I absolutely love them." —JennSLC
Get the set of 24 from Amazon for $13.99.
Get a whiff of these affordable scented candles while you're at it.
13.
A flameless candle with sticks that'll allow pet parents to enjoy the comforting glow of candlelight *without* fear of their cat swatting it over and causing their table runner to burst into flames. 😼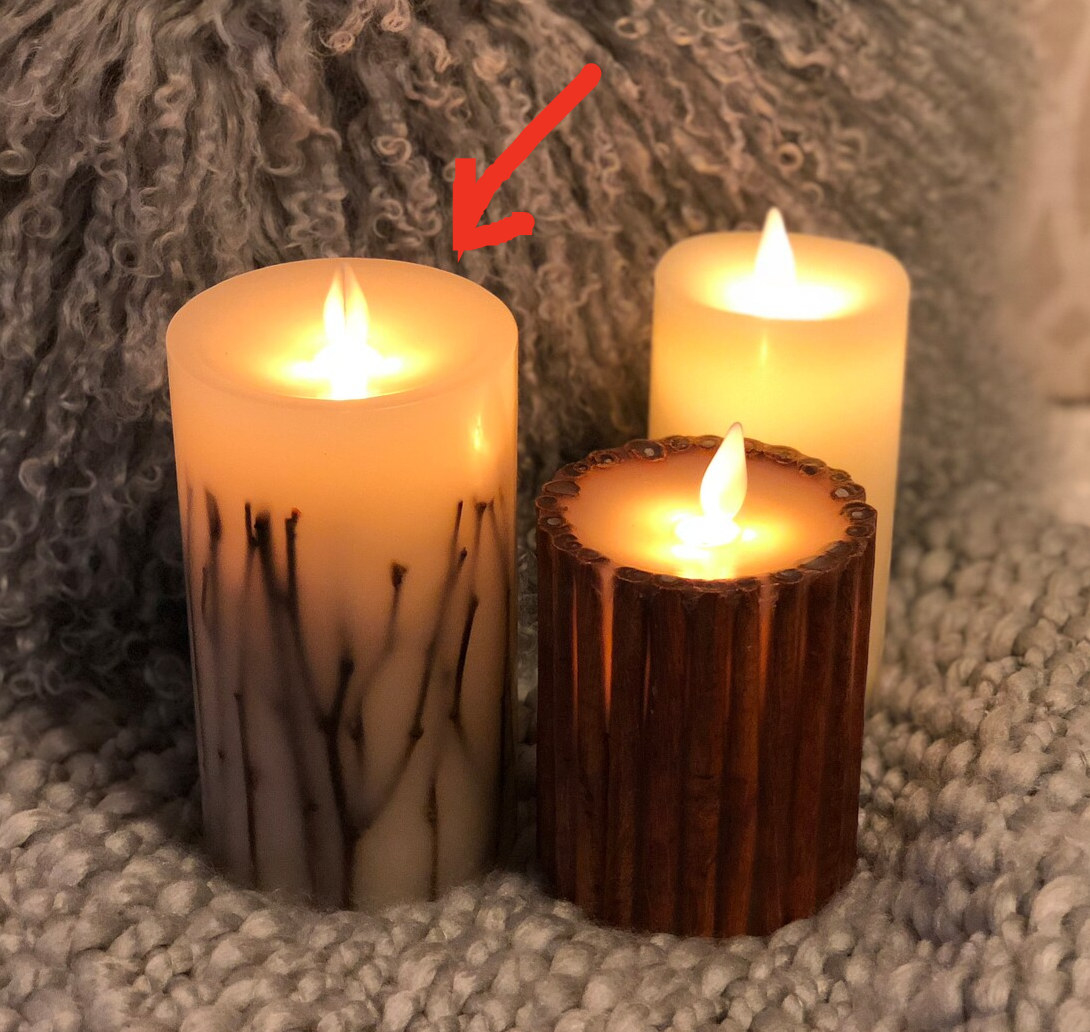 Weixi Designs is a small shop on Etsy that provides a variety of candles to give your space a cozy glow. This candle requires AAA batteries, which are not included, and includes a remote.

Promising review: "I received my STUNNINGLY BEAUTIFUL candles, and I am beyond pleased. They are absolutely PERFECT for my master suite bathroom! They have a warm, soft orange glow. Definitely a unique candle, and the craftsmanship is superb! I've never seen a candle quite like this one. I appreciate the candle's versatility — comes with a remote and can be put on a timer (up to four hours) as well! I'm so happy I decided to purchase this candle; it's totally worth every penny. I purchased THREE! Thank you! ♥️ them!" —Crystal
Get it from Weixi Designs for $22.99+ (available in three sizes).
14.
A birch tree-styled flameless candle your soy candles will be giving the side eye to as you ~plant~ these front and center on your coffee table for everyone to admire.

The candles each require three AAA batteries, which are not included.

Promising review: "I like the brightness, and the flames look realistic. The candles turn off and on with ease using the remote controls. I plan on buying several more as they are safe to use and give a warm glow to any room — also great for when taking a bubble bath. 😁" —Jax Hunter
Get it from Amazon for $24.99.
15.
A splurge-worthy flickering flameless taper candle sensitive sniffers will praise for its cozy aesthetic *without* the overpowering scent of other candles that usually leave you sneezing.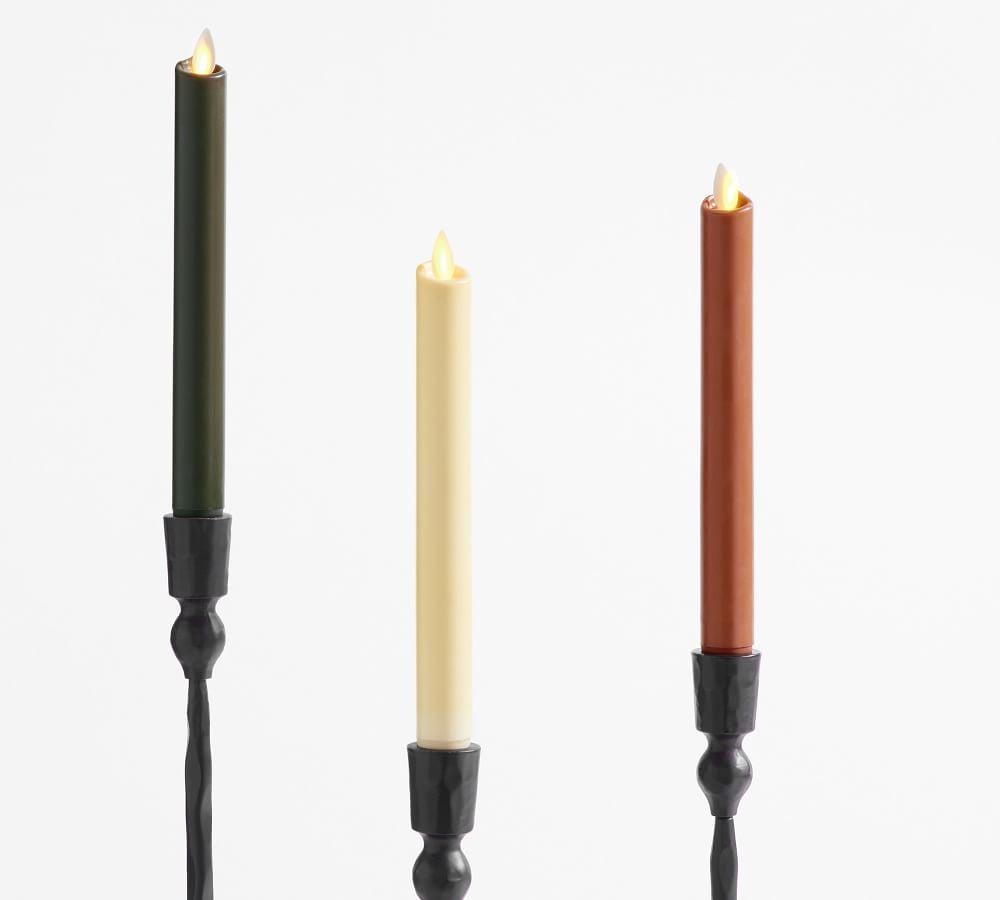 Each candle is made with a 100% paraffin wax exterior and can stay lit for up to 200 hours. They also require two AA batteries that are not included.

Get it from Pottery Barn for $59+ (available in seven colors and also in a set of two).
*Not* you because your candles are flame-free 😌
The reviews for this post have been edited for length and clarity.