1.
A white sage wood wick candle with a burn time of 45-hours, creating a soothing setting for an uninterrupted dive into the latest chapter of your fave fanfic. 

Made from 100% natural soy wax and a 100% wood wick. Make sure to stop burning when only 1/2-inch of the wax remains. You can also find this pick in our roundup of the best soy candles!

Promising review: "That wooden wick is magical and it burns evenly, so no wasteful wax and it smells great." —Stephanie Mallory
Get it from Amazon for $17.99+ (available in eight scents).
2.
A "Norwegian Woods" candle infused with a blend of citrusy, sage-y, and oaky  essential oils that make it smell like a serene rainy forrest. The crackling wick just adds to the cozy ambience!
Penrose Candles is a woman-founded, family-run small biz based out of Portland, Oregon that hand-pours all their candles using natural, vegan, and phthalate-free soy wax.

Promising review: "Very happy with this gift I purchased for my best friend! A beautiful looking candle which smells divine." –Hortense
Get it from Penrose Candles on Etsy for $38.
3.
A gray tea-scented wood wick candle for any fans of tea who want to enjoy the calming aroma of their favorite drink *without* actually having to get up from the couch and make it.

Promising review: "I never write reviews, but I am so happy with this I was compelled to. I was already introduced the brand, so I knew I liked it, but only had it in vanilla and sea salt. So far, the packaging on the grey tea is gorgeous and the scent and look once it's on, is wonderful. The sound of the wood wick is also a beautiful addition to this, making it very unique and relaxing. Five stars all the way. It's worth the price and they last a long time." —Addicted2shopping

Get it from Amazon for $33.10+ (available in four scents).
4.
A wood wick candle set featuring two earthy scents you'll want to share with friends. Then only hard part will be choosing which scent you give away...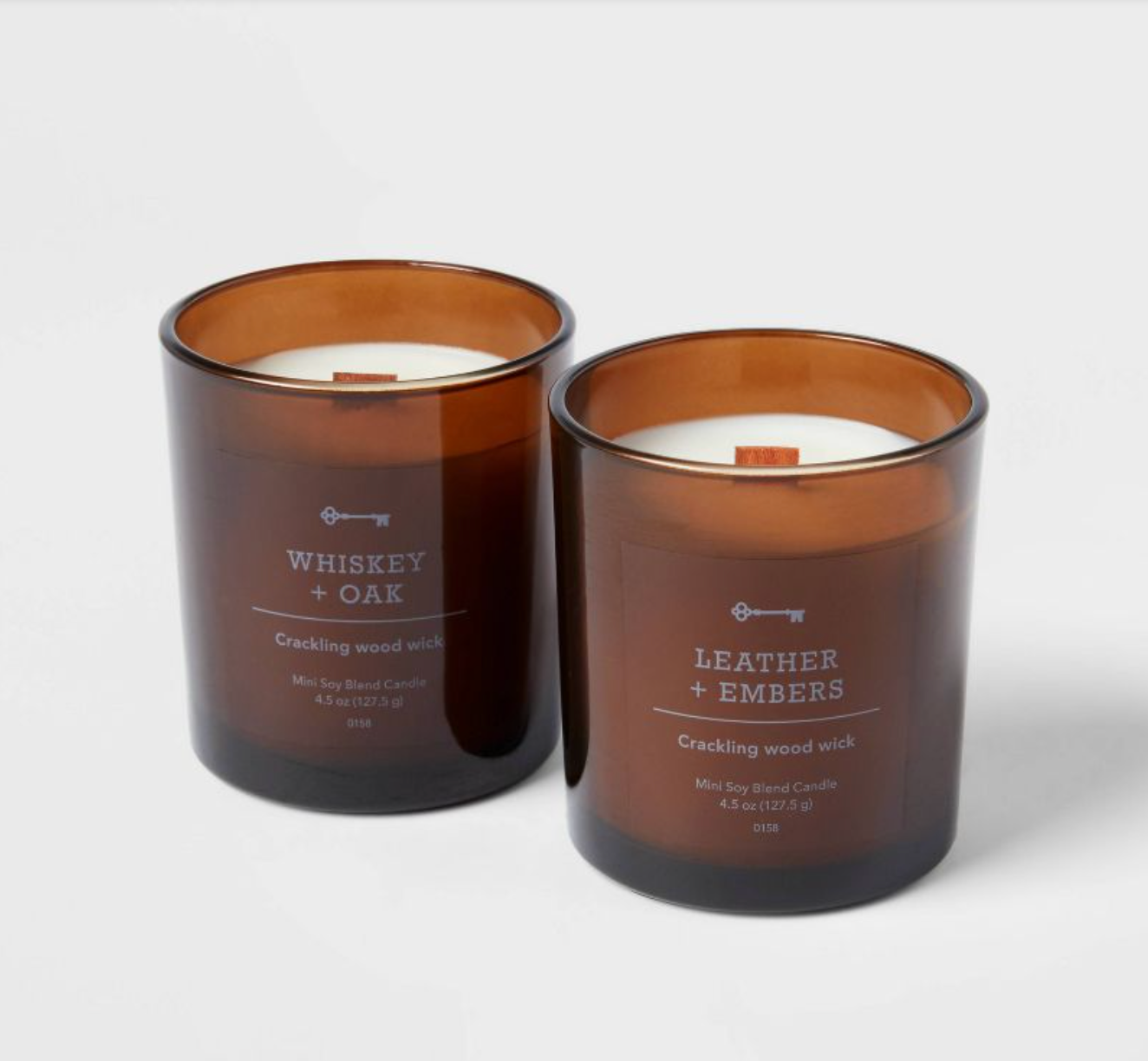 Uses a blend of soy and paraffin wax that can burn for up to 23 hours, and comes in a reusable amber body.

Get it from Target for $10.

5.
A super chic wood wick candle in a gold jar featuring a calming and ~zesty~ scent that, for the first time ever, makes me wish I could be a candle. 

Uses a soy wax that can be burned for at least 45 hours.

Promising review: "I absolutely love these candles. The smell is refreshing and clean, and a great home scent. I get compliments on this all the time. It's strong enough to fill up a large room, but not so much so that it's overwhelming. It's also a great value for the price. As soon as I get low I order a new candle ASAP." —ryman
Get it from Amazon for $17.99+ (available in two sizes and five scents).
6.
A coffee-scented wood wick candle so you can enjoy the warm scents of your favorite caffeinated beverage combined with comforting fireplace-like crackles...what more could you ask for?

Is made from a natural coconut soy material that can burn for up to 70 hours.
Promising review: "Ok, first off  I have purchased at least 20 of these by now. There is NO other candle that holds a flame (get it) to this one. This lasts me over a month and I burn it for hours everyday. The scent is incredible and intoxicating. Even people I know who despise scents and perfumes have complimented this candle. Don't walk, run to get this candle before I sell them out!" —Katherine Karampour
Get it from Amazon for $35+ (available in three scents).
7.
A cereal scented wood wick candle breakfast enthusiasts absolutely need for its Fruity Pebbles-inspired scent that's sure to receive a "Yabba dabba doo."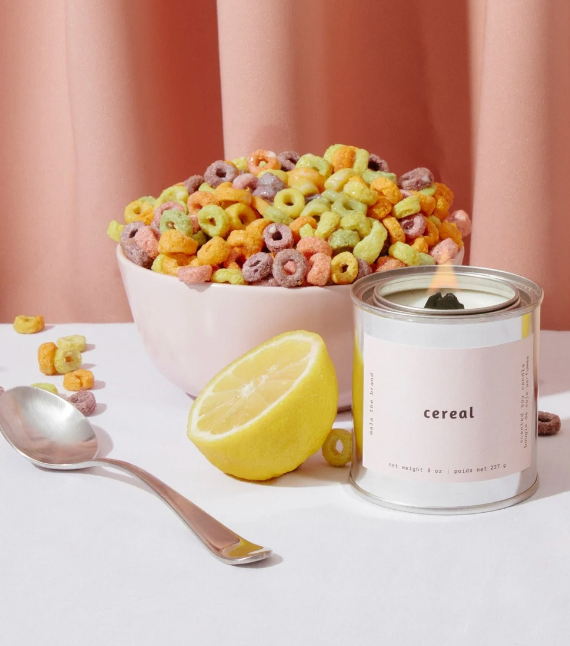 Mala The Brand is a woman-owned small shop on Etsy which creates hand poured unique scented candles inspired by our daily surroundings. Each product is made with natural coconut soy wax and a blend of phthalate-free fragrance oils and essential oils. And here are some other home pieces from small businesses that you might want to add to your online cart!

Promising review: "Every single candle smells so incredible and fragrant. It's warm and comforting without being overwhelming, and the wood wick crackling is so calming and therapeutic. I'm looking forward and am excited to purchase some fall scented Mala candles next :')." —Shaiza
Get it from Mala The Brand on Etsy for $16.85+ (available in two sizes).
9.
A Sage Against The Machine wood wick candle just begging you to strike a match to it, so you can feel as "Calm Like A Bomb," or, well, maybe just calm.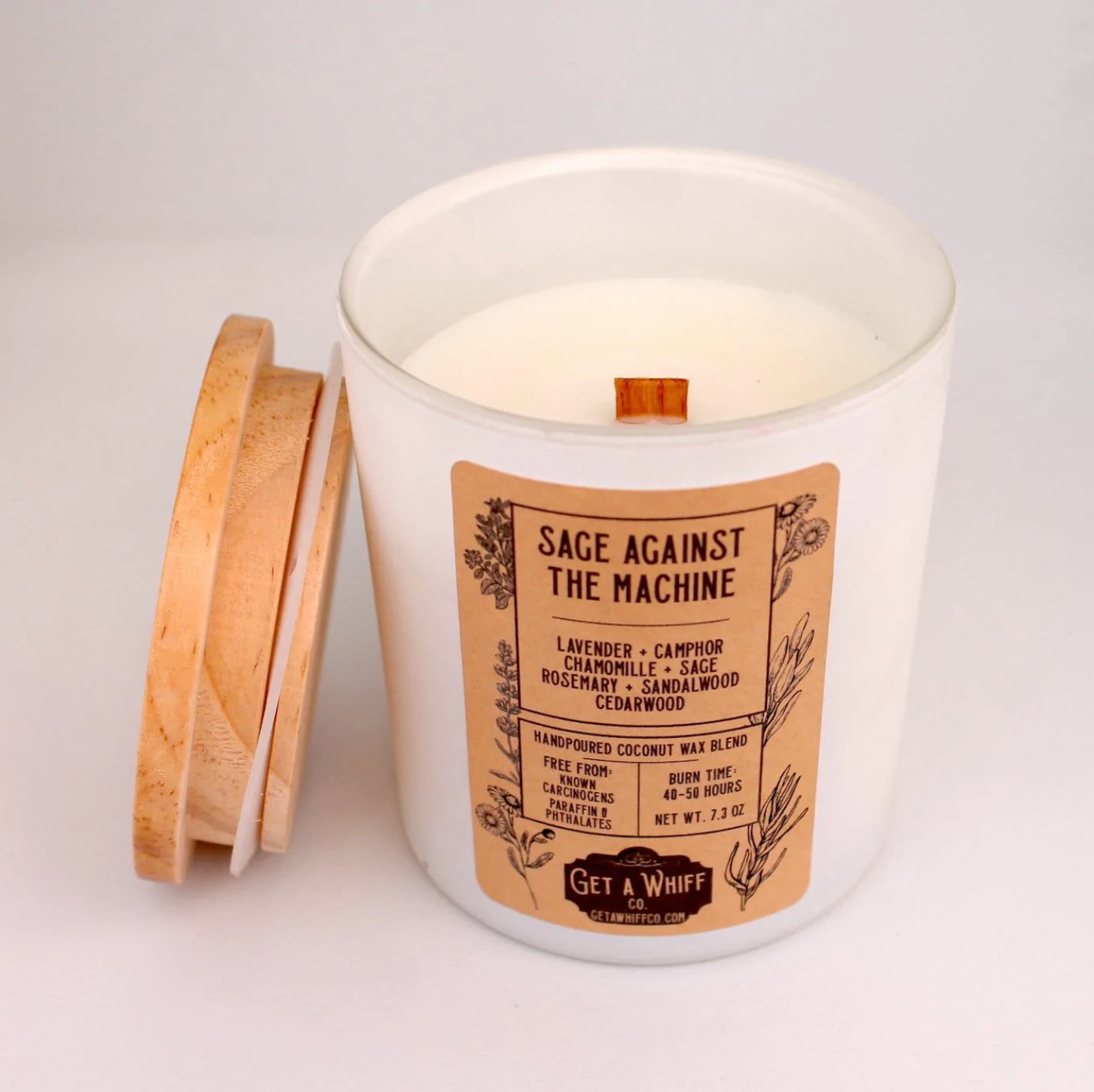 Get A Whiff Co. is a small shop that creates hand poured unique candles in the U.S.
Promising review: "These are my favorite candles. The scent doesn't smell fake or overpowering and I love the sound of the wooden candle wick burning. It's the only kind of candle I enjoy for yoga and long baths." —Kat Schuller
Get it from Get A Whiff Co. for $24.99+ (available in two sizes and colors).
10.
A cozy coffee candle that smells and looks like your favorite cold-weather caffeine boost – be it a pumpkin chai latte, peppermint mocha, and even hot cocoa, for all of you non-coffee lovers out there.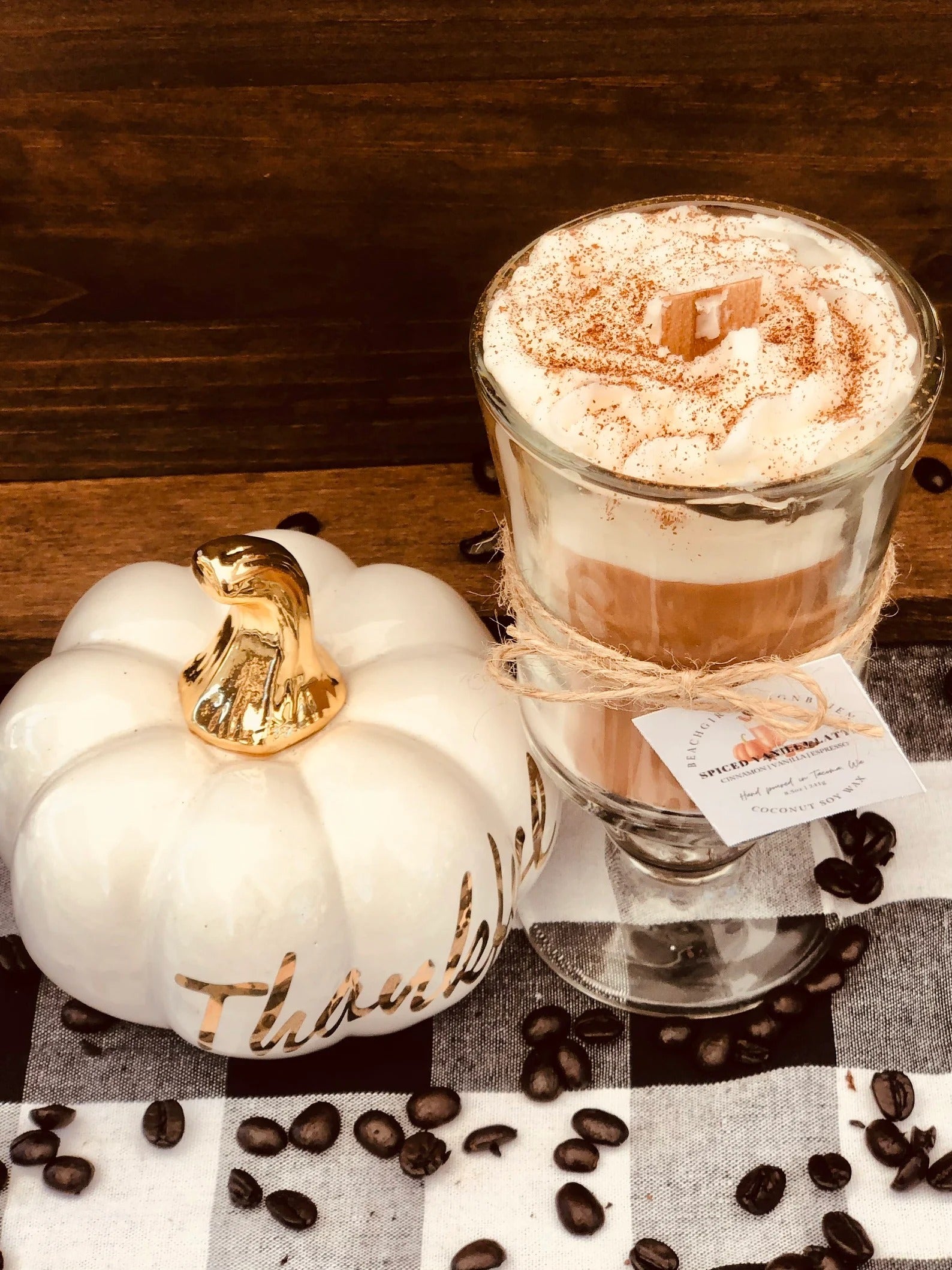 Beach Girl Design by Jen / Etsy
11.
A glass jar wood wick candle you can count on to smell good AND look good (even when it's sitting unlit on your corner cabinet or coffee table.)

Promising review: "What an amazing scent! This candle burns beautifully. I took the wick down to the recommended half inch and it was pure perfection. It's a strong scent and has good throw — I really can't say enough. The delightful part is at the end of 'our' journey, I'm left with this beautiful jar. I have an African Grey parrot named Milo, and it is amazing to have a candle I can burn with the confidence that it's not hurting his delicate lungs. Milo and I appreciate these candles so very much." —Kabby 247

Get it from Amazon for $34.99 (available in three scents).
12.
A cherry blossom wood wick candle you'll always want ~planted~ in front of you because if the soothing snaps don't have you mesmerized, then the floating petals in the wax certainly will.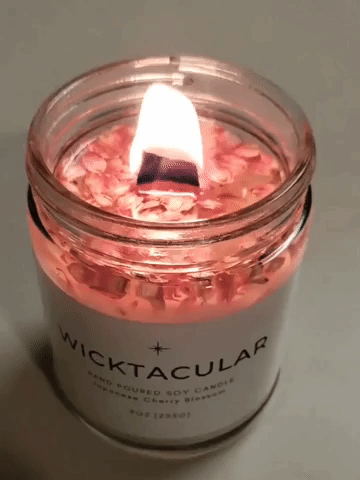 Wicktacular is a family-owned small shop on Etsy that creates handmade wax melts, essential oils, and all natural soy candles.

Promising review: "Oh man this was the best candle purchase of my life — and I can easily say that. Not only does it smell freaking incredible, but it's also extra pretty too with actual cherry blossoms floating about in the hot wax just giving it that extra oomph. I need one on the go with me for every aspect of my daily life it is THAT good y'all — I promise. Leave no doubt, I will be back." —zachary hollingsworth
Get it from Wicktacular on Etsy for $16.
13.
A ~smoldering~ wood wick candle melted around rose quartz and obsidian to enhance your next self-tarot reading with witchy vibes of love, trust, truth mixed with the comforting sounds of crackles."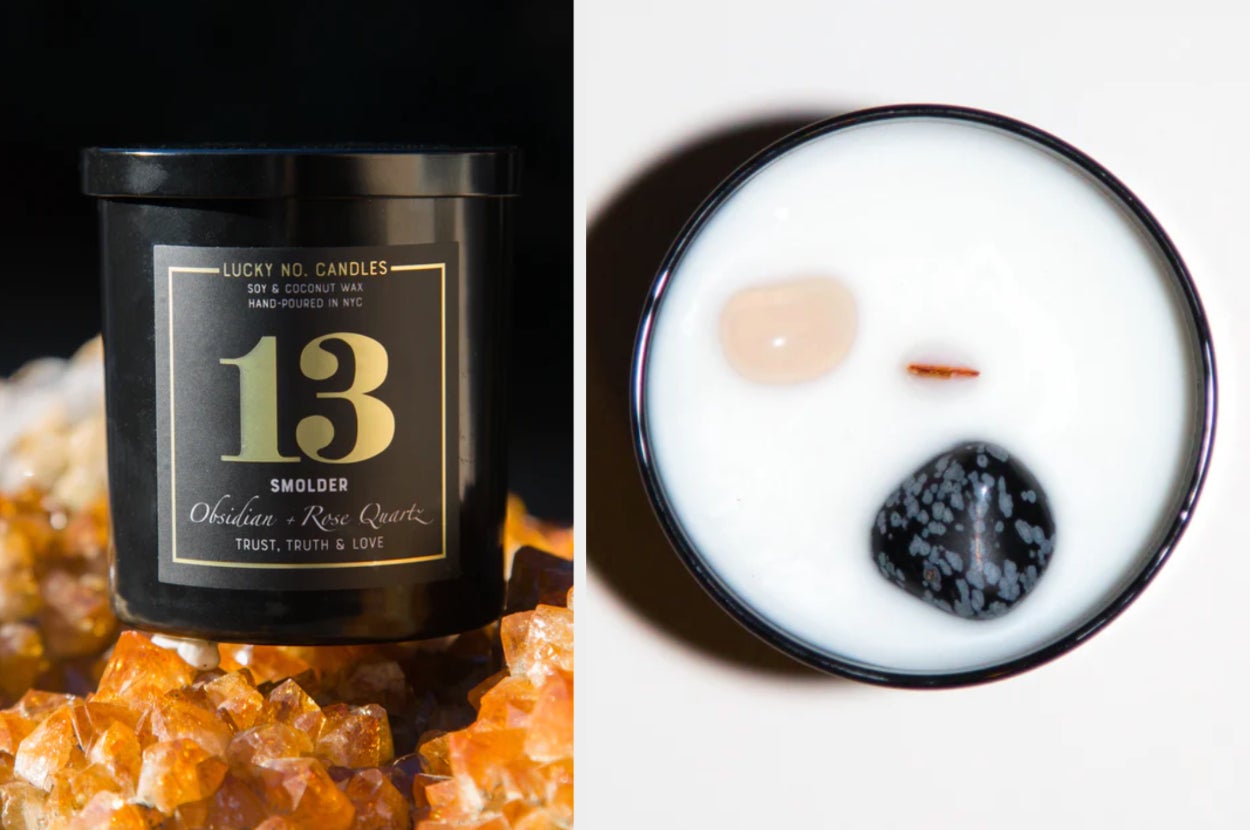 Lucky No. Candles is a Latinx and woman-owned small shop that infuses a bit of ~magic~ into each natural soy coconut wax candles through the incorporation of lucky numbers and crystals.

Promising review: "No. 13 is my personal favorite from this brand. It says about 75 hours of burn time, but I've had some of mine now for over a year, lighting them only at night. It's the perfect mix of campfire smells and florals. Plus, I've stocked enough rose quartz for my alter from exclusively buying this scent for the last two years. Highly recommend for the mid-winter blues." —Lauren N.
Get it from Lucky No. Candles for $36.
14.
An organic coconut wax wood wick candle with essential oils we'd consider a more ~grown up~ candle as it'll add a bit of class and sophistication with its clean scents and sleek amber jar.

Promising review: "Absolutely love these candles! The wood wick is everything! The crackling sound from the wick contributes to that sensation of being in front of the fireplace. The fragrances are outstanding! Not too strong and not too weak. These candles burn for hours." —Melissa

Get it from Amazon for 24.95+ (available in two sizes and 29 scents).
15.
A two-pack of citronella wood wick candles which will provide you with lulling crackling sounds, while at the same time telling all those pesty mosquitoes to buzz off.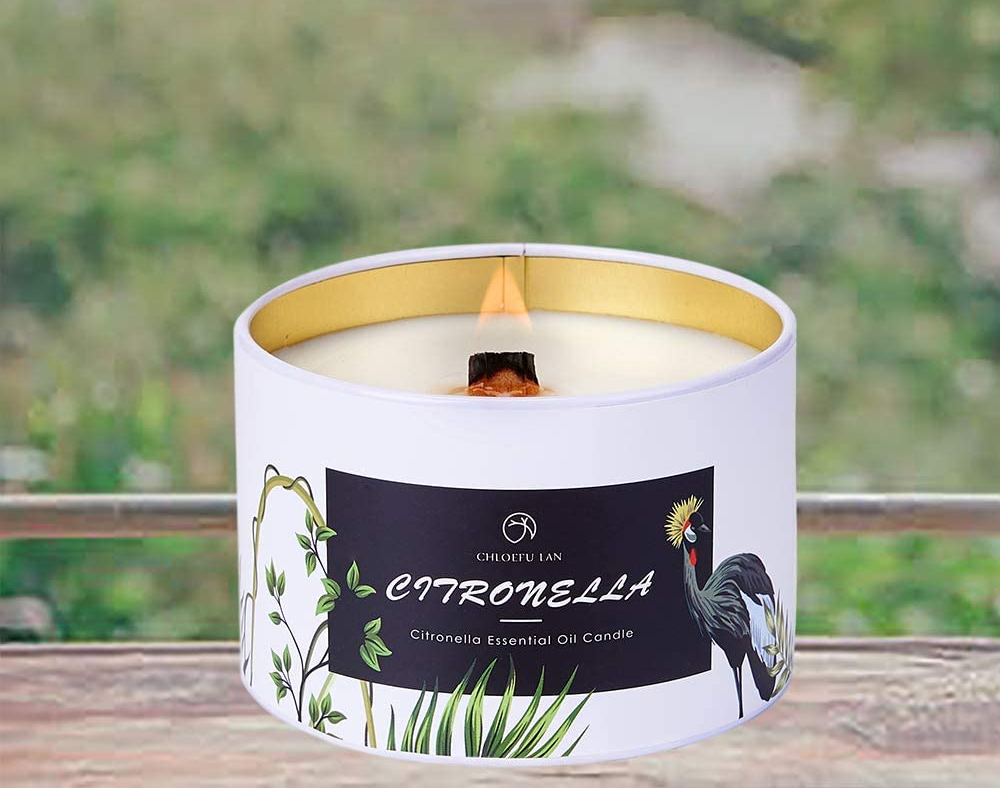 Promising review: "At first, I was kind of disappointed when I went to Walmart and saw a larger mosquito candle for $5. When they came in, however, I was sold! These are very much worth it. The scent I could smell through the box and they are very aesthetically pleasing! They make my patio come together quite nicely. The packaging is also beautiful, so it can make a nice gift and the wick is one of those thick wooden ones." —v.muzyka

Get it from Amazon for $16.99.