Election Day 2016: PM Dodges Media After Claiming He Was Done Campaigning
Follow our live election day blog, with our BuzzFeed News reporters following the leaders before polls close.
What We Know So Far
These are not the results you're looking for. We're updating the latest from the election night count here.
Prime minister Malcolm Turnbull has voted at Double Bay Primary School in his eastern Sydney seat of Wentworth.
The PM then slipped by the media, to campaign in western Sydney after saying he was done for the day.
Opposition leader Bill Shorten ran a last minute campaign blitz in three marginal western Sydney seats, before heading home to vote in Melbourne.
The final Newspoll of the campaign shows the Coalition is set for a narrow victory - 50.5% to 49.5%.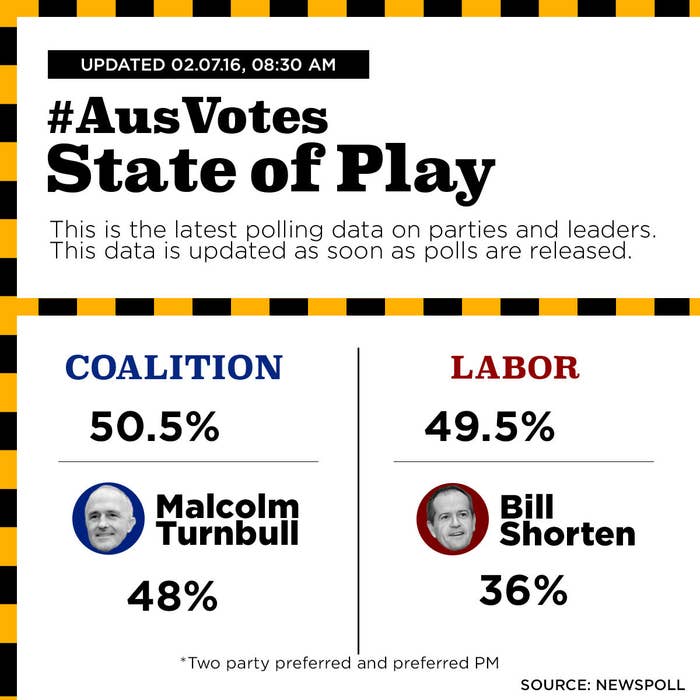 These are not the results you're looking for. We're updating the latest from the election night count here.
There are plenty of complaints today about the length of time it's taking to get to a polling booth in some places, which may be because the new senate voting rules are making things a bit more complicated.
Bill Shorten has rocked up in his electorate of Maribyrnong to vote - he may be there a while.
Meanwhile deputy prime minister Barnaby Joyce is voting at the school he once attended. *extremely Mufasa voice* It's the circle of life.
It's been an absolutely magnificent day for democracy loving pups.
Looks like Australia's sausage lust peaked at around 1.30. Expect mentions of booze to begin rising at any minute.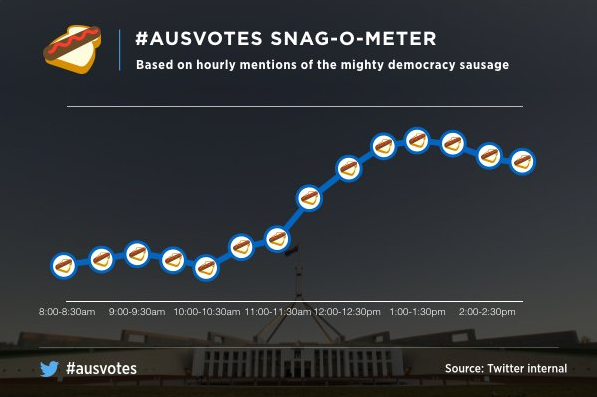 Prime minister Malcolm Turnbull has slipped his media pack to do some campaigning in western Sydney. BuzzFeed News Political Editor Mark Di Stefano reports:
The prime minister's team told a busload of the nation's media this morning that Malcolm and Lucy Turnbull had only one event today and that was it.
The announcement caused journalists in the press pack travelling with the PM to exclaim "what?" and "just one event, it's election day!"
But the PM's aides told BuzzFeed News and other media outlets that Turnbull didn't feel the need to head out marginal electorates because he didn't want "to cause a circus".
So the media were taken to watch him vote in his electorate of Wentworth, then brought back to a Sydney CBD hotel.
Hours later a stream of tweets from the PM's account showed him campaigning in western Sydney electorates, while the media - who pay thousands of dollars to travel with the PM - were left stranded.
Greens leader Richard Di Natale going to town on a sausage sanger.
Another candidate for the cake stall of the day: This plebislice.
DJ Albo rocking some Taylor Swift in Grayndler.
The PM has made it out to western Sydney - without his press entourage - to the bellwether seat of Lindsay, held by the Liberals' Fiona Scott.
Both leaders have wrapped up their morning media commitments now. Bill Shorten is about to fly to Melbourne this afternoon to vote in his seat of Maribyrnong.
An interesting look at the social media conversation over the last eight weeks.
Opposition leader Bill Shorten bought a box of lamingtons as he made a final pitch to voters on election morning.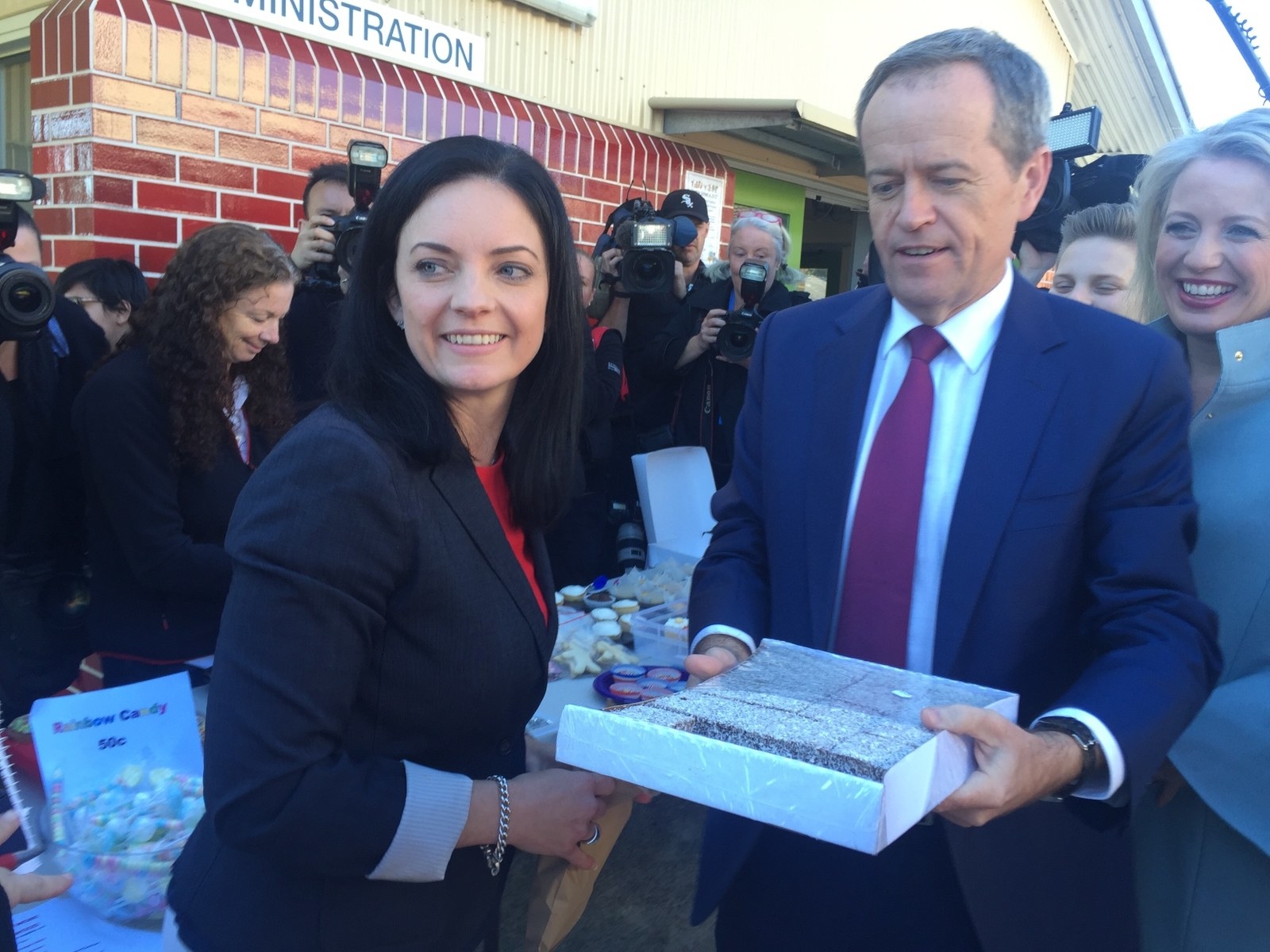 "We are ready to govern. We are ready to implement our policy agenda for the Australian people," he said a school in the western Sydney seat of Lindsay.
"We are ready to serve. I hope that I and Labor have done enough to earn the votes of the Australian people. But I know now it is in the hands of the Australian people themselves to decide the future, to decide this election, and I make one last election day promise - we will not let you down."
Important information from Twitter this morning: Mentions of sausages are steadily climbing.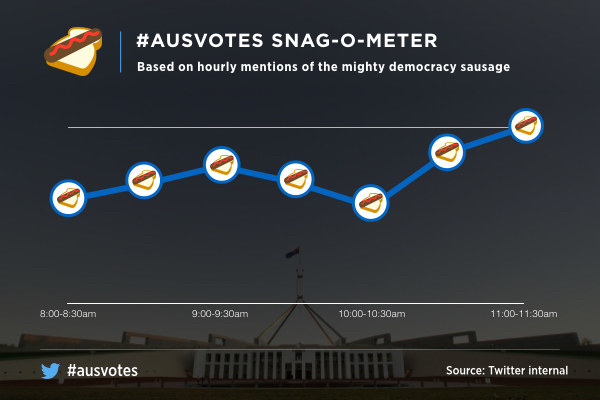 Former prime minister Tony Abbott had some interesting things to say about his political future on Sunrise this morning...
"I've played in a lot of footy teams over the years," he said. "From time to time I've been dropped from first grade to second grade. You've just got to accept the selectors' verdict, play as well as you can and see what the future holds."
Hmmm.
After voting this morning, the PM has headed out to Paramatta, a seat held by Labor's Julie Owens on a very thin margin.
This is just spectacular.
There are some suggestions that Bill Shorten doesn't know how to properly chow down on a sausage sizzle. We'll follow developments on this story throughout the day.
Judge for yourself.
People aren't so sure.
The final Newspoll of the campaign shows prime minister Malcolm Turnbull is headed for a narrow victory.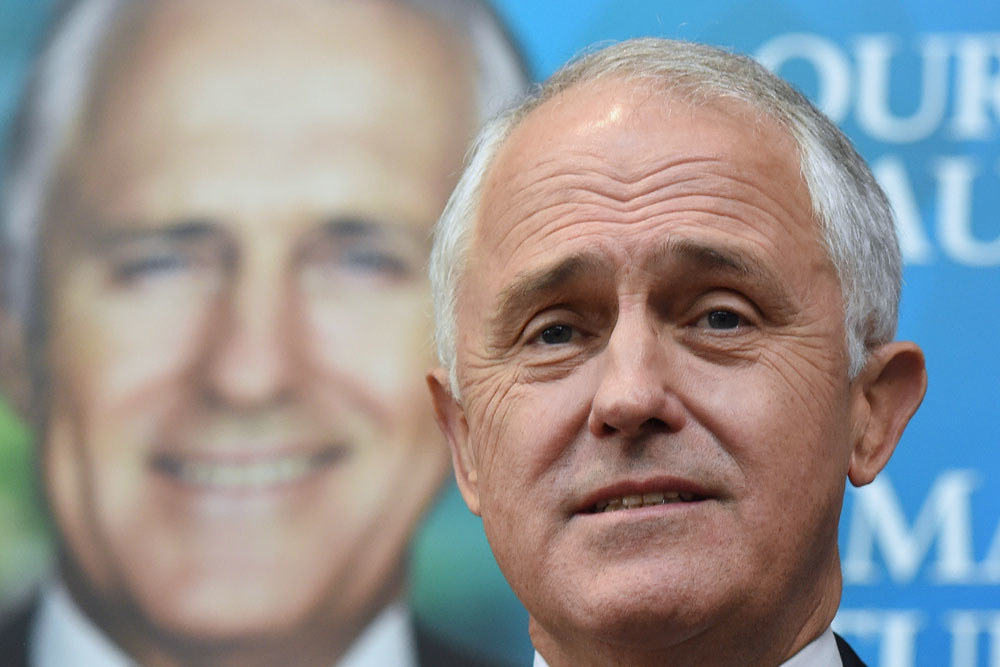 The poll of 4135 voters shows the Coalition has a narrow two-party preferred lead of 50.5% to Labor's 49.5%.
In the preferred PM stakes, Turnbull has the support of 48% of voters to Shorten's 31%. The poll shows the Coalition has a primary vote of 42% compared to Labor's 35%.
Opposition leader Bill Shorten is conducting a last minute blitz of three marginal western Sydney seats - Reid, Lindsay and Macquarie - where he's pledged to eat at least four sausage sandwiches. Here's the first.
Shorten spent the final night of the campaign helping to feed the homeless in Sydney, which is nice of him.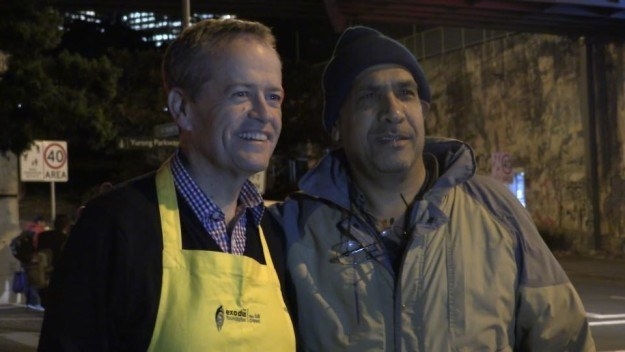 Meanwhile, Labor is playing anti-Liberal attack ads outside polling places in Western Sydney. The opposition will need to pick up a handful of seats there if it is to come close to winning.
An early contender for the best election day snack: These Malcolm Turnballs.
Prime minister Malcolm Turnbull has voted early in his seat of Wentworth.