Kevin Rudd And Julia Gillard Were The Divorced Parents At Labor's Campaign Launch And This Isn't Awkward At All
*rocking back and forth* It's OK, the election is next week, It's OK, the election is next week...
What you need to know:
- New polling shows Labor still ahead on a two-party preferred basis, with leader Bill Shorten's gap to Scott Morrison as preferred PM either shrinking or widening, depending on which poll you believe
- Labor held its official campaign launch in Brisbane with former prime ministers Paul Keating, Julia Gillard and Kevin Rudd all in attendance
- George Christensen's music video has been removed from YouTube and Facebook after a complaint was lodged against him
- Shorten was declared the winner of the second leaders' debate on Sky News Friday night. A third debate is probably talking place on Wednesday
- Bill Shorten is appearing solo on Q&A tonight. Morrison is on 7.30
Happy Monday everyone! I hope you all had a good weekend. Great news — the election is next week! Bad news — there's still a hell of a lot to get through before we're there.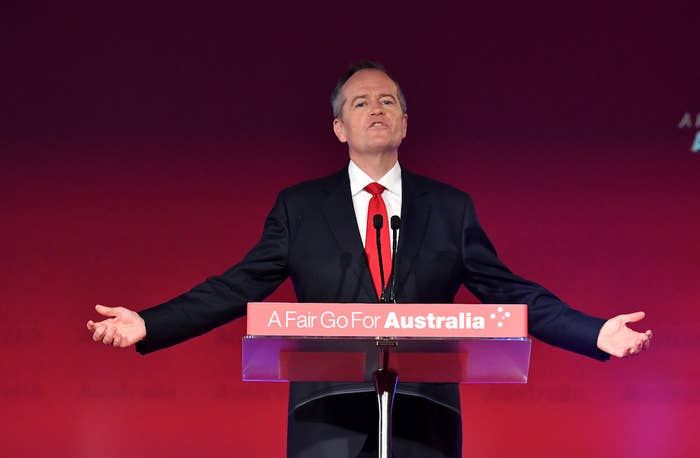 On Friday we were focused on all those candidates resigning and the Vegemite recipe. Today is a brand new day, full of promise and hope — let's see if the nation's politicians have managed to live up to it...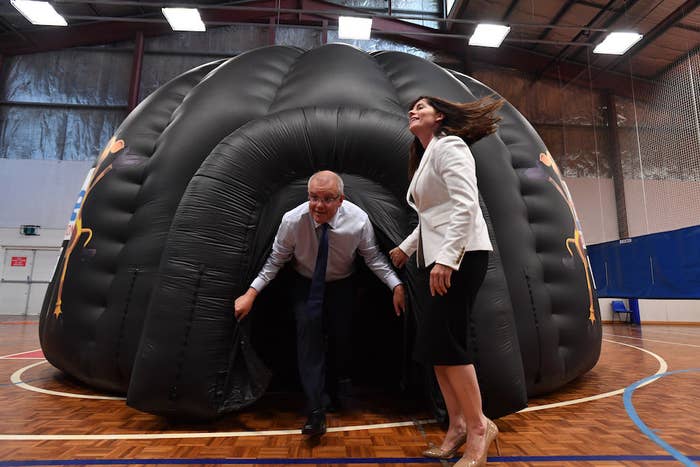 First up — Labor's official campaign launch took place in Brisbane yesterday. Here are former prime ministers Kevin Rudd, Julia Gillard and Paul Keating super happy to be together. Nothing to see here, all totally normal.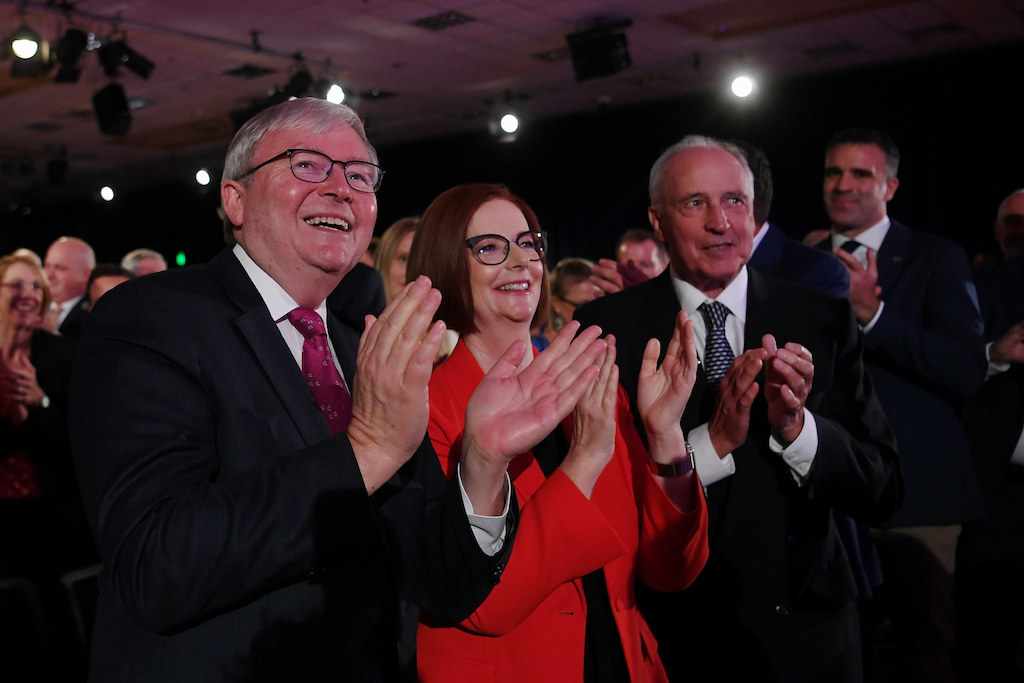 A united team was clearly one of the main themes of Labor's campaign launch, but there were also a number of new announcements.
Party leader Bill Shorten announced new incentives for small businesses to take on younger and older staff involving a tax deduction on new staff salaries; promised more money for hospital emergency departments; and pledged to curb multinational tax avoidance.
Labor used the launch to emphasise the differences between the main parties and Shorten described the contrast in climate change policies between Labor and the Coalition as like "night and day, black and white".
The full costing of Labor's policies is expected to be released at the end of this week. The Liberal party is also expected to hold its campaign "launch" next weekend, one week before the election.
Will they replicate the former prime ministers picture? Uhhh, no, because Malcolm Turnbull is spending the campaign in New York. Classic Malcolm.
There were a fair few digs at their opponents during Labor's launch, with the party's Senate leader Penny Wong calling prominent members of the Coalition "small men with small ideas".
And deputy leader Tanya Plibersek called prime minister Scott Morrison a "failed ad guy" and declared: "Bill [Shorten] hasn't spent this campaign shearing sheep and bleating about tax." A reference to this remarkable incident:
Keating gave an interview with the ABC, which started like this:
Keating unloaded his usual number of zingers, including this attack on Morrison: "There's the prime minister walking around with a lump of coal. Coal is a fossil. The prime minister is a fossil himself, a fossil with a baseball cap, but a fossil."
He also, remarkably, called Australia's spy chiefs "nutters" over the current approach to China and claimed the agencies were running foreign policy. Keating said they had gone "berko" over the threat of Chinese interference.
"They've lost their strategic bearings, these organisations," he said, calling on Shorten to "clean them out" if he wins the election.
Home affairs minister Peter Dutton demanded on Monday that Shorten reveal what plans he and Keating have discussed for the department and Australia's intelligence roles.
Plibersek said Keating is known for his colourful language but he doesn't run Labor policy.
Keating's predecessor Bob Hawke was unable to make the campaign launch, but Shorten referenced him on stage, declaring: "Bob, we love you, and in the next 13 days we are going to do this for you."
Prime minister Scott Morrison announced over the weekend increased penalties for online bullying and a push for tighter security settings for online gaming.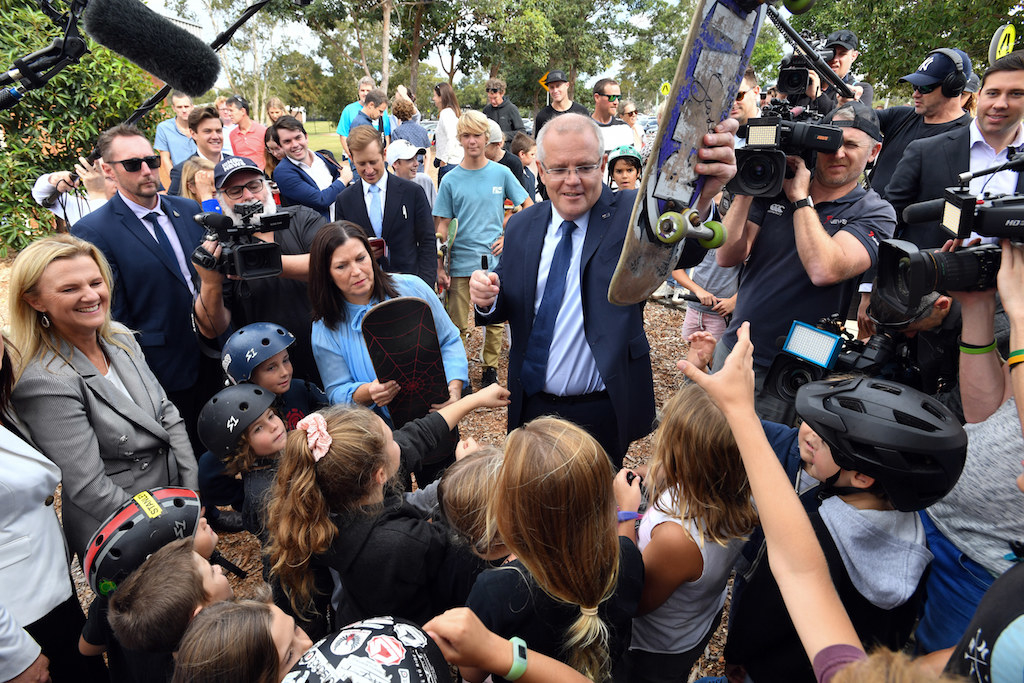 On Monday, up to $5 million was pledged by the Coalition for the Australia Made campaign to help promote Australian products.
A Manufacturing Modernisation Fund was also promised by Morrison, which will aim to encourage investment in new technologies.
The Coalition came under continued pressure today to release the costings of its tax cuts for high-income earners after Morrison was unable to provide a figure last week.
At the weekend, treasurer Josh Frydenberg released a statement about his election billboards being defaced with Nazi symbols and condemned the "disturbing trend in society of antisemitism and intolerance".
"This latest act of vandalism in Kooyong using Nazi symbols on a billboard of mine is an insult to every victim of the Holocaust and Australian servicemen and women who fought against Nazi tyranny," he said.
"To think that this cowardly and criminal act was committed just days after Holocaust Remembrance Day shows how ignorant the perpetrators are of the horrors of history.
"This incident is not about me or my campaign, but about a broader and disturbing trend in society of antisemitism and intolerance.
"Mutual respect is at the heart of a good society and let's debate ideas and people's words and records, but let's not as a community accept for one minute this type of behaviour or attitude."
Liberal MP Julian Leeser revealed that his posters had also been targeted. "I have been involved in political campaigns in Berowra for 15 years but I have never seen anything like this before," he said.
Both major parties strongly condemned the vandalism.
New polling has been released (what an evergreen statement that is) that shows the main parties basically in the same position as the last polling. Labor has maintained its lead.
The Ipsos polling saw a tightening in the preferred PM polling.
The Newspoll data did not. So who knows what's going on.
Some members of the Murdoch press were not happy with how everything is going and decided it was clearly all the fault of... the voters.
This probably isn't helping sway any undecided voters.
But to be fair, neither is this.
Please make it stop.
On Friday evening, when everyone was down the pub enjoying their lives, Morrison and Shorten slugged it out in the latest leaders' debate. This was the moment Morrison fronted Shorten during an exchange over tax. The latter called the PM a "space invader".
It was a line the Labor leader was clearly rather proud of. So he tweeted this out on Saturday.
AND RUINED EVERYTHING.
Yup.
We then had Morrison comparing Shorten to Pac-Man and honestly I wanted to be fired into the Sun in a rocket to avoid having to follow any more of this.
It just won't end.
As we know, and have extensively documented, the PM loves to have a go (and get a go) and his cup cake decorating skills were pretty impressive during the weekend.
Oh and remember that video George Christensen released of himself singing a rewritten version of the classic Australian song "I've Been Everywhere"? Yeah, well Sony/ATV wasn't impressed and it's been pulled after a cease and desist letter was sent to the conservative MP. Oh dear.
Tonight Morrison is on 7.30 and Shorten is on Q&A. The PM apparently doesn't want a go on the latter.
And no-one can seem to decide on what to do with the third leaders' debate on Wednesday.
That's it folks, check back tomorrow lunchtime to discover all the latest madness from the election campaign.