Luis Suarez is facing a lengthy ban after appearing to bite Italy's Giorgio Chiellini during Uruguay's 1-0 victory at the World Cup on Tuesday. The Liverpool striker has faced widespread criticism but there are some fans applauding his actions after it won them quite a lot of money. Swedish fan Mats Johansson made 1,750 krona (£153) after betting 10 krona the Uruguay star would bite someone during the Brazilian World Cup at odds of 175/1.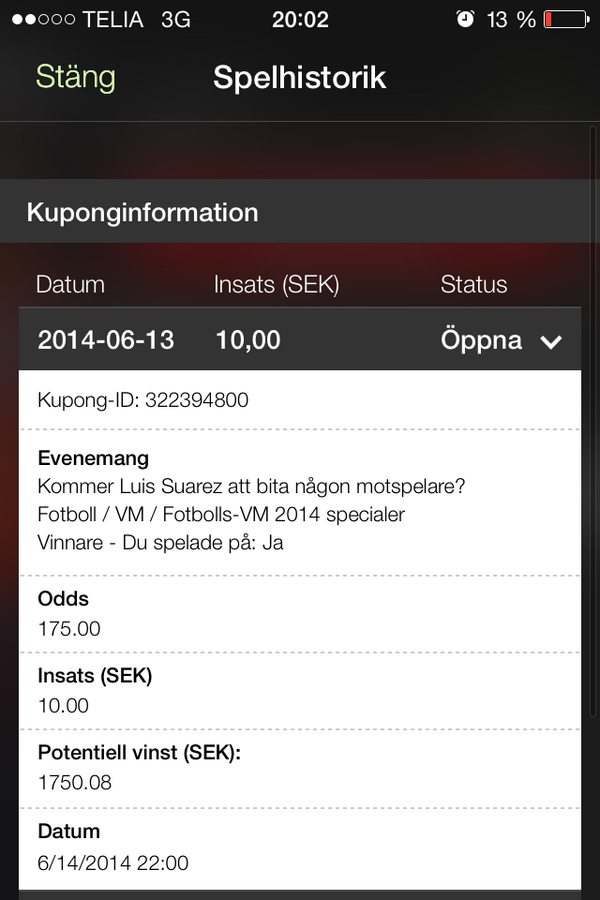 Apparently Johansson contemplated betting 50 krona but "chickened out" and placed a smaller bet instead.
The betting site he used, Betsafe, said a total of 39 people bet on Suarez biting someone, with the biggest winner taking home €2,156 (£1,730).
FIFA has yet to hand down a ruling on the alleged incident by the betting site has said it will pay out regardless.
A spokesperson told Yahoo: "We saw the incident and thought it was obvious.
"Betsafe players are in it to win it, and we saw no reason to delay them from getting what they deserve."