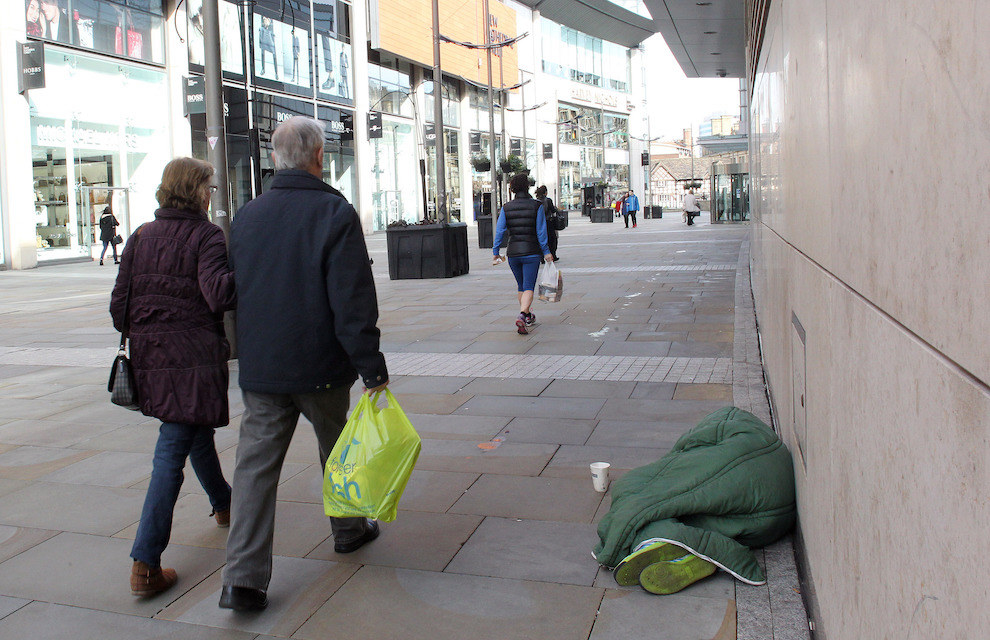 The number of people sleeping rough in England has doubled since 2010, according to new government figures, reaching an all-time high as the effects of the chronic shortage of affordable housing are felt across the country.
As of autumn 2016, there were an estimated 4,134 people sleeping rough, a 16% increase compared to 2015. The figure is 58% higher than in 2010, when records began, when there were just 1,768 rough sleepers.
Labour called the figures a "national scandal" and said they were the result of failed Conservative housing policies.

Almost a quarter of the rough sleepers were in London boroughs – there were an estimated 260 in Westminster alone – but the problem is growing much more quickly in English regions, and non-London boroughs increased their count or estimate by 21% compared to 2015.
The Department of Communities and Local Government collates the figures by asking local authorities to either count or estimate the number of rough sleepers in their borough.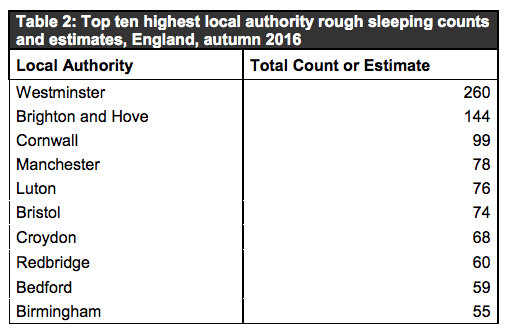 Of the total, 17% of rough sleepers were EU nationals from outside the UK and 5% were from non-EU nations. Only 12% were women and 7% were under 25.
Labour's shadow secretary of state for housing, John Healey MP, said in response to the figures that rough sleeping was a "national scandal".

He said: "These figures are a terrible reminder of the consequences of Conservative ministers' seven years of failure on housing. The number of people sleeping rough fell under Labour but has more than doubled since 2010, and has risen every year under the Conservatives."

"This is a direct result of decisions made by Conservative ministers: a steep drop in investment for affordable homes, crude cuts to housing benefit, reduced funding for homelessness services, and a refusal to help private renters.
"Ministers' long-promised housing white paper will fall at the first hurdle if it does not set out how they will end the national shame of rough sleeping, as Labour has committed to do."
Housing charity Shelter calculated that last year there there were a record 255,000 homeless people in England, with 73,000 living in temporary or sheltered accommodation.

Graeme Brown, interim chief executive of Shelter, said: "The shocking rise in rough sleeping is a shame on this country. But while it's the most visible manifestation of homelessness, unfortunately it's only the tip of the iceberg. Many more thousands of people who we don't see on the streets, including families with children, are hidden away in emergency B&Bs, hostels and on friend's sofas.
"The lack of affordable homes coupled with cuts to welfare have led us to this tragic situation. Until the government provides more homes that people on low incomes can actually afford to live in, the problem will only get worse."
The homelessness reduction bill, tabled by the Conservative MP Bob Blackman and supported by government, is currently working its way through parliament and if passed would force councils to do more to tackle the problem and intervene at an earlier stage when a family is threatened with losing their home.
A spokesperson for the DCLG said in an emailed statement: "This government is determined to help the most vulnerable in society, which is why we're investing £550 million to 2020 to tackle homelessness and rough sleeping.
"Homelessness is more than just a housing issue so we are now funding projects in 225 local authorities to help those people at risk of becoming homeless, already sleeping rough or those with complex needs, to get back on their feet."