Homelessness In England Rises To More Than A Quarter Of A Million People
Housing charity Shelter estimates that there are 255,000 homeless people in England today, with London the worst-affected area.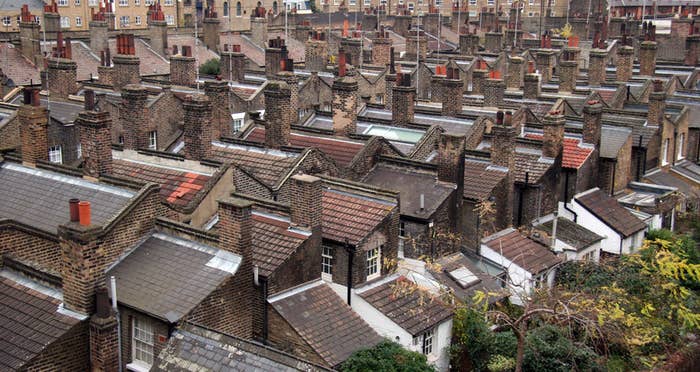 More than a quarter of a million people in England are now homeless as property prices continue to rise, according to a new study.

Housing charity Shelter has calculated that 255,000 people are currently homeless, using a combination of freedom of information requests and existing housing data.
Shelter argues this is a unique statistic that, unlike official government figures, shows the true figure of homelessness. The charity said the figure should be seen as "lower-end estimate" that doesn't include hidden or unreported homelessness, which is thought to be sizeable.
Official stats show that the number of households living in temporary accommodation was 48,330 five years ago, but had risen to 73,120 as of March this year, an increase of 51%.
The number of children living in temporary accommodation rose from 68,000 to 115,000 in the same period, an increase of 67%.
Shelter's report shows that the 27 local authorities with the highest homelessness counts are in London. In Westminster, the worst-affected area in the country, 1 in 25 people do not have a home.
Other densely populated English towns and cities have high homelessness too: In Luton 1 in 63 people are homeless, while in Brighton the figure is 1 in 69.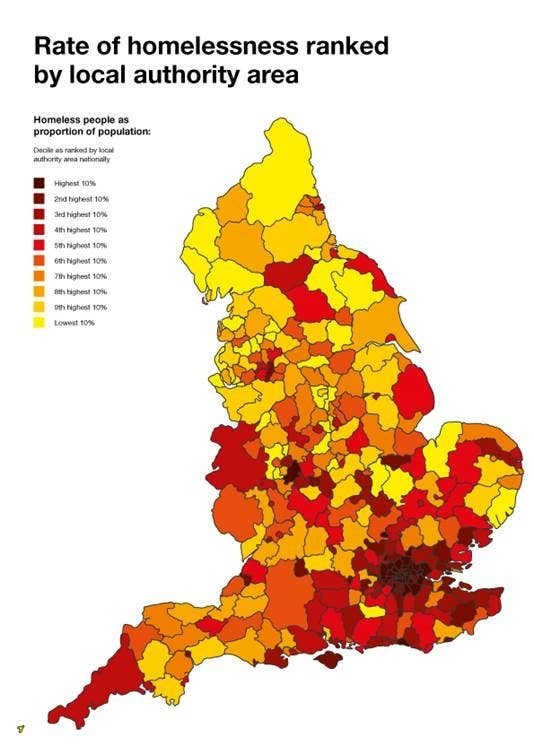 It would cost the average Londoner 14.2 times the average gross annual salary of £33,000 to afford a house in the capital, according to housing data provider Hometrack.

Shelter launched the report on Thursday, the charity's 50th birthday, and the homelessness research was inspired by the "Green Book" report that it released on its launch in 1966.

Campbell Robb, Shelter's CEO, said: "Shelter's founding shone a light on hidden homelessness in the '60s slums. But while those troubled times have faded into memory, 50 years on a modern-day housing crisis is tightening its grip on our country.
"Hundreds of thousands of people will face the trauma of waking up homeless this Christmas. Decades in the making, this is the tragic result of a nation struggling under the weight of sky-high rents, a lack of affordable homes, and cuts to welfare support.
"We all face the consequences when so many in our country grow up without a place to call home. It breaks up communities and wreaks havoc on family life. For the sake of future generations we must pull together to end this crisis, and refuse to rest until every child has a place to call home."
Responding to Shelter's research, councillor Martin Tett, the Local Government Association's housing spokesman, said: "Funding pressures are combining with a lack of affordable housing and rents continuing to rise above household incomes to leave many councils struggling to cope with rising homelessness across all areas of the country.
"Finding emergency housing for homeless people, particularly young or vulnerable people or those with families, is increasingly difficult for councils.
"There is no silver bullet, and councils alone cannot tackle rising homelessness. It is crucial that the government recognise and address the wider factors that are increasing homelessness, such as the lack of affordable housing and welfare reforms.
"Councils need powers and funding to address the widening gap between incomes and rents, resume their historic role as a major builder of new affordable homes, and join up all local services – such as health, justice, and skills. This is the only way to deliver our ambition to end homelessness."