It was just a normal Monday like any other...and then Brian Harvey of East 17 fame turned up at Downing Street asking to see the prime minister, according to a witness who tweeted this:
Fortunately, you can always rely on the people of Twitter to put things in perspective. The absurdity of the image was too much for some to take.
Nevertheless, East 17 fans were heartened to see that his taste in hats hasn't changed much since the mid-1990s.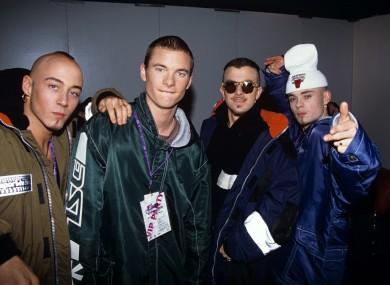 And it didn't take long for people to add their comments in the form of East 17 song lyrics.
Some asked whether he had been at the baked potatoes again, referencing his explanation for the erratic behaviour that caused a nasty car accident in 2005.
There were comparisons to Paul Gascoigne's "fishing rod" moment.
And endless speculation over what was actually in Harvey's ring binder.
It's unclear whether Harvey will be appearing as a guest on Newnight.
His story was trending on Twitter this afternoon – we'll add any more information on his one-man crusade when we get it.
Vice has pointed to two YouTube videos that shed some light on Harvey's political activism which may provide a backdrop to his demands to see David Cameron and discuss his "evidence".
In one, he speaks of his assumed status as a "freeman", meaning that he rejects the law of the UK and has essentially opted out of the social contract between citizen and government.
And in another clip, we see him filming Southern Electric – with the police there to help – installing a pre-paid electricity meter in his home against his will. Perhaps this is the kind of thing he wanted to talk the PM about.