Tim Rozon On His Favorite "Schitt's Creek" Memories, How "Wynonna Earp" Changed His Life, And More
"You just have to give back to these people in some way because they give so much."
Tim Rozon has been part of some truly special TV shows over the years. From his work as Mutt on Schitt's Creek to his incredible performance as Doc Holliday on Wynonna Earp, Tim has the ability to fully transform into the characters he's playing.
To celebrate Wynonna Earp returning with its final episodes on SYFY, Tim sat down with us to chat about everything — like how proud he is of Annie Murphy, his favorite behind-the-scenes memories from Wynonna Earp, his favorite Doc Holliday line, and so much more. Here's everything we learned:
1. First, which emoji do you use the most?
It's the red heart (❤️). [My wife and I] are pretty cheesy, and I start the day and end the day with a message and it ends with a heart. It's like that every day.
2. What's the last TV show you binge-watched?
Paw Patrol. I've watched a lot of Paw Patrol.
BuzzFeed: Is that what your son is into these days?
And Sesame Street.
3. What's your favorite thing to cook?
These days, it's just been blueberry banana pancakes. A lot of pancakes.
4. What's the last book you read?
There's a beautiful New York Times bestseller by Hervé Tullet and it's called Press Here. You follow a little yellow dot multiple times along each page. I probably read it [to my son] 17 times just today.
But, for myself, I actually just preordered Ethan Hawke's new book, A Bright Ray of Darkness. I loved his first two books. So, I'm looking forward to reading it when I have time for something other than preschool books.
5. What's your favorite movie of all time?
I mean, it's really tough to say anything other than Star Wars, specifically The Empire Strikes Back.
6. What movie or TV show made you want to become an actor?
My Own Private Idaho. I had that poster of Keanu [Reeves] and River [Phoenix] on the motorcycle on my wall as a kid. That was the first time I fell in love with acting and movies. Just the vulnerability of those two dudes, I was like, "Wow, this is life."
7. Who were your celebrity crushes growing up?
Drew Barrymore and River Phoenix.
8. What is your best fan story?
My best fan story was actually at the first Earp con I ever went to in London. It was a father-daughter combo, and she was 15 years old and she had just come out. She had come out the week before and her father came with her [to the con] to support her. It was just beautiful to hear her story. That was probably one of my best moments with a fan, but there have been so many. The Earper community is just so amazing.
Also, you know because we were out there together, but seeing the billboards in Times Square too. That was pretty epic and it was a pretty last-minute type of thing for me. There was just no way I couldn't drive down to New York after everything everybody was doing to try and save Wynonna Earp. You just have to give back to these people in some way because they give so much.
"You just have to give back to these people in some way because they give so much."
9. What's your favorite comic book of all time?
Oh, that's simple. That's Fantastic Four #48, the first appearance of The Silver Surfer.
10. Who have you been the most starstruck by?
I'll never forget it because it was the greatest moment of my life. I was with Shamier Anderson, Melanie Scrofano, and Dominique Provost-Chalkley driving in the little golf buggies in the back of San Diego Comic-Con. We were getting ready to do our first panel ever, so I'm already just trying to process that, and we open the door and boom — Stan Lee. All I remember is saying something like, "Thank you for creating Fantastic Four #48 and Galactus and The Silver Surfer." And he said, "You really know your stuff." I was, like, dead. We took a picture with Stan Lee and that was THE moment. The girls had no idea who Stan Lee was, but it was incredible.
11. What's a role people would be surprised to find out you auditioned for but didn't get?
Captain Kirk and Smallville. Smallville was a heartbreaker because I screen tested for it, and the first test with the studio went really good and my manager was like, "They're totally loving it!" So, I was on the studio lot and I remember I bought a T-shirt that said, "Property of Smallville" in the gift shop because I was so proud. Then, I didn't get it.
12. Do you remember what your audition was like for Schitt's Creek?
Eugene [Levy] and Dan [Levy] were there and it was just me and Annie [Murphy]. The cool thing was there was a little café downstairs from the audition. I'm an early bird, so I went there and was having coffee, and Annie was sitting there. I thought, "It has to be the girl I'm screen testing with." So, I went up to her and was like, "Hey, not to be a weirdo, but are you gonna go screen test in a minute? Because I'm gonna do it with you." And she was like, "Aah! Mutt!" So, that was cool because we kind of broke the ice before going to the room and meeting each other for the first time.
13. You were involved with Schitt's Creek right at the start, so what was it like watching it become a phenomenon and a beloved TV show?
It was so crazy and just wild, especially watching Annie Murphy's career take off. I mean, Dan, Eugene, and everyone deserve all the recognition they've gotten, but something about watching Annie become an Emmy winner was...it was so wild. I cannot say enough amazing things about Annie. She's just one of the nicest and most humble people I've ever met.
BuzzFeed: Just as a fan, watching Annie's growth over the seasons and getting an Emmy was incredible. I'm so excited for her upcoming show, Kevin Can F*** Himself.
That show looks amazing too. Seeing "Emmy winner" near Annie's name in the trailer is wild. Almost simultaneously, Sarah Levy and I texted each other like, "Oh my god, Annie's trailer!"
BuzzFeed: And you were with Sarah Levy filming your upcoming show The Surrealtor when the Emmys were happening, right?
Yes! She was with me just losing her mind! It was like excitement for her brother, her father, and just the show they built. She was losing her mind and she would've been there if we weren't quarantined on set.
14. Do you have a favorite behind-the-scenes memory from Schitt's Creek?
I remember being at the read through for the "Jazzagals" episode, and the moment when Moira sings, I'll never forget it in my life. Catherine [O'Hara] had never read that scene before, and Annie [Murphy] is sitting next to me, and Catherine just starts singing the song and ad-libbing during this read through. Annie's hand was digging into my leg and it was just a shared moment of, "Can you believe where we are?" and like, "We're lucky enough to be here witnessing greatness." It was awesome.
"Most of the time, Annie and I were just in awe of being on that set."
Most of the time, Annie and I were just in awe of being on that set, you know, and in the presence of the greatness that was Eugene [Levy] and Catherine. And, from the beginning, you could feel the powerhouse that Dan [Levy] was on screen and as a writer.
15. Do you remember your audition for Wynonna Earp? What was it like?
It was the easiest screen test of my life. They are usually so stressful, but not for Doc Holliday. I did read with some other Wynonnas. At the time, I didn't put it together, but there were no other Docs there, just me. I remember as soon as it ended, I called my wife and I said, "If they don't pick this Melanie Scrofano, they're crazy." I think I read with four or five other Wynonnas, but I knew instantly Melanie was the one.
BuzzFeed: Do you remember what scene you did for your audition?
Emily [Andras] had just made up the scenes. I had one with Shamier [Anderson] and one with Dominique [Provost-Chalkley] too. It was like Doc and Waverly on a hill or something.
16. Do you have a favorite Doc and Wynonna scene?
When Doc became a vampire and he went to the homestead and Wynonna and Doc had that moment on the porch. It was a moment where I was just so ashamed of what the character had done and I could feel the shame from Mel [Scrofano], and it was such a heavy scene.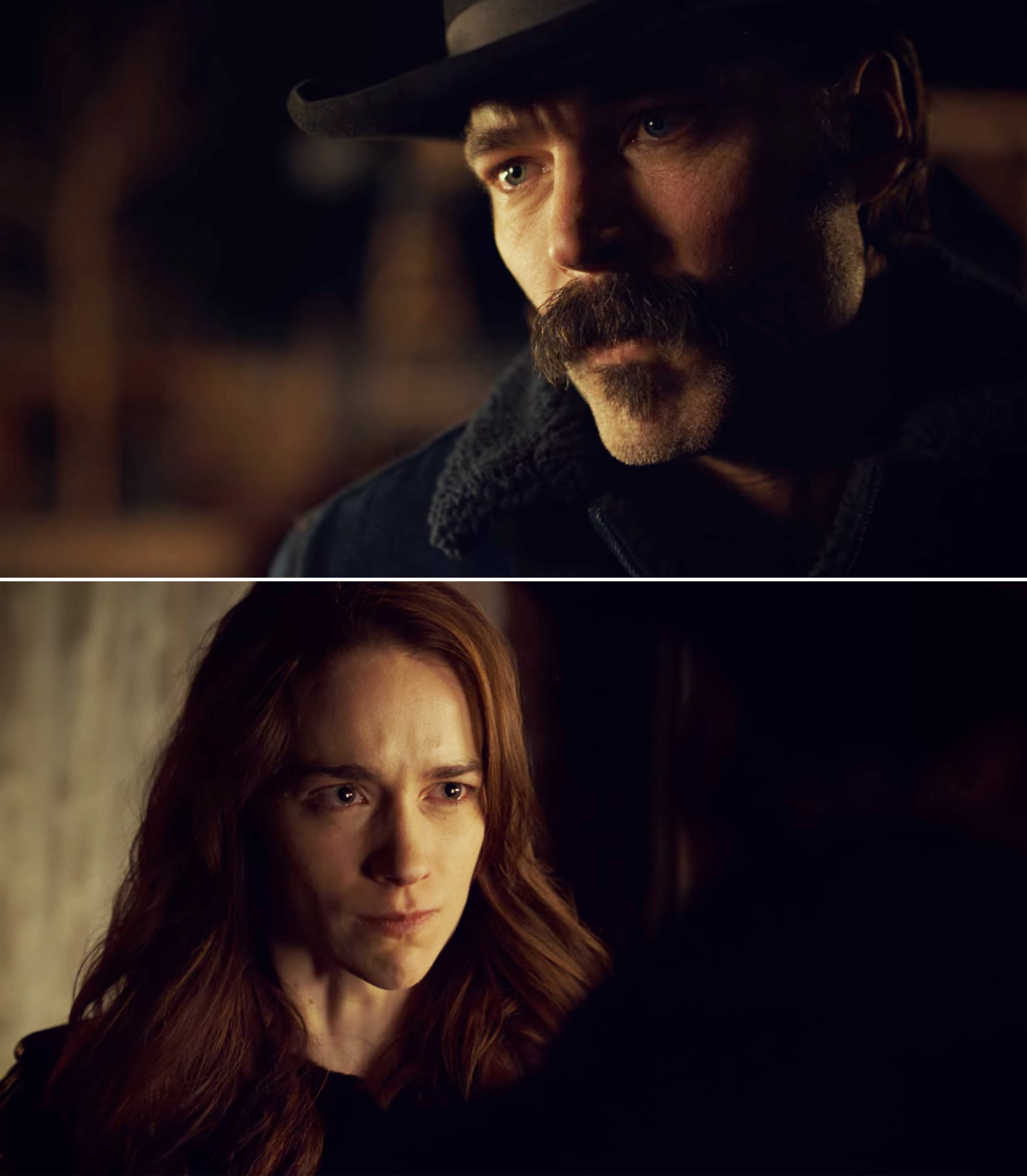 17. Wynonna Earp Season 2 was special for a lot of reasons, namely having Melanie Scorfano's real-life pregnancy written in. Do you have a favorite moment from that season?
There's a moment when Doc and Wynonna have a little interaction in the kitchen and we're standing in the doorway, and before I leave, I stop and put my hand on her belly. That wasn't in the script, some things just happen between Mel and I in the moment. But, right when I did that, the baby kicked. She looked at me and I looked at her and our genuine reactions are in the show. It was surreal. That was the only time in a scene where I knew it was more Melanie than Wynonna.
18. What's your favorite Doc Holliday line?
It's not one he said, it's the one that he wrote: "I am all in." There have been times over the years where I've read the script and I'm just floored by a line, and that was one of them. Just the fact that he wanted to be a good dad made me proud.
BuzzFeed: And you actually wrote the note right?
Yeah, which is crazy because people have gotten that tattooed. I wish I worked on my penmanship in school.
19. Do you have a favorite behind-the-scenes memory from Wynonna Earp?
There are just so many. I always think about the episode Melanie directed and the scene when Waverly, Officer Haught, and I are running around and then Greg Lawson is just naked. The best moment during all of that ridiculousness was I just look over and I see Scrofano at the monitor with just the biggest smile, just watching her idiots. We're such a good family that it was great to see the pride in another person watching.
Also, the episode when I am buried in the house. They buried me alive for real and it was just easier for me to stay buried than to get dug out every take. So I was like, "Guys, I'll just sit here." And they were like, "What?" I didn't care that I had to lie there in the dirt. My makeup artist decided to lie there next to me. The SFX guys gave me a little cactus the next day that said, "Thanks for not being a prick." There are so many special moments with the cast and crew over the years because it's a great family.
20. Was there ever a moment while filming Wynonna Earp where the cast just could not stop laughing?
Normally, I'm the one who keeps it together the most, so people try and get me to break. But there was the first Jolene scene where we were all sitting around eating those cakes. It was really late on like a Friday night and everybody's eating stuff. We just went nuts. I don't know where all the footage is, but they probably couldn't use like half of it. Once Dom, Kat [Barrell], and Mel are gone, it's over.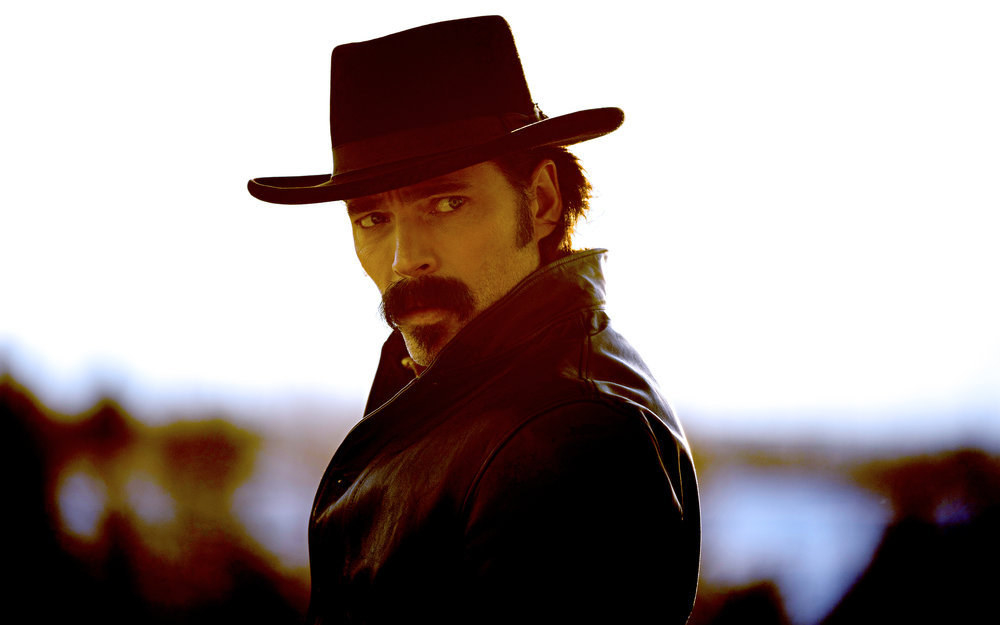 21. Do you ever go back and watch your previous work?
I've wanted to go back and watch episodes of Instant Star because there's been a resurgence lately. I started watching a couple of YouTube videos of it and it just made me proud. That was a great show and we had so much fun. I always said that I wish social media was around for that show, because if it was, there would've been a fandom.
22. Who's your biggest musical inspiration?
Selena Gomez. I've been taking bass lessons and my teacher picks all of these great songs for me to learn and she goes, "Is there any song you want to learn?" I think she was thinking I was going to say Metallica or something, but I said a Selena Gomez song.
23. What's something that's on your bucket list?
To get back to San Diego Comic-Con. Honestly, I feel like my bucket list is done. I'd like to be in a video game, I think that'd be cool too.
24. Have you kept anything from a set over the years?
I mean, I don't keep too much because, like, for Wynonna, I always want to come back. I keep other special stuff, like my name card from Comic-Con, and I've got my very first badge from Comic-Con. I keep a lot of fan knickknacks. I've got like a zillion Earper gifts. But yeah, I don't have much from sets, because I feel like if I take something, it's over.
"I don't have much from sets because I feel like if I take something it's over."
25. Have you ever caught somebody else watching one of your movies or TV shows on a flight?
It's incredible how many people watch Schitt's Creek on airplanes. In airports and on airplanes are also the place where I will get recognized the most. A lot of times, it's someone who works for the airline and they're a fan of Schitt's Creek, and you get a free bag of pretzels out of it.
BuzzFeed: Do you mostly get recognized as Mutt from Schitt's Creek?
It depends. If I have the mustache, unless someone watches Wynonna Earp, they don't recognize me even if they've watched Schitt's Creek.
26. What is something from Wynonna Earp that you are most proud of?
I'm most proud of this Wynonna Earp fandom, because I think the fandom has transcended the show. The show has great messages and it tells important stories, but the fandom that was created is just...it's truly incredible. I feel lucky to be part of it. I've seen some beautiful things because of that fandom and have been part of some amazing stuff. So, yeah, I'm most proud of this fandom...not even a fandom. I'm most proud of this family.

27. And finally, what does your perfect day look like?
Any day with my son. It's just magic. He's just a magical, happy, chill nugget. Just such a good person already.
Be sure to catch Tim in Wynonna Earp Season 4B, which airs Fridays at 10 p.m. on SYFY.