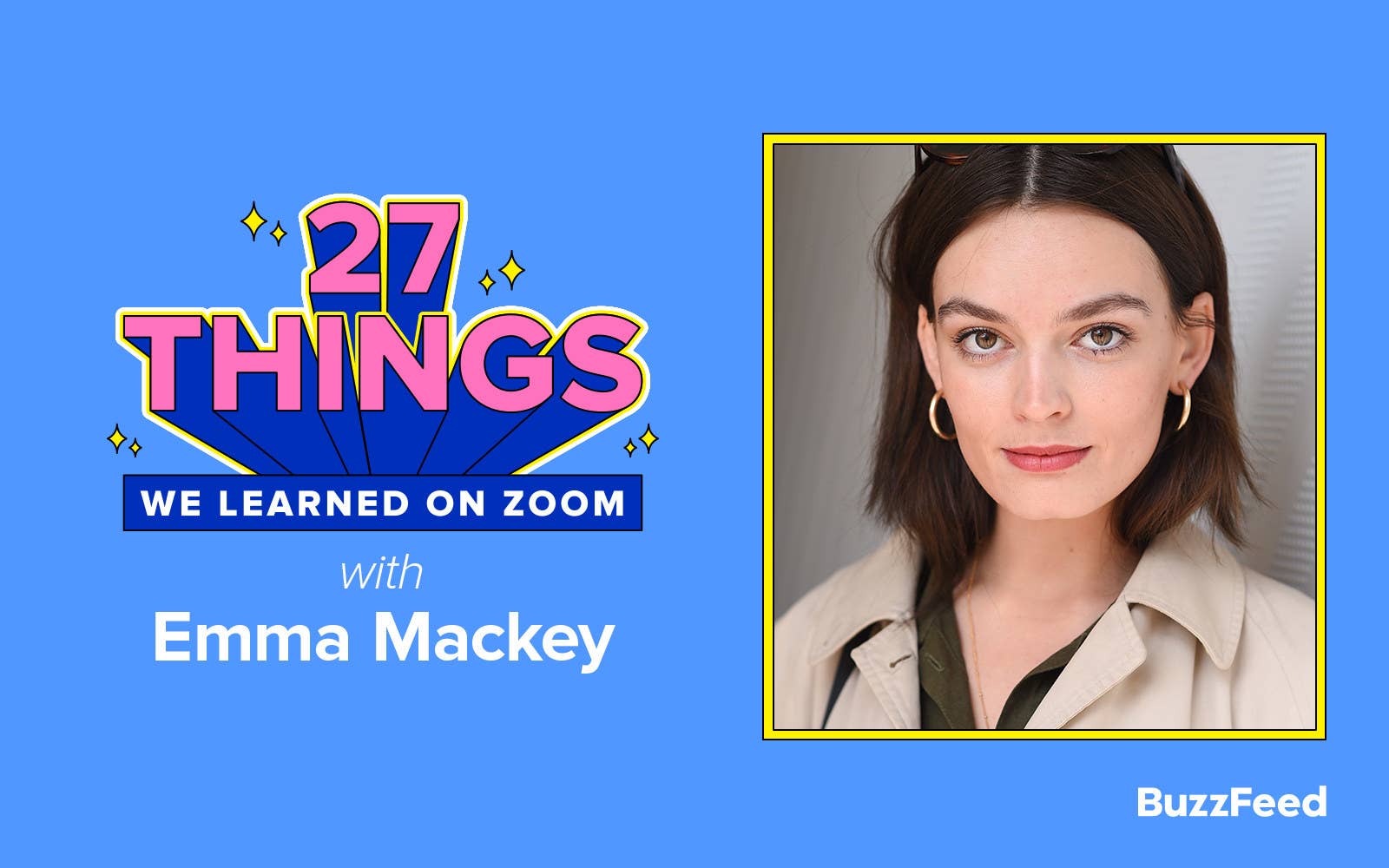 I think it's safe to say that Sex Education is one of the most beloved Netflix shows right now. And one of the characters at the center is Maeve Wiley, played perfectly by Emma Mackey. Maeve embodies a complex female character we all love to see on TV and it has been a joy to watch her journey.
So to celebrate Sex Education Season 3, Emma sat down with me to chat about everything — like her favorite Maeve and Otis scenes, behind the scenes of filming the Season 2 bus scene, what to expect in Sex Ed Season 3, a look ahead at her upcoming movie Emily, and much more. Here's everything we chatted about:
1. Do you remember what your original audition was like for Sex Education?
I remember my first take with Lauren [Evans, the casting director] and Lauren's assistant. The first audition, there was also a producer, Ben Taylor; one of our directors; and one of the script supervisors. I remember it being really lovely actually and they were really friendly and warm. It was the first time I was in a room with a producer and director, and it felt very official.
2. Did you have any chemistry reads with other cast members before filming began?
I remember having a chemistry read with Kedar [Williams-Stirling]. That's the only one that I remember. I saw it recently, like a few months ago, and we look so young. We were in our early 20s but I feel like I look like a baby. That chemistry read was lovely. We had the best time.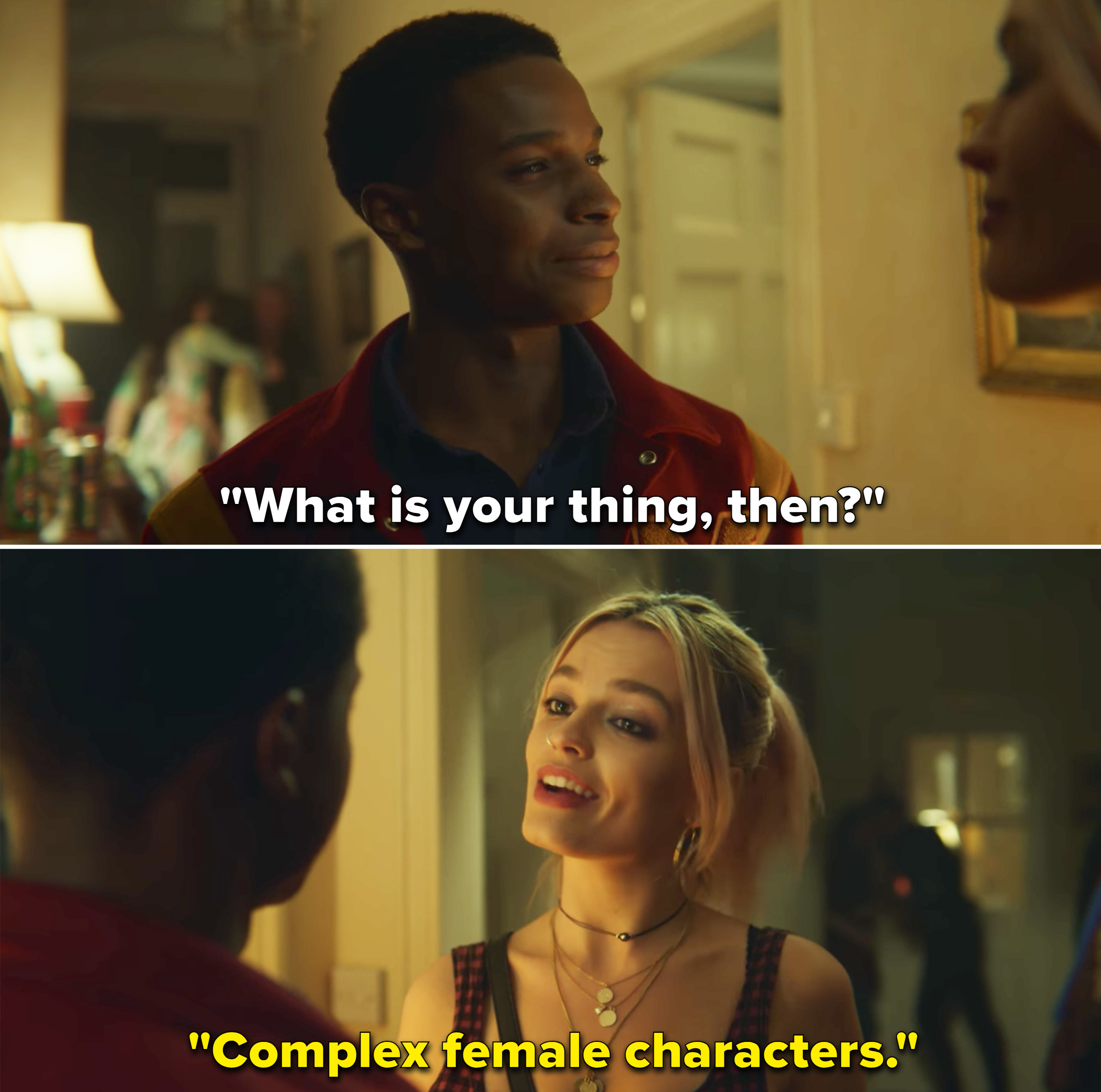 3. Is there a movie or TV show that made you want to become an actor?
No is the short answer. I read more books than I watched films and shows when I was a kid. So I was more interested by imagination and stories. That naturally progressed into acting further down the line. When I understood that was a real job people could have, I got quite excited.
4. Do you have an actor you would love to work with in the future?
I'd like to work with Alicia Vikander.
5. Is there an actor you admired growing up?
Emma Thompson. I'd love to work with her too.

It was really special. I don't like to project and get in my head while filming and saying like, "Is this going to work?" because I would stress and everything. But I remember we had a couple of days of doing the detention scene with all the girls being together and then when we smash up the car. So the bus scene was on my last day of Season 2. It was pretty emotional to do it. Aimee [Lou Wood] just blows us all away and I'm completely obsessed with her. I love her. So it's good to see her shine bright in stuff like that. It was such an important moment and we loved that people responded to it really well.
7. Is there a Maeve scene so far that you're most proud of?
There are lots of lovely, important moments for Maeve's development, especially with her relationships with people. I love the scenes that Aimee and I have together. They're always sort of in front of my mind. I also love the scenes with Maeve's mum, with Erin. They mean a lot to me. I just love and admire Anne-Marie Duff so much, so anytime I get to work with her is a real treat. She teaches me a lot and she's a really good guide to have on set. She's a good woman to look up to and a good human.
8. Maeve and Otis have had some big scenes together on Sex Education but do you have a favorite small moment?
I really love the scene in Season 1 when he gives her his jumper. For some reason, that little moment on the bridge is one of my favorites. I was like, "Oh, man." It's a real heart-warmer. I love that one. It has an innocence to it, which I quite like.
9. Maeve's had a lot of growth in just three seasons. How has it been portraying her character arc so far?
What I love most about Maeve's storyline is seeing her grow over the three seasons in her interactions with others. To see Maeve grow alongside Aimee and what that relationship is has been special. This relationship that on paper makes no sense but somehow works like a dream. They kind of elevate each other and are just there for each other and are able to coexist with one another even though they're completely different. I think that's really key to Maeve's person and existence. How Maeve interacts and operates with people and learns from them is something I love. We get to see a lot more of that in Season 3 as well.
10. Maeve and Ms. Sands always have great moments together. How has it been playing that relationship and seeing Maeve have a supportive teacher in her life?
One moment I think about is the 10-years-time essay, because not only is it a big moment but also, like you said, Maeve's interactions with Ms. Sands are important to her in all three seasons. Ms. Sands bolsters Maeve and gives her permission to fully embrace her mind, you know? Ms. Sands allows that space for Maeve, which I think is so important. It's really moving to see that relationship.
11. When you get a Sex Education script, who are you hoping Maeve will share a scene with?
Eric, always. I mean Ncuti [Gatwa] and I have said this among ourselves in our own lives, like, "Why don't we have more scenes together?" I would love for Maeve to have every scene with Eric just because I think Ncuti's brilliant and so good at what he does. It's a joy to watch him work and also he's my best mate. I love him. There's a bonus to Maeve having scenes with Eric because I get to hang with Ncuti.
12. And is there another actor on the show you would love to work with even more?
I would love to have a scene with Gillian [Anderson]. I've never had a scene with Gillian. Literally never. I'm like, "Hello? Is everyone else gonna go hang with Gillian but me?" It would be nice to build Maeve's relationship with the characters we have and create some new friendships there.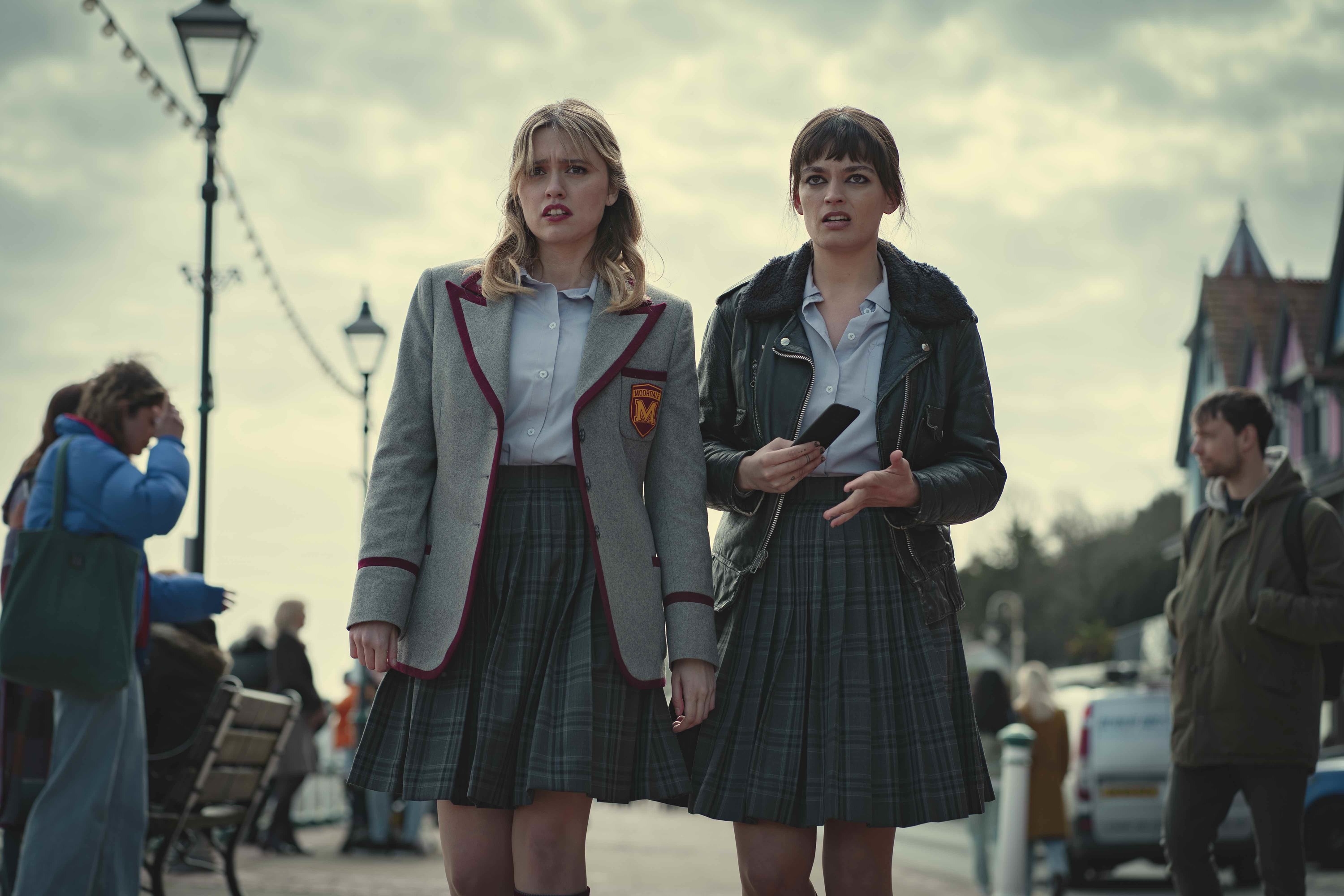 13. What's your best fan story?
I think the things that stick with me are when people write actual letters, which I don't think really happens quite a lot. I don't really read DMs or anything like that and I haven't been to meet people at premieres or anything in so long. People are very lovely generally but I think what really sticks in my head is when people actually take the time and handwrite letters. They often say really kind, meaningful, and personal things. I think that sticks with you when you read someone's story. I keep them safely in a little notebook at my house.
14. What are you most excited for fans to see in Sex Education Season 3?
I mean, obviously, we love seeing Maeve's growth and the development and all that. There are lots of lovely moments for Maeve this season — I keep saying the word lovely, like could I sound more bloody British? I made myself sound even more British by saying "bloody." Anyway, I think people are going to enjoy, hopefully, Maeve and Aimee's friendship because it goes through some ups and downs. We see them a lot more together, which inevitably brings new dynamics into play.
Then, Maeve's relationship with her little sister and her little sister's new foster mum. We'll see what that does to Maeve, what that conjures up in her, how that makes her feel, and how it complicated her relationship with her mum. It's a lot to tackle and a lot going on for Maeve.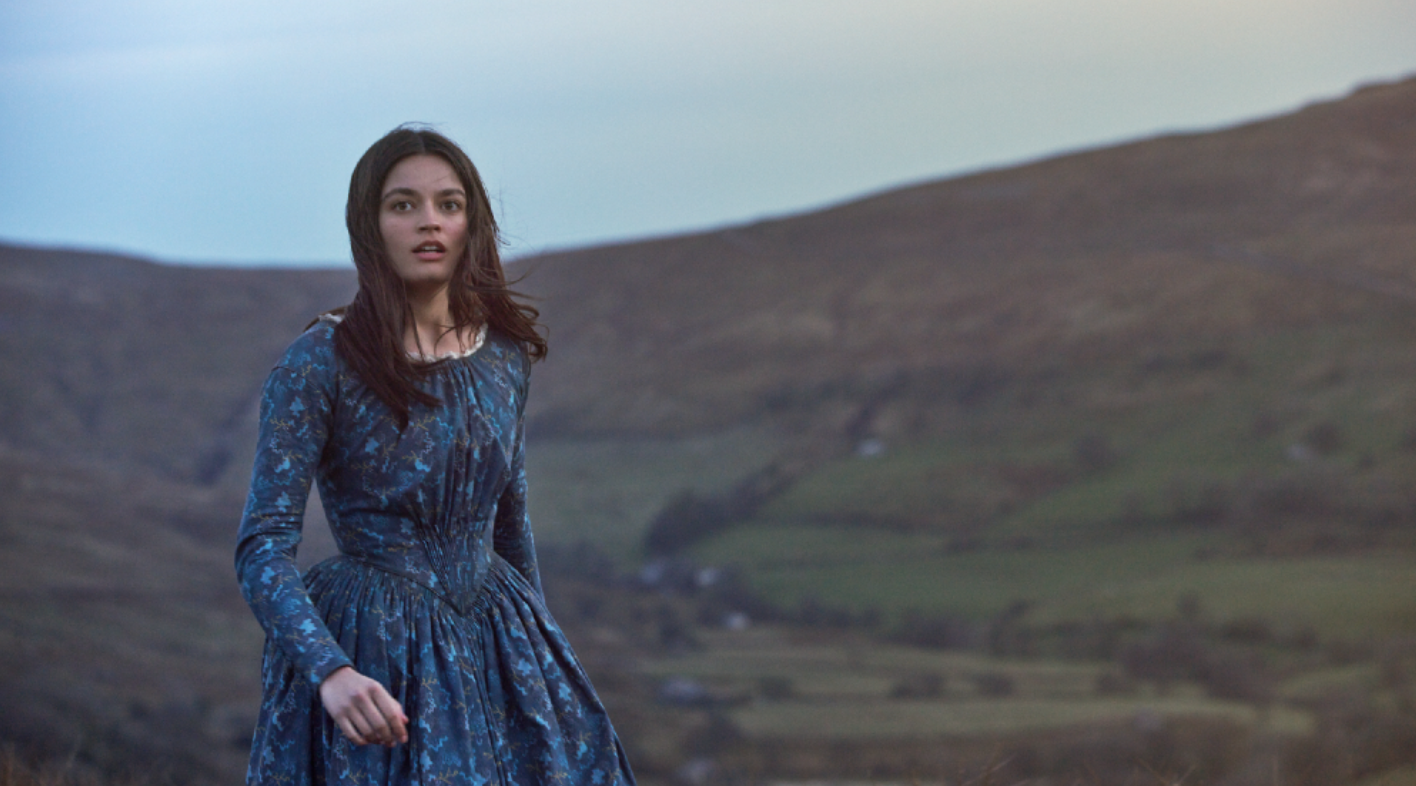 15. Looking ahead, what can you tease about your upcoming role in Emily?

Oh, wow. It was very intense, I can't lie. It was amazing. It was brilliant because I love literature and I love history. So it kind of brought the two worlds together for me. It's not a biopic, which is quite good because we actually don't know an awful lot about Emily Brontë because she was a very private person. The clever thing that Frances O'Connor, who is the director and writer, is she kind of interwove elements of Wuthering Heights with some biographical elements.
So it is a complete reimagining of her life and we kind of just flesh out a completely new person in a way. It's based on Brontë's life but it's really a reimagining. We created a world for her, which is really exciting. It kind of takes the pressure off slightly from playing a real-life human being.
16. How was it filming Sex Education Season 3 right into Emily?
Yeah, so, I came off Sex Ed and went straight up to shoot Emily. I had like three weeks between the two and I was just like, "Alright, let's go." I'm very lucky to be able to do that so it was really fun.
17. What's your favorite book of all time?
Oh, why would you do this to me, Nora?! I don't have a favorite book of all time. I'm just going to put it straight out there because I'm just a huge literature fan that I can't pick one.
18. What's the last book you read and would recommend?
I did read a book recently called The Girls by Emma Cline. A friend lent it to me and I really enjoyed it. I read it in like two days.

19. Do you have a favorite book-to-movie adaptation?
I definitely do. I must. I would say I love Sense and Sensibility, the 1995 version. That's the first one that popped into my head. Also, like, Harry Potter. When I was a kid, I was obsessed with Harry Potter and I read the books, obviously, all first. I can't think of anything niche and cool, but those are some of my favorites.
BuzzFeed: It's okay. I read so many books but whenever I get asked this question, the first thing I think of is Twilight.
[laughs] Nora, oh my god. See, you also think of the childhood books too. I don't feel so bad anymore. I haven't thought about Twilight in ages. Thank you for reminding me of it.
20. Every season, Maeve is constantly being pulled in several different emotional directions. How is it filming so many of those types of scenes?
This is what I mean, like can't you just give Maeve a break for once? Why does she have to go through everything? She goes through the works, that girl. But everyone has a lot going on to be fair, especially this season. It's a rollercoaster ride but it's a joy to play such a complex character.
21. What's the last TV show you binge-watched?
Succession. I'm OBSESSED with Succession. I love it so much.
22. Have you ever caught someone watching Sex Education on a flight, a train, or anywhere else in public?
[laughs] That's quite funny. I have. It has been known to happen. I haven't "caught" them, like, "Ah, you're watching our show," but I have walked past people in the train before watching Sex Ed and I had a little, like, cheeky chuckle to myself. I found it quite funny. A lot of people on the tube as well. People love watching it on the tube, which I find interesting. I'm like, You're surrounded by people and you're, like, intensely watching this show on your phone.
23. Has anyone ever noticed you near them while they were watching Sex Education?
No, I don't think so. Also, it recently happened when I had a mask on so I don't think anyone can tell it's me. That's why I can be confident with my little chuckle over them watching it in public; it's because they can't see me.
24. How was it filming Sex Education Season 3 during the COVID-19 pandemic?
It didn't change our way of work too much. Obviously, we had the safety protocols and we had to get our temperature done every morning, COVID tests like three or four times a week, and everyone was wearing masks. But it didn't really affect our way of filming at all. Other than it took a bit more time to make the show. Other than that, it was handled really, really well. And actually, we were all just really excited to be working because I think at that point we were all a bit like going stir-crazy and wanting to see each other. I think we were also thinking, Are we going to be able to work again? I think that was a genuine question we had. So just generally, there was excitement to go back and do it.
25. What's your favorite home-cooked meal of all time?
I love cooking and I love food. I don't really have a specific meal that I do but I love making pasta. I'm not Italian, but I'm very good at making pasta. So I've been told. I love making pasta dishes with, like, lots of lemon. Everyone love pasta so I love being able to make it for someone.
26. Which emoji do you use the most?
I don't use emojis a lot but when I do, it's probably just a heart (❤️).
27. And finally, what do you think Maeve's perfect day looks like?
Oh my god. That's a good question. I think probably someone else making breakfast for her. Toast with no crusts or maybe pancakes. I feel like she loves pancakes. Then, reading a book most of the day and then... This is the first time I've ever been asked this question. I'm kind of baffled by it. I guess Maeve would also love hanging out with her little sister, her mum, and her brother. That would be quite nice, although maybe quite chaotic. I think she loves hanging out with her little sister. Then, have pizza with Aimee to end the day. That would be the perfect day.
Be sure to watch Sex Education Season 3, which is streaming now on Netflix.