This Band Wants You To Know That The Lockout Laws Won't Kill The Brisbane Music Scene
But ticket scalpers might.
Violent Soho has a lot of fans.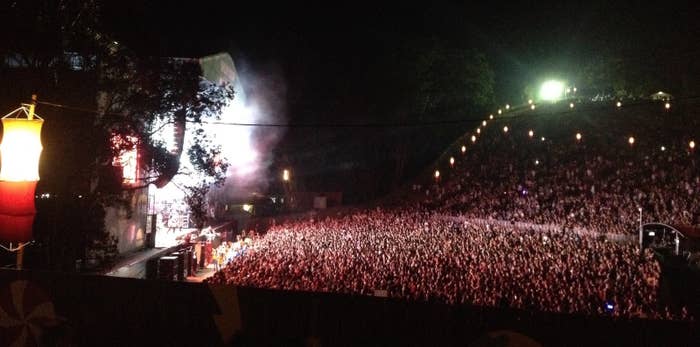 But they come from Brisbane, which isn't. Big, that is.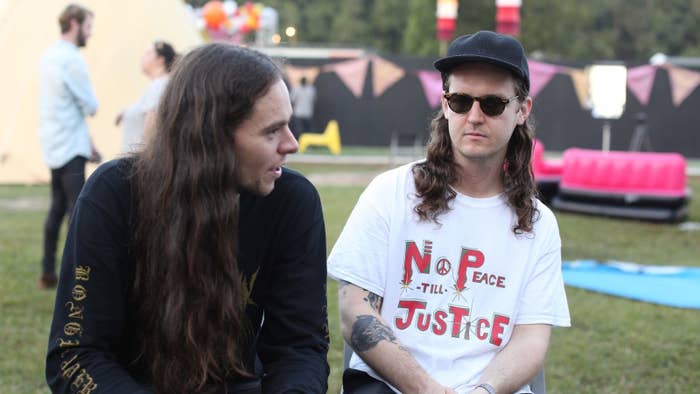 Brisbane, or rather the Queensland state government, recently adopted a similar Lockout Law policy to the one in effect in Sydney. It's intended to curb alcohol-fuelled violence. But some reckon it's killing the live music scene. According to Henery, the Lockouts won't damage the music scene in Brisbane too much.
"The Lockout Laws are not really going to affect Brisbane in the same way [as Sydney] 'cause the culture of going out in Brisbane doesn't really go past 12 o'clock," says Henery.
"I guess the people who are into taking pingers and going to raves, they're the ones who might have a problem with it."
"Bands are normally playing at someone's house. Brisbane has always been like that. We would always just go to house parties. That was our scene."
House parties still happen but Violent Soho is rarely invited these days. "It's a bit hard to bring the kids," says Henery.
Powderfinger and Six Ft. Hick might be the granddads of the Brisbane music scene, but Violent Soho are now the dads.
And as they settle into that role, they're becoming vocal about the music business. Chief among their causes is ticket prices, and the profit agencies are making from on-sales.
According to Richards, the ticket resale industry is "totally unethical." And "professional scalpers are the scum of the earth."
In March of this year, while promoting their latest album Waco, the band made their opinion clear in a Facebook message to fans.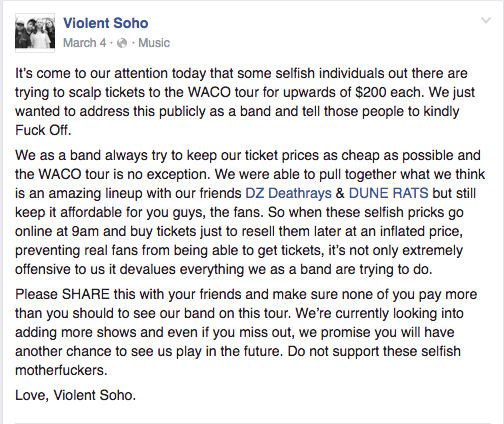 Violent Soho has made a concerted effort in recent years to negotiate affordable ticket prices for their shows.
"But when you play at venues of the size that we do, they've got agreements with ticketing agencies and you can't do anything to change it," says Michael.
Henery thinks an ideal ticket price would be around $30, not $300.
"It's just devastating when you met an 18-year-old kid that works part time and studies, and then has to spend 300 bucks to go to a show that you fought really hard to keep the ticket price down for to make it affordable for them."
"We are just so furious about that stuff. We constantly hear stories about it. It's a real conundrum for us."
In the dysfunctional family that is the Australian rock scene, Violent Soho's message has been meet with support.