You remember ER, right? The show that gave us George Clooney, Julianna Margulies, and the greatest TV love story of all time.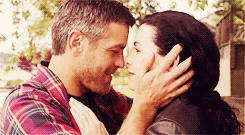 This morning, BuzzFeed's own Kate Aurthur tweeted the life-altering news that all 15 seasons of ER low key started streaming at 9am Sunday morning.
People cannot contain themselves.
There honestly should be some kind of established leave for this.
Folks are (rightfully) making the holiday weekend a 3-day binge.
They wasted NO time.
Almost no one could resist the smolder.
See you next Christmas.
Dreams are coming true.