1.
When they taught us the importance of listening.

2.
When we all learned a new way to deal with the irritations in life. 3.
When Kath was our fitspo queen. 4.
And when she knew exactly what men wanted. 5.
When Kim's lifestyle was goals. 6.
When she had no fucks to give for anyone else. 7.
And when even her mum felt the force of her one liners. 8.
When Sharon shared the perfect way to celebrate. 9.
And when her life lessons were on point.
10.
When Kim knew just how to play the game... 11.
...and played to her strengths. 12.
When a new way to say "cunt" was born. 13.
When spelling never mattered. 14.
When there was so much truth in their words that it hurt. 15.
When Kim gave us a perfect conversation ender. 16.
When even her best friend felt the severity of her temper. 17.
When Kel unleashed the sickest of burns. 18.
When Kim dropped fashion truth bombs. 19.
When she summed up what we all were thinking. 20.
And when she cut through life's bullshit. 21.
When Kath was every parent ever.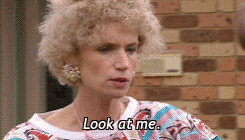 22.
And when they delivered the most iconic line of them all. Looks like there are no comments yet.
Be the first to comment!