January brings new queer delights to your screens.
While the full calendar of release dates for your favorite (or soon to be favorite) shows only goes so far, there are some very queer, very amazing shows to be on the lookout for in the first month of the new year.
Search Party will begin its fifth and last season after a stellar and very queer run that took a group of self-obsessed millennials down a perilous and hilarious rabbit hole of murder, fame, and oh, so much more. The final season airs on HBO Max Jan. 7.
RuPaul's Drag Race will air its 14th season, which will include not only trans contestants, but also the series's first-ever heterosexual, cisgender man. Knowing RuPaul, however, there will most likely be even more wild, gay shenanigans coming when it airs on VH1 on Jan. 14.
Zendaya and trans icon Hunter Schafer will no doubt destroy us all again in the second season of Euphoria, which promises to be as devastatingly beautiful as the first outing. Catch the second season Jan. 9 on HBO.
A look at your new queer favorites.
While the new year will hold many surprises, there are some queer shows that have already been popping up in the cultural conversation.
A new reboot of the Disney Channel hit The Proud Family: Louder and Prouder will hit your Disney+ subscriptions in February 2022 with a much queerer cast of characters.
Trixie Mattel will soon become Trixie Motel when her new renovation series hits Discovery+ sometime next year.
Abbi Jacobson of Broad City is leading a much queerer revival of A League of Their Own, which promises to bring more sapphic vibes to match the sporty ones. It's set to air next year.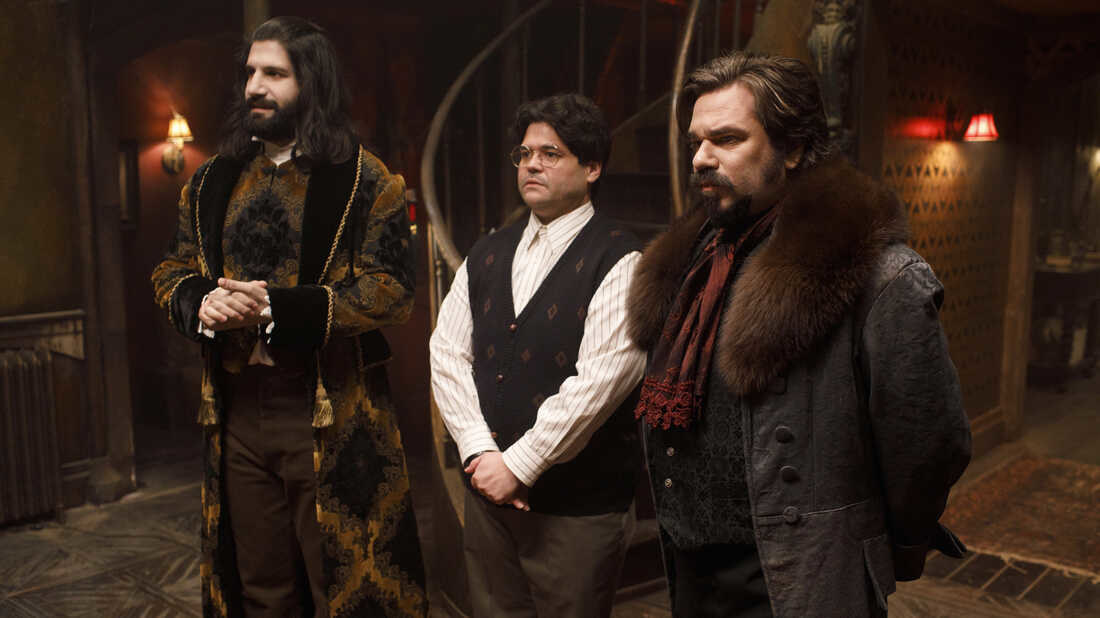 Your favorite comedies will be back!
What We Do in the Shadows, the very queer and hilarious show about a group of dysfunctional pansexual vampires and their gay familiar, has already wrapped filming a fourth season, set to premiere in 2022 on FX.
Hacks, last year's comedy and awards hit, saw bisexual lead Hannah Einbinder and legend Jean Smart destroy the screen with laughter and a compelling story. Filled to the brim with queer icons, this show will be one to keep on your radar for HBO Max.
The Other Two was created by former head writers of Saturday Night Live Chris Kelly and Sarah Schneider — the other belles of the gay comedy ball for HBO Max. Their very gay hit is about what happens when your family gets famous and leaves you behind to make it work.
Drag on the brain.
Aside from the imminent 14th season of RuPaul's Drag Race, there are many drag-related shows to keep an eye out for, including an all-new version of the show called RuPaul's Drag Race: UK Versus the World, which will see queens from other franchises around the world compete with the UK queens for world domination. It will air on WOW Presents Plus.
There are also rumors of an all-winner's season of Drag Race slated to premiere next year alongside the other countless editions of the show from around the world, including the UK, Canada, Spain, Italy, Holland, Down Under, and Thailand versions of the hit reality competition show.
Dragula, the horror drag competition show, recently ended its fourth season by becoming the most-watched premiere show on Shudder and has been renewed for Season 5.
Netflix is for the gays!
Netflix will enter 2022 with a returning crop of queer favorites alongside some fresh blood.
Heartstopper, a gay teen romance based on the series of the bestselling comics by Alice Oseman, will make its debut in 2022.
Elite, the steamy and wild teen soap opera, will be back to fill our screens with queer rich kids being bad alongside Young Royals, another international queer hit that offers some cozier vibes.
Sex Education, the British teen show about a school of kids hopelessly in need of some advice, will air its fourth season sometime next year.
HBO is also pretty gay.
HBO Max has already proven itself to be a home for the queers but has even more LGBTQ+ shows coming down the pipeline.
We're Here from Drag Race alums Bob the Drag Queen, Shangela, and Eureka O'Hara will once again be going across the nation in search of beauty and queerness in 2022.
Legendary, the ballroom and vogueing competition show, will have more dips, spins, and drama when its third season airs next year.
The very queer Gossip Girl reboot just ended its first season but has another one already set to make its debut in 2022.
Doom Patrol, the DC superhero show featuring a ragtag team of superpowered misfits, will also return next year.
Primetime is also for the queers.
Primetime television isn't what it used to be in the age of streaming but that doesn't mean it isn't queer.
9-1-1: Lone Star from Fox may seem like one of the other dozen shows about crime and saving the day, but this one has more gays and its third season will air on Jan. 3.
Star Trek: Discovery from Paramount+ reignited the hearts of queer Trekkies everywhere with this very queer continuation of one of the most beloved franchises in our history as its fourth season currently airs.
The CW continues its long-standing tradition of having shows full of queer people with Riverdale, the insane reboot of the Archie comics that needs to be seen to be believed, alongside Legends of Tomorrow, Batwoman, and Nancy Drew.
You get a queer show! You get a queer show!
I could go on forever about what queer shows you should keep an eye out for, but here are some returning shows for your radar.
If a queer revival of the Chucky franchise was on your bingo for 2021, well, congrats to you. But for the rest of us, we get to look forward to another season of this very queer show on Syfy.
Killing Eve, the spy show that is actually just a long-winded romance between an assassin and the detective chasing her, will premiere its last season on BBC America on Feb. 27.
The Wilds, a more sapphic version of The Lord of the Flies and The Truman Show, will air a follow-up season sometime next year on Amazon Prime Video, alongside The Boys, a superhero show that actually lets its "Wonder Woman" figure be a woman who loves women.
Finally, High School Musical: The Musical: The Series will air another season on Disney+ next year with all its little gays in tow.

Okay, now tell us which of these shows you're most excited for?