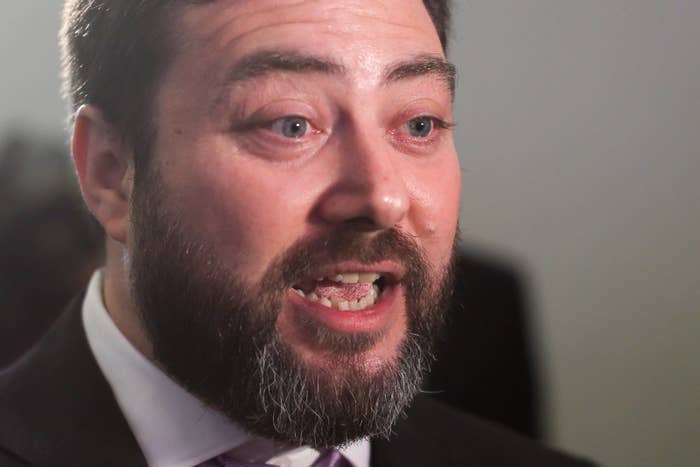 YouTube has demonetised Carl Benjamin's Sargon of Akkad video channel after the political commentator turned UKIP candidate made comments about raping a woman MP.
Earlier this week, West Midlands police announced an investigation into Benjamin's remarks made in a YouTube video about Labour MP Jess Phillips, where the UKIP European election candidate questioned whether he'd rape her before concluding "nobody's got that much beer".
It was the second time the YouTuber has made rape remarks about the Labour MP. In 2016, Benjamin tweeted: "I wouldn't even rape you @jessphillips" in response to Phillips posting about rape and death threats she received online.
YouTube removed the video from the Sargon of Akkad channel, while Phillips gave an interview to the BBC questioning whether Benjamin should still be allowed to run in the EU elections later this month.
On Friday afternoon, YouTube told BuzzFeed News the company was now taking the step of demonetising Benjamin's Sargon of Akkad channel, which has almost 1 million subscribers, effectively removing Benjamin's ability to make advertising money from videos he posts on the platform.
A company spokesperson also confirmed Benjamin had been removed from the "YouTube Partner Program", which gives popular video creators access to a share of YouTube's advertising money, assistance when it comes to copyright, and direct contact with the company's IT support.
YouTube declined to give a comment about the crackdown on Benjamin's account.
When contacted for comment on Friday, Benjamin sent BuzzFeed News an unrelated political statement about knife crime. Several of his online followers have been tweeting a statement claiming to be from Benjamin.
"YouTube let us know today that they have demonetised my YouTube channel, which as you know is my primary source of income, and how I support my family and team," the statement reads.
"I've always taken care to comply with YouTube's rules, and the only thing I've done differently recently is standing for public office. Companies as large as YouTube have to rely heavily on algorithms that are vulnerable to mass reporting from malicious actors.
"Given how much of a hate-mob has been stirred up against me due to the, frankly, dishonest reporting about my candidacy, it is hardly surprised this has happened."
The statement also said that YouTube has given Benjamin 30 days to consider an appeal.
On Friday, the UKIP candidate also was involved in a fight on the campaign trail in Cornwall. BBC News reports a fight broke out after two protesters tried to throw a milkshake at Benjamin at a campaign event with far-right troll Milo Yiannopoulos.
Benjamin has also been banned from Twitter.