Liam Fox Has Finally Pulled Out Of A Saudi Conference After The Suspected Murder Of Jamal Khashoggi
Following days of pressure, the UK government said it was "not the right time" for the international trade secretary to go to Saudi Arabia.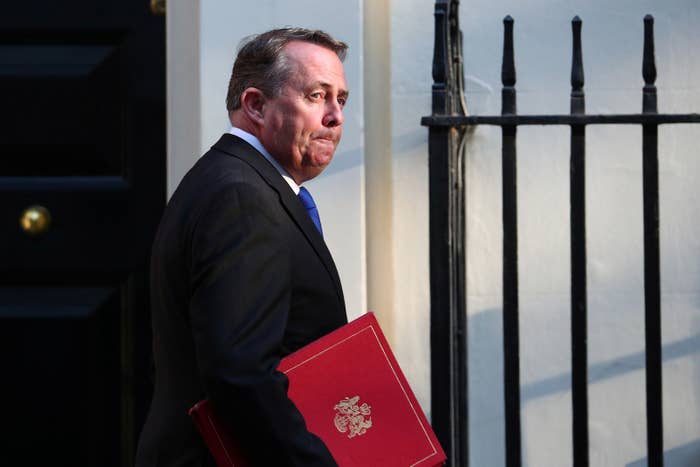 The UK's international trade secretary, Liam Fox, has pulled out of attending a major Saudi investment conference next week in the wake of the suspected murder of journalist Jamal Khashoggi.
Fox's withdrawal, which was first reported on Twitter by BBC diplomatic correspondent James Landale, comes after several days of pressure from senior Conservative colleagues, who were demanding he follow the lead of business leaders and journalists and boycott the Future Investment Initiative in Riyadh next week.
On Wednesday, former Tory cabinet minister Andrew Mitchell told BuzzFeed News that no British minister could attend the event "in all conscience".
A government spokesperson confirmed on Thursday that Fox would no longer attend the glitzy event — which is known as "Davos in the desert" and is being hosted by Saudi crown prince Mohammed bin Salman — adding that the UK government looked forward to seeing the findings of the Saudis' own investigation into Khashoggi's disappearance.
"The secretary of state for international trade has decided the time is not right for him to attend the Future Investment Initiative in Riyadh on 23 October," a government spokesperson said.
"The UK remains very concerned about Khashoggi's disappearance. We encourage Turkish–Saudi collaboration and look forward to the Kingdom of Saudi Arabia conducting a thorough, credible, transparent, and prompt investigation, as announced.
"Those bearing responsibility for his disappearance must be held to account."
Government officials, business leaders, journalists, and several large corporate partners have boycotted the Saudi conference in recent days over the circumstances surrounding the alleged involvement of Saudi security forces in the disappearance and suspected murder of the journalist.
Khashoggi went missing after attending the Saudi Consulate in Istanbul earlier this month. According to the latest reports, Turkish officials believe a hit squad acting on the authority of Riyadh murdered and dismembered the Washington Post columnist at the consulate.
Fox is the latest big name to drop out of the event, with France's finance minister Bruno Le Maire also announcing he'll pass on the conference on Thursday.
All eyes will now be on US treasury secretary Steve Mnuchin, who's expected to announce by the end of this week whether he'll travel to Saudi Arabia.