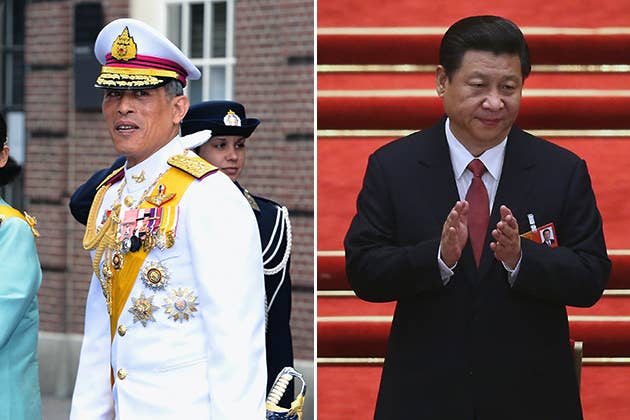 When British GQ published its prestigious annual list of best-dressed men — this year topped by actor Timothée Chalamet — the magazine's staff also named 10 of the world's worst dressed.
Top of the list was Boris Johnson's perpetually tracksuited chief adviser Dominic Cummings ("why does Boris Johnson's political disruptor dress like an unlicensed cab driver?"). The nine others included Facebook founder and CEO Mark Zuckerberg ("Android chic is not a vibe"), US president Donald Trump ("A sad and sorry perennial fixture"), and Tory frontbencher Jacob Rees-Mogg ("A haunted pencil").
During the course of this week, other news websites, like the Mail Online, picked up on the list, spreading the word about whom British GQ thought were the world's 10 worst dressers.
But on GQ's own website, something was different. The "top 10" list had become a "top 8". Missing were two individuals: China's president Xi Jinping and king of Thailand Maha Vajiralongkorn.
According to sources at Condé Nast, GQ's parent company, the controversial world leaders had been removed after management got wind of who was on the list.
The full article had the 10 worst dressed laid out on a double spread of the January/February 2020 edition, with critical captions.
On president Xi, GQ wrote: "It is not Hong Kong's courageous freedom fighters that Xi Jinping should have a problem with. It's his tailor. Xi gets totalitarian style cues from his hero, the mass murderer Chairman Mao, who enforced a dour and plain dress code for the Communist Party."
When it came to the Thai king, the magazine used a picture of Vajiralongkorn in one of his signature tight crop-tops, which would have likely breached the country's lèse-majesté laws that make it a crime to insult the monarch.
It ran with the GQ caption: "How many others living deities do you know with a penchant for really tight crop tops, hipster jeans and fake tattoos? The answer is none. And that's because no other exist."
Sources said management would have stood by the list if "it was a hard-hitting piece of journalism," but considered it instead a "light-hearted list meant for a UK audience". Condé Nast, which also publishes Vogue, has local editions of both magazines in China and Thailand.
In a statement to BuzzFeed News on Friday, a Condé Nast spokesperson confirmed the world leaders had been scrubbed from the worst-dressed list over concerns that it "would travel globally and grant traction" without necessary context.
"We are conscious that digitally published stories travel globally and can gain traction where they lack the necessary context and can cause unintended offence," the Condé Nast spokesperson.
"The story remains in full in the print edition of British GQ".