Video has emerged of British actor Michael Enright playing Ariana Grande's song "Bang Bang" from his phone in the main square of the newly liberated Syrian city of Raqqa.
The Manchester-born actor, who appeared in Pirates of the Caribbean: Dead Man's Chest, reportedly joined Kurdish forces in 2015 after watching online videos of ISIS atrocities.
In the newly released footage uploaded to YouTube over the weekend by a Kurdish news agency, Enright plays Ariana Grande from the speakers of his phone in response to the ISIS-inspired terror attack at the pop star's concert in Manchester earlier this year.
BuzzFeed News confirmed with Enright that the video was filmed by a freelance photographer shortly after Raqqa was taken by Kurdish forces. Enright declined to comment further.

"[I thought] cause I'm from Manchester and they came to my city, they came to my city and they tried to shut up Ariana Grande, that she be the first one to sing," Enright said in the video, holding up his phone to the camera's microphone.
"You didn't shut her up and you didn't shut Manchester up because she's singing 'Bang Bang'," he said.
"You know what happened: We came and we did 'Bang Bang' and you left, you ran away."
Enright is also shown in the footage taking selfies with local people and showing off a magic trick with Kurdish fighters.

Raqqa had been an ISIS-stronghold in Syria until US-backed rebels liberated the city in recent weeks. The terror group also claimed responsibility for the attack on Manchester earlier this year, in which 22 people were killed by a lone suicide bomber at an Ariana Grande concert.
"Singing is coming back and Ariana is your first concert here," Enright said.
British press outlets have been reporting on Enright's movements with Kurdish rebels over the last few years.

He most recently appeared on the front page of The Times last weekend, telling the newspaper he'd be heading back to Britain after the liberation of Raqqa.
According to The Times, Enright was given a GoPro camera by locals to "put his background to work" and film parts of the conflict.

In 2015, there were reports on a social media post from a US veteran working with Kurdish fighters who said Enright had been "kicked out of four different fighting units and asked to leave twice by the YPG".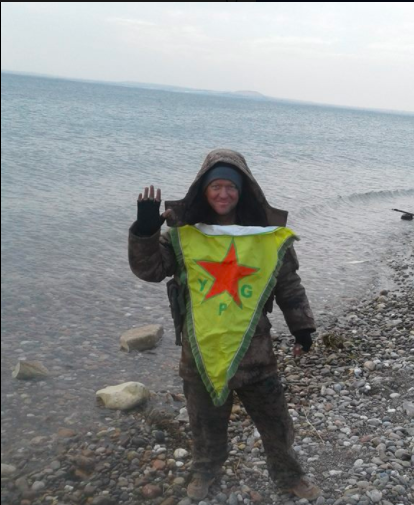 "The generals have even told us they try keeping him away from everyone for fear that their own men will kill him," Jordan Matson reportedly wrote.
However, Enright responded to the claims, telling Channel 4 News: "None of the soldiers I fought with said that at all.
"The only people who have said anything negative were the people I came with from the academy, I came over the hill with."
BuzzFeed News has contacted Enright for comment.