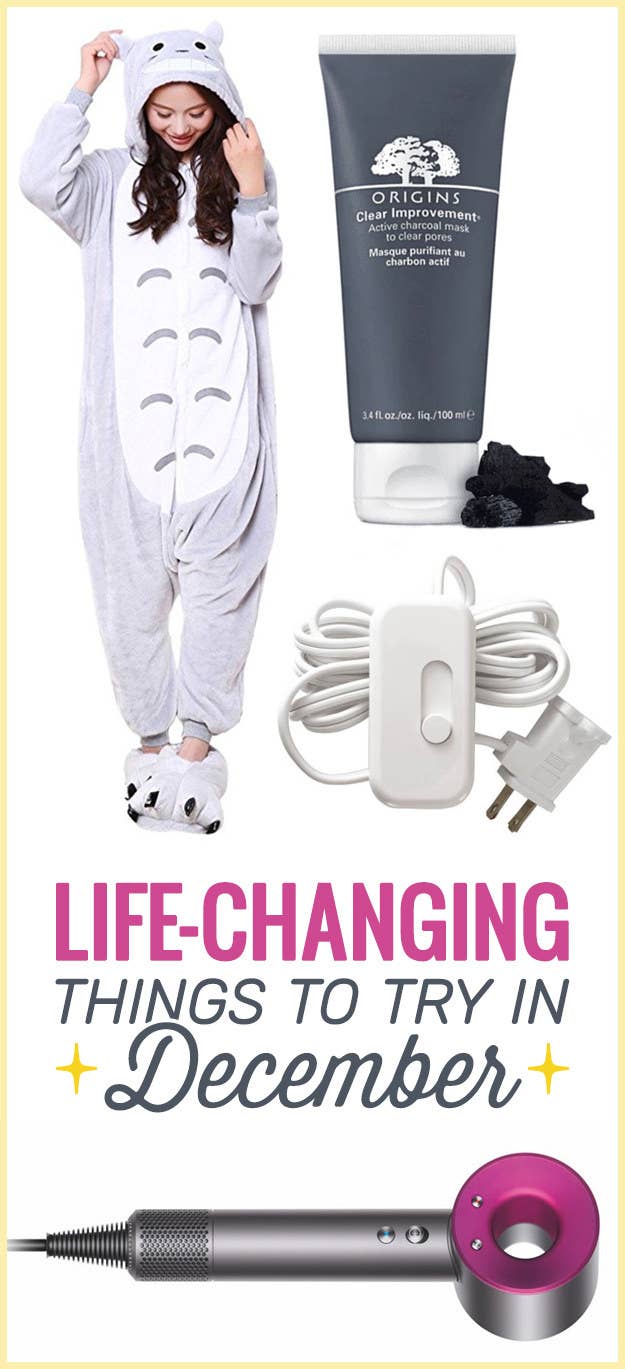 The BuzzFeed staff is always trying new products, apps, hacks, and DIY projects, and we decided it was time to start sharing the best of them with you. Each month, we post our recommendations for what's actually worth it. For the sake of transparency, items under "Things We Bought" and "Tricks We Learned" were purchased with our own money and/or were not the result of a PR pitch. Those under "Things We Tried" are items that were provided to us at no cost for the sake of review. (But! We're under no obligation to write a review of those things, let alone a positive review.)
Let us know in the comments what sorts of things you'd like us to review next month!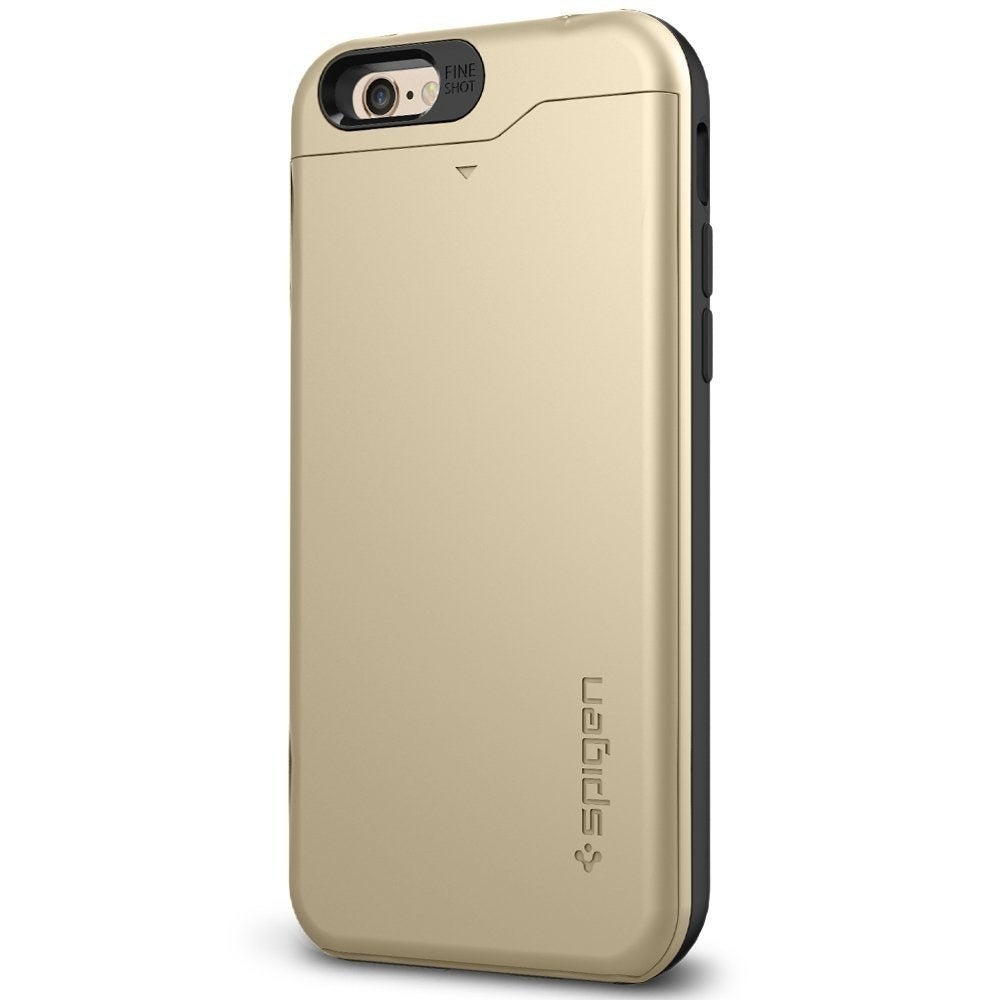 I hate hate hate hate carrying a purse and have been trying to do so less and less. I don't really have anywhere to carry my wallet since it doesn't fit in any of my pockets. I've taken just my ID and credit card in my jean pockets before and have been paranoid the entire night that I'm going to lose both.
My friend super recommended this case and I kinda ignored him. I have tried other phone wallets before and they all sucked... but then my friend said the magic words "I've totally ditched my wallet thanks to it". I have to say, he was right. The compartment where you carry stuff does not open at all, so there is no fear of losing your stuff when pulling your phone out. It's stylish (I got the rose gold, because duh) and it's pretty resistant.
I love it and it changed my life. Bye bye, annoying purses! —Conz Preti
Get it from Amazon for $26.59.
Good lighting is something that TRULY MADLY DEEPLY changes your living situation for the better. And as a renter, I don't have the time/money/inclination to add fancy dimmers to all my light switches or to buy lamps that are dimmable. Enter this $13 table-top dimmer from Amazon. You just plug your lights into the cord on this switch and you can make any light dimmable just like that.
I've added one to almost every lamp in my house and now I can have the perfect level of lighting at any time of day. Plus, for my beloved globe lights that don't have a switch, this handy corded dimmer allows me to swipe them on and off right on the bookshelf without having to crawl behind my sofa to reach the outlet every single time. —Jess Probus
Get it from Amazon for $13.
I can't begin to tell you how ecstatic my roomie and I were the day we got these Totoro onesies in the mail​; it was nonstop squealing.​ ​The onesies are wonderfully slouchy and SO ​FRIGGIN ​SOFT​​​ — ​like wrapping yourself in fluff​ or like hugging Totoro himself (I can dream). I can't control the heat in my apartment, so ​this onesie is going to save me this winter. And because my laziness actually equals efficiency, I also ​wore this onesie as a Halloween costume. Excuse to go to ​a party AND ​work in PJs? Yes please.
Also, IMPORTANT​: it came way earlier than the ridiculous date range it says (​DO NOT pay for expedited shipping​). Since ​it's also so cheap, I was a little worried about potential sketchiness, but they ​responded really quickly to my email and gave me an estimated arrival date (that was only one day off!). ​
The quality is A+ for a cool $20, so my cheap-o heart is as happy as can be. Now to change the office dress code to accommodate onesies at all times so I never have to change out of it... —Sarah Han
Get it from Amazon for $23.52.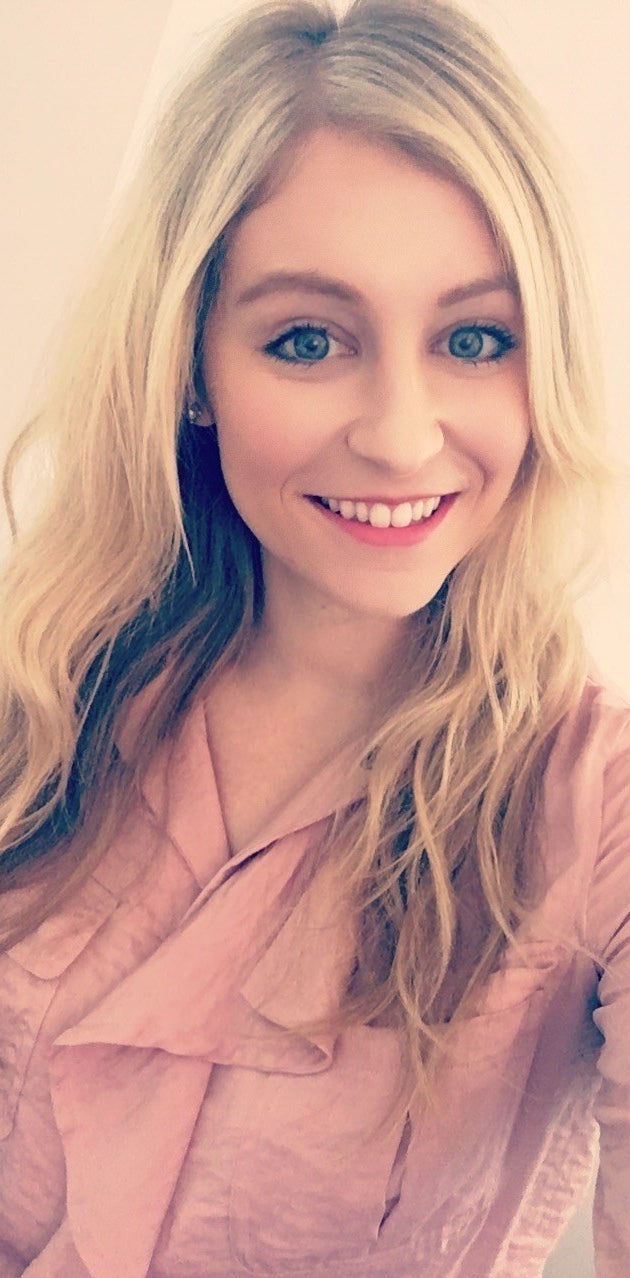 I've spent the better part of my adult life trying to find a foundation that both *actually* lasts through a long work day and provides real coverage — which was always a very frustrating struggle. Then I discovered Charlotte Tilbury's Magic Foundation. I was in London when I first started hearing about it and its ~magical~ powers (it's literally touted as a "miracle in a bottle"). The product claimed it was not only just your typical makeup, but it also boasted skin-perfecting ingredients meant to actually fix problem skin while wearing it — everything including redness (my biggest issue), acne, discoloration, fine lines, and more. So naturally I was like, sure Jan. But also I was like, what do I have to lose?? I walked into a Charlotte Tilbury boutique that day and purchased my first bottle.
After using it for about a year my skin has drastically changed to where I now don't wanna yell at it every time I look in the mirror. For one, it *actually* covers up the redness in my skin while still feeling light and not super cakey. And I've experienced waaay fewer breakouts and fine lines popping up across my face.
I am now an extreme Charlotte Tilbury devotee. But as with all makeup, it might not be perfect for everyone. A friend who has a darker skin tone wasn't able to find a shade that truly matched her skin (even though the line boasts a broad range of colors). But if you're on the hunt for a multipurpose foundation, I'd give this one a try. At $44 a bottle it's definitely not super cheap. But each one lasts me about six months, and in my experience, it's well worth the expense. —Kristin Harris
Get it from Nordstrom or Charlotte Tilbury for $44. Available in 15 shades.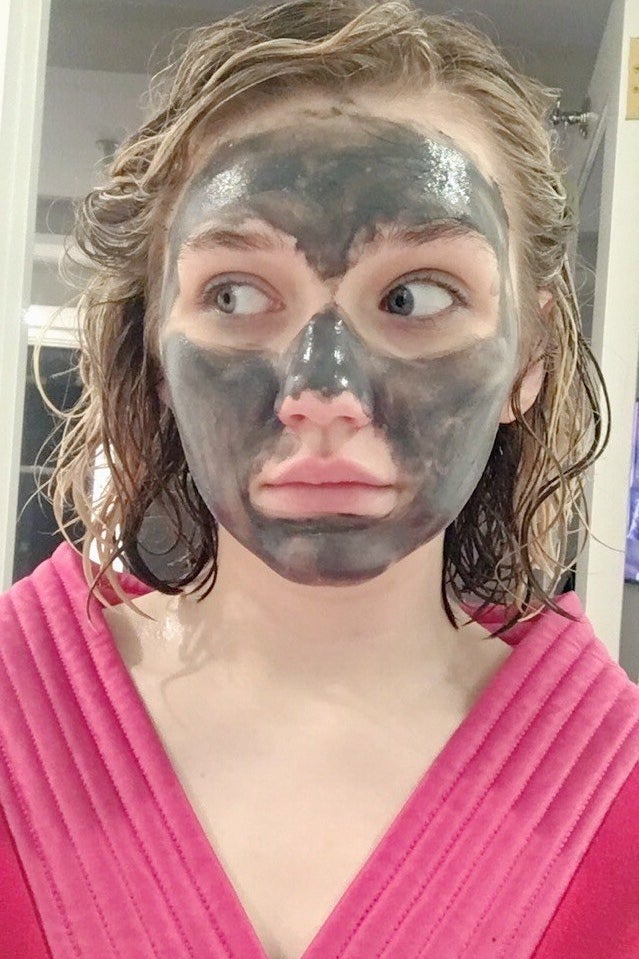 Fuck acne, right? Like really. And despite what you hear during puberty, it never seems to totally go away! Yay! For the most part, I've gotten my forehead and chin relatively under control. BUT this spring/summer I started getting a couple big ole cheek pimps for the first time. And they would just not go away!
So like any makeup/beauty product lover, I spent hours (shhh fine it was days) reading hundreds of product reviews. I finally settled on this Origins Charcoal Mask, which seemed to suit my skin's needs. I have somewhat temperamental skin that doesn't like traditional acne products (fight me, benzoyl peroxide), so I was, shall we say, apprehensive. I started using it once a week to see how my skin reacted, and bumped it up so now I use it about every 4-5 days (I usually do it after washing my hair). Just steam your skin in the shower or with a hot damn cloth, slather the mask on, and wait (that's me on the right checking how dry the mask is). Wash off and apply your favorite moisturizer!
Do not be fooled, this wasn't an overnight miracle. But... it's been about two months and I have not gotten any more cheek acne. And it brings my other shit to the surface faster and stops clogged pores in their tracks. Plus, it makes my skin soft and feel unbelievably fresh. Has it faded some of my acne scars? No. But that's nothing a little MAC Studio Fix Fluid can't take care of.
MOST importantly, using this mask is just another great excuse for some #robetime. Really guys, this is my highest recommendation. I've been a robe lady for years and it's really one of the best choices you can make for yourself. —Maitland Quitmeyer
Get it from Sephora for $26.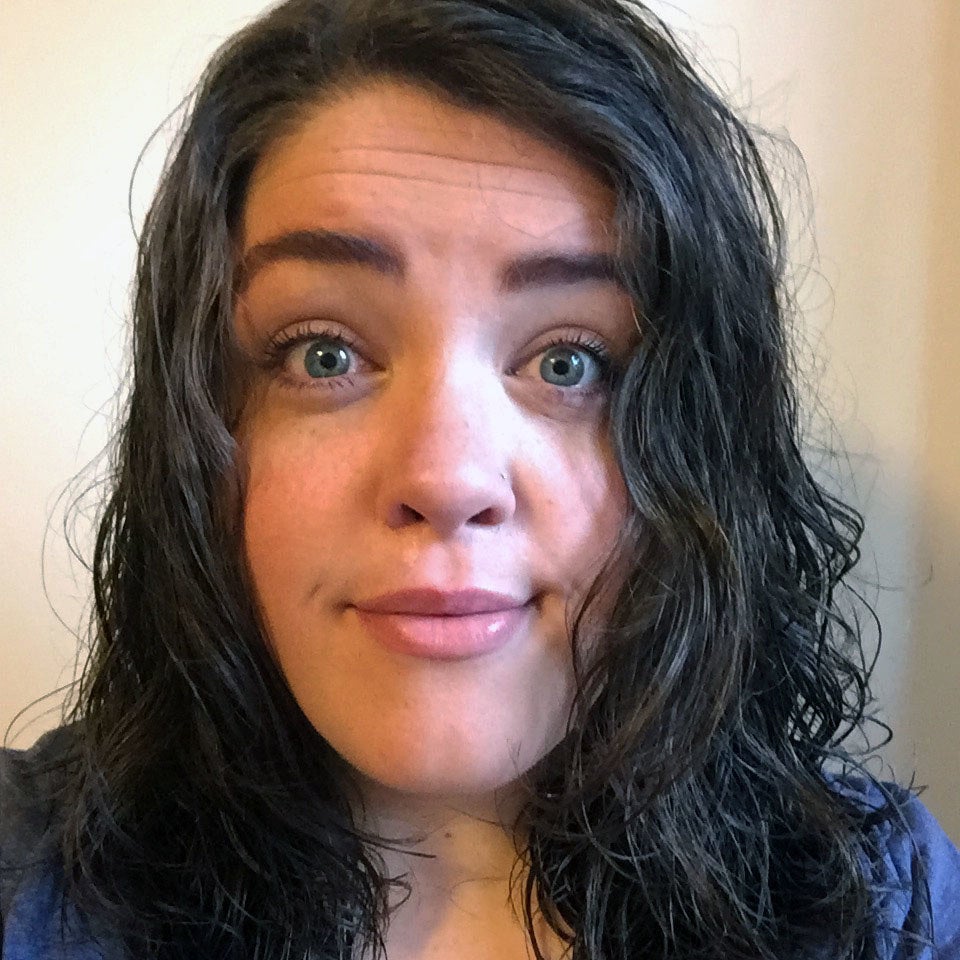 My hair is coarse, thick, and wavy, with some curls thrown in, and, because it's also super porous, I'm lucky enough to get a lovely layer of fuzzy frizz if the teensiest bit of humidity is introduced. Basically, my hair's a lot more manageable when I blow it out or diffuse it and smooth it out with my straightener, which takes nearly two hours at least once a week. So when Dyson's Supersonic hair dryer came along promising to ~revolutionize~ heat styling and had an endorsement from Kardashian hair guru Jen Atkin, I was drying (heh) to try it.
This futuristic little hair dryer has a lot going for it. It's pretty lightweight, and the handle is thinner and easier to hold, too, meaning your arm probably won't get tired. Despite the smaller, stronger motor that makes it so efficient, it's also pretty quiet. I was able to listen to a podcast and music at full volume on my iPhone while I did my hair. Plus, the attachments (a diffuser, smoothing nozzle, and concentrator) are magnetic, meaning they didn't fall off once while I dried, and they didn't get super hot to the touch. My favorite design feature is the buttons: They're on the "head" of the dryer, so your fingers won't accidentally slip and turn something on or off.
In the few weeks that I used the Supersonic, I blew out my hair about five or six times and used the diffuser twice, each taking somewhere between 35 and 45 minutes. And with each use, even though I was heat-styling, I felt like I was doing something good for my hair. (And, hey, maybe I was: The Supersonic does some fancy, temperature-measuring thing to prevent ~extreme heat damage~.)
The only downside of this dryer is its price tag: It's a cool $399. My current heat tools (straightener, curling irons, blow-dryer) all cost at least $75. But $400 is a lot more than that, and without a lifetime warranty (the Supersonic carries one for two years), it's hard for me to justify spending a big chunk of my paycheck on something that might last not last forever. But, if you want to invest in a tool that will significantly change your hair-drying experience, I can't recommend the Supersonic enough. —Megan Paolone
Get it from Sephora for $399.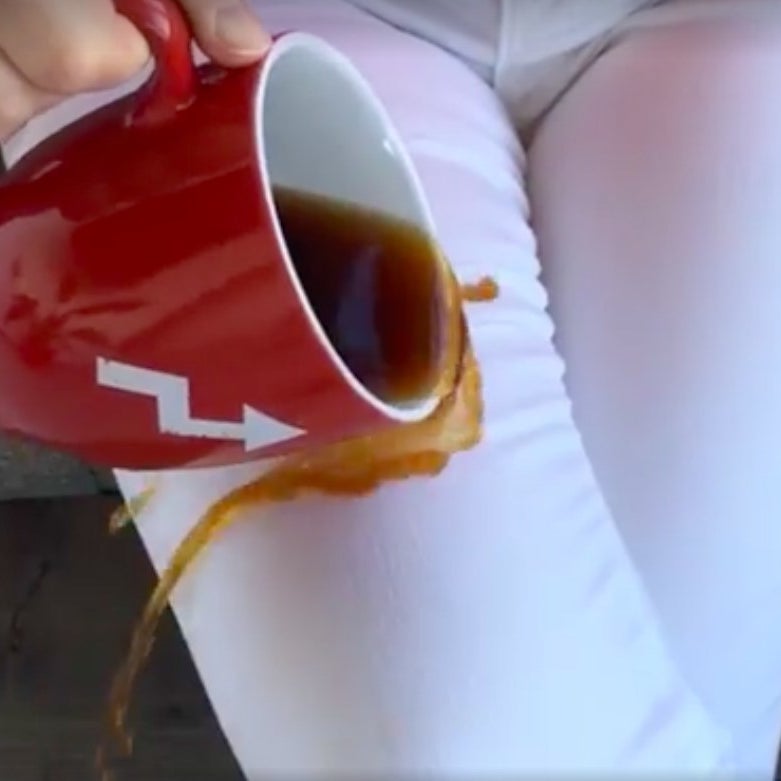 White pants that don't stain when I inevitably spill my cup of coffee all over my lap on a Monday morning: I didn't really believe it at first. Surely they'd at least feel waxy on the outside, but I swear they feel like every other cotton pant I've owned — they owe their stain resistance to a special wash they go through during manufacturing. Anytime I wear them, I still take every opportunity to pour water on my leg and show people that they really work. White wine, coffee, water, and tea all roll right off, and any drops that are left quickly soak up when you lightly wipe them with a paper towel, and leave no stain behind. You don't even feel the moisture on your leg through the pants.
Red wine's more finnicky — if your spill is a small one, the droplets wipe up with no trace, just like white wine. But if the spill is bigger (and mine always are), it will leave a very light purple spot. Luckily, it comes out with just a spritz of stain remover in the laundry. Other stains, like liquid foundation, nail polish, green eyeshadow, and melted chocolate work on these pants the same way they work on any ordinary pair, which is: they stain and there's not much to do about it besides use a stain remover pen or toss in the laundry.
The intense stain resistance only officially lasts through 20 machine washes, which I know isn't that many. The idea is to wear them several times between washes because they're so resistant to stains (I've worn mine four times since the last wash, and they're not smelly yet). To me, though, immunity to coffee stains, soaking wet legs during a rainstorm, and (if you're a parent) your kiddo's spilled cup of milk is reason enough to grab a pair. —Natalie Brown
Get them from Old Navy for $29 (on sale from $44.94).
Want even more great product suggestions? Sign up for BuzzFeed's Gift Guide Newsletter!
If you can't see the signup box above, just go here to sign up for the BuzzFeed Gift Guide newsletter!