The BuzzFeed staff is always trying new products, apps, hacks, and DIY projects, and we decided it was time to start sharing the best of them with you. Each month, we post our recommendations for what's actually worth it. For the sake of transparency, items under "Things We Bought" and "Tricks We Learned" were purchased with our own money and/or were not the result of a PR pitch. Those under "Things We Tried" are items that were provided to us at no cost for the sake of review. (But! We're under no obligation to write a review of those things, let alone a positive review.)

Let us know in the comments what sorts of things you'd like us to review next month!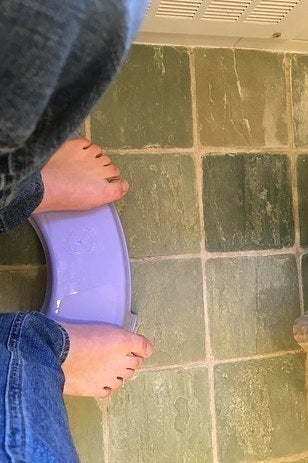 The exchanges I have with my younger sister are cyclical:
1. She tells me that she has been doing a thing — say, eating avocado toast for breakfast every morning, or using a Shark Tank-approved plastic-stool-looking thing to make pooping easier and more comfortable.
2. I scoff at the thing, because I am extremely old and impossibly wise and kind of an asshole.
3. I try the thing.
4. I love the thing.
And so it went with the Squatty Potty.
When you sit down, you place your feet on either side of the stool and, as the name suggests, squat. According to the product's website, this motion "unkinks" your colon. Also according to the website, it "makes going #2, #1!" Haha.
The first couple of times I went to the bathroom, I ignored the Squatty Potty, kicking it off to the side before settling in. I'd been reliably expelling waste from my body for 25 years, I figured. I knew what I was doing. I was set in my ways. But then I figured, hey, even though I think I know everything about everything, there is a slim chance that I do not. And so the next time, I propped my feet, and I squatted.
As always, Moriah was right. It removed the grunting and the guesswork. It cut my time spent in half. It made me wonder about what other ways I've been living my life just below par. It gave me an excremental crisis, if you will.
If you're not into the plastic version, it also comes in teak. It's more expensive, but also looks much more discreet. Whatever the material, I missed it when I left my family's house to return to my Squatty Potty-free apartment. My sister sent me the above selfie (squelfie?). It was a brag, and a rallying cry, and a moment of connection. —Alanna Okun
Get it from Amazon for $22.47.
2.
Booband, an elastic band that keeps the ~ladies~ in place when working out.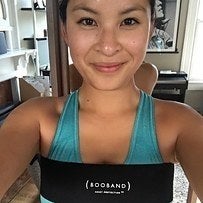 Never EVER in my wildest dreams did I think I would publish this information but, for the sake of big-ish tatas everywhere, here goes: My dream team is 32DD and working out with them is the absolute worst. When I go down, they go up. When I go up, they go down.
Anything that involves bounce can be downright painful when Aunt Flo is involved (or even when she's not!) — but running is *especially* difficult. I typically claim that I'm allergic to running or "it's not my thing." But when I started training for a triathlon, I couldn't escape it, and I started looking for solutions for my sweater stretchers.
The Booband was discovered by, of all people, my boyfriend. The product is so mind-blowingly simple and effective that I'm truly shocked I had never heard of it. The Booband is a long, elastic strap, about three or four inches wide, with velcro on one end. I wear it strapped on top of my sports bra. I thought it'd feel like a corset, but because the fabric is very flexible, wearing it was actually really pleasant. It felt like getting a gentle hug from a very big headband.
The company claims you should wear the band to avoid saggy breasts, but that's not why you should get this product (love your saggy bewbz!!!). The Booband not only made me feel more comfortable, but more confident running in public, too. I started picking up my pace and stopped fearing workouts that ended in burpees. This thing is, hands down, the best 30 bucks I've ever spent on my chest pillows. —Nicole Nguyen
Get it from Amazon for $30.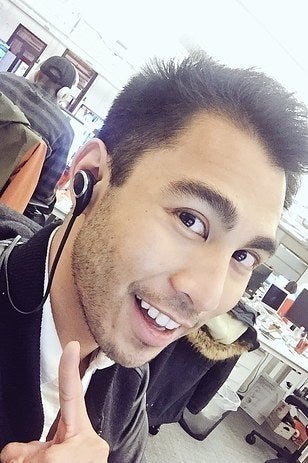 Wires are the worst, you guys. At the gym, under all those winter layers, as you dance in your living room while your roommates are sleeping…they just get in the way. That's where these handy-dandy iClever Wireless Bluetooth 4.1 Headphones come in.
You turn on the headphones by holding down the button on the right earbud; then an automated voice says, "Power on." Then it says, "Connected," meaning connected to my phone, since they already know each other and they're pretty much dating. Setup is fast and there's no transmission delay during playback. The sound quality is surprisingly strong. They're close to sound-canceling, so they're great for work.
But where these really shine is at the gym and while traveling. At the gym, my phone stays in my pocket and I get to focus on my workout — no distractions. To skip forward or back a track, just press the buttons on the side of the earbuds. And on an 18-hour flight to the Philippines, I didn't have to mess with wires as I struggled to find a comfortable sleeping position in my seat. Battery life is decent (7 hours), and it's rechargeable via USB, so I keep it plugged in overnight.
At under $20, they're considerably cheaper than most high-quality earbuds. Plus, they have the added effect of making me look like a cyborg that is completely impervious to human feelings, so that's great. —Matt Ortile
Get them from Amazon for $18.99.
4.
The Makeup Eraser, a game-changing cloth that removes even waterproof makeup with ease.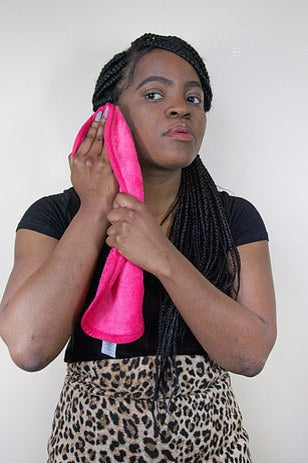 The Makeup Eraser claims to take off all your makeup using just water, and it actually works! The first time I used it, I was wearing a lot of makeup, concealer, foundation, highlighter, lipstick. The cloth pretty much removed all my makeup, waterproof mascara included, and it didn't leave me with raccoon eyes. My colleague who has sensitive skin also tried it and was impressed too. It instantly removed her foundation and cheek and lip stain. She also found it was really gentle on her skin and didn't leave her with any dryness or irritation. Get more details on all our experiences with it here. —Tolani Shoneye
Get it from Sephora for $20.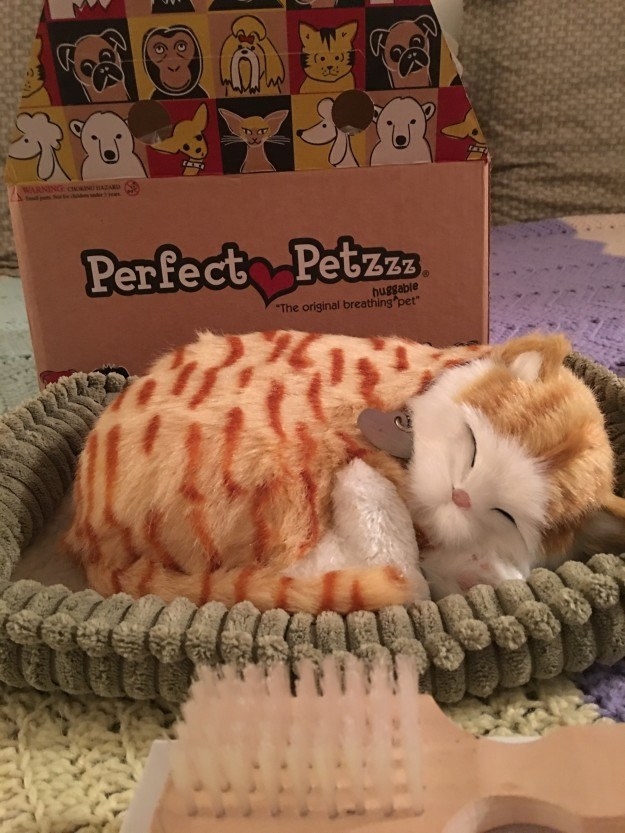 7.
Amazon Fire TV Stick, a streaming device that lets you watch Netflix, HBO Go, Amazon Video, and so, so much more.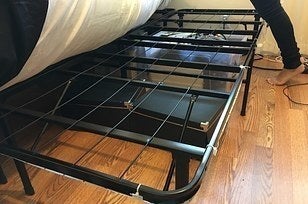 For my entire college life I slept on the popular Fjellse, which is the cheapest Ikea bed frame money can buy. It was AWFUL. It looked good. but there were a ton of quality issues.
My brother Jimmy showed me this frame he found online and it has actually changed my life for the better. Let me just quickly give you the run down on why this frame is awesome:
* It's cheap. I paid $69 for a full size frame.
* It's super light and folds up for when you move.
* You can put it together in under five minutes. There are eight thumb screws and you can put it together without any tools.
* It's high enough off the ground that you can store boxes underneath.
* IT DOESN'T SQUEAK! Restless sleepers and sex-havers rejoice! In the month and a half I've been sleeping on this frame, I can confirm: It doesn't make a sound. It may slide a bit on hardwood floors, but it won't squeak.
This frame has an overwhelming amount of reviews on Amazon, (14,000+), so if you don't believe me, go on there and read for yourself! If you're in the market for a cheap bed frame and don't need any frills, look no further than the Zinus platform bed frame. It'll get the job done. —Jeff Barron
Get it from Amazon for $79.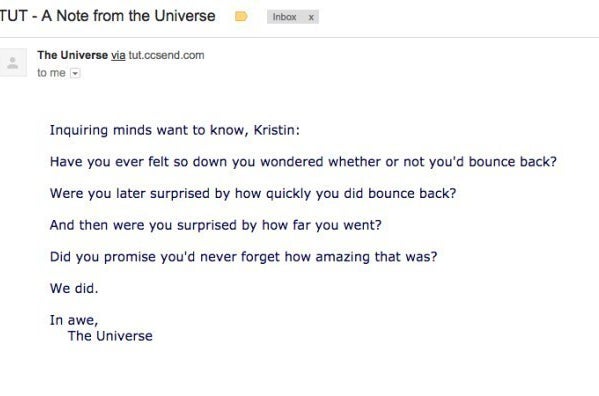 I'm one of those ~extremely optimistic~ kinds of people with inspirational quotes scattered across my desk. Sure, it might be embarrassing. But it works! About three years ago, I discovered Notes from the Universe — a free, personalized note of inspiration sent straight to your inbox daily — and I'm not gonna lie, they've pretty much changed my life.
I'm a firm believer in the phrase "thoughts become things" and feel strongly that happiness is a choice, so when I realized you could have insanely inspiring words of motivation sent to your inbox daily, I immediately said "hell yes" and clicked subscribe. For the past three years, the first thing I do every morning is head straight to my inbox and open up the daily letter, which somehow magically always knows exactly what to say when I need to hear it the most. Because the Universe knows best, people.
If you're feeling uninspired, need some serious motivation, or just want a quick reminder that you can make your dreams a reality, give the notes a try; it's a simple, quick way to start off your day with some positivity. —Kristin Harris

10.
Apple iPhone Battery Case, a charging case that will keep your phone from dying on you when you need it most.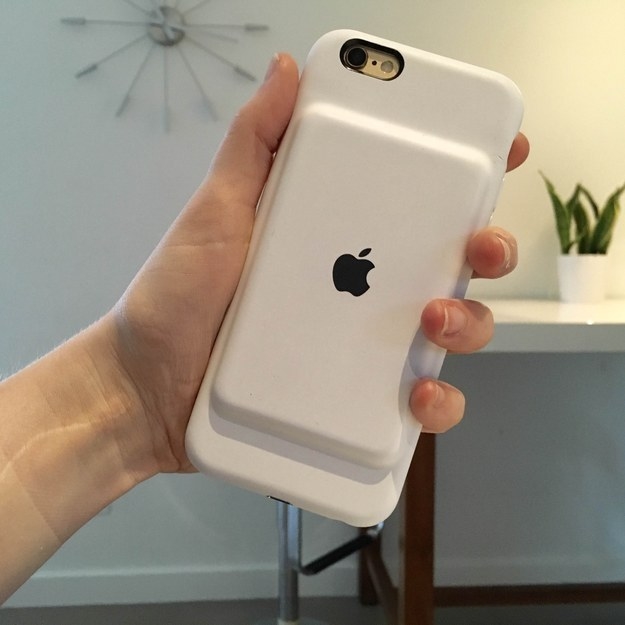 Want even more great product suggestions? Sign up for BuzzFeed's Gift Guide Newsletter!
If you can't see the signup box above, just go here to sign up for the BuzzFeed Gift Guide newsletter!